If you've read our guide to finding plant-based protein in unexpected places then you already know that there's a little bit of protein in practically everything. But perhaps you could use a reminder about the more obvious high protein vegetarian foods that we can lean on for a healthy diet.
We know that not all vegetarians eat all of the foods on this list, but since eggs and dairy do provide good amounts of high-quality protein, we wanted to include them here.
Maybe you weren't aware of how much protein your favourite foods already provide, or maybe it's just a good reminder. Either way, here are 10 High-Protein Vegetarian Foods to include in your diet.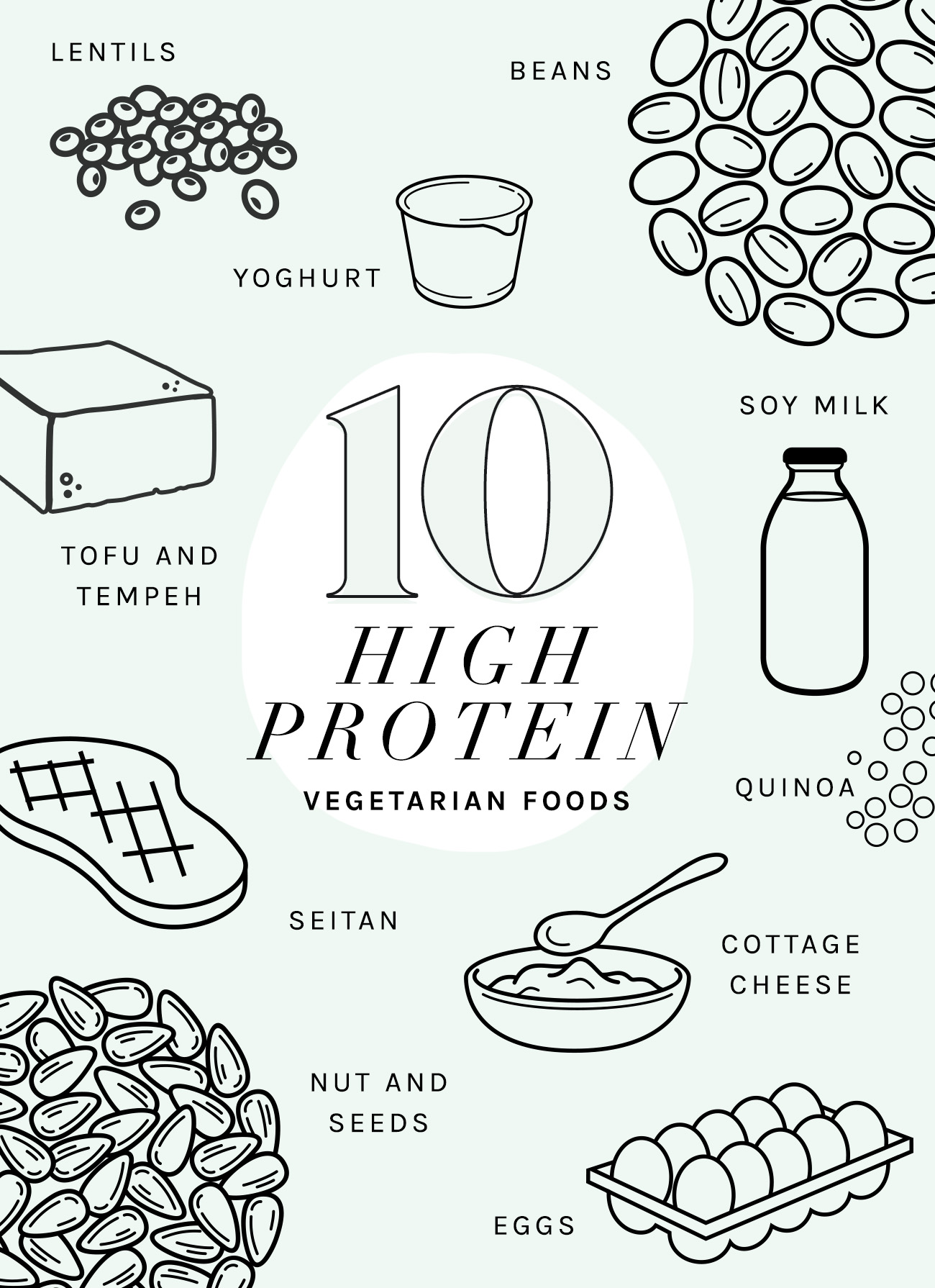 1. Lentils
Lentils may be small, but they pack a mighty punch in the protein department. One cup of cooked lentils serves up 18 grams of plant-based protein, along with a load of other nutritional benefits such as iron, folate and manganese. Since lentils combine protein with a good amount of dietary fiber, they not only promote gut health, but they also help to ensure your blood sugar stays nice and stable.
2. Beans
Beans, beans, good for your heart. Beans, beans, they're full of protein! Okay, that's not exactly how that rhyme goes, but beans are an amazing source of vegetarian protein. One cup of cooked black beans contains 15 grams of protein, and the same is true for chickpeas and many other varietals of beans.
Beans are a good source of complex carbohydrates that feed the good bacteria living in your gut.
3. Tofu and Tempeh
These protein packed vegan foods are both made from soy beans. While tofu starts with soy milk and is coagulated into a cake in a process similar to cheese making, tempeh contains whole soy beans that have been fermented. The different processes yield very different products, each of which are terrific high protein vegetarian foods.
The actual amount of protein of course varies from product to product, but it's safe to assume that 100g of firm tofu contains around 12 grams of protein, whereas 100 grams of tempeh contains up to 18 grams of protein.
4. Seitan
Seitan is a common meat substitute made from gluten, the main protein in wheat, and contains a whopping 25 grams of protein per 100 gram serving. Seitan is a great meat alternative as it takes on the flavor and color of whatever it is cooked with, and can be pan-fried, sautéed, or even grilled. You can also make your own seitan at home using vital wheat gluten.
5. Nuts and Seeds
In addition to healthy fats, many nuts deliver a solid amount of protein. Peanuts (which are not actually nuts – they're legumes) contain 7 grams of protein per ounce (30 gram) serving, while almonds contain 6 grams of protein per ounce. When it comes to seeds, hemp seeds provide 3.5 grams of protein per tablespoon, with chia seeds coming in just behind at 2 grams of protein per tablespoon.
6. Eggs
Once considered the gold standard for protein quality, it should come as no surprise that eggs are on this list of best high protein vegetarian foods. There is 7 grams of protein in a single egg, coming almost entirely from the white. Don't toss those yolks, though! They're an important source of omega-3 fatty acids and choline, among other things.
7. Cottage Cheese
More than just that bland, oddly-textured diet food that was served inside a scooped out melon! If it's been a while since you've given cottage cheese a chance, consider trying it again. Just a half cup serving of 1% cottage cheese contains 14 grams of protein, making it an ideal choice for breakfast, snacking, or as part of a meal. Serve it with a sprinkle of wheat germ or some chopped nuts to really pump up the protein content.
8. Quinoa
Quinoa is a seed that's native to South America that provides about 18% protein by weight. This means that a one cup serving of cooked quinoa provides nearly 10 grams of protein. Quinoa is a unique plant food in that it provides all of the essential amino acids, making it a high quality protein source.
9. Yogurt
The protein content of yogurt can vary dramatically. It can be anywhere from  5 grams of protein per half cup serving of plain yogurt all the way up to 18 grams of protein per cup in a Greek-style yogurt. Yogurt also provides probiotics and is a good source of calcium and vitamin D.
10. Soy milk
Not all plant-based milks are high protein vegetarian foods, but soy milk is. Like cow's milk, a one-cup serving of soy milk provides 8 grams of protein. Compare this to 1 gram of protein per cup of almond or oat milk, and you'll see that the difference is indeed big.
6