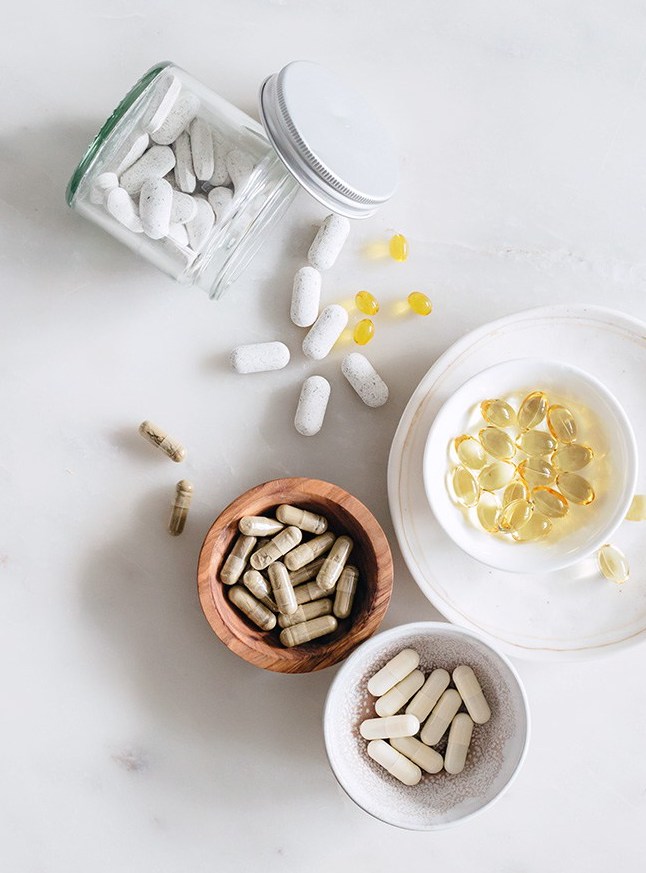 The clocks changed this weekend past and now it's getting dark undeniably early. Depending on where you live, chances are you'll be getting minimal amounts of daylight in the coming months. Could you be at risk for vitamin D deficiency?
Potentially, yes. It's estimated that a little more than 40% of Americans are deficient in this important nutrient.
Vitamin D is synthesized when sunlight is in contact with cholesterol in our skin, and in the winter months when sun exposure is limited, it's unlikely we're able to make enough on our own. If you live in a northern climate (anything further north than 42° North latitude (think Portland, Oregon or Chicago, Illinois, for example) it's estimated that from October through May there isn't enough sunlight available to produce adequate amounts of vitamin D.
Looking for signs of vitamin D deficiency is a bit tricky, as many of the symptoms are subtle and non-specific – that is, they can be attributed to many things.
It can be difficult to know whether low levels of vitamin D are to blame or the symptoms are related to something else. The only way to know for sure is to have your vitamin D levels tested, so if you're concerned that you may be deficient, speak to your health care provider about testing.
Here's what to look for:
1. Frequent or chronic illness or infection
Low sunlight hits right around the same time as cold and flu season starts, so this can be a tricky one to evaluate. But if you find that you're getting one cold after another and you just can't catch a break, vitamin D deficiency may be to blame.
2. Tiredness and fatigue
Tired all the time? Tiredness affects many of us more so in the winter months as it is, and many of us tend to burn the candle at both ends. But if you're getting adequate rest and eating a healthy balanced diet and can't figure out what the culprit is for your fatigue, it may be time to have your vitamin D levels tested.
3. Depression
Depression tends to increase during the darker months, but whether you're suffering from seasonal affective disorder or other forms of depression, some studies have found that giving vitamin D supplements to people who are deficient helps improve depression.
Low levels of vitamin D have also been associated with mood changes, irritability, and anxiety, so it's not just depression to keep an eye out for.
4. Achey bones and back pain
Vitamin D plays an important role for bone health as, together with vitamin K, it improves absorption of calcium. Some evidence suggests that people who are deficient are more likely to experience low back pain and bone pain in their legs, ribs, and joints when compared to those who have adequate levels of vitamin D.
Low calcium levels in the blood may also be indicative of vitamin D deficiency.
5. Difficulty healing
Wounds that don't heal or take an unusually long time to heal often indicate an issue with the immune system. Again, this may be attributed to low levels of vitamin D, but could also be symptomatic of other immune disorders.
If you're concerned about vitamin D deficiency, or are at risk of deficiency due to low sun exposure or other factors, speak to your doctor about getting tested.
Some studies have found that vegans have lower vitamin D intakes than lacto-ovo vegetarians or omnivores, yet any person who does not include good sources in their diet (fatty fish, egg yolk, fortified milk or juice) or take supplements can be at risk for not getting enough, especially in northern climates where sunlight exposure is limited.
For adults the recommended daily intake of vitamin D from all sources including sunlight, fortified, foods, and supplementation is 600 IU / 15 mcg. More recent research suggests that higher intakes may be beneficial – especially in the winter months – and some experts are recommending 800 IU or more per day for the average adult.
Those who are deficient in vitamin D may be advised to take higher amounts (for example 4000 IU per day) until their stores have been adequately replenished.
2