Oh, May. Possibly the best month of the year. It's warm, but not hot. Farmers markets are hopping, but not so crowded you start feeling claustrophobic. And it's asparagus season. Woot! We've still got a few months to go before the bounty of summer is on our plates, but there are a lot of delicious local fruits and vegetables available right now.
Here's what's in season this May:
(While this list is pretty generalized, what's in season can vary based on your exact locale. To find out what's in season in your neck-of-the-woods, I love this seasonal food guide.)
Asparagus
May and June are peak times for asparagus. Thin spears are great for adding to pasta and salads, while the fat ones make dreamy pureed soups and work well on the grill. Asparagus tends to spoil quickly, so choose bunches with tight heads and use them within a day or two.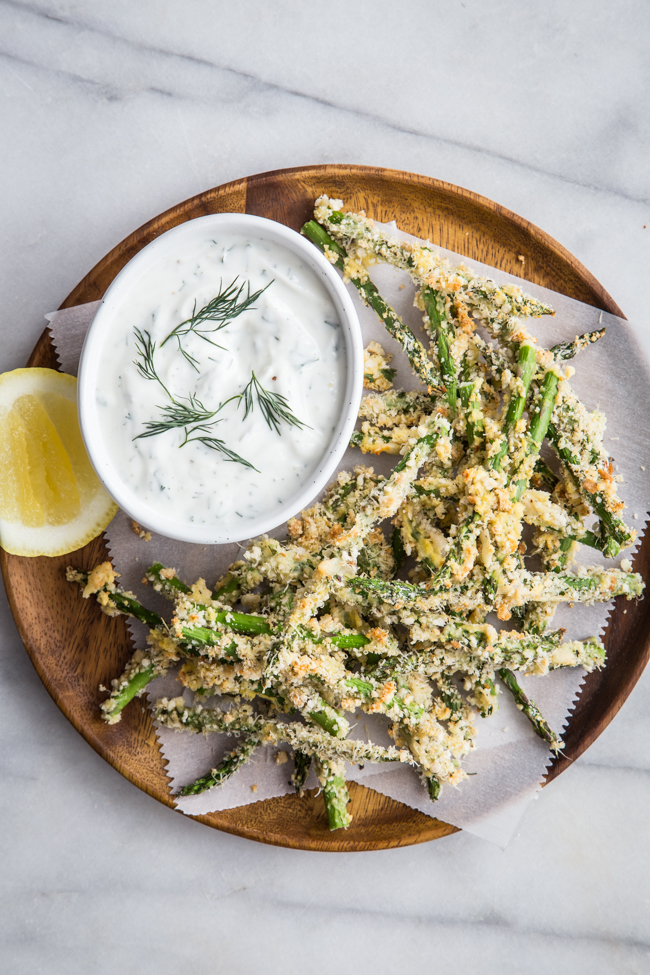 Try these recipes:
Crispy Asparagus Fries from Hello Veggie
Lemony Shaved Asparagus Linguine from Hello Veggie
Cremini and Asparagus Tartines from Hello Veggie
Spring Vegetable Farro Risotto from Hello Veggie
Radishes
If you have a garden, you're probably familiar with how quickly radishes are ready for harvest. Plant some seeds and not even a month later you can be enjoying them in a salad. But radishes have been having a moment lately–they're not just for salads anymore! Try them roasted in the oven or thinly sliced and paired with a good salted butter and crusty bread.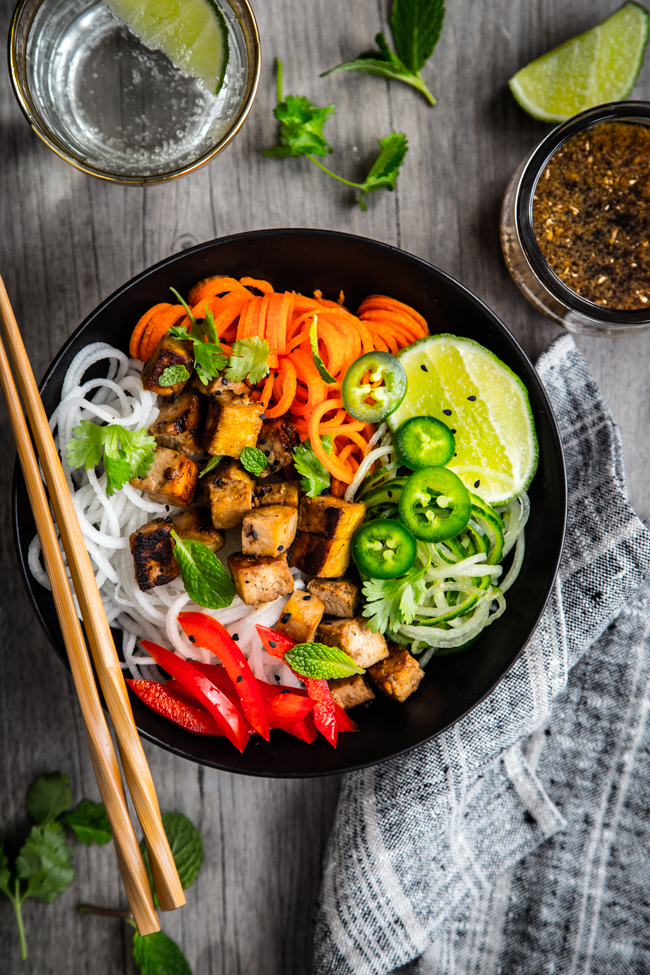 Try these recipes:
Thai Style Spiralized Veggies with Tofu from Hello Veggie
Tea Sandwiches with Radishes and Lemon Butter from Oh, How Civilized
Vegan Risotto with Spring Vegetables from With Food and Love
Salted Rosemary Roasted Radishes from Running to the Kitchen
Herbs
Since herbs are just leaves, they're ready to eat pretty early in the season. And they're also especially good then too–they haven't had the chance to bolt and get tough or wilt under the hot sun. Most herbs do well stored in a glass of water in the refrigerator with a plastic bag loosely covering the leaves.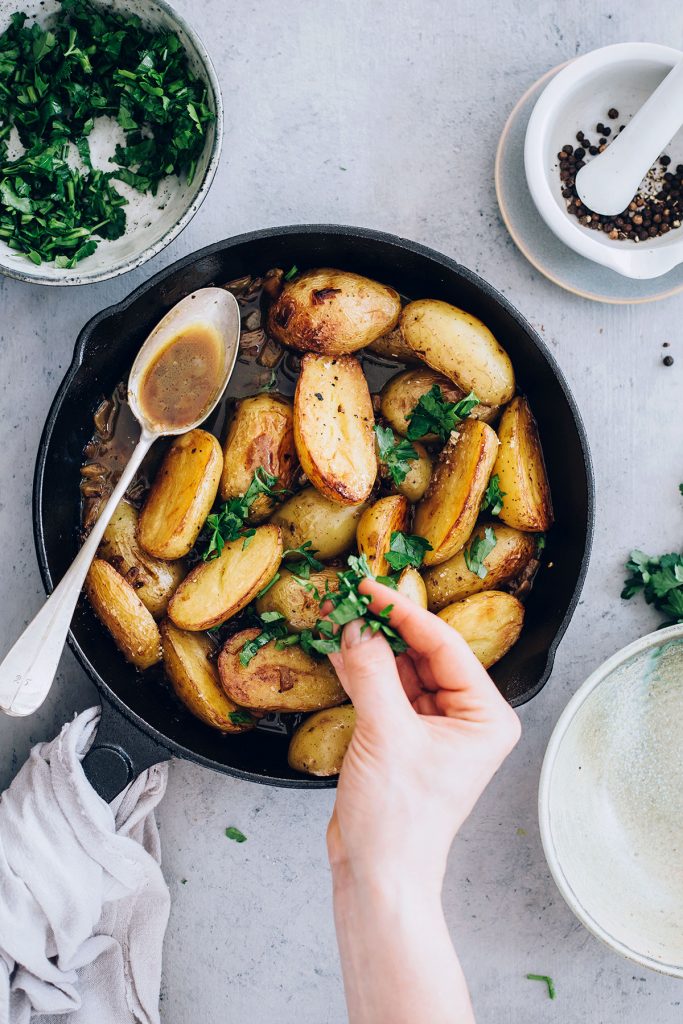 Try these recipes:
Braised Fingerling Potatoes with Fresh Herbs from Hello Veggie
Roasted Garlic and Herb White Bean Dip from Hello Veggie
Ways to Use Leftover Fresh Herbs from Hello Veggie
Hemp Seed Pesto from Hello Veggie
Rapini
Rapini, also known as broccoli rabe or raab, is one of those love-it-or-hate-it kinds of vegetables. It can be quite bitter; if it's a little too strong for you on its own as a side dish, try it tossed with pasta or as a topping for pizza. Acid, like vinegar or lemon juice, also helps balance some of the bitterness.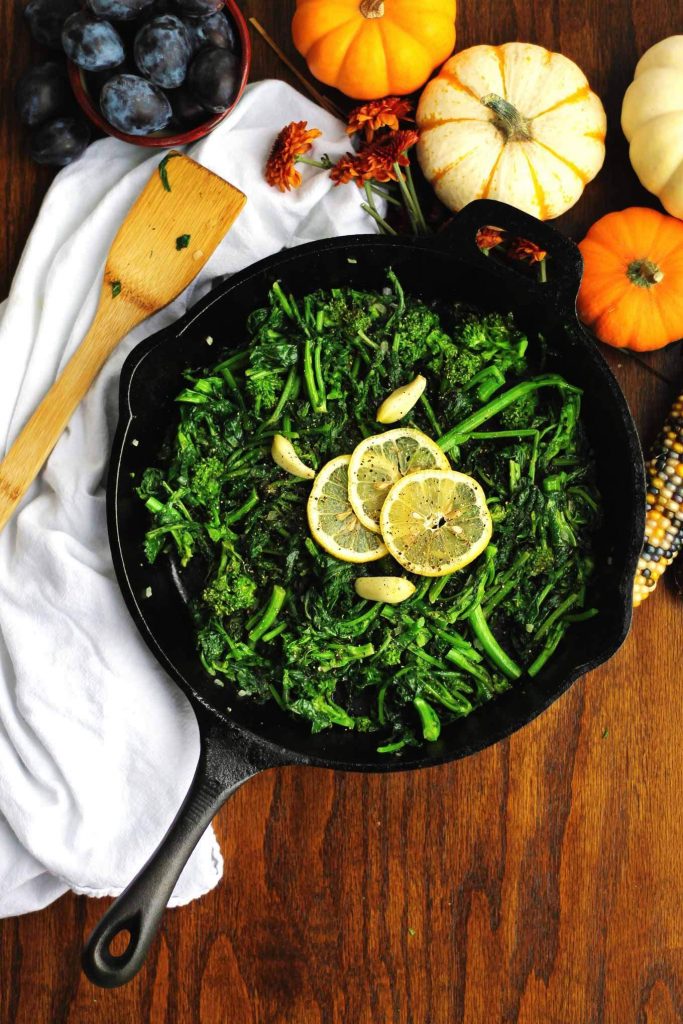 Try these recipes:
Garlicky Sautéed Broccoli Rabe and Kale from Rhubarbarians
Pesto Barley Salad with Roasted Rapini & Buttercup Squash from Rhubarb & Cod
Farfalle with Broccoli Rabe, Roasted Mushrooms & Butternut Squash from Brooklyn Homemaker
Rapini Noodle Bowl from A House in the Hills
Spinach
Sure, you can buy frozen spinach year-round and you can buy the clamshell containers of it in the produce section anytime you have a hankering for salad, but unless you're buying organic, spinach is high in pesticide residue and your small-scale local farmers are more likely to skip or go easy on the spraying. Look for spinach that's dark green without any yellowing or wilting.

Try these recipes:
Spring Buddha Bowls with Creamy Turmeric Dressing from Hello Veggie
Sweet Potato Chickpea Stew with Spinach from Hello Veggie
Blue Cheese Spinach Polenta from Hello Veggie
Spinach Salad with Cranberry Vinaigrette from Hello Glow
2