If you're one of those people who craves kombucha or sauerkraut, you're in luck, because the probiotics in fermented foods are great for the digestive system. Not only will they help keep you regular, but they'll also help you absorb nutrients more easily from the food you eat.
Making cultured veggies at home is a great way to make sure you get probiotics in your diet continuously, and they're surprisingly easy to make. After they're fermented, these will keep for about a year in the fridge. Once you've mastered the art of cultured veggies, try your hand at making your own and many other fermented foods.
Homemade Fermented Vegetable Recipe
Supplies needed
1 large mixing bowl
1 mason jar with lid
1 wooden spoon
Ingredients
1 large cabbage leaf (set aside)
1 large head of cabbage, shredded
1 bunch of kale, chopped
1 small peeled, organic lemon, sliced
2 carrots, shredded
1 clove of garlic
1/4 cup starter culture, prepared as directed on the package
Instructions
Toss vegetables, lemon slices, and starter culture together in a large mixing bowl. (Remember to set one large cabbage leaf to the side.)
Combine the mixture by hand, making sure the vegetables are thoroughly combined. Layer this mixture of vegetables into a mason jar, and pound it down with a wooden spoon so the vegetables are tightly compacted.
Continue to layer, and pound until your vegetables are thoroughly packed within the jar and the level of brine exceeds the level of the solids.
Layer the top of your vegetables with a cabbage leaf, and pack the leaf down with your fist. Seal the jar tightly.
Allow your vegetables to ferment at room temperature for 5-6 days, then place it in your refrigerator.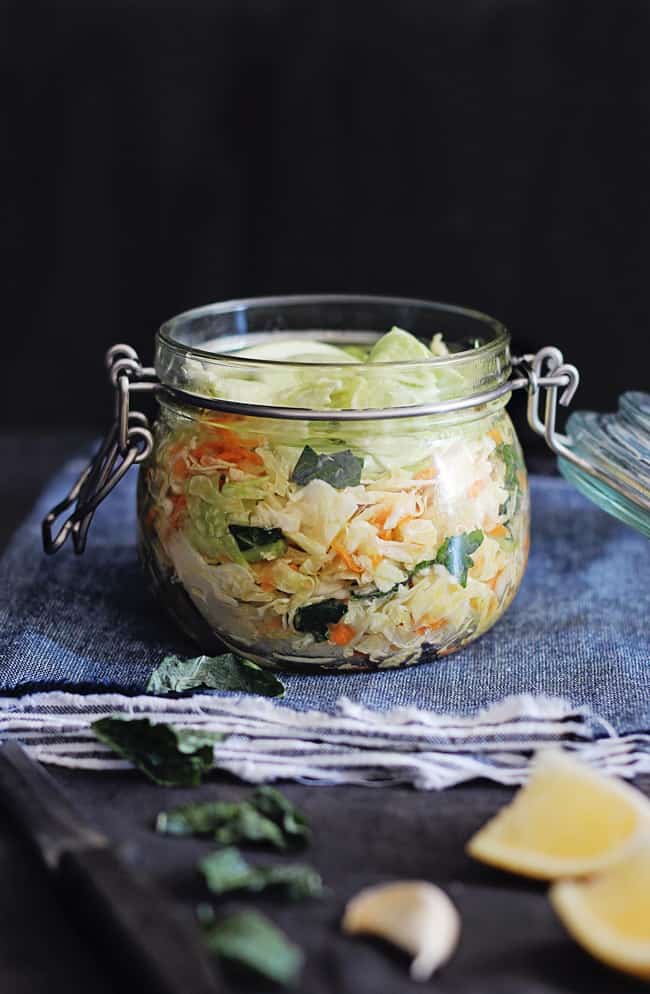 Important: Fermenting is a delicate process. Remember to read and follow the proper food safety guidelines before you attempt fermenting at home. 
Photos by Ana Stanciu
0