It's starting to feel like summer! June is kind of an in-between month when it comes to seasonal produce. We're at the tail end of spring, but we've got a bit of time to go before local tomatoes, corn, and squash are readily available. (At least for those of us in the North!)
So what's in season in June? And what can you do with it? Here are our picks.
Asparagus
Get local asparagus while you can in early June! Thin spears are great for adding to pasta and salads, while the fat ones make dreamy pureed soups and work well on the grill. Asparagus tends to spoil quickly, so choose bunches with tight heads and use them within a day or two.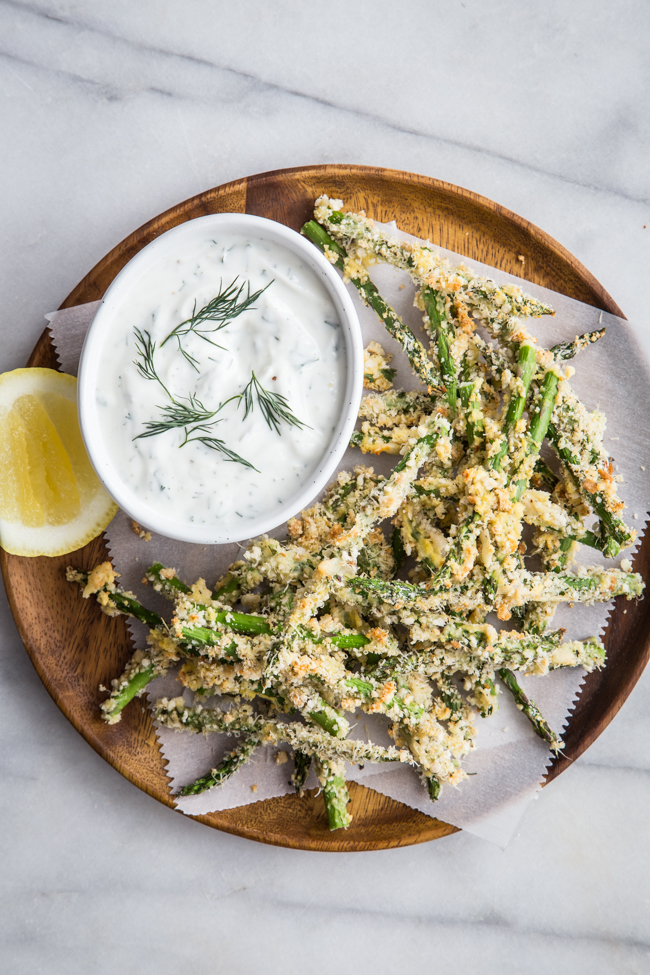 Try these recipes:
Crispy Asparagus Fries from Hello Veggie (pictured)
Lemony Shaved Asparagus Linguine from Hello Veggie
Spring Vegetable Quesadillas from Hello Veggie
Roasted Asparagus Tacos with Harissa Romesco from Hello Veggie
Garlic Scapes
Garlic scapes also have a fleeting season–they're the stalks that emerge from garlic bulbs in June and you'll most often find them in CSA boxes and farmers markets. Their strong garlic flavor makes them not for the faint of heart, but cooking them helps tame the pungency.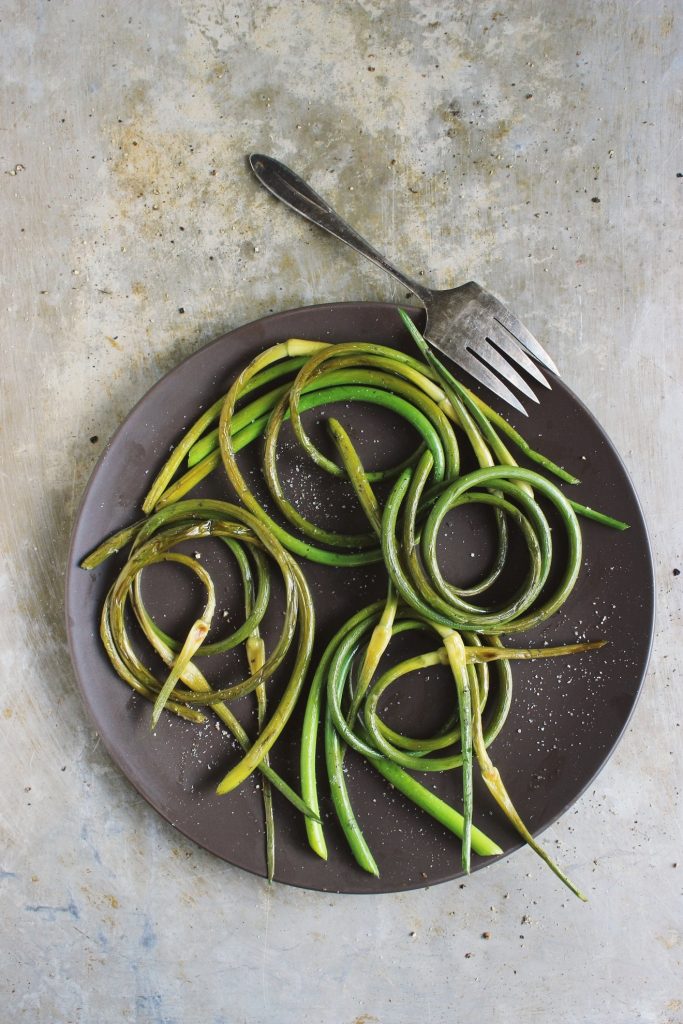 Try these recipes:
Grilled Garlic Scapes with Sea Salt from With Food + Love (pictured)
Garlic Scape Pesto from Killing Thyme
Steamed Baby Beets with Garlic Scape Vinaigrette from A Zest for Life
Warm Sweet Potato Salad with Scape Miso Pesto from Rhubarb and Cod
Pea Shoots + Peas
Another staple of early June, pea shoots quickly give way to fresh peas of all varieties–snow, snap, and shelling. Pea shoots show up in a lot of CSA boxes; they can be tossed in salads, used on sandwiches, or even stir fried. While peas should be used within a few days, pea shoots will last up to a week in the fridge.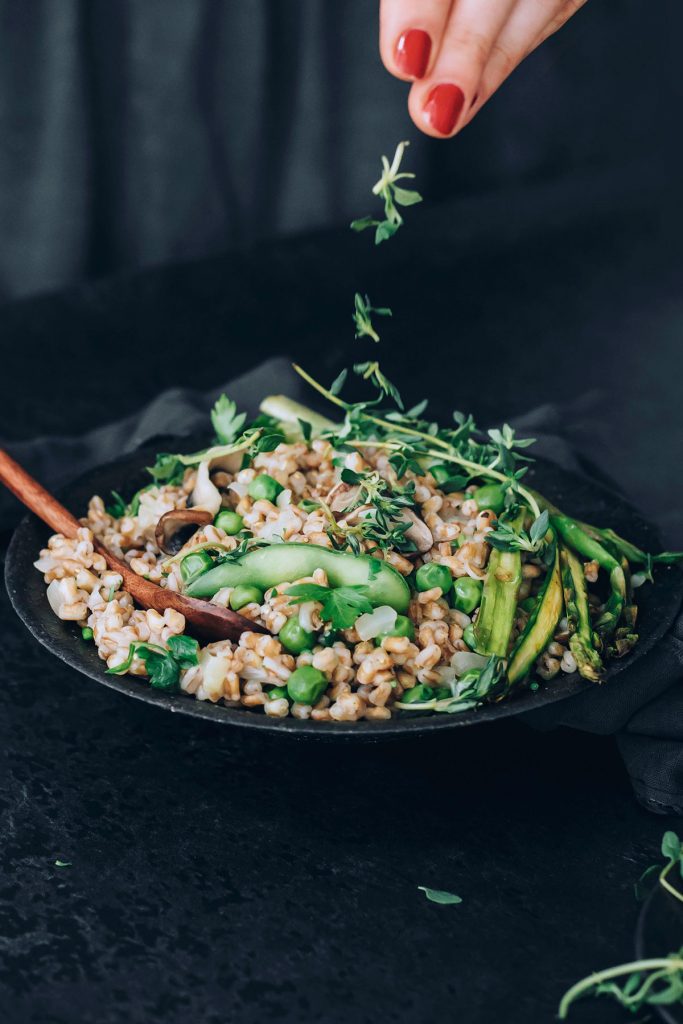 Try these recipes:
Spring Vegetable Farro Risotto from Hello Veggie (pictured)
Roasted Parmesan Sugar Snap Peas from Hungry Couple
Soba Noodles in Shiitake Mushroom Broth with Sesame Crusted Tofu and Pea Shoots from Meg Is Well
Spring Vegetable Lo Mein from Hello Veggie
Rhubarb
Rhubarb has a short season that ends in June; you can find it at your local farmers market, but usually anyone with some rhubarb plants in the yard is happy to find someone to take it off their hands. Rhubarb is tart, so it's always paired with plenty of sugar and usually other fruit as well–often strawberries since they're in season around the same time. If you find yourself with more than you can use before it spoils, rhubarb freezes beautifully.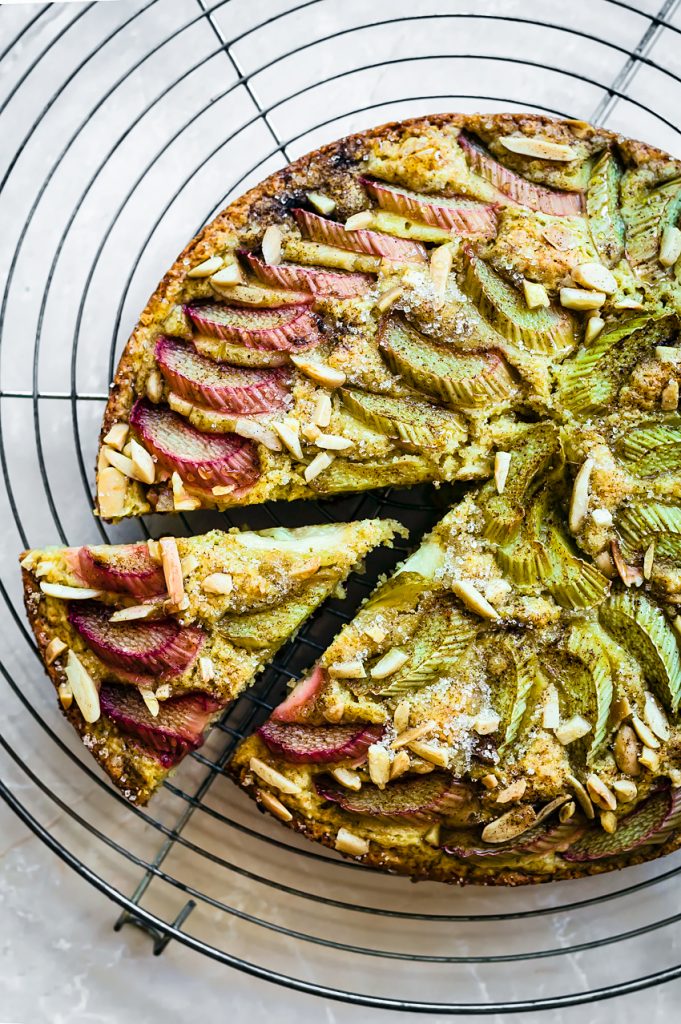 Try these recipes:
Rhubarb Almond Cake from Occasionally Eggs (pictured)
Raspberry Rhubarb Margarita from Hello Veggie
Strawberry Rhubarb Chia Seed Pudding from Love Chef Laura
Strawberry Rhubarb Ice Cream Bars from The Floured Table
Strawberries
And we can't forget about strawberries! If you have a u-pick strawberry farm nearby, plan a weekend outing there this month–not only is it a fun activity, but there's nothing better than fresh local strawberries warmed by the afternoon sun. While those farm-fresh strawberries might be a little (or a lot) smaller than the ones you buy at the supermarket, the taste and texture (no crunch when you bite them!) is so much better. Freeze the surplus and pop them in oatmeal, boil them down into strawberry syrup for pancakes, or use them in muffins and baked goods for several months.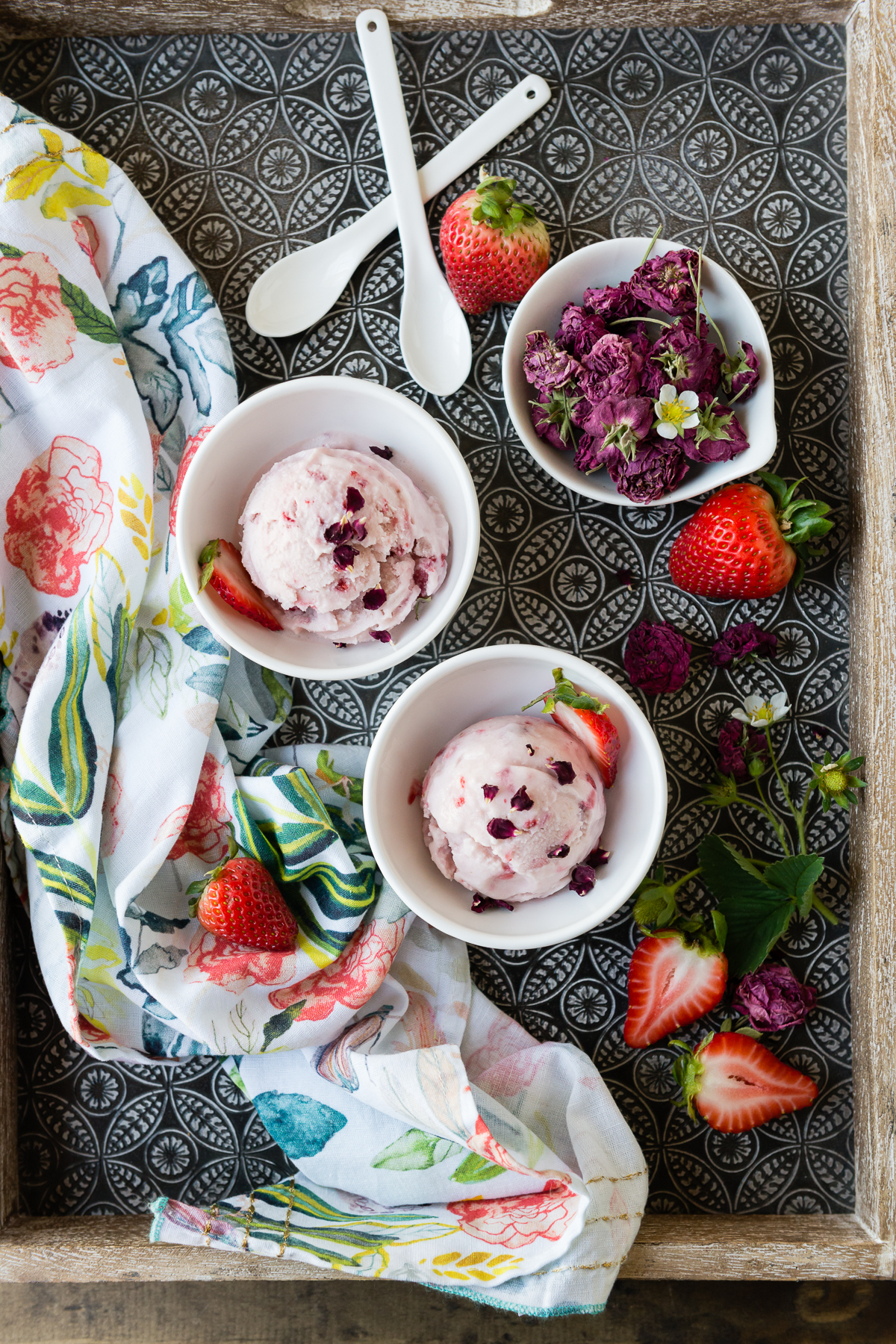 Try these recipes:
Vegan Strawberry Rosewater Ice Cream from Hello Veggie (pictured)
Arugula and Strawberry Salad with Cayenne Lemon Vinaigrette from Calm Eats
Strawberry Baked Oatmeal Cups from Hello Veggie
Refreshing Strawberry Soup + Pops from Hello Veggie
4