One of my favorite weeknight dinners is polenta bowls served with seasonal vegetables. I make it so often that I have the recipe memorized–it's easy, everyone loves it, and it's satisfying in a stick-to-your-ribs kind of way.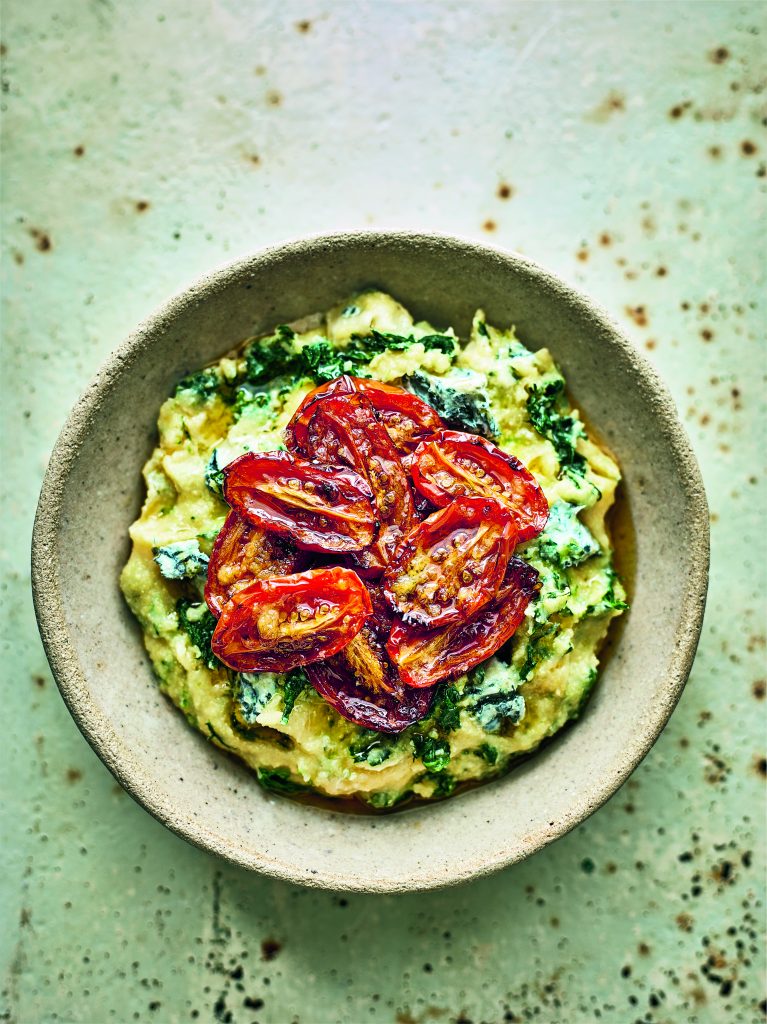 When I saw this Spinach and Blue Cheese Polenta recipe in Rich Harris' Root & Leaf, I was instantly smitten because it was a different spin on my go-to polenta recipe–the perfect combination of something familiar and something new. And, really, that could be said for a lot of the recipes in this cookbook. There's rice pudding with celeriac; cinnamon rolls made with sweet potatoes; larb made with mushrooms instead of ground meat.
If you love thumbing through beautifully photographed cookbooks, you'll love the aesthetic of Root & Leaf. And if you also love cookbooks with innovative recipes that inspire you to get in the kitchen and cook, this is a must-have for your collection.
Grab the Spinach and Blue Cheese Polenta below and purchase Root & Leaf: Big, Bold Vegetarian Food on Amazon.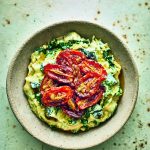 Spinach and Blue Cheese Polenta with Slow-Roasted Tomatoes
Ingredients
3

tablespoons

extra virgin olive oil

2

garlic cloves

peeled and crushed

Sea salt

500

g

about 18 ounces baby San Marzano or baby plum tomatoes, halved lengthways
For the spinach and blue cheese polenta:
600

g

about 20 ounces large-leaf spinach, washed and stalks removed

1.2

litres

5 cups Vegetable Stock

200

g

7 ounces polenta

40

g

3 tablespoons unsalted butter, cubed

60

g

2 ounces Parmesan, finely grated

150

g

5 ounces Dolcelatte Piccante or Roquefort, diced
Instructions
Preheat the oven to 120ºC/250ºF. Line a baking tray with greaseproof paper.

Whisk together the oil, garlic and a pinch of salt in a large bowl, add the tomatoes and toss to coat. Arrange the tomatoes, cut-side up, on the lined tray and roast for 
2 hours until soft and sticky.

For the polenta, bring a large pan of water to the boil, add the spinach leaves and cook for 1–2 minutes until wilted. Drain thoroughly, then squeeze dry using plenty of kitchen paper. Roughly chop and set aside.

Pour the stock into the spinach pan and bring to the boil, then whisk in the polenta, ensuring that you whisk constantly to prevent the polenta from turning lumpy. Reduce the heat and cook slowly, stirring regularly, for 30–35 minutes until the polenta has thickened and starts to pull away from the sides of the pan. Remove the pan from the heat, whisk in the butter and Parmesan and then fold in the spinach and blue cheese.

Divide the polenta between four warmed serving bowls and top with the sticky roasted tomatoes.
13