I thought about calling this Sweet Potato and Chickpea Stew a tagine, but since I don't actually have a tagine and I'm not exactly an authority on North African cuisine, I went with stew instead. But whatever you want to call it, it's an aromatic dish that comes together in under 30 minutes, making it perfect for a weeknight dinner.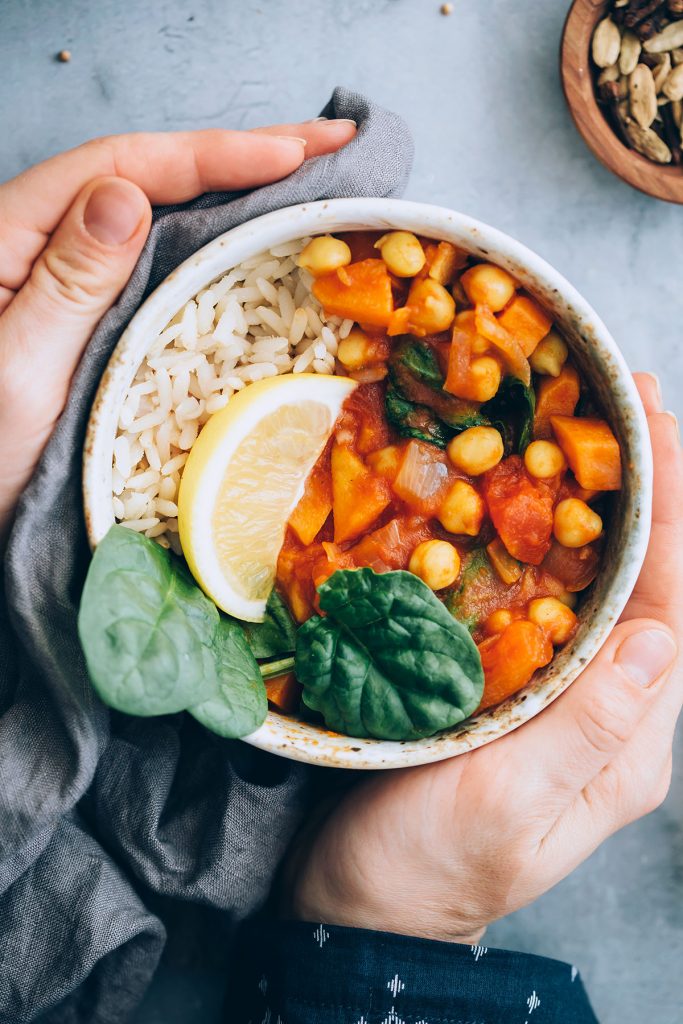 You'll often see tagine recipes made with dried apricots or dates, but I used sweet potatoes as the sweet element in this stew. Instead of the traditional meat, I swapped in chickpeas and used a heaping tablespoon of harissa to add a little kick.
Harissa is a Moroccan hot sauce that comes mild or spicy; green or red. I've found that different brands and varieties can vary wildly–add a tablespoon of one brand to a recipe and it's too spicy to eat; a tablespoon of another might not add any flavor at all. So my advice is to start with a small amount and add more to taste. (To avoid the trial-and-error process, I just stick with Mina, a brand I'm familiar with and that they sell almost everywhere I shop.)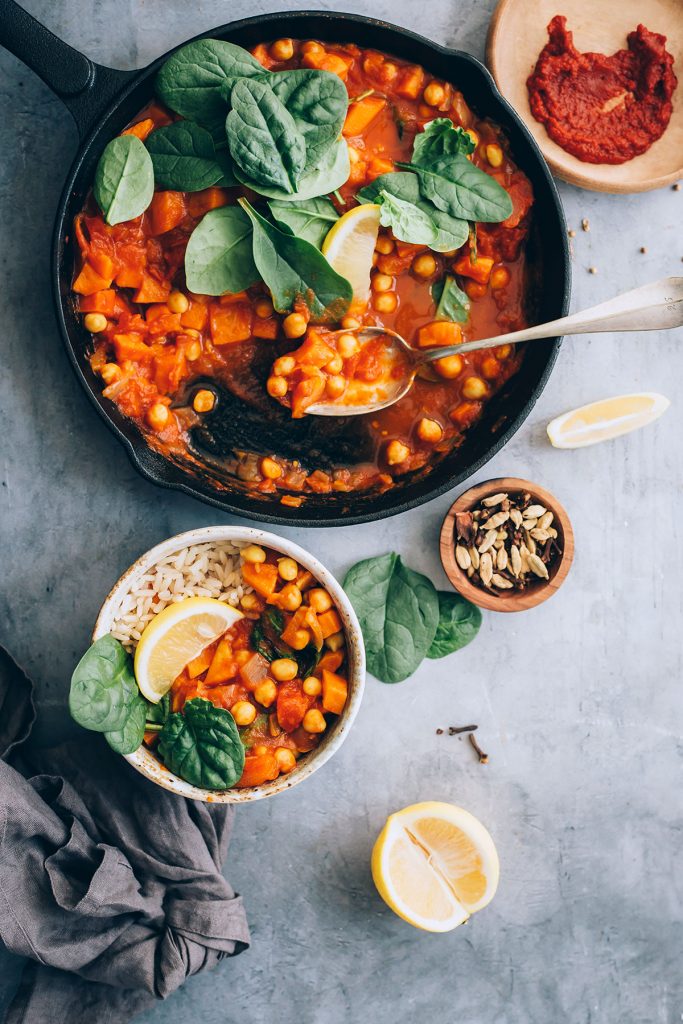 Serve this Moroccan-inspired chickpea stew over freekeh, couscous or rice, with a squeeze of lemon juice over the top. Other optional garnishes include chopped pistachios, dried fruit, and fresh parsley or cilantro. Leftovers (if you have them!) are fantastic for work lunches and they freeze well too.
Photos by Ana Stanciu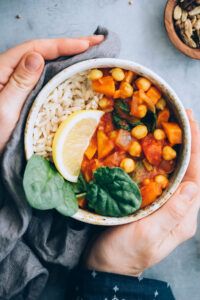 Print
Moroccan-Inspired Sweet Potato and Chickpea Stew with Spinach
Yield 4 servings
A hearty vegetarian stew with a bit of a kick, thanks to harissa. Serve over freekeh or your favorite whole grain.
Ingredients
1 tablespoon olive oil
1 medium yellow onion, diced
3 garlic cloves, minced
1 teaspoon ground cumin
1/2 teaspoon ground coriander
1 small sweet potato (about 8 ounces), peeled and diced
1 (14.5-ounce) can chickpeas, drained and rinsed
1 (14.5-ounce) can crushed tomatoes
1/2 cup water or vegetable broth
5 ounces baby spinach
1 tablespoon harissa
Salt to taste
Lemon wedges and freekeh, couscous, or rice, for serving
Instructions
Heat the oil in a large pot over medium heat. Add the onion and cook until softened, 5-7 minutes.
Add the garlic, cumin, and coriander and cook for about a minute, until fragrant. Stir in the sweet potato, chickpeas, tomatoes, and water or broth.
Bring the mixture to a slow boil, then reduce heat to low and simmer, partially covered, for 15 minutes, or until the sweet potatoes are tender.
Add the harissa and spinach to the pot and stir until the spinach wilts. Remove from heat and season with salt to taste.
Serve over your grain of choice with lemon wedges.
Notes
I use Spicy Red Mina Harissa; the heat levels of harissa can vary a lot among different brands and varieties, so if you're not sure, start with a smaller amount and add more to taste.
Courses Soups + Stews
Nutrition Facts
Serving Size 1/4 of recipe (without grains)
Amount Per Serving

Calories 241

% Daily Value

Total Fat 4.9 g

8%

Saturated Fat 0.6 g

3%

Total Carbohydrates 41.4 g

14%

Dietary Fiber 8.1 g

32%

Sugars 7.4 g

Protein 8 g

16%
* Percent Daily Values are based on a 2,000 calorie diet. Your daily values may be higher or lower depending on your calorie needs.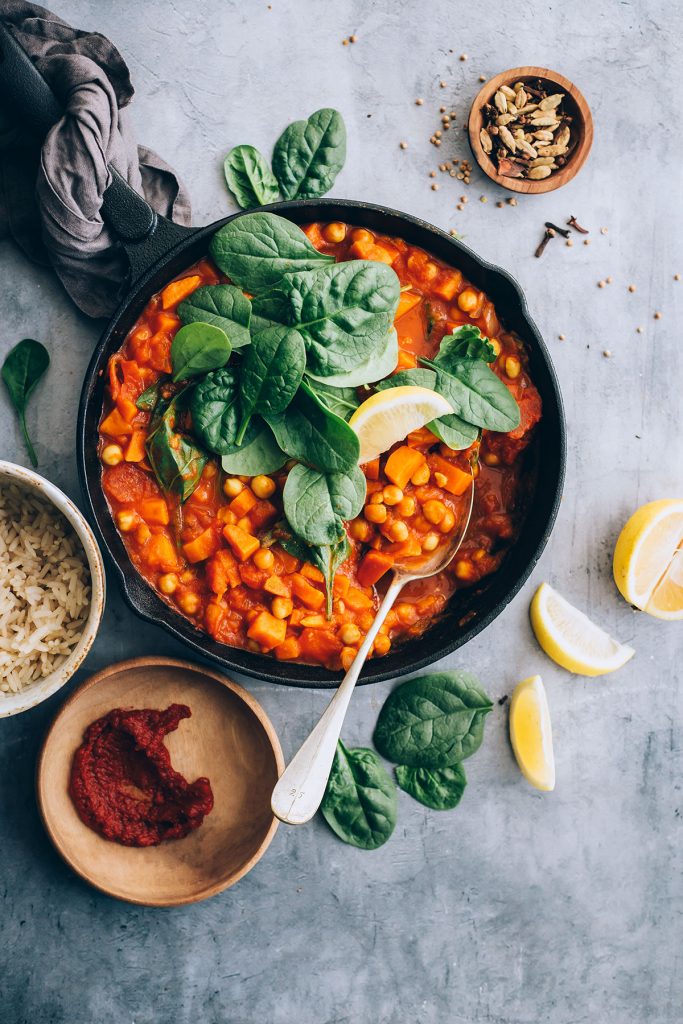 9