It's soup season, so you may be looking for a comforting recipe to add to your rotation. We feel you! There's nothing like a bowl of warm, nourishing soup when you need to brave the cold day after day.
But let's face it – most soup recipes take lots of prep time (all that chopping!) and an eternity of simmering. While that's great for the weekend, no one has time for simmering on a weeknight. And that's where miso soup comes in: it's basically done in 15 minutes, but it still packs plenty of nutrients, and definitely has that comforting umami taste we all love.
Speaking of soup goodness that doesn't take an eternity, here are 5 other recipes we literally can't stop making:
Creamy White Rice + Portobello Soup
5-Ingredient Curried Butternut Lentil Soup
Veggie-Packed Tofu Coconut Red Curry Soup
Healthier Cream of Broccoli Soup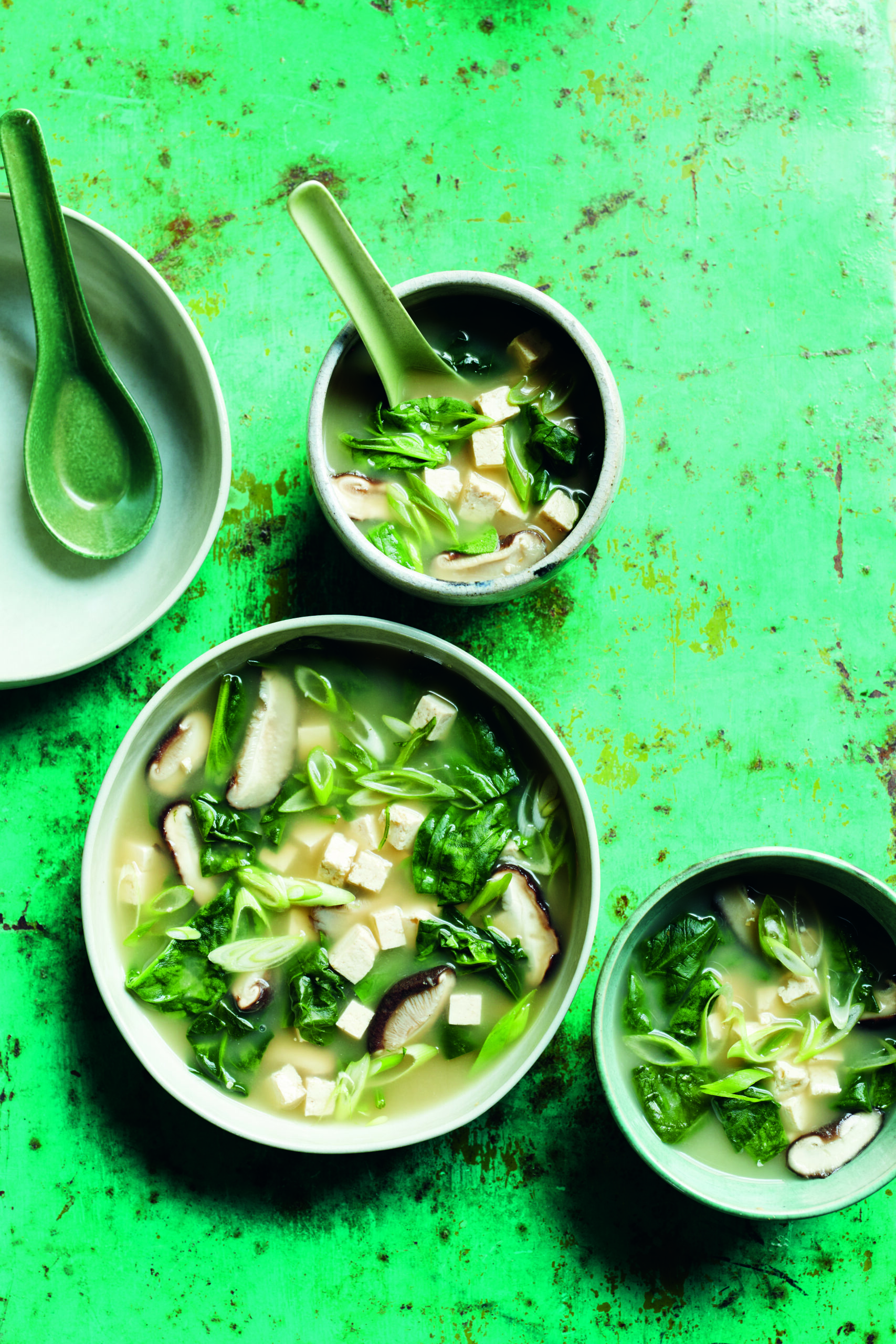 Nourishing Shiitake, Miso, Spinach + Tofu soup
The recipe for this nourishing mushroom and greens miso soup comes from a new cookbook, Asian Green: Everyday plant-based recipes inspired by the East by Ching-He Huang (coming out next week!). The book is a great resource for simple, healthy home cooking with an Asian twist. All recipes are plant based, with lots of options for tofu and seitan, as well as drinks, desserts, and everything in between.
From the author: "This broth is so quick to prepare and makes a comforting and nutritious dinner. It can be served as a starter or as a main if you're after something light. If you have a larger appetite, add some soybean noodles (or ramen noodles of your choice) at the end to make this more substantial." Gotta love a recipe that can be adapted for different needs!
Scroll down for the miso tofu soup recipe and consider buying Asian Green on amazon or wherever you buy books.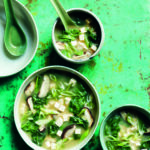 Nourishing Shiitake, Miso, Spinach & Tofu soup
Published with permission from Asian Green: Everyday plant-based recipes inspired by the East by Ching-He Huang, Kyle Books. Photo: Tamin Jones.
Ingredients
3

tbsp

red miso paste

2.5

cm

(1in) piece of fresh root ginger, grated

½

tsp

vegetable bouillon powder

200

g

(7oz) fresh shiitake mushrooms, sliced

200

g

(7oz) fresh, firm tofu, cut into 1cm (½in) cubes

100

g

(3½oz) baby spinach leaves

3

large spring onions

trimmed and sliced 
into 1cm (½in) rounds, to garnish
Instructions
Pour 800ml (1½ pints) water into a saucepan or wok over a high heat and bring to the boil. Reduce the heat to medium to bring to a simmer.

Add the miso, ginger and bouillon powder. Stir well to dissolve the miso and bouillon.

Add the shiitake mushrooms and tofu. Cook gently for 10 minutes. 

Finally, add the spinach and stir until it wilts. Serve immediately, topped with the spring onions. 
1