Cold season calls for warming soups and stews to keep you nourished and comforted. Are looking for a healthier alternative to the old fashioned cream of broccoli soup? You came in the right place – we've made a rich and delicious healthy broccoli soup, loaded with nutrients and made a few replacements to make it easier to digest and lower in calories!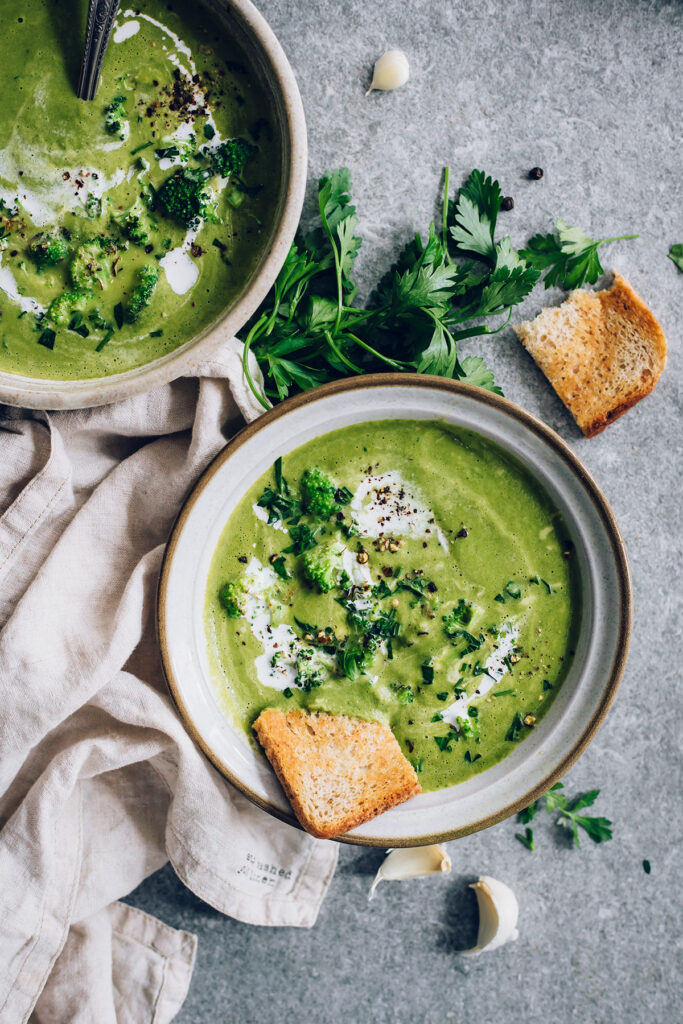 How to make cream of broccoli soup

Making cream soups is no rocket science, but in fact one of the easiest dishes you can make in the kitchen. This healthy cream of broccoli soup makes no exception. Because we changed a bit the original recipe in order to make this cream soup more nutritious while also cutting the calories, the process of making it requires only 3 simple steps:
Prep your ingredients – rinse and dice your veggies, grate the cheese.
Add all the veggies except broccoli into a large soup pot, cover with water or vegetable soup, bring to boil and simmer until tender. Add the broccoli and simmer five minutes more.
Add the cheese and yogurt and use blend everything until smooth using a hand blender. Serve!
How to thicken cream of broccoli soup

Cream soups can easily thicken using starches such as potatoes, arrowroot or cornstarch. We want to stay away from these, because we're cooking a healthier alternative, so we're simply relying on a large quantity of vegetables versus liquids. If you are wondering if cream thickens the soup, it actually gives it a velvety texture, rather than thickening it.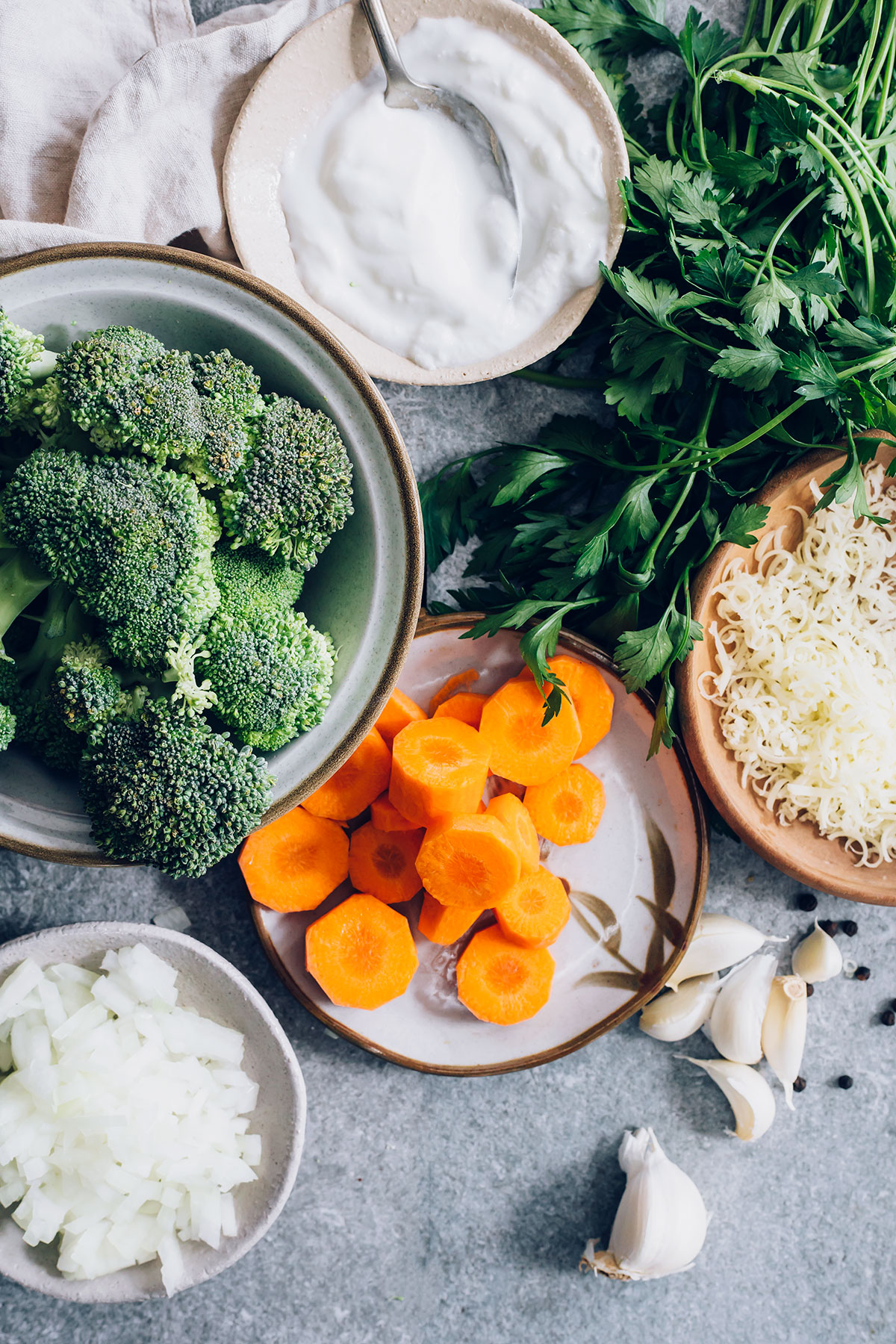 Using yogurt instead of cream in soup

If you want to cut down the calories and relief the pressure that fats put on your liver, getting a lighter soup, use yogurt instead (plain or even the thicker, Greek variety) in the recipes that call for cream. Yogurt will add a tangy taste, but also a good dose of probiotics and less fat, while cream will burden digestion and your liver function. Just remember that you should add the yogurt just before serving your cream of broccoli, because simmering it will make the soup split.
How to make a healthy cream of broccoli soup

While everybody enjoys a bowl of dense, fatty soup, especially after a long walk in the park on a cold rainy day, making a healthier alternative to your dishes is something to consider, especially if you want to cut the calories down or eat for a balanced hormone production. With simple changes you will get almost the same result that will make everybody happy!
Add more greens – fresh parsley, beat greens, chard or frozen spinach  – they all support the liver function and enrich the nutritional load of your cream soup, with calcium, fibre and vitamins, supporting the natural detoxification function of your liver.
Cut the calories down – by replacing cream with yogurt and by reducing the cheese quantity.
Don't boil your broccoli – do this by adding the broccoli to the soup pot just a few minutes before turning off the heat. Over-boiling destroys most of its precious nutrients – you can tell that just by watching its bright green colour fading.
Want to make your cream of broccoli soup vegan? Use non dairy cheese and vegan yogurt.
How to serve cream of broccoli soup

You can have your broccoli soup warm and fresh, or you can freeze it for later. If you plan to freeze it, skip the yogurt and only add it after heating the defrosted batch. Remember that heating your food multiple times destroys the nutrients and sometimes we end up eating empty calories, so freeze in separate Ziploc bags or, when cooked in bulk, heat the serving size only .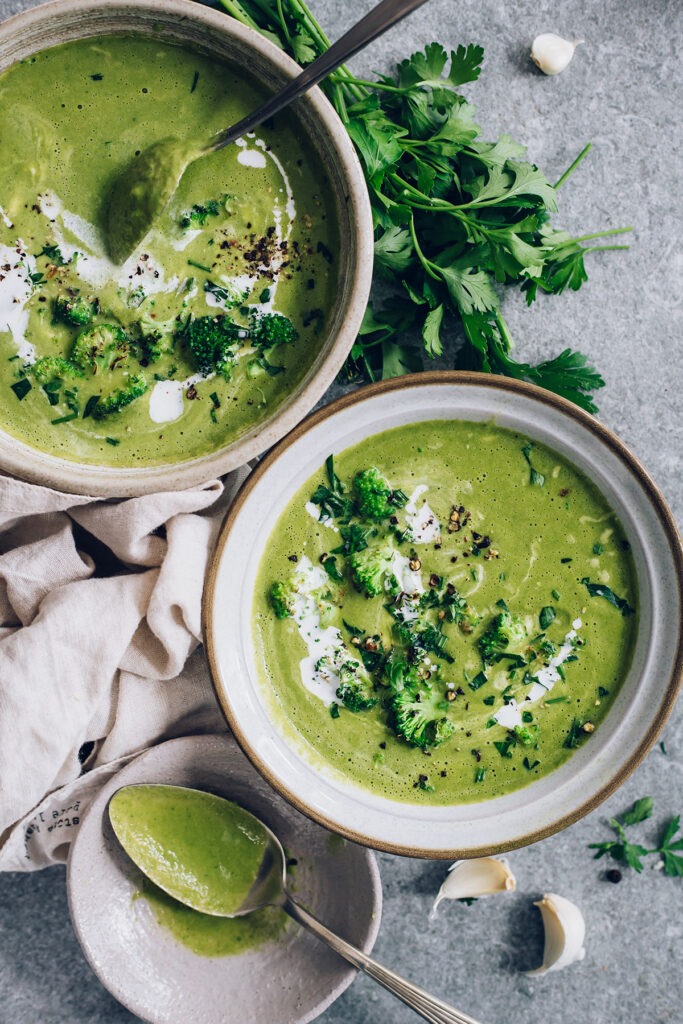 Ready for the soup season? Try our Curried Butternut Red Lentil Soup, our Vegetarian Split Pea Soup, or our Slow Cooker Tuscan Bean Soup.
Did you try this recipe? Post your photo and tag us #helloveggieblog on Instagram so we can share it with our community.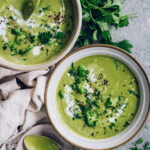 Cream of Broccoli Soup - A Healthier Version
Loaded with broccoli and greens, and made with yogurt instead of cream, this healthy cream of broccoli soup is a warming and comforting dish you'll want to repeat over and over.
Ingredients
1

broccoli head

large, cut into small florets

2

carrots

diced

1

yellow onion

diced

2

garlic cloves

diced

1

cup

frozen spinach

defrosted

1

large bunch

fresh parsley

chopped

2

celery stalks

diced

3

tbsp

plain yogurt

1/3

cup

cheese

grated (use your cheddar or mozzarela)

3

cups

vegetable broth

1

tsp

salt

Freshly ground black pepper
Instructions
Add the carrots, yellow onion, spinach, celery stalks and garlic into a medium soup pot and cover with the vegetable broth.

Bring to boil over medium heat, then simmer on low heat for 20 minutes.

Add the broccoli and simmer 5 minutes more.

Add the cheese and parsley, season with salt and pepper and use a hand mixer to blend everything until very creamy.

Add the yogurt and process to incorporate.

Divide into serving bowls and serve warm.
129