Summer is here and the vegetables are abundant. I love eating fresh, bright vegetables all summer long, but so far, we have had a fairly mild summer. I'm finding myself craving cozy, comfort food smack dab in the middle of July. A bridge meal that spans the distance between summer and fall. This make-ahead, freezer-friendly summer vegetable soup is both simple and adaptable. Do you have a fridge full of CSA vegetables that you're hoping to use? This is the soup for you.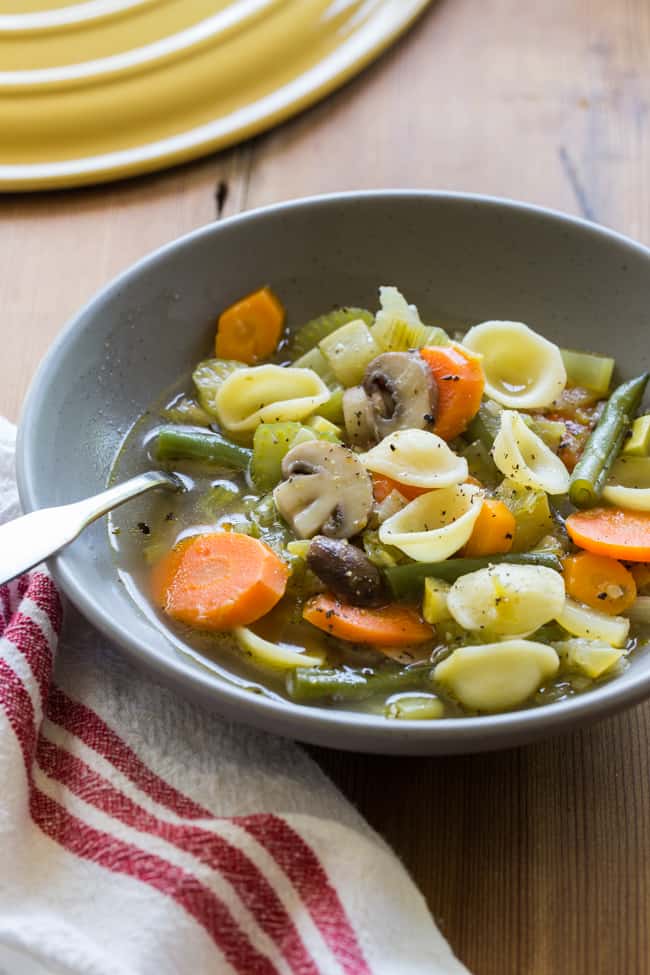 For the base of this summer vegetable soup, I use carrots, celery, garlic, and leeks. If you don't have leeks on hand, feel free to use whatever type of onion you have in your kitchen. When it comes to the stock, use your favorite: chicken, vegetable, store-bought, or homemade.
I have made this summer soup countless times, however, rarely the same way twice. After the base vegetables are in the pot with the stock, you have total freedom with whatever vegetables you'd like to use: peas, green beans, zucchini, mushrooms, wax beans, tomato, and parsnips. The list goes on!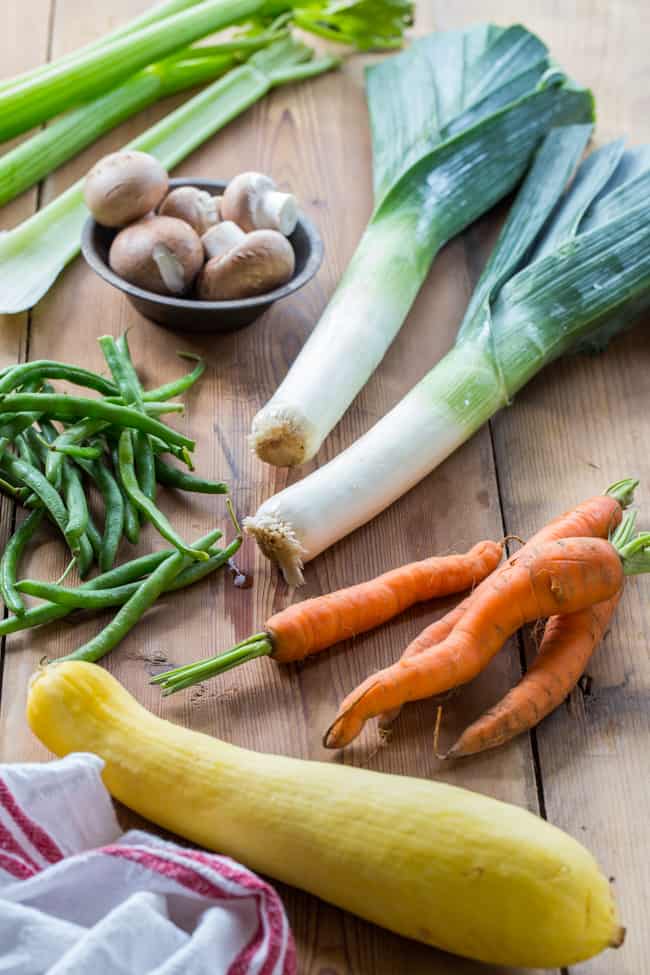 Just be sure to chop the vegetables in a similar size and if you have a vegetable that takes a bit longer to cook, add it to the soup a few minutes before everything else. You can add cooked pasta noodles before or after you freeze the soup, however, the noodles seem to keep a better texture if you add them after thawing the frozen soup. If you're like me and add them before you freeze, don't worry, the soup will still be incredible!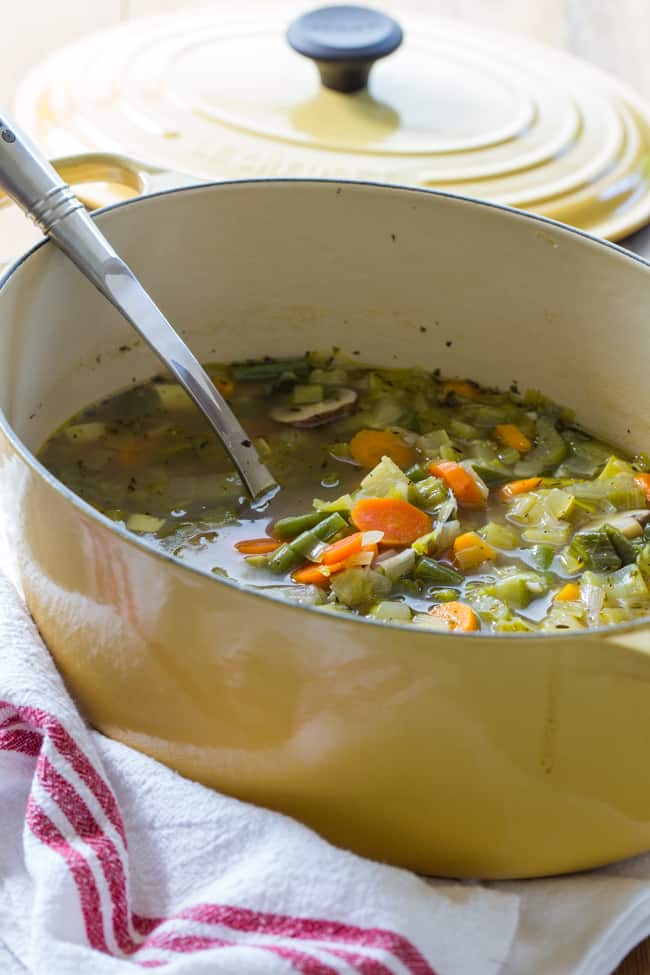 Divide the cooked soup into freezer-friendly containers and pop them into the freezer for up to three months. You can thaw the frozen soup in the refrigerator, overnight, or place frozen soup into a sauce pan with 1 cup of water and simmer until thawed and heated through.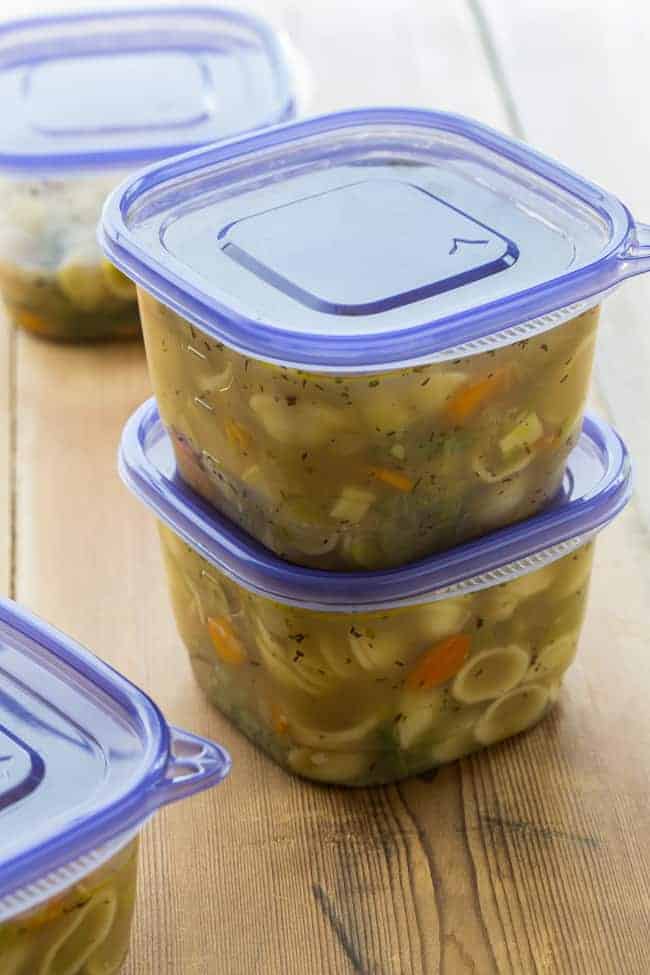 This is a great meal to have ready for when you return from a trip and know that you will not have the energy to cook. Do you know someone who just moved to a new home or had a baby? You will absolutely make their day when you show up on their porch with a big pot of this soup.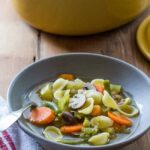 Make-Ahead Frozen Soup Bases
This make-ahead, freezer-friendly hearty vegetable soup is both simple and adaptable. Perfect for a fridge full of CSA vegetables!
Ingredients
2

tablespoons

extra virgin olive oil

2

leeks; washed

cut in half length wise, and thinly sliced

3

medium carrots

sliced (about 2 cups)

3

celery stalks

sliced

4

garlic cloves minced

8

cups

vegetable or chicken stock

4

cups

additional soup vegetables

such as zucchini, bell pepper, green beans, mushrooms or parsnips

2

teaspoons

fresh thyme leaves

1

teaspoon

fresh oregano

kosher salt and black pepper to taste

12

ounces

pasta noodles

cooked (optional)
Instructions
In a large Dutch oven or soup pot, heat olive oil over medium heat. Add leeks, carrots, celery and garlic. Stir and cook until fragrant and starting to soften; about 8-10 minutes.

Add stock and additional soup vegetables. Bring to a boil. Add thyme, oregano, salt and pepper. Reduce heat to low and simmer for 15-20 minutes or until all vegetables are cooked through.

If freezing: Divide soup into freezer safe containers and freeze. To serve, thaw in fridge over night, or add frozen soup to sauce pan with about 1 cup of water. Bring to a simmer over low heat and stir until soup is thawed. All soup to simmer for about 5 minutes. Adjust seasonings and add pasta if desired.

If eating immediately, add cooked pasta noodles (if using) to the soup and serve.
Recipe Notes
Soup should keep in the freezer definitely, but to prevent freezer burn, consume within 2-3 months.
0