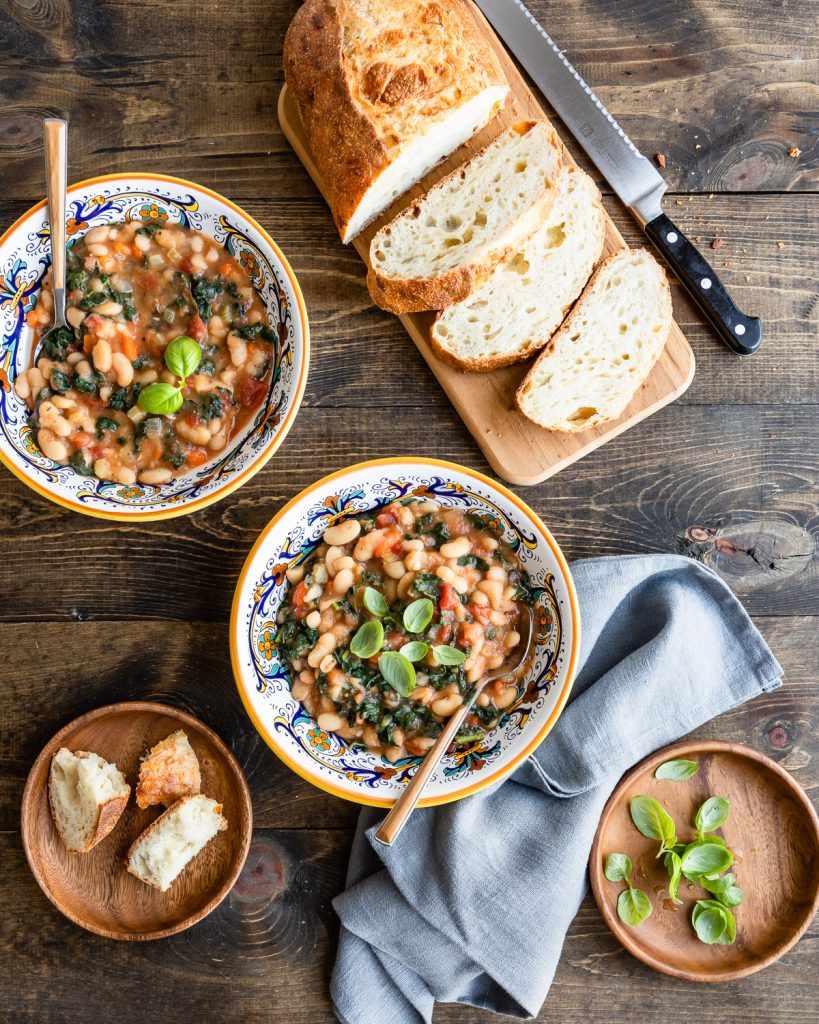 When I was a kid my mom rarely made bean soup from scratch. It was only once or twice a year, maybe. I remember always looking forward to that time because there would be a giant pot to last us for a few days. It was so much better than anything in a can. Needless to say, I've always been extremely fond of bean soups! My very favorite bean soup of all is this Slow Cooker Tuscan Bean Soup. I've been making variations of this soup for over a decade. It's always a huge hit with my family and something I serve often to guests too.
Though I said I make variations of this soup, the basic structure is the same: beans, veggies, water or veggie broth, and greens. Sometimes I'll use different types of white beans – any kind will work in this recipe. I've also substituted lentils or chickpeas with great results. I think this soup is so delicious because I use my slow cooker. Those hours of cooking help the flavors meld together. The vegetables are very tender, the beans are soft and creamy, and because the greens are added at the end, they don't end up overcooked. (I can't stand when leafy greens are overcooked!)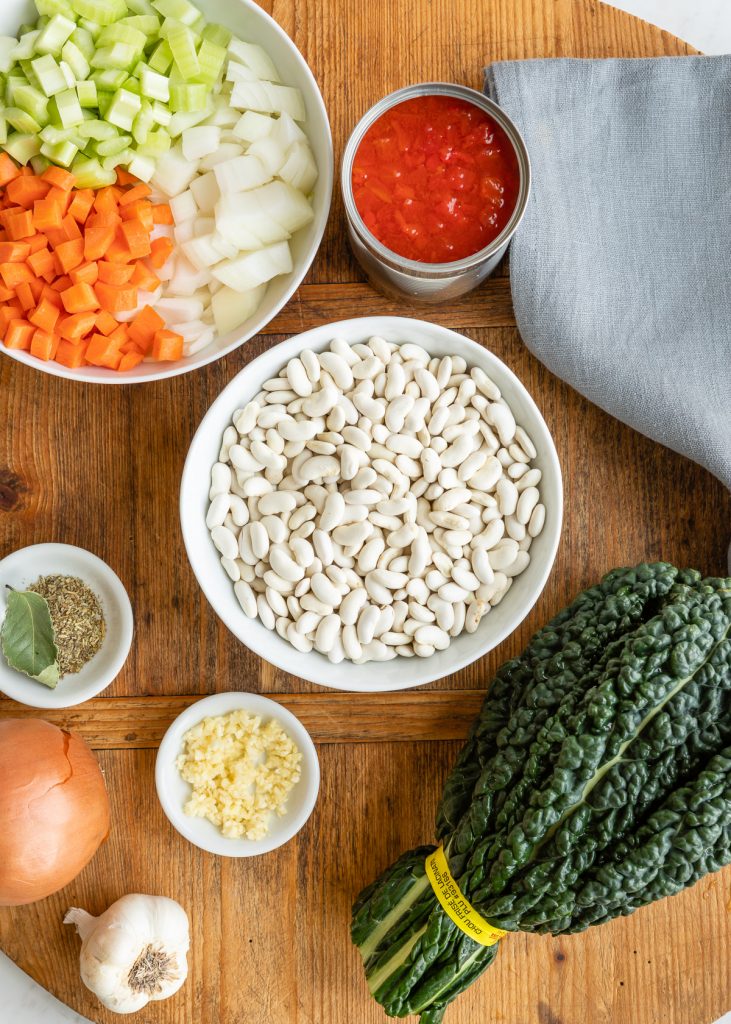 This is an incredibly budget-friendly recipe. I make it all the time to make use of my stores of bulk food items and other cupboard staples. And because it makes a lot of soup, I will often make a double batch (my slow cooker is gigantic) and freeze in smaller portions to use throughout the month.
What Type of White Beans Are Used In Slow Cooker Tuscan Bean Soup?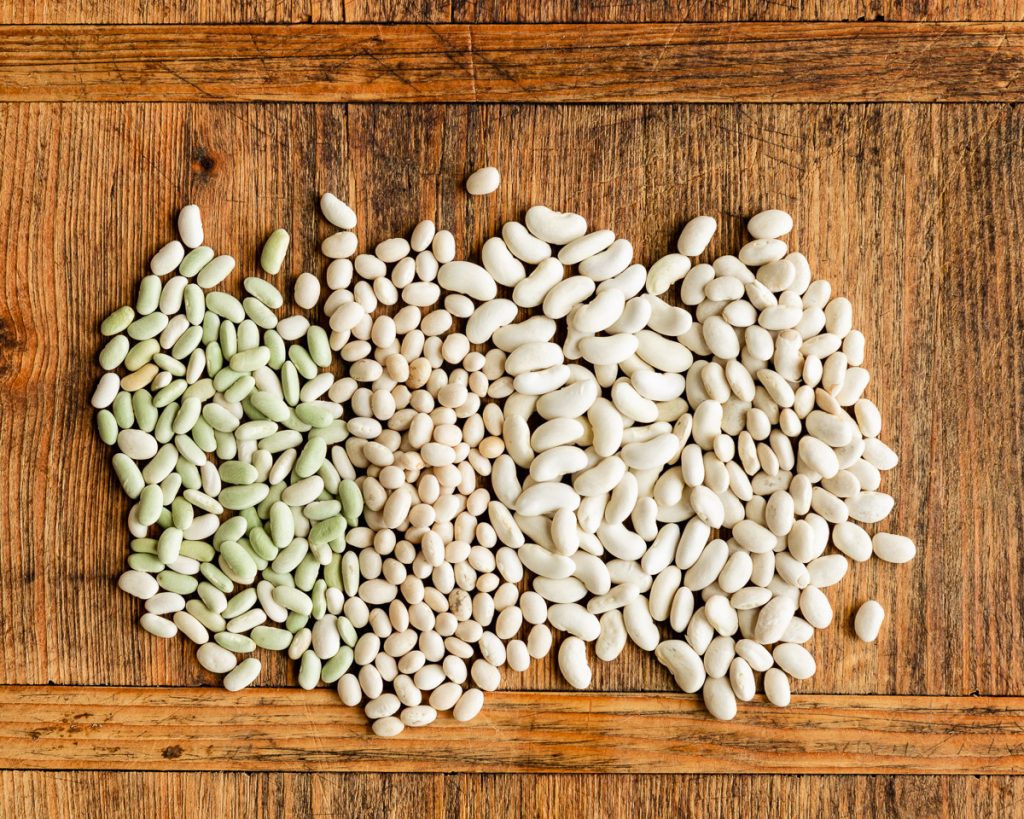 Any type of white bean will work for this recipe. Depending on the type used, the cooking time will vary a bit. The beans pictured above from left to right are: flageolet, navy, cannellini, and Great Northern. There are more varieties of white beans, but these are the most common.
Dry cannellini beans can be a little trickier to find than navy or Great Northern. I've only seen them in the bulk section of natural food stores or online. Flageolet beans are another great substitute. They are an heirloom French bean that is light green or kind of off-white in color. They hold their shape well and taste delicious. (I usually save them for slow cooker cassoulet.)
If cannellini beans are used, it's important to prep them first. Usually I do not presoak dry beans when I cook them in the slow cooker. I find it unnecessary and it doesn't shorten the cooking time. However, cannellini (white kidney beans) and red kidney beans need to be boiled first to destroy a toxin that can cause some people to become ill. The toxin is found in higher concentrations in red kidney beans. Kidney beans of all kinds need to be cooked completely – undercooked kidney beans are just as dangerous to consume and can cause severe digestive upset. Err on the side of caution!
This is how I prep the cannellini beans I used in this recipe: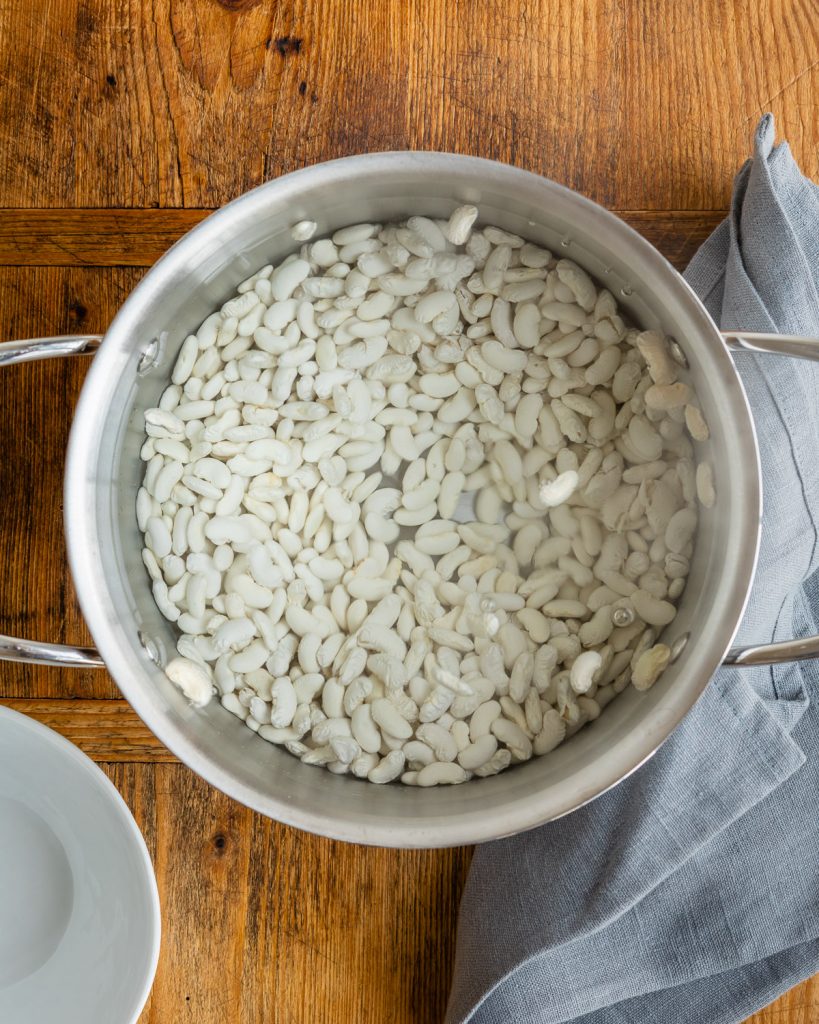 After sorting the beans, put them in a pot and cover liberally with water. Place on the stove and bring to a rolling boil. Lower heat slightly and continue boiling for 30 minutes.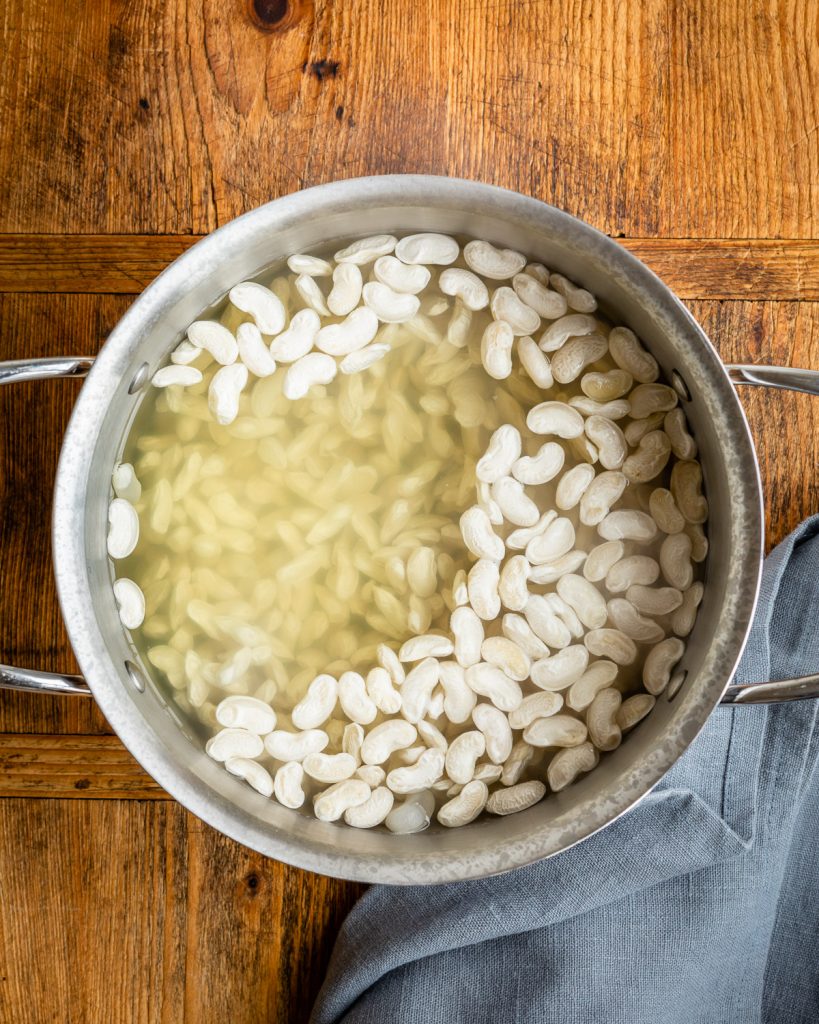 The beans will plump up a bit, but still be firm. Drain the water and rinse beans very well. Then proceed with the recipe.
Other Common Ingredients in Slow Cooker Tuscan Bean Soup
As with most soups, this Slow Cooker Tuscan Bean Soup contains the classic trio of onion, carrot, and celery. I don't bother to sauté them first as I do with other slow cooker recipes.
Tomatoes are another ingredient I add, but I've seen left out of other recipes. I prefer to add the tomatoes because I really like them for one, and for two, they add a nice acidic component that plays off the earthiness of the beans and veggies. Because the tomatoes are acidic, I add them near the end of cooking because they can prevent the beans from softening properly. (That's also why I add salt at the end instead of the beginning.)
It wouldn't be Slow Cooker Tuscan Bean Soup without the kale. Tuscan (or lacinato or dinosaur) kale is my favorite variety. But truly any kind of kale could be used. I've also used chard or spinach with great results. I always add leafy greens at the end of the cooking time because I hate the texture of overcooked greens. Totally a personal preference.
All the soup needs is a crusty slice of rustic Italian bread, and if you're not vegan, a sprinkle of vegetarian parmesan cheese tastes great too.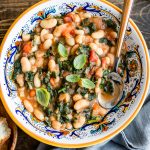 Slow Cooker Tuscan Bean Soup
This easy, Italian-style white bean soup is loaded with vegetables and leafy greens. Making it in the slow cooker takes only a few minutes to prep in the morning and it's ready in time for dinner. Plus the house smells fantastic as it cooks!
Total Time
8
hours
20
minutes
Ingredients
1

pound

dry white beans

see notes below

2

large carrots

peeled and diced

3

large celery stalks

diced

1

onion

diced

3

cloves

garlic

minced or chopped

1

bay leaf

1

tablespoon

Italian seasoning

6

cups

boiling water

1

tablespoon

salt

Ground black pepper

to taste

1

15-ounce can diced tomatoes, undrained

1

large bunch Tuscan kale

roughly chopped

1

14-ounce package Tofurky Italian Sausage (optional), sliced and cooked in a pan

Fresh herbs

for garnish

Rustic bread

for serving
Instructions
Sort through and rinse beans several times in cool water. Add to the slow cooker along with the diced carrots, celery, onions, garlic, bay leaf, and dried herbs. Add the boiling water.

Cover and cook on HIGH for 3-4 hours, or LOW for 10-12 hours. Remove lid from slow cooker and add the salt and pepper, and diced tomatoes. Let cook for another 30 minutes on LOW or 1-1½ hours on HIGH, or until beans are soft.

Before serving, stir in the chopped greens and sausage, if using. Garnish with herbs and serve with a slice of bread.
Recipe Notes
Different types of beans will vary in cooking time needed to adequately cook and soften. Larger beans such as Great Northern and cannellini will need much longer than smaller navy beans.
If using Great Northern, navy, or another type of white bean (besides cannellini), the beans do not need to be presoaked, but can be if desired. It doesn't change the cooking time significantly. (I do not presoak except for cannellini and kidney beans. See next note.)
If using dry cannellini beans, add dry beans to a pot of unsalted water and bring to a rolling boil for at least 10 minutes. Turn off heat and allow beans to soak for 30-60 minutes, then drain and rinse. The beans will now be ready to go into the slow cooker. Cook beans until soft and creamy. Eating undercooked red or white kidney beans can cause severe digestive illness in some people.
If the beans are already soft after the initial cooking time, add the tomatoes and greens and serve immediately. The hot soup will warm the tomatoes and wilt the greens enough.
This soup can also be made in a pressure cooker such as an InstantPot. Cook for the recommended time listed in the manufacturer's instruction booklet.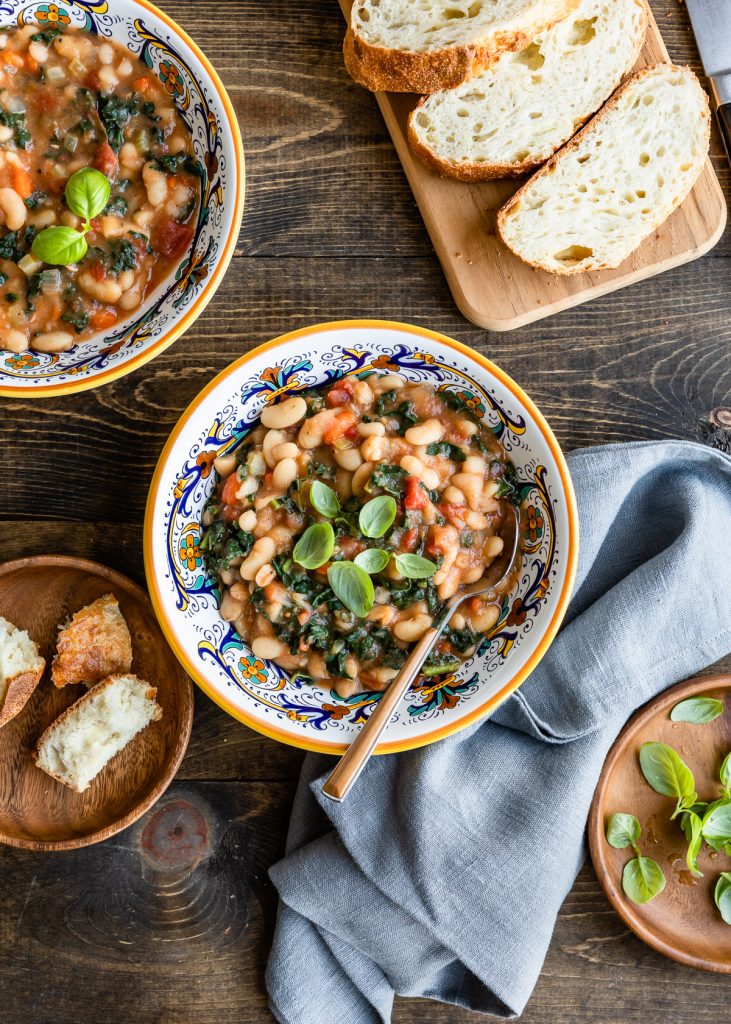 19