Just like slow-cooker staples, a big pot of quinoa is a genius way to set yourself up for healthy meals all week. I know what you're thinking: "I have to eat quinoa every day?" But, there are so many things you can make with this wonder ingredient that you can eat it all week and never grow tired of it. Here's how to cook once and stretch it for a week.
Just a half-cup of quinoa is rich with minerals and antioxidants. It has about 20% of your iron and vitamin B6 for the day, plus plenty of protein, magnesium and fiber (mostly insoluble, but there is some soluble). Quinoa is a complete plant-based protein (meaning it has all the essential amino acids) and it's naturally gluten free, making it a great choice for just about any diet. Its mild flavor means you can use it in or with just about anything—sweet, savory, umami, hot, cold…it's all good.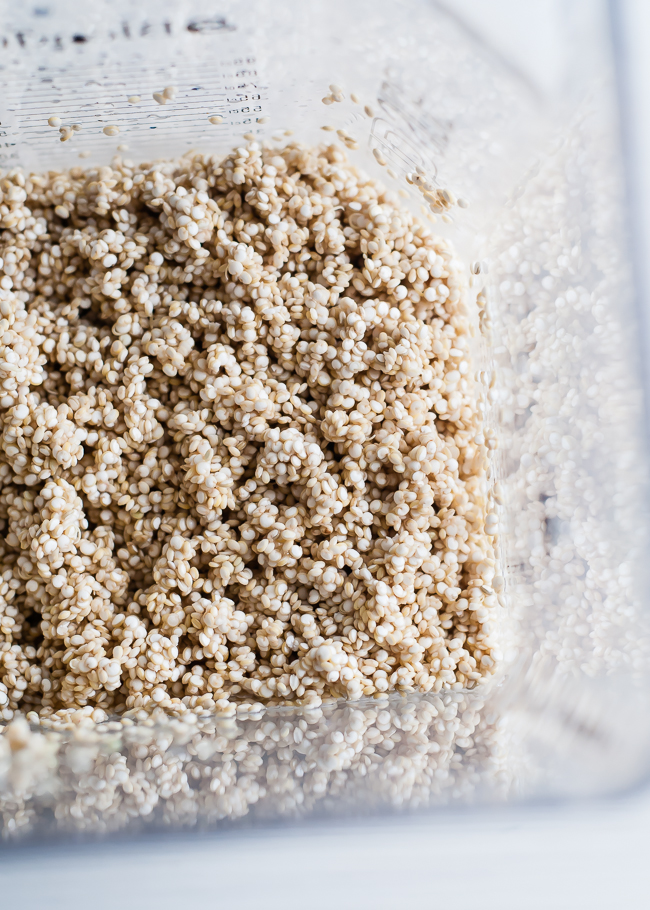 Buying the Quinoa
You'll need about 5 cups cooked quinoa for two people to get through the week following the recipes below. One cup dry quinoa equals 3 cups cooked—so to have 5 cups cooked, you need at least 1 2/3 cups dry on hand (I know, math). Buy quinoa in bulk if you can to cut down on packaging costs. There are red, white and black varieties, but buy whatever you like: white is the mildest; red and black have an earthier and deeper flavor, and are perfect for salads, burgers and other savory recipes.
Cooking and Storing the Quinoa
I like to make it in a rice cooker on Sunday night, although you can certainly do it on the stove. Make sure your rice cooker or pot is big enough to hold the amount you're making. You may need to do two batches—if you're using the stove, you can cook them simultaneously.
Cook with 2 cups of water for every cup of dry quinoa. (The Kitchn has an awesome tutorial on cooking perfect, fluffy quinoa.) When it's done, you'll see the little germ swirling around each grain. Make sure not to under- or over-cook the quinoa, as this will affect the texture as you use and reheat it over the course of the week.
When your quinoa is cooked, let it cool slightly and portion out into 5 glass or BPA-free plastic storage containers. Put 3 of the 5 portions in the fridge for Monday, Tuesday and Wednesday (you could store these together if you like), and the remaining 2 in the freezer for Thursday and Friday. If you're making extra for breakfasts or other uses, just make sure 3/5 of it goes in the fridge and 2/5 goes in the freezer. This will ensure that your Thursday and Friday portions actually make it to Thursday and Friday! Pull the Thursday and Friday portions out and toss in the fridge Wednesday night or Thursday morning.
Now, the most important part…
What to Make with All That Quinoa?
If you made 5 cups of quinoa, you'll have enough to make any of these recipes for two people each day, with adjustments noted.
Where a recipe directs you to cook the quinoa—like in a stew or soup—just add in your pre-made quinoa at the end instead, giving it a few minutes to reheat. Then follow the rest of the recipe as directed. If you need to reheat the quinoa to serve with something—like in a bowl or stir-fry—pop it in the microwave for 45 seconds to a minute, or until heated through.
Monday: Burgers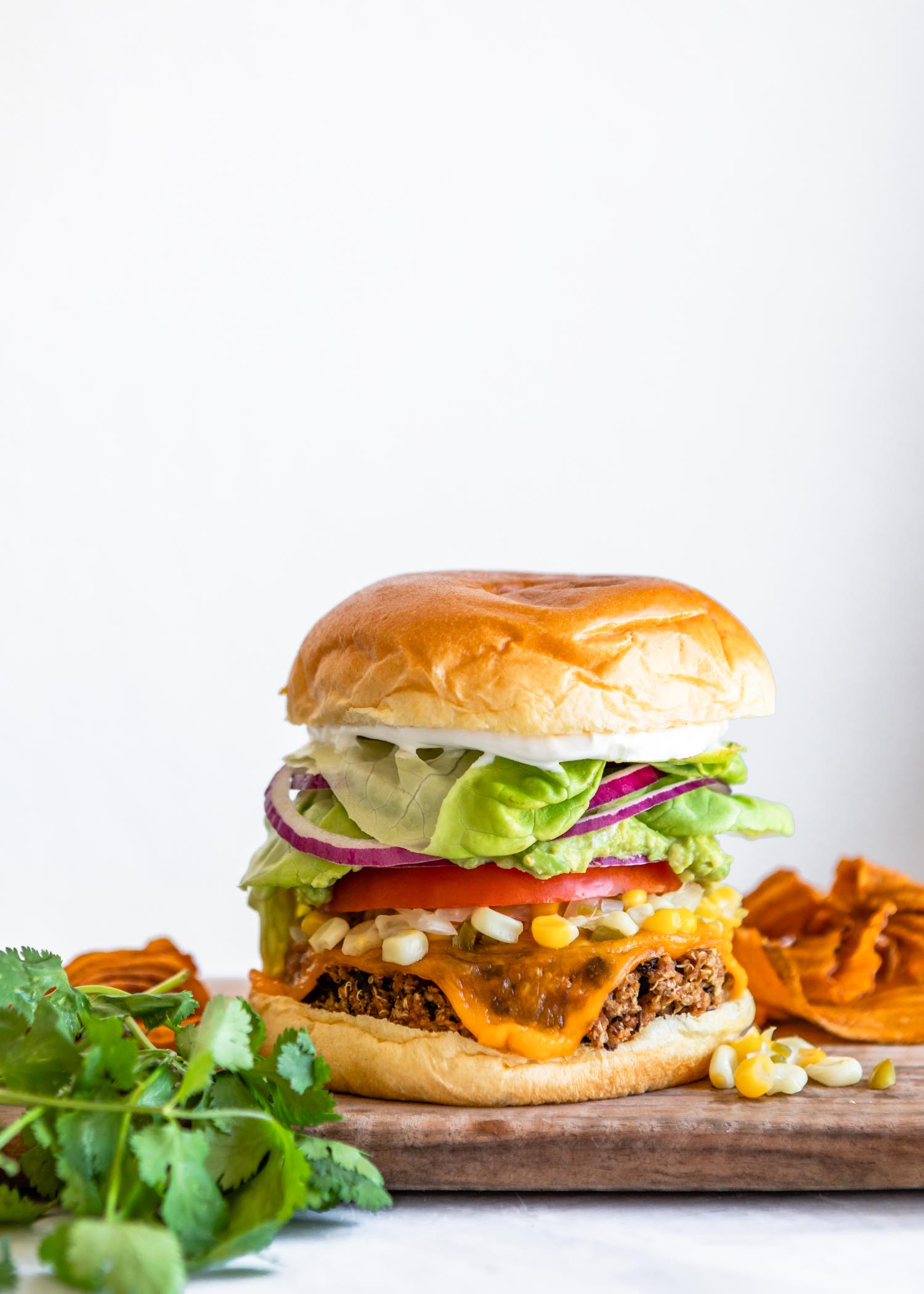 Quinoa helps add texture and protein to veggie burgers: Black Bean Chipotle Burgers (pictured above) | Buffalo Chickpea Quinoa Burgers | Pumpkin Burgers (halve the recipe) | Indian-Spiced Quinoa Chickpea Burgers | Broccoli Quinoa Burgers (halve the recipe)
Tuesday: Bowls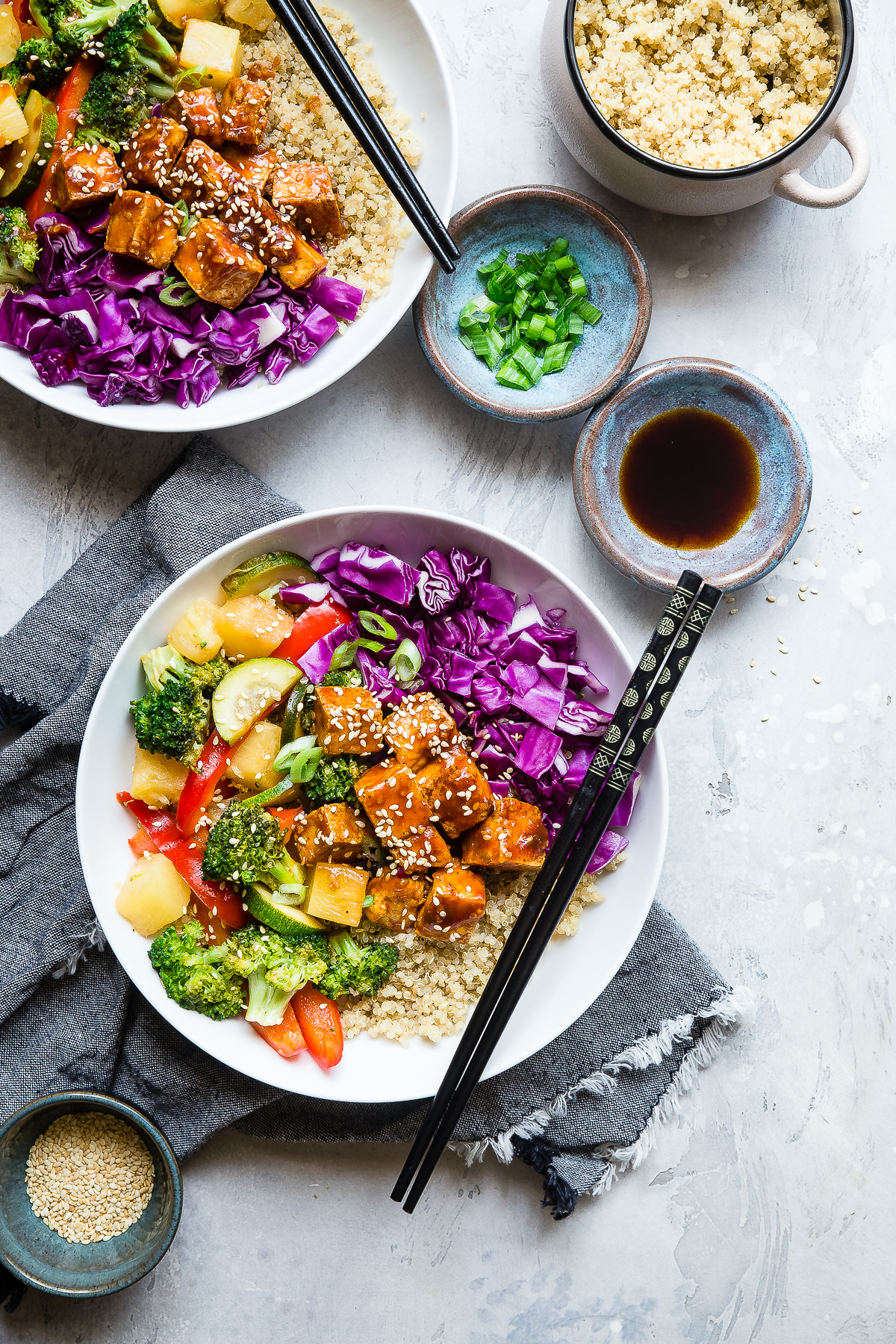 This one's easy. Put quinoa in a bowl, put delicious stuff on top: Korean Barbecue Tofu Meal Prep Bowls (pictured above) | Roasted Veggie Quinoa Bowls | Sesame Kale Glow Bowls (make 2/3 the recipe) | Mexican Buddha Bowl (make 1/2 the recipe)
Wednesday: Soup or Stew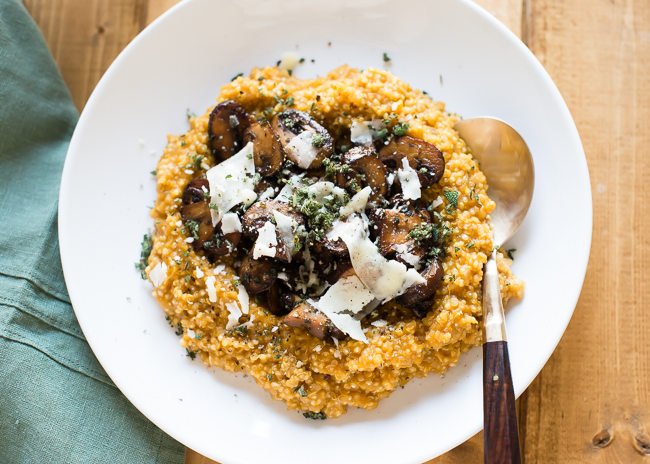 Cooked quinoa can be added to just about any soup. Just make sure it gets about 5 minutes in the pot to reheat thoroughly: Creamy Pumpkin Quinoa Risotto (pictured above, make 1/2 the recipe) | Quinoa Chili (make 1/3 the recipe) | Butternut Squash, Kale and Quinoa Stew (halve the recipe) | Hearty Quinoa and Lentil Stew (quarter the recipe) | Chicken Quinoa Soup (halve the recipe) | Broccoli Spinach Quinoa Soup (halve the recipe)
Thursday: Salad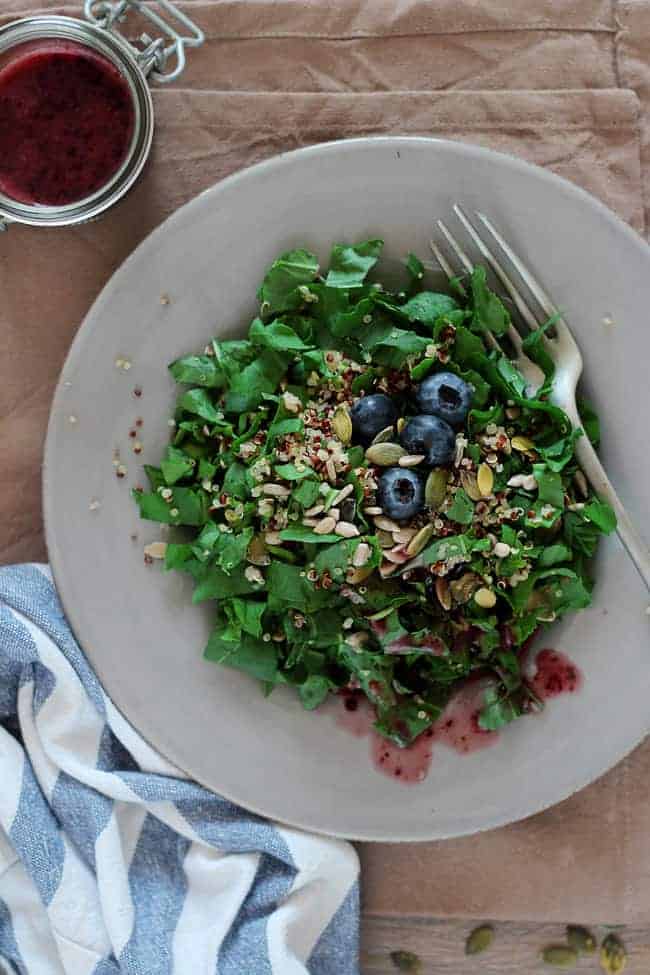 Make sure you've put Thursday's quinoa in the fridge to thaw; if not, you can set it on the counter for about 1/2 an hour to thaw (fluff it with a fork occasionally to speed things up). Quinoa is a great textural and protein addition to almost any salad: Watercress and Quinoa Salad with Blueberry Vinaigrette (pictured above) | Quinoa Avocado Spinach Power Salad | Tomato, Basil and Mozzarella Quinoa Salad (halve the recipe) | Strawberry and Spinach Salad with Quinoa and Goat Cheese | Quinoa Bean Salad in a Jar (double the recipe)
Friday: Stir-Fry or Skillet

Quinoa takes rice's place as the ideal base for stir-fries. It perfectly soaks up sauces, and its fluffy texture and mild flavor contrast with crispy veggies and spicy sauces: Crispy Bourbon Tofu Stir Fry from Connoisseurus Veg (pictured above) | Quinoa Vegetable "Fried Rice" | Kale and Quinoa Skillet with Mushrooms and Herbs (halve the recipe) | Kung Pao Tempeh
In addition to these recipes with quinoa, try using quinoa in pizza crust, risotto, granola or even chocolate pudding. And many other healthy quinoa recipes!
6