In the summer, salads (and melons) are pretty much the only things I'm craving. Salads packed with fresh, summery ingredients are a great way to get your daily nutrients and cool off with a light meal on a hot summer evening. Because let's be honest – no one wants to turn on the oven when the temperatures are this high. And I'd rather enjoy the summer than being stuck in a hot kitchen cooking for hours.
There aren't any special rules for making the perfect salad, but one thing is for sure: variety is key. It's important to mix different greens and veggies with nuts, seeds, proteins and small amounts of fruits for a perfect combination of textures and flavors. Follow this easy formula and you'll have a healthy meal that nourishes your body with vitamins, minerals, fibers and antioxidants. At the same time, you're making sure your salads will be the talk of the party instead of just blah.
Case in point: this summery watercress and quinoa salad with a wonderful blueberry vinaigrette. I'll tell you all about it.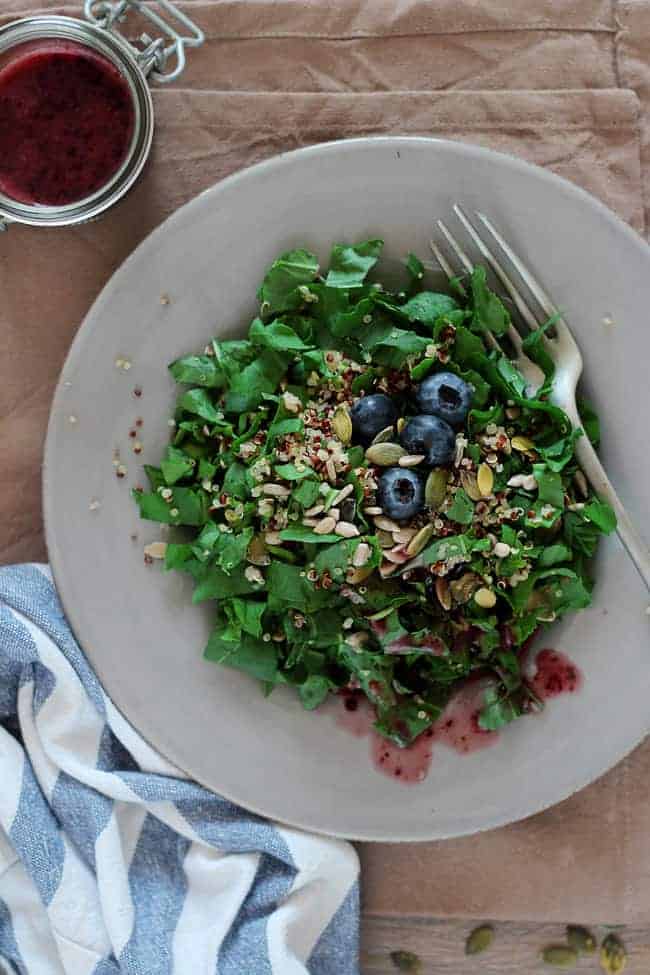 I always try to branch out and make new combinations of salad ingredients. And with so many veggies and aromatic herbs available at farmers markets in the summer, this is actually a very easy thing to do. Lettuce, kale, spinach, corn salad, watercress, Swiss chard – they're all abundant this time of the year and so versatile.
Using a quinoa base has become the norm at our house – not only is it easy to cook in big batches, but it's also packed with protein, fiber, manganese, magnesium, phosphorus, copper, iron, folate and more.
In this quinoa salad recipe, peppery watercress brings Vitamin A and calcium, while crunchy seeds and a refreshing blueberry vinaigrette top it all off making it a satisfying, summery vegan meal.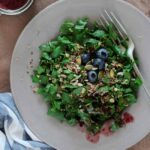 Watercress and Quinoa Salad with Blueberry Vinaigrette
Easy, delicious salad, packed with vitamin C, antioxidants and protein.
Ingredients
For the salad
2

cups

fresh watercress leaves

1/4

cup

fresh blueberries

1

cup

mixed red and white quinoa

cooked and cooled

1

tbsp

toasted sunflower seeds

1

tsp

toasted pumpkin seeds
For the vinaigrette
1/2

cup

fresh blueberries

1

tbsp

extra virgin olive oil

1

tsp

balsamic vinegar

1

tsp

organic raw honey

Pinch

of pink Himalayan salt
Instructions
For the vinaigrette:
Place all the ingredients in the blender, and process until smooth.
For the salad:
Mix all the salad ingredients, add the dressing, toss to combine and serve immediately.
1