After studying abroad in Florence during college, I find that I often look for ways to incorporate bits of the Italian palette into my everyday meals. Part of this is nostalgic– I miss eating gelato along the Arno and the dinners on my host parents' hidden terrace. But the other part is simply taste and the Italian tendency to make do with what you have while letting the ingredients shine on their own. Enter: panzanella.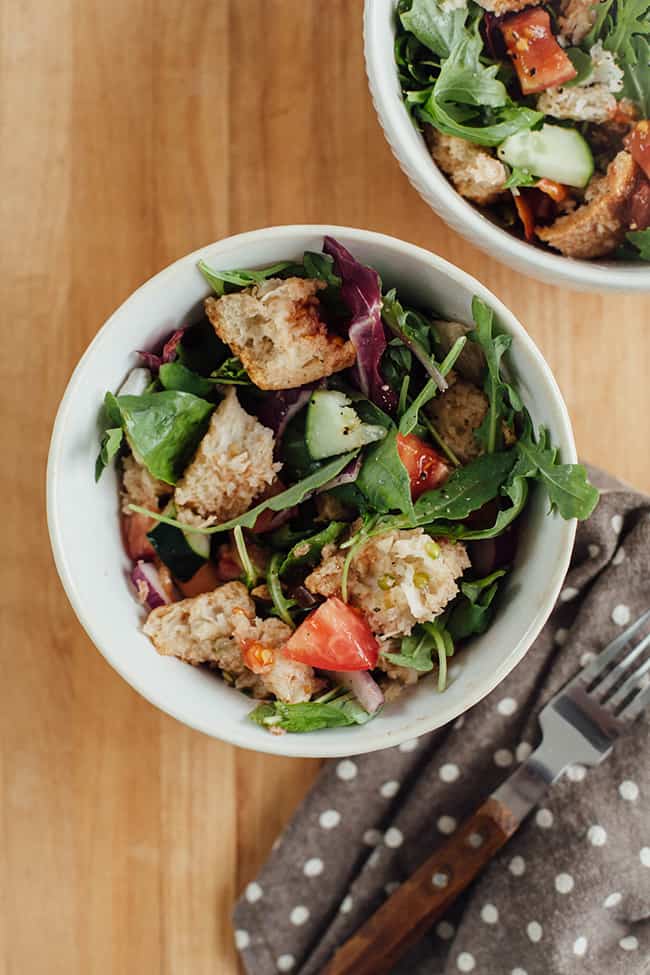 Panzanella is traditionally made with bread that's gone stale. Instead of feeding it to the ducks or making another bread pudding, panzanella is a surprisingly summery way to revive that bread for one more go. And with tomato season just around the corner, this dish transports me back to those Italian summer nights.
Summer Panzanella Salad Recipe
Although panzanella is typically made with more bread that anything else, I found that adding kale transforms the dish into a light and crispy yet filling salad. The mix of baby greens give a soft bite to break up the density of the bread and create a lighter take on an ordinarily carb-heavy dish. Not that there's anything wrong with carbs (we did find a way to eat stale bread, after all). Here's how to make this easy recipe: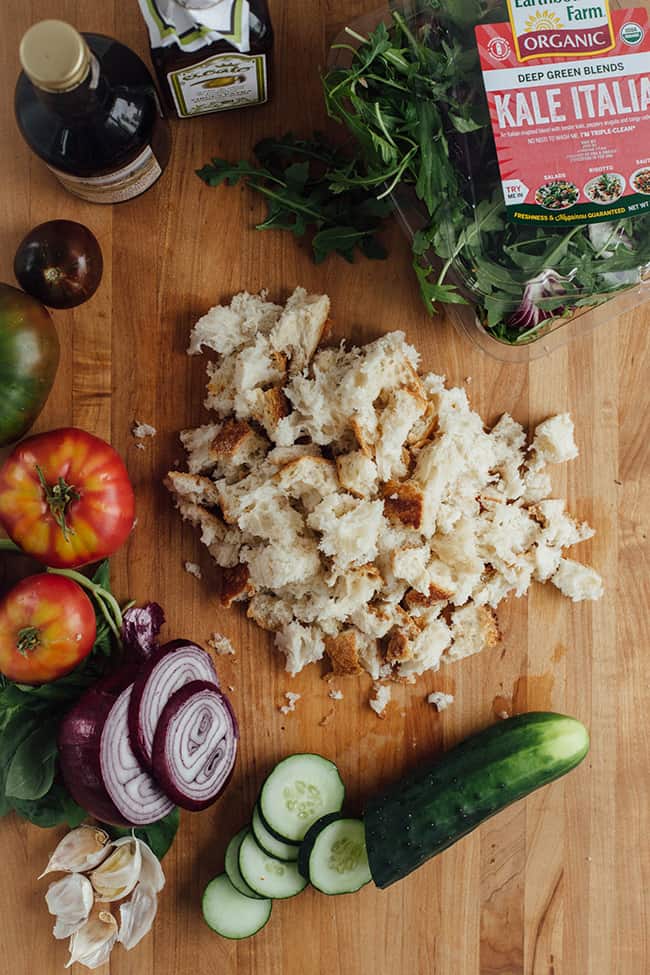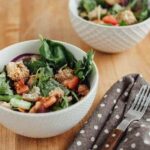 Panzanella Salad
Ingredients
1

loaf of 2-day-old bread

tip: slicing the bread helps it dry out faster

5

oz

salad greens

e.g. kale, baby spinach...

6

medium tomatoes

1

cucumber

10

fresh basil leaves

2

cloves

of garlic

minced

3

tablespoons

olive oil

3

tablespoons

balsamic vinegar
Instructions
If not already, cut bread into thick slices. Run each slice quickly under a running faucet and set aside to absorb the moisture.

While the bread is soaking, slice three of the tomatoes in half. With a cheese grater, grate each tomato half (open face against the grain) over a bowl to collect the pulp. Discard the peels. Add the garlic, olive oil, balsamic vinegar, and mix. Set aside.

Roughly chop the remaining tomatoes, the cucumber, and the basil leaves. Mix into the salad greens with the tomato dressing and set aside.

Return to the bread and test the texture. The bread should be soft and spongy. If it's still dry, add more water. If it's too wet, squeeze and drain excess water. Rip the bread into bite-sized pieces.

Mix the bread pieces with the dressing, drizzling additional olive oil and balsamic vinegar as needed. Once thoroughly mixed, let stand for at least an hour to allow the flavors to soak in. Salt and pepper to taste.
1