Quinoa is awesome. It's packed with plant-based protein and is naturally gluten-free and super healthy. The problem is that it often tastes 'super healthy' so the kids won't go near it. Enter the quinoa pizza crust. Best pizza ever. No lie. The dough requires only 3 ingredients (quinoa, salt, water) and is amazingly simple to make. It does involve a little planning ahead (there's overnight soaking), but other than that, it's even easier than making pancakes.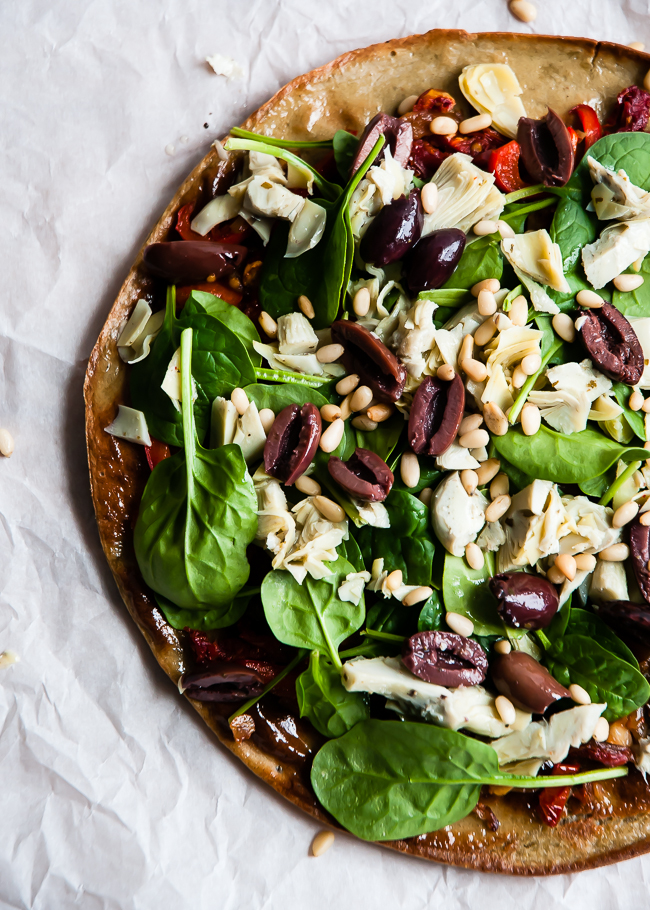 I've been gluten-free for four years and have been making my old favorite gluten-free crust from scratch using a tried and true recipe. And I love that recipe! But I was ready to try something new; something easier. Something that was a bit more sturdy and didn't have so many ingredients. When I recently came across a recipe for a completely gluten-free quinoa pizza crust that looked promising my interest was immediately piqued!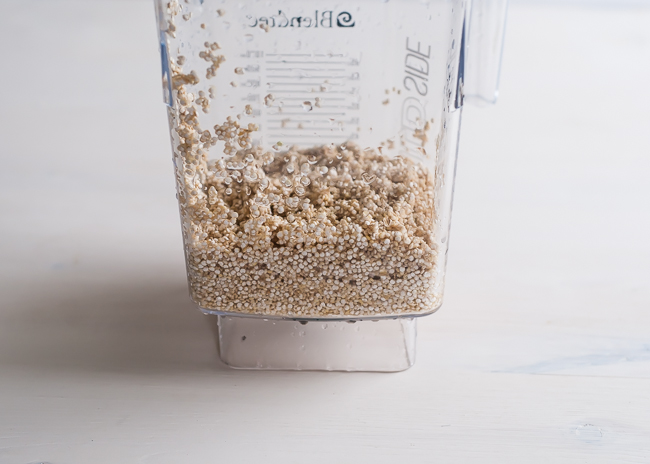 The quinoa is soaked overnight in water, then drained and rinsed. It goes into a blender with a little more fresh water, some salt, and if you want, herbs and garlic.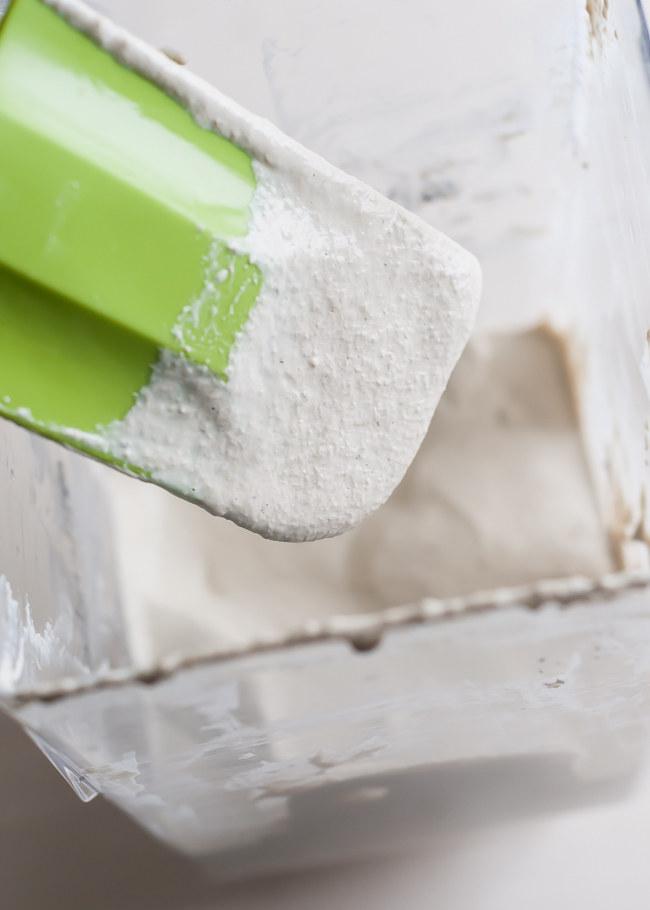 Everything is pureed until smooth, then it goes into a preheated cast-iron skillet or cake pan that's been coated with olive oil. In about 20 minutes, the crust is ready for toppings and in about 10 more, it's on your plate. So much easier than the other recipe I have been using!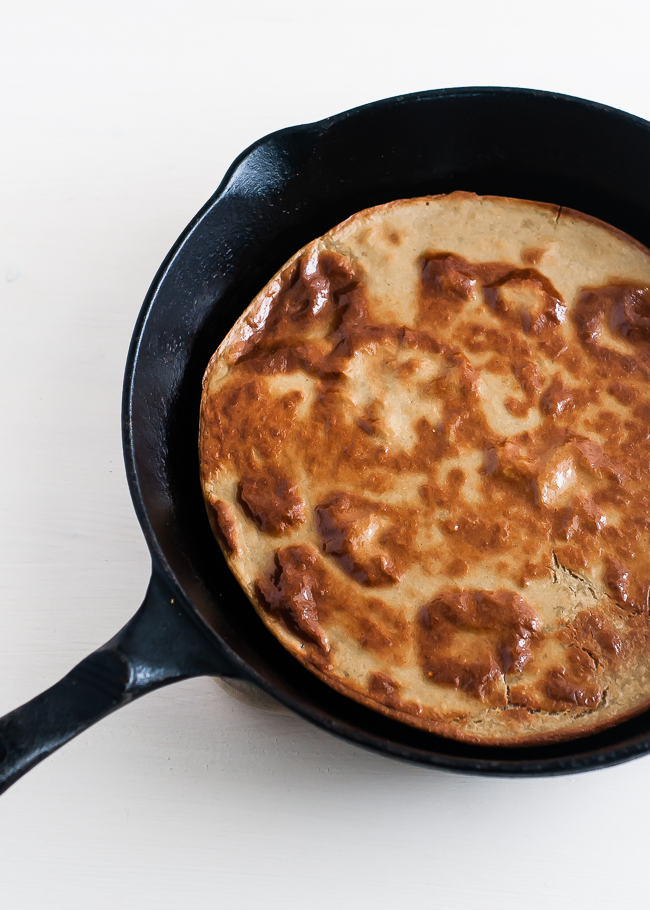 The best part is that the texture is more like pizza crust made from wheat flour. It gets nice and crispy around the edges. It's chewy. And it really stands up to being piled high with toppings! I am officially in love with this crust. I've also used it cut into wedges as a flatbread to have with hummus. My mind is swirling with possibilities!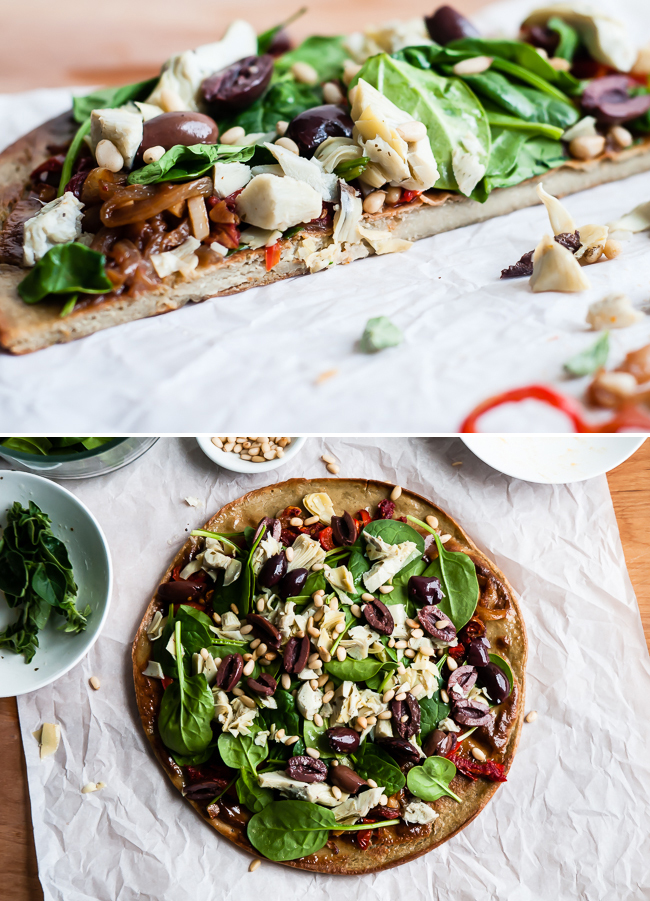 Oh, how I love the flavors of Mediterranean food! All the garlic and herbs. Mmm! When I make homemade pizza, I load it up with all of my favorites  – artichoke hearts, sun-dried tomatoes and olives. But this is just a suggestion. Use whatever you like best. It's great for a traditional Margherita pizza or any pizza you'd like to dream up.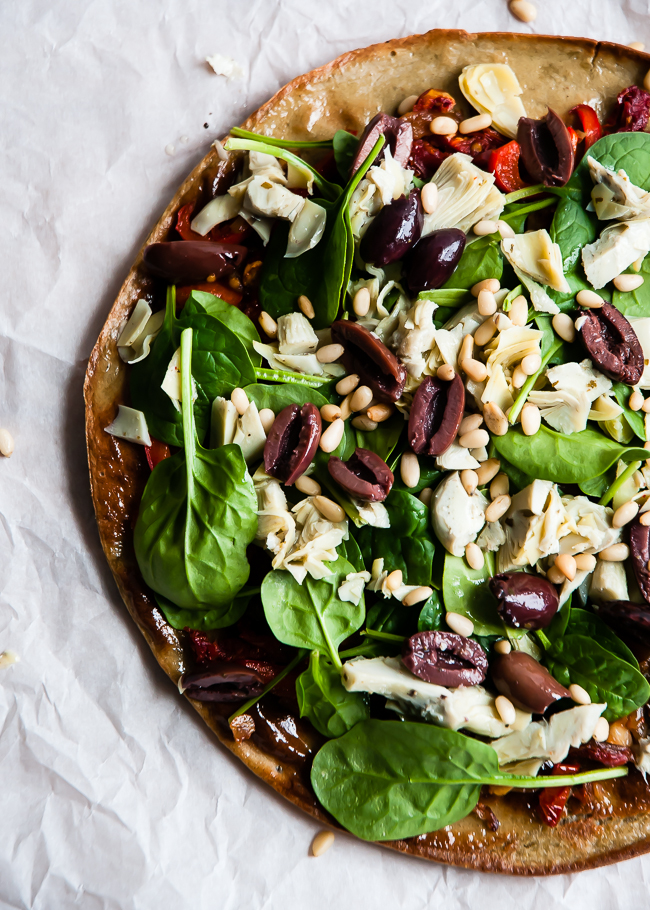 Mediterranean Pizza with Gluten-Free Quinoa Pizza Crust
An easy gluten-free pizza crust that is made from quinoa and water.
Ingredients
1 1/2

cups

quinoa

soaked overnight in water

1/2

cup

water

1

teaspoon

dried Italian herb blend

1/2 to 1

teaspoon

sea salt

1/4

teaspoon

granulated garlic

freshly ground black pepper

2-4

Tablespoons

extra virgin olive oil

for pan(s)
Toppings:
1-2

teaspoons

olive oil

1/2

large onion

thinly sliced

2-3

garlic cloves

roughly chopped

1/4

cup

thinly sliced red bell pepper

1/4

cup

julienned sun-dried tomatoes

1

cup

organic baby spinach

1/4 to 1/2

cup

artichoke hearts

roughly chopped

1/2

cup

kalamata olives

pitted and cut in half

1/4

cup

pine nuts

cheese

optional - feta, shavings of Parmigiano-Reggiano, mozzarella, etc.
Instructions
For crust - Preheat oven to 450 degrees F. Have a 10-inch cast-iron skillet or two 8-inch cake pans nearby.

Drain the soaked quinoa in a fine mesh sieve. Rinse well with fresh water. Place quinoa in a blender with the 1/2 cup water, dried herbs, garlic, salt and pepper. Puree until smooth, scraping down the sides of the blender as needed. The batter should be thick, but still pourable. (Kind of like pancake batter.) Set aside until oven is hot enough.

Place the skillet or cake pans into the hot oven and let heat for about 5 minutes. Remove from oven and add the olive oil. Carefully tilt pan to cover with the oil. (Use 2 tablespoons of oil per pan.) Immediately pour the quinoa batter into the pan and place in the oven. Let bake for 15 minutes.

Remove the pan from the oven and carefully turn the crust over. Place back in oven and bake for an additional 10-15 minutes, or until set. (The 8-inch crusts will be a little thinner and will take less time to cook through.)

Add the desired toppings to the crust and place back into the oven for 5-10 minutes or until the toppings have heated through. Remove from oven and let cool slightly before cutting into wedges. Serve warm or at room temperature.
Recipe Notes
-The crust is a little oily after it's been baked. I just pat it down with paper towels to remove the excess. Don't be tempted to skimp on the oil. The first time I made it, it stuck to the pan terribly.-Recipe source: For Life!-Yields: One 10-inch or two 8-inch pizzas
2