So what's the deal with quinoa? It seems that every food blog cooks with it and everyone talks about it! It's a pseudo cereal, being closer related to beetroot and spinach than, say, wheat. It contains essential amino-acids, as well as calcium, phosphorus, and iron. It's often called a superfood, because of its high protein and vitamin content. But more than that, quinoa is incredibly versatile. If you don't believe us, see for yourself – these 50 quinoa recipes for every meal of the day are the best proof:
Quinoa Breakfasts
1. Quinoa granola with pistachio and cranberry by Hello Glow. Start the day fully energized with this easy granola recipe.
2. Poached eggs over quinoa by A Food Centric Life. Have your breakfast eggs with quinoa, veggies and parmesan cheese.
3. Coconut quinoa bread by Knead to Cook. This breakfast bread is vegan and gluten-free, it's super moist and packed with protein.
4. Lemon blueberry quinoa granola by Cookie Monster Cooking. So good, you'll want to have it for breakfast every day!
5. Broccoli feta quinoa patties by Hello Glow. These patties are perfect for making ahead of time.
6. Low sugar dark chocolate granola by Avocado a Day Nutrition. Satisfy your morning sweet tooth with dark chocolate, coconut and almond granola.
7. Rosemary quinoa, eggs & kale by The Blonde Pantry. Get your energy on with this delicious, healthy breakfast combination.
8. Strawberry quinoa pancakes by Recipe Runner. Get creative with your pancakes and make them healthier with quinoa.
9. Leftover baked quinoa and chili eggs by Bacon, Egg & Cheese(cake). Morning eggs have never tasted better!
10. Homemade gluten-free cereals by Eating Bird Food. Get your healthy breakfast together with oats, quinoa, buckwheat, sunflower seeds, coconut and Medjool dates.
Quinoa Soups
11. Black bean quinoa & chicken tortilla soup by Ambitious Kitchen. Use the slow cooker to make this, and rest in the meantime.
12. Quinoa broth bowl by The Balanced Berry. Warm your bones with a hearty recipe made with lentils, sun dried tomatoes, spinach, kale and of course, quinoa.
13. Quinoa kofta curry by Turmeric & Spice. Quinoa and potato balls are dipped in a delicious curry sauce made with ginger and turmeric.
14. Lentil and quinoa soup by Green Valley Kitchen. A hearty, filling soup that's just right for early spring days.
15. Quinoa minestrone by Show Me the Yummy. A minestrone you won't be able to stop thinking about.
16. Crockpot burrito soup by That Clean Life. The ease of the crockpot, the taste of burritos and the convenience of a soup, altogether.
17. Southwest chicken and sweet potato soup by Floating Kitchen. Quinoa, beans, sweet potatoes, tomatoes, avocado – all the best ingredients in one bowl.
18. Roasted garlic and mushroom quinoa soup by Cooking LSL. Chunky quinoa, meaty mushrooms and mouthwatering roasted garlic aroma. This soup is light, clean and great for a low calorie diet.
19. Quinoa chicken parmesan soup by Chelsea's Messy Apron. A quinoa and chicken Parmesan soup that is simple, hearty, healthy and all made in the slow cooker.
20. Thai coconut and corn chowder by Nancy's Cravings. An easy, quick soup that still satisfies your Thai food cravings.
Quinoa Salads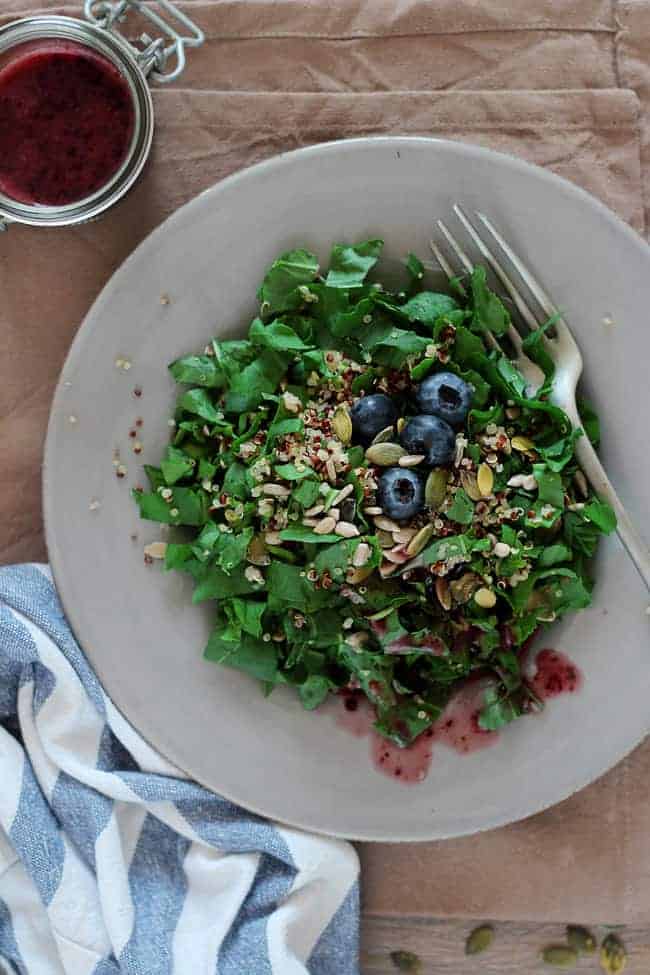 21. Watercress and quinoa salad by Hello Glow. A salad that tastes like summer, featuring blueberries, seeds and a delicious vinaigrette.
22. Red cabbage and quinoa salad with sweet lime vinaigrette by Eat Healthy, Eat Happy. A colorful and fresh salad that's great for bringing with you on the year's first picnic.
23. Hearty quinoa salad by Truffles and Trends. The unusual ingredient in this salad is sweet potato, but it adds so much to the savor!
24. Quinoa salad with chicken, snap peas and mango by Angie's Recipes. A light but satisfying salad that's quick and easy to prepare.
25. Mexican quinoa salad by Minimalist Baker. A guilt-free Mexican dish, made with orange and lime dressing.
26. Pink quinoa beet salad with chimichurri by Dolly and Oatmeal. Not only is this a beautiful salad, but it's also light and so tasty!
27. Warm kale, quinoa + broccoli salad by Happy Hearted Kitchen. Healthy greens with filling quinoa and delicious dijon mustard.
28. Thai rainbow quinoa tofu salad by Honey & Figs. Crunchy veggies with crispy tofu bites, juicy mango chunks, salty chili-lime peanuts all dressed with a creamy-dreamy sweet & spicy peanut dressing.
29. Lentil quinoa salad with spinach and citrus by Veggie Inspired. This is protein packed and filling, while still being an energizing light lunch.
30. Chickpea quinoa salad by Wellness with Taryn. A quinoa salad with a Moroccan twist, quick and easy and perfect for lunch the next day.
Quinoa Main dishes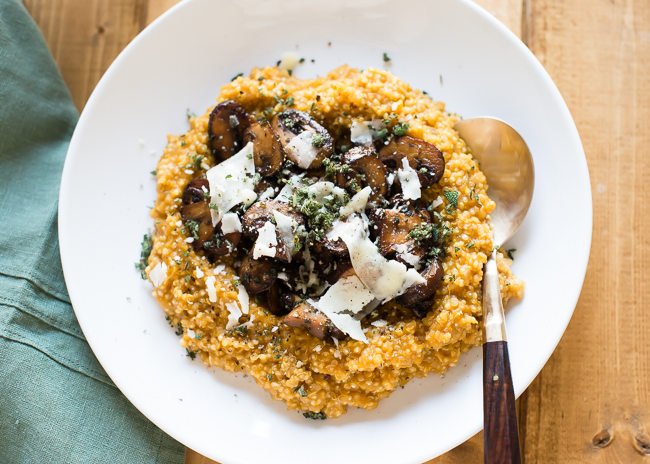 31. Creamy pumpkin risotto by Hello Glow. This comes together in about 40 minutes – not bad for a meal that tastes like it's on the menu of a fancy restaurant!
32. Quinoa Heaven bowl by Little Green Spoon. A refreshing lunch that's packed with with protein, fibre and antioxidants.
33. One pot Mexican quinoa by Cuisine Addiction. Perfect for your Mexican food cravings, only healthier because of the quinoa.
34. Organic sausage, shrimp and quinoa paella by Simply Real Health. A healthy paella packed with shrimps, peas, mushrooms and quinoa.
35. Healthy Mexican quinoa & turkey stuffed peppers by Chef Savvy. These Mexican-style stuffed peppers are a dream, made with quinoa, turkey and an array of spices.
36. Baked pesto chicken parmesan by Salt & Wind. So much healthier than classic chicken parm, this recipe is topped with tomato sauce and pesto.
37. Stir fried quinoa with shrimp and vegetables by That Girl Cooks Healthy. A decadent seafood meal, with all the ingredients to keep healthy.
38. Mediterranean pizza with quinoa crust by Hello Glow. A healthy, gluten-free pizza crust that's topped with all the best Mediterranean veggies and herbs.
39. Buffalo chickpea quinoa burgers by Connoisseurus Veg. You can even make burgers with quinoa! And they taste so good!
40. Mexican quinoa lasagna by Lauren Kelly Nutrition. It's Mexican, it's lasagna and it's healthy? Tell me more.
Quinoa Appetizers
41. Quinoa cauliflower cakes with herbed Brazil nuts cream by Blissful Basil. Warm and hearty, these savory baked cakes are gluten-free and make a great entree.
42. Pesto quinoa bowl by Orchard Street Kitchen. Sweet and plump sun-dried tomatoes, crisp spinach, hearty cannellini beans, a few crunchy pine nuts and quinoa equals a great starter or light meal.
43. Quinoa-coated onion rings by Savoury Cellar. Who would've thought onion rings could get healthier?
44. Mango & banana protein muffins by Southern in Law. Delicious muffins that will give you an energy boost when you most need it.
45. Baked money bags by Fuss Free Cooking. These fun pastry bags are filled with sweet potato and quinoa, and they make a lovely looking appetizer!
46. Gluten free quinoa crackers by A Fresh Legacy. These are gluten free and savory – perfect for an afternoon snack, or as a feature biscuit on a platter when entertaining.
47. Cheese and onion stuffed quinoa arancini by Wing It Vegan. A delicious comfort food with less calories to worry about.
48. Spicy quinoa turkey meatballs by Sweet & Savory. Light and healthy meatballs with a fabulous homemade tomato sauce.
49. Pizza quinoa bites by Piece of Home. Everyone loves tiny foods in general and pizza bites in particular, but this recipe makes it healthy, too.
50. Kvarg and quinoa protein pots by The Muffin Myth. Probably the best breakfast there is.
0