Are fresh figs getting enough love in your house? They're in season for such a short period of time, that I rarely feel I've had enough figs. When I'm not eating them as they are, I love adding them to my morning chia pudding. And when they inevitably disappear from the markets and shops, I like using dried figs for this tasty fall tart.
More recently, I've made this stunning walnut and fig cake, and it's been a hit with everyone who tried it.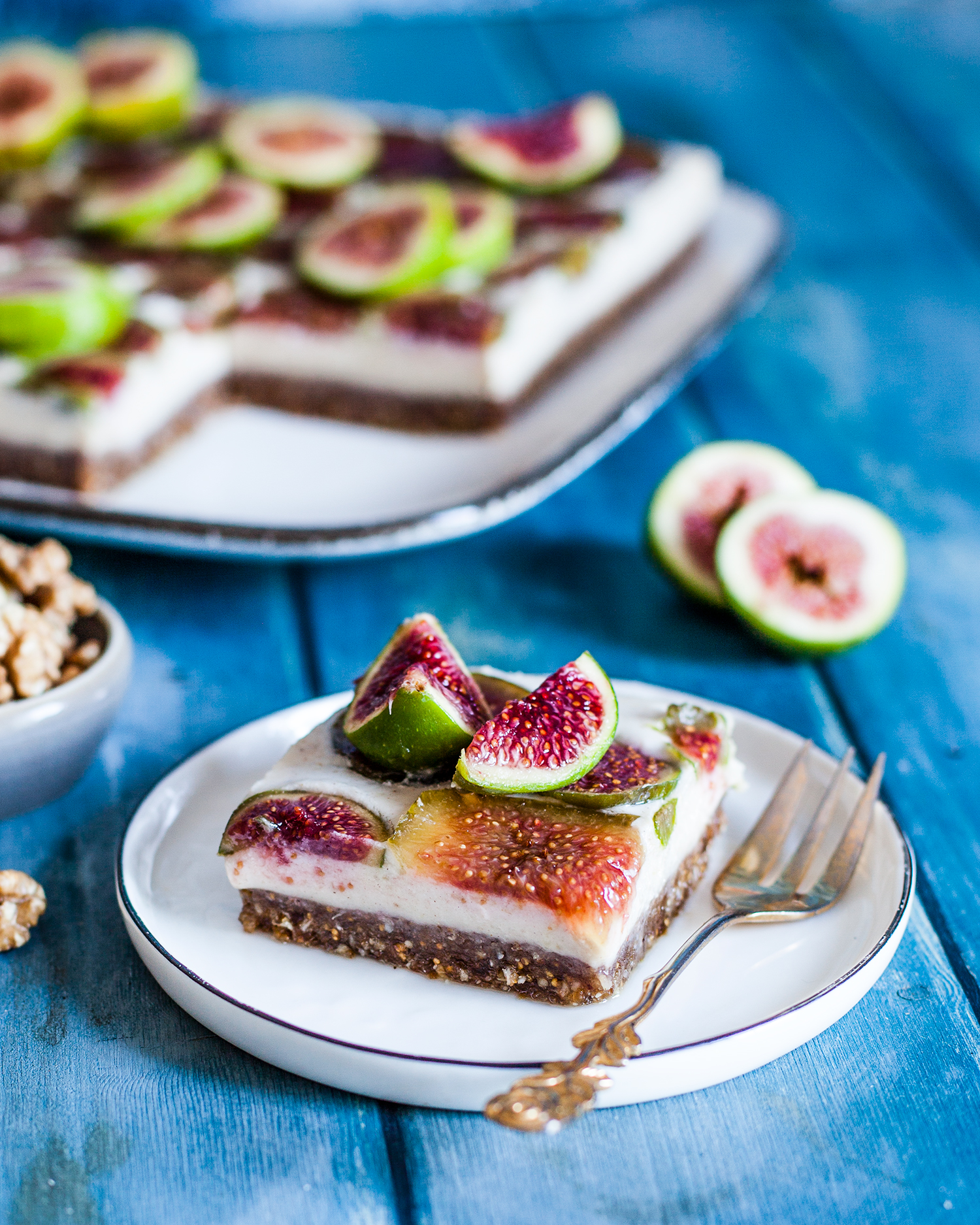 Walnut + Fig Slices Recipe
This tasty summer recipe comes from Maja Brekalo's Book, Bake It Vegan: Simple, Delicious Plant-Based Cakes, Cookies, Brownies, Chocolates and More. It's the perfect book for those of us who aren't advanced bakers… and don't eat classic egg and butter desserts either. The approachable collection of treats satisfies your sweet tooth without unhealthy, processed, or animal-based ingredients. And this particular recipe…
"Figs are my summer love", says cookbook author Maja Brekalo. She continues: "Okay, I admit . . . I have quite a few summer loves but my connection to figs is special. I love them whether they're fresh or dried, as a small snack, or with chia pudding for breakfast or in desserts like these fabulous indulgent slices. They are such a perfect combination of tangy vanilla frosting, luscious fresh figs and an intensely sweet and rich dry fig and walnut base.Who could resist biting into them? Not me!"
If that sounds like you, scroll down for the full walnut + fig slices recipe, and consider buying Maja's Brekalo's Bake It Vegan wherever you buy your books!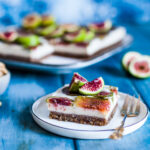 Walnut + Fig Slices
Reprinted with permission from Bake it Vegan by Maja Brekalo, Page Street Publishing Co. 2021. Photo credit: Maja Brekalo
Ingredients
Base
1

cup

cashews

1

cup

walnuts

1

cup

dried figs

1/2

cup

shredded coconut

1

tbsp

melted extra virgin coconut oil

see Note on page 150

3

pinches

of fine Himalayan salt

1

tsp

vanilla powder or 2 tsp vanilla extract

1

tsp

lemon zest

2

tbsp

lemon juice
Filling
1/2

cup

cashews

1/4

cup

agave syrup

1

tbsp

lemon zest

2

tbsp

lemon juice

1/4

cup

melted extra virgin coconut oil

1

tsp

vanilla powder or 2 tsp extract

Pinch

Himalayan salt

1/4

tsp

cinnamon

1/4

cup

water

1

cup

whole fresh figs to decorate

about 8 small figs
Instructions
Preheat the oven to 300°F (150°C). Place the nuts on a baking sheet and roast for about 15minutes or until fragrant and lightly browned on the edges. Keep an eye on them after 10 minutes of roasting, as they can easily burn. Set them aside to cool down completely

Line an 8-inch (20-cm) baking dish with parchment paper, leaving the surplus to hang over the edges.

To make the base, chop the dried figs into small pieces to ease the blending as they can be pretty tough. Grind the cooled roasted nuts in a food processor and add the chopped figs, coconut, oil, salt, vanilla, lemon zest and lemon juice. Continue processing until you get a sticky soft dough that holds together when pressed between your fingers.

Press it evenly and firmly on the bottom of the dish to make the base. Place in the freezer or refrigerator while you make the filling.

To make the filling, wash and drain the soaked cashews, place them in the blender with the syrup, lemon zest, lemon juice, oil, vanilla, salt, cinnamon and water. Blend until creamy and smooth. If the mixture is too thick to blend, stir the mixture and adda little bit of water, 1tablespoon (15 ml) at the time, and continue blending. Be careful not to add too much water, as the filling might be too runny and will not set in the refrigerator.

When ready, pour the filling over the chilled base, shake the dish gently and tap it on the countertop to smooth the top and eliminate any air bubbles. Cover it and refrigerate for 1 hour.

To decorate the cake, slice the fresh figs into thin slices and arrange them to cover the filling.Return it to the refrigerator to set for at least 6 hours. I recommend leaving it to set overnight if possible. If you're in a hurry, you can speed things up by placing it in the freezer for 3 to 4 hours.

Serve straight from the refrigerator, as the slices will soften if left at room temperature.

These will keep in the refrigerator in a sealed container for up to 10 days. You can also freeze them for up to 4 months. Thaw in the refrigerator for at least 30 to 45 minutes or 20 minutes at room temperature before serving.
Recipe Notes
I prefer using extra virgin coconut oil but if you mind the taste of coconut, feel free to use odorless coconut oil.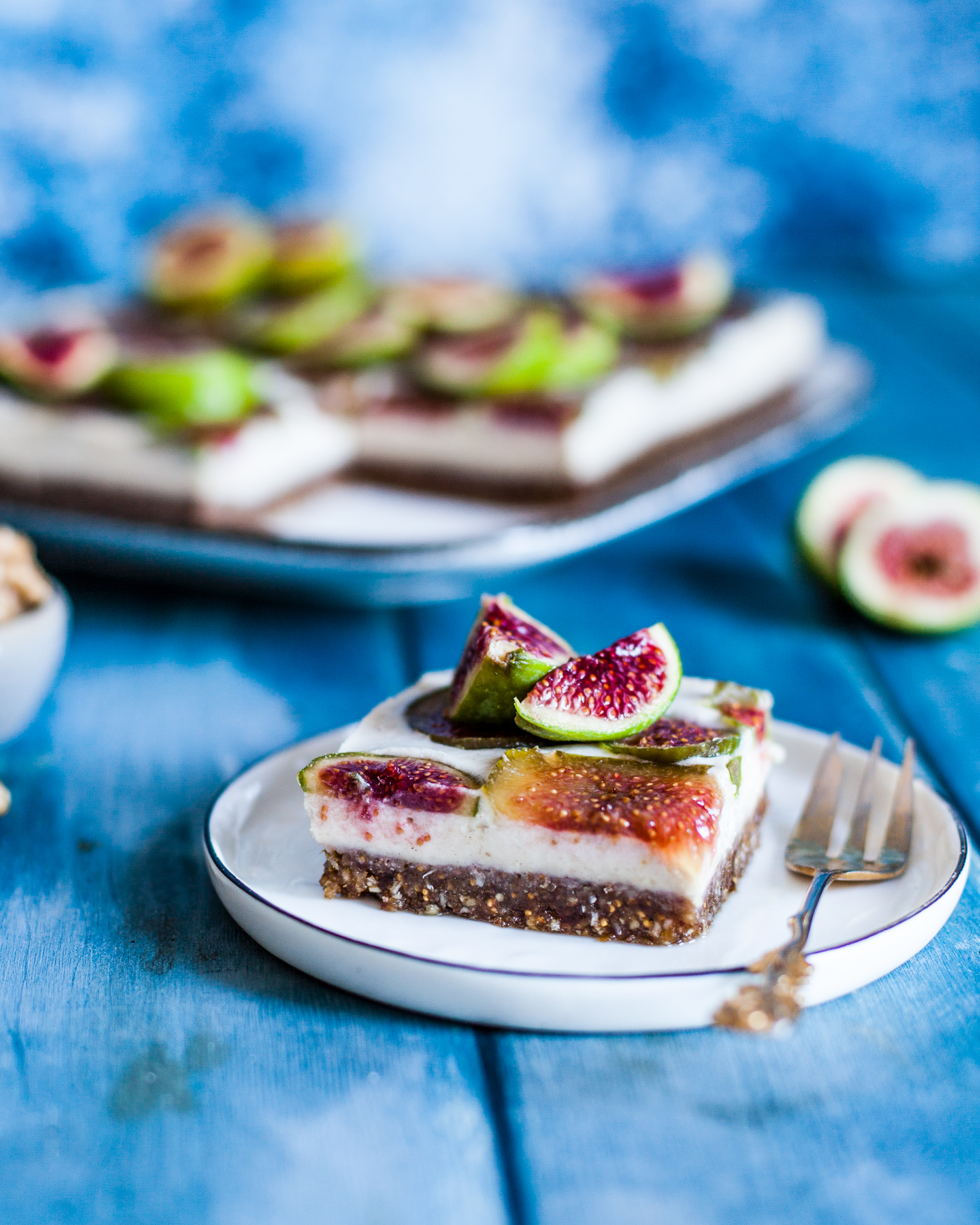 1