Healthy eating is on everyone's mind these days. But letting go of comfort foods is the toughest step! For me, baked goods are the culprit. As much as I try to stay away from carbs or animal fats, they're really hard to avoid when my body is screaming CINAMMON ROLLS NOW! Please tell me I'm not the only one…
So it's understandable that a recipe for vegan cinnamon rolls piqued my curiosity. Can it really be done? Will they actually taste good? And can you really adapt them to be gluten-free, too? The answer to all these questions is yes.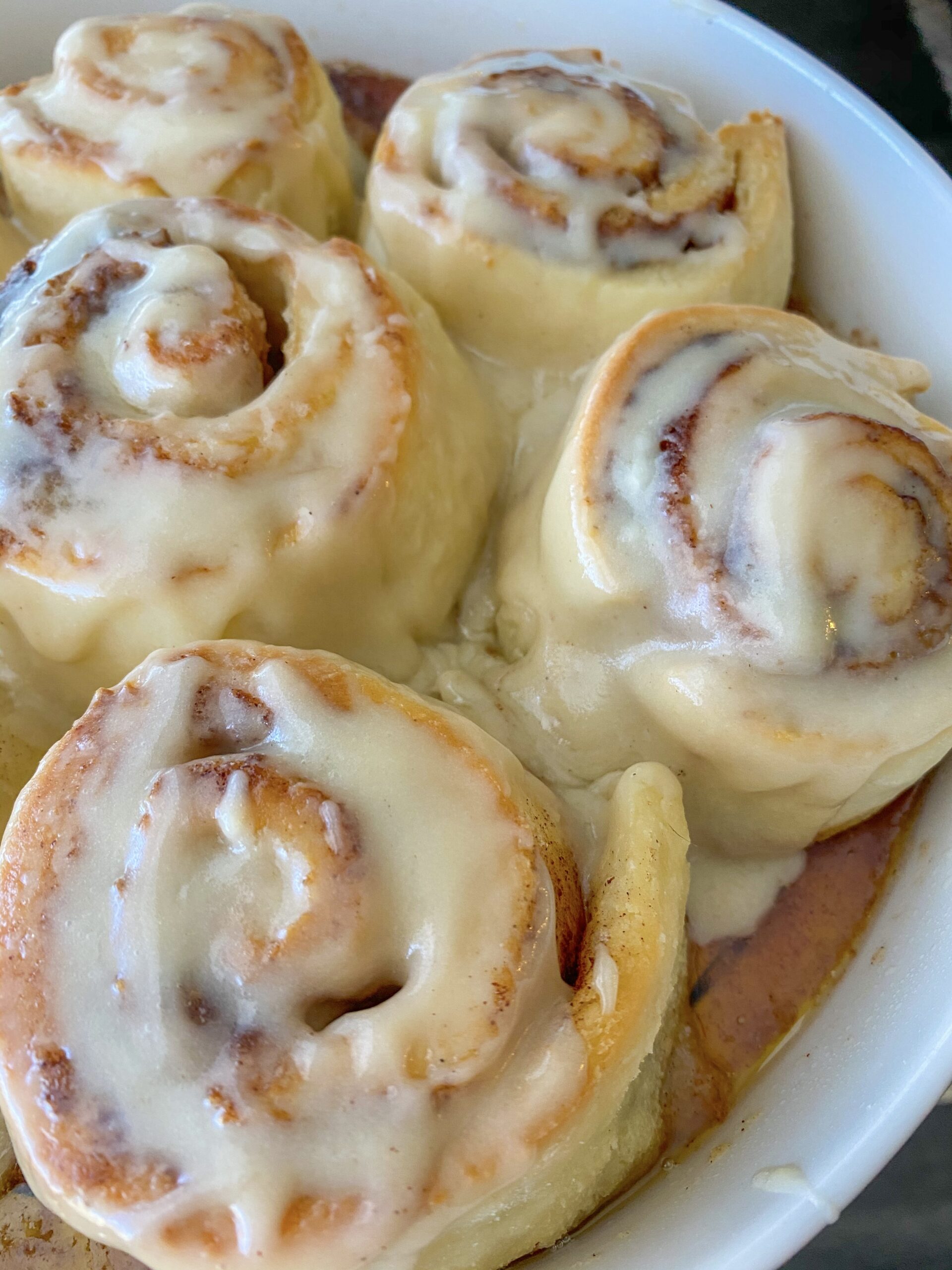 Unbelievably Vegan Cinnamon Rolls
Now that you've seen the picture, you know what I'm talking about. These are drool-worthy! And would you believe me if I told you these vegan cinnamon rolls won't set you back on your diet?
The recipe comes from Jillian Glenn's new cookbook, Easy Low-Cal Vegan Eats: 60 Flavor-Packed Recipes with Less Than 400 Calories Per Serving, and it ticks all the boxes. The recipes are easy to make, they're plant-based, and they're low in calories, too. Jillian provides practical, intuitive tips for lasting results, through recipes that balance proteins, complex carbohydrates and healthy fats to sustain you for longer and make it less likely to crash and overeat later.
"If you are looking for a delicious vegan breakfast to impress your guests, go for a batch of these. The heavenly aroma of baking homemade dough wrapped around buttery cinnamon-sugar filling will make everyone's mouth water. And, once you drizzle them with the addictive icing, your family will be fighting over the last bite. Oh, and they definitely won't believe these are vegan," says cookbook author Jillian Glenn.
Grab the recipe below and consider buying Jillian's book, Easy Low-Cal Vegan Eats (out today!) on amazon or wherever you buy your books.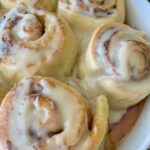 Unbelievably Vegan Cinnamon Rolls
Reprinted with permission from Easy Low-Cal Vegan Eats by Jillian Glenn, Page Street Publishing Co. 2021. Photo credit: Maureen Onda
Ingredients
1

cup

unsweetened almond milk

1

⁄4 cup melted vegan butter

2

tbsp

pure maple syrup

1

⁄2 tsp salt

2

tsp

baking powder

only use if baking with gluten-free flour

1

tbsp

active dry yeast

1

tbsp

apple cider vinegar

only use if baking with gluten-free flour

2 1

⁄2 cups regular or gluten-free all-purpose flour

I prefer King Arthur Gluten-Free Measure for Measure Flour, plus more for rolling

1

⁄2 cupsoftened vegan butter

divided

1

⁄2 cup cane sugar

2

tsp

ground cinnamon

4

oz

vegan cream cheese

1 1

⁄2 cups confectioners' sugar
Instructions
In a microwave-safe bowl, microwave the almond milk for about 45 seconds so it's warm, but not hot. Pour it into a large bowl and stir in the melted vegan butter, maple syrup and salt. If you're using gluten-free flour, add the baking powder and mix. Sprinkle the yeast evenly over the top of the mixture, gently stir two or three times and allow it to sit for about 10 minutes. After 10minutes, if you're using gluten-free flour, add the apple cider vinegar and mix. If not, proceed to the next step.

Add the flour and mix until a thick dough forms. Stop mixing once a dough forms to avoid overmixing. Use your hands to gently form the dough into a round mound. Leave the dough in the bowl and cover the bowl with a clean kitchen towel. Allow it to rise for 1 to 2 hours. I like to set the bowl of dough on top of a preheated 350°F (175°C) oven. The warmth of the oven helps the dough rise faster.

Once the dough has doubled in size (Note: if using gluten-free all-purpose flour, the dough will rise less), lay it on a floured surface and roll it into a 1⁄3-inch (8-mm)-thick rectangle. You may need to sprinkle a little flour on top if the dough is too sticky to roll

Spread 1⁄4 cup (57 g) of the softened vegan butter on the rolled dough, then sprinkle with the cane sugar and cinnamon.Use your hands to roll the dough into a log, then slice it into ten pin wheels. Place the pinwheels into a standard casserole dish or round baking dish. Make sure there is room in the dish for the rolls to almost double in size. Cover the dish with a clean towel, set it aside and allow the dough to rise for another 30 minutes. You can set it on top of the warm oven again.

If you haven't done so already, preheat the oven to 350°F (175°C). Remove the towel from the rolls and bake them for 30 to 35 minutes, or until golden and fluffy.

Meanwhile, in a bowl, combine the vegan cream cheese, remaining 1⁄4 cup (57 g) of softened vegan butter and confectioners' sugar and use an electric hand mixer to mix them together. Set aside or store in the fridge until ready to serve. Once the rolls are done baking, remove them from the oven and wait for 5 to 10 minutes for them to cool before spreading about half of the icing over the rolls. Serve warm with additional icing on the side.
Recipe Notes
If you have leftover icing, you may store it in the fridge for 2 to 3 days or in the freezer for up to a month. 
0