If you're using a certain video app to entertain yourself whenever you're bored, then you're already familiar with pasta chips. This recipe is a slightly different take on that, using ravioli instead of regular pasta, and adding a couple of extra ingredients that make it even tastier. And you know what that means: extra cheesy goodness! We're not ones to say no to extra cheesy goodness, so we're excited to share this recipe with you today.
Air Fryer Toasted Ravioli
If you've got leftover ravioli, parmesan, an egg and an air fryer, you've got pretty much everything you need for this recipe. We love how easy it is and that the resulting snack is crunchy, with a cheesy interior, and perfect for dipping on movie night. This lemon-dill dipping sauce and this honey sweet chili sauce would both work well here.
"Traditional ravioli is soft and covered in sauce, but this dish gives your meal a crunchy upgrade that even picky eaters will enjoy. The golden brown edges are the perfect first bite followed by a creamy, cheese-filled inside. Feel free to add a sprinkle of vegetarian Parmesan on top and a pinch of parsley for a restaurant-style presentation," says cookbook author Robin Fields.
If you're a fan of air frying AND easy 5-ingredient recipes, boy, have we found something for you! The "I Love My Air Fryer" 5-Ingredient Recipe Book by Robin Fields is filled with quick recipes perfect for picky eaters. Using ingredients you probably already have at home, this book shows how you can eat tasty foods without taking that extra trip to the grocery store and without ordering takeout.
Grab the recipe for air fryer toasted ravioli below and consider buying The "I Love My Air Fryer" 5-Ingredient Recipe Book on amazon or wherever you buy your books.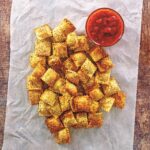 Air Fryer Toasted Ravioli
Excerpted from The "I Love My Air Fryer" 5-Ingredient Recipe Book by Robin Fields. Copyright © 2021 by Simon & Schuster, Inc. Photographs by James Stefiuk. Used with permission of the publisher, Adams Media, an imprint of Simon & Schuster. All rights reserved.
Ingredients
1

cup

Italian bread crumbs

2

tablespoons

grated vegetarian Parmesan cheese

1

large egg

1/4

cup

whole milk

1

package

(10-ounce) fresh cheese ravioli
Instructions
Preheat the air fryer to 400°F.

In a large bowl, whisk together bread crumbs and Parmesan.

In a medium bowl, whisk together egg and milk.

Dip each ravioli into egg mixture, shaking off the excess, then press into bread crumb mixture until well coated. Spritz each side with cooking spray.

Place in the air fryer basket and cook 8 minutes, turning halfway through cooking time, until ravioli is brown at the edges and crispy. Serve warm.
1