I was surprised to see air fryer recipes trending on Pinterest. What's the big deal? Turns out, I've been missing out. You can make so many more things with an air fryer than I realized. Not just French fries – the classic option for hungry vegetarians everywhere – but also donuts, shortbread, fritters, and get this – French toast!
Air fryer French toast sticks, to be precise. With a topping of cinnamon mascarpone, this recipe is the ultimate brunch crowd-pleaser. And the thing is, when you cook with an air fryer, you cook fast. So you won't need to spend an entire morning frying, plus you're using less oil than normal. This means you're getting a healthier breakfast option, while still keeping that same crisp and crunch that you crave.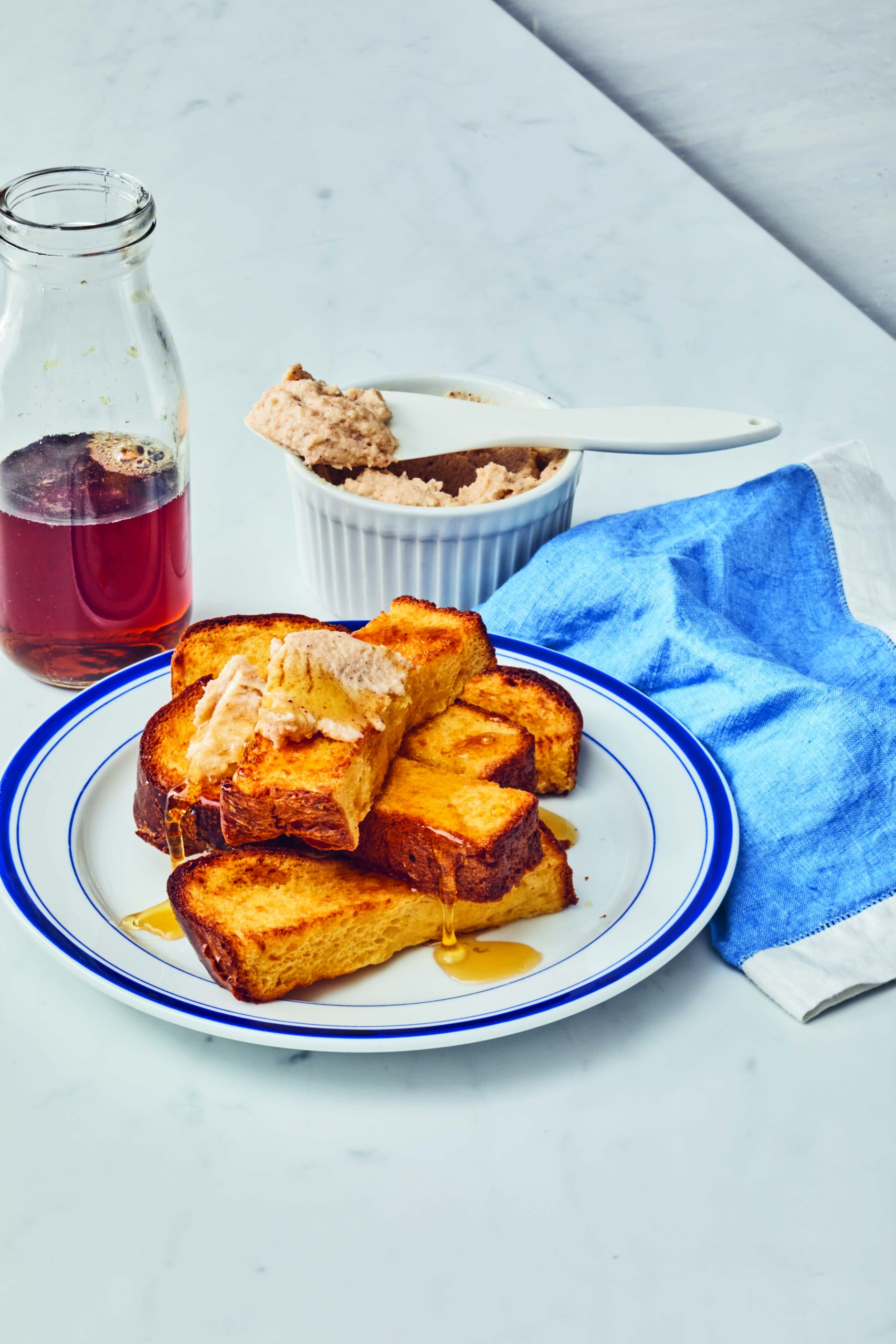 Air Fryer French Toast Sticks with Cinnamon Mascarpone Sauce
If this recipe sounds too good to be true… wait, there's more! There's an entire book dedicated to plant-based air fryer recipes, and I'm hooked! The Epic Air Fryer Plant-Powered Cookbook by Michelle Anderson is a revelation for those of use who neglected their air fryer for so many years.
"The air fryer is not just for carnivores. Whether you are a full-time vegetarian or one of the millions of omnivores who are adding more plant-based dishes and meals to your weekly routine, you will love the imaginative, healthy, and terrifically tasty ideas in this book."
Get the book on amazon or wherever you buy books, and scroll down for the French toast sticks recipe:
French Toast Sticks with Cinnamon Mascarpone Sauce
Ingredients
For the French Toast Sticks
1/2

cup

whole milk

2

large eggs

1

tablespoon

brown sugar

1

teaspoon

vanilla extract

Pinch

sea salt

4

thick slices bread

such as brioche, Texas toast, Frenchbread, cut into thirds

Oil spray
For the Cinnamon Mascarpone Sauce
1

cup

mascarpone

at room temperature

1/4

cup

maple syrup

1

teaspoon

vanilla extract

1/2

teaspoon

ground cinnamon

Pinch

ground cloves
Instructions
In a medium bowl, whisk together the milk, eggs, brown sugar, vanilla, and salt until very well blended.

Preheat on Air Fry at 375°F (190°C)for 3 minutes. Lightly oil a 7-inch(18 cm) round baking pan.

Add half the bread sticks to the egg mixture, turning to coat.

Shake the excess egg mixture off the sticks and place them in a single layer in the pan. Spray lightly with oil and cook the sticks for 4 minutes. Turn them, spray lightly with oil, and cook for 2 to 3minutes, or until golden brown.

Transfer the French toast sticks to a plate, loosely tent with foil to keep them warm, and repeat with the remaining bread sticks.

In a medium bowl, whisk the mascarpone, maple syrup, vanilla, cinnamon, and cloves until well mixed. Spoon the sauce into2 small bowls and serve with warm French toast sticks.

Refrigerate leftover sauce in a covered container for up to 5 days.
6