I love packing my breakfast with protein, which keeps me satiated until lunch, and also helps to keep my blood sugar levels in balance for an efficient metabolism. Protein also provides the building blocks for collagen, which is responsible for that firm and glowing skin [source]. These quinoa breakfast bowls provide a complete protein source, making it a comforting way to start your morning, and also a beauty-boosting nutrient package for the upcoming day's events.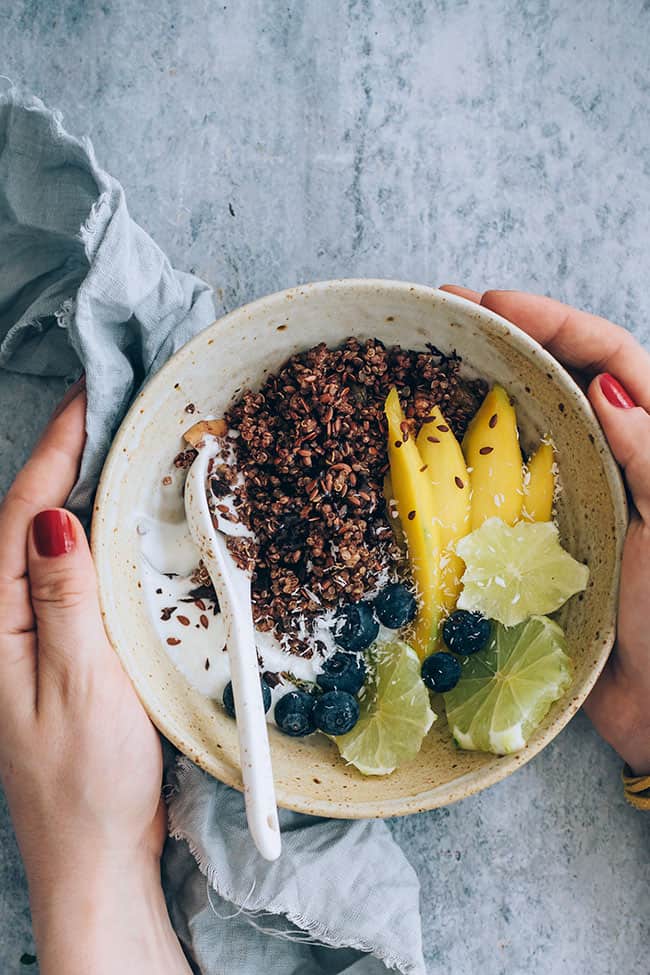 How To Make a Quinoa Breakfast Bowl – 2 Ways
Women are aggressively bombarded with marketing designed to convince us to buy beauty products and miracle food ingredients. Eating mindfully and knowing that beauty starts with what we put in our mouths and using simple, whole, nourishing ingredients you can easily find – these are the principles behind creating these summer breakfast recipes.
These bowls can easily be made in 15 minutes (if quinoa is already cooked, which you can include in your meal prep plans for the weekend) and combines these nutrient-packed foods to help you glow from the inside out.
Quinoa – one of the healthiest plant-based protein sources, offering all nine amino acids your body needs to build up protein blocks. Aiming to get at least 60 grams of protein per day will help your body balance hormone production, maintain your weight and help you build muscle during daily exercise. We all know that our skin is the best mirror of how we feel inside, so balanced hormone production is definitely important!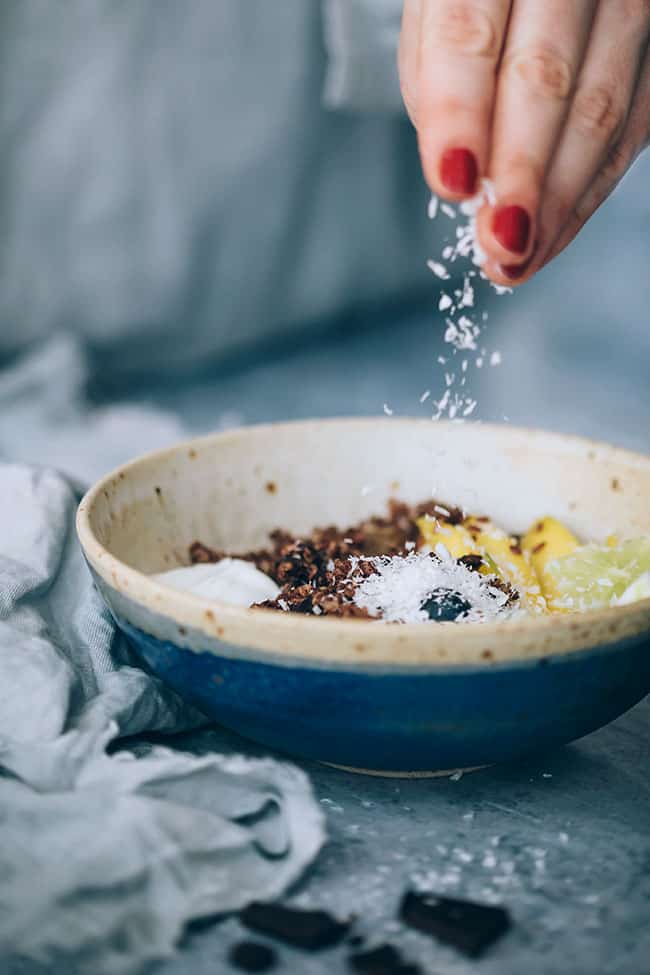 Chocolate Quinoa Breakfast Bowl
Start by making a quinoa granola with seeds, flax, and chocolate for tasty way to start the day. Then build your bowl with:
Vitamin C-packed fruits – such as mango, lime and blueberries support progesterone production, reduce PMS symptoms, eye puffiness and help calm anxiety and regulate mood changes.
Yogurt – the fact that health starts in your gut isn't a secret! Your microbiome needs to be constantly refreshed, and including natural probiotics like yogurt in your daily routine is the easiest way to do it.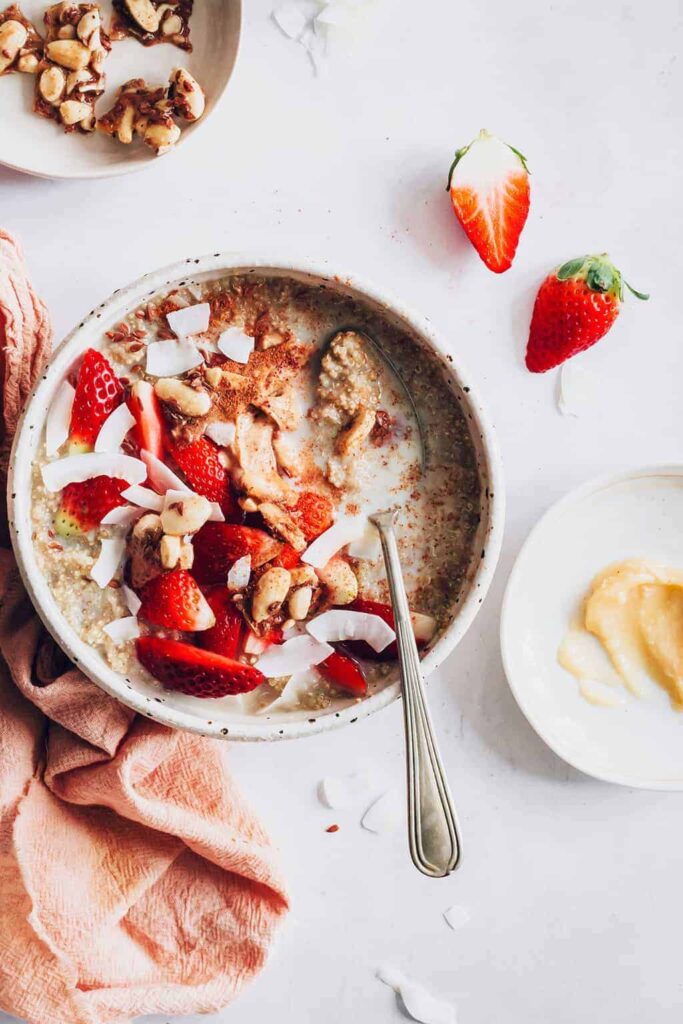 Honey Almond Toffee Quinoa Breakfast Bowl with Strawberries
Quinoa combines with almond toffee, diced strawberries, nut butter, and coconut flakes for a warm, satisfying breakfast bowl that will make your gut happy.
Consider keeping your gut healthy as a passport to overall good health [source]. A happy, replenished microbiome boosts the immune system, improves nutrient absorption, produces serotonin for a good mood, and neutralizes toxins, alleviating the burden on your liver and skin [source].
Honey, oats, and flax are my favorite prebiotics, while cultured veggies and certain brands of natural yogurt are loaded with good bacteria to replenish your microbiome (check the labels to be sure live cultures are included).
Seeds and Flax for Omega-3s
Not only are you getting protein but also a dose of omega-3s thanks to nuts and seeds. Omega-3s are a great anti-inflammatory ingredient. They help to maintain the cell membrane of skin from the inside, while reducing the marks from oxidative stress on your skin from the outside. Flax and hemp seeds are excellent plant-based omega-3 sources [source].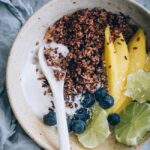 Beauty Boosting Chocolate Quinoa Breakfast Bowl
Ready in 15 minutes and made with nutrient-packed ingredients to help your body balance hormone production, boost your mood and help your skin glow.
Ingredients
For the Quinoa Granola
1

tablespoon

coconut oil

1 1/2

cups

cooked quinoa

about 3/4 cup dry

1/2

cup

mixed seeds and nuts of choice

2

teaspoons

ground flax

2

teaspoons

pure maple syrup

2.5

ounces

dark chocolate

aim for at least 80% cacao, chopped
To assemble
1

cup

natural yogurt

use plant-based yogurt for vegan

1

ripe mango

peeled, pitted and sliced

1

cup

fresh blueberries

1

lime

peeled and sliced

2

teaspoons

desiccated coconut

unsweetened
Instructions
In a non-stick skillet, heat the coconut oil over medium heat and add the quinoa granola ingredients except chocolate.

Stir to combine and cook for 7-10 minutes stirring frequently.

Turn off the heat, add the chocolate and mix to incorporate (it will melt in seconds).

Divide the yogurt into the serving bowls, and scoop the quinoa granola on top.

Garnish with fresh fruit and coconut flakes and serve.
Recipe Notes
Garnish with whatever fruit, nuts and seeds you prefer.
Store leftover breakfast bowl in the fridge for 1-2 days. Best if topped with freshly toasted quinoa granola.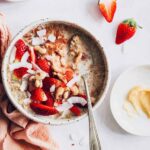 Quinoa Bowl Recipe with Honey Almond Toffee and Strawberries
Made with quinoa and served with fresh strawberries and a simple almond toffee, this beauty breakfast bowl is everything you need to glow from inside out.
Ingredients
2

cups

cooked quinoa

well drained

5–6

fresh strawberries

diced

1

cup

coconut milk

(or any plant milk you prefer)

1

cup

raw almonds

1

tbsp

flax seed

roughly ground

2

tsp

maca powder

2

tsp

coconut oil

2

tbsp

honey

2

tsp

nut butter

1

tsp

cinnamon

coconut flakes, to garnish
Instructions
Start by making the toffee. Place the almonds and flax into a non-stick skillet and drizzle with honey.

Place over low heat and stir frequently until the honey is caramelized. Add the cinnamon and stir to combine.

Transfer onto a plate lined with parchment paper and refrigerate for 5 minutes, until the toffee thickens.

Break or cut the toffee into chunks and place in a bowl.

Add the quinoa, coconut milk, coconut oil, and maca powder into a pot and place over low heat.

Heat until comfortable to eat, stirring frequently, then divide into serving bowls.

Top with diced strawberries, nut butter, coconut flakes, and toffee chunks. Serve warm.
Nutrition Facts
Quinoa Bowl Recipe with Honey Almond Toffee and Strawberries
Amount Per Serving (300 g)
Calories 382
* Percent Daily Values are based on a 2000 calorie diet.
0