Peach jam is my absolute, absolute favorite. But I always imagined making jam meant slaving over a stove with bushels of fruit and boiling canning jars. You know, like the old days of jam-making. Nope!
This recipe is easier than making dinner on a crazy Wednesday night. In fact, I think it's gonna be a PB&J night, so that's settled.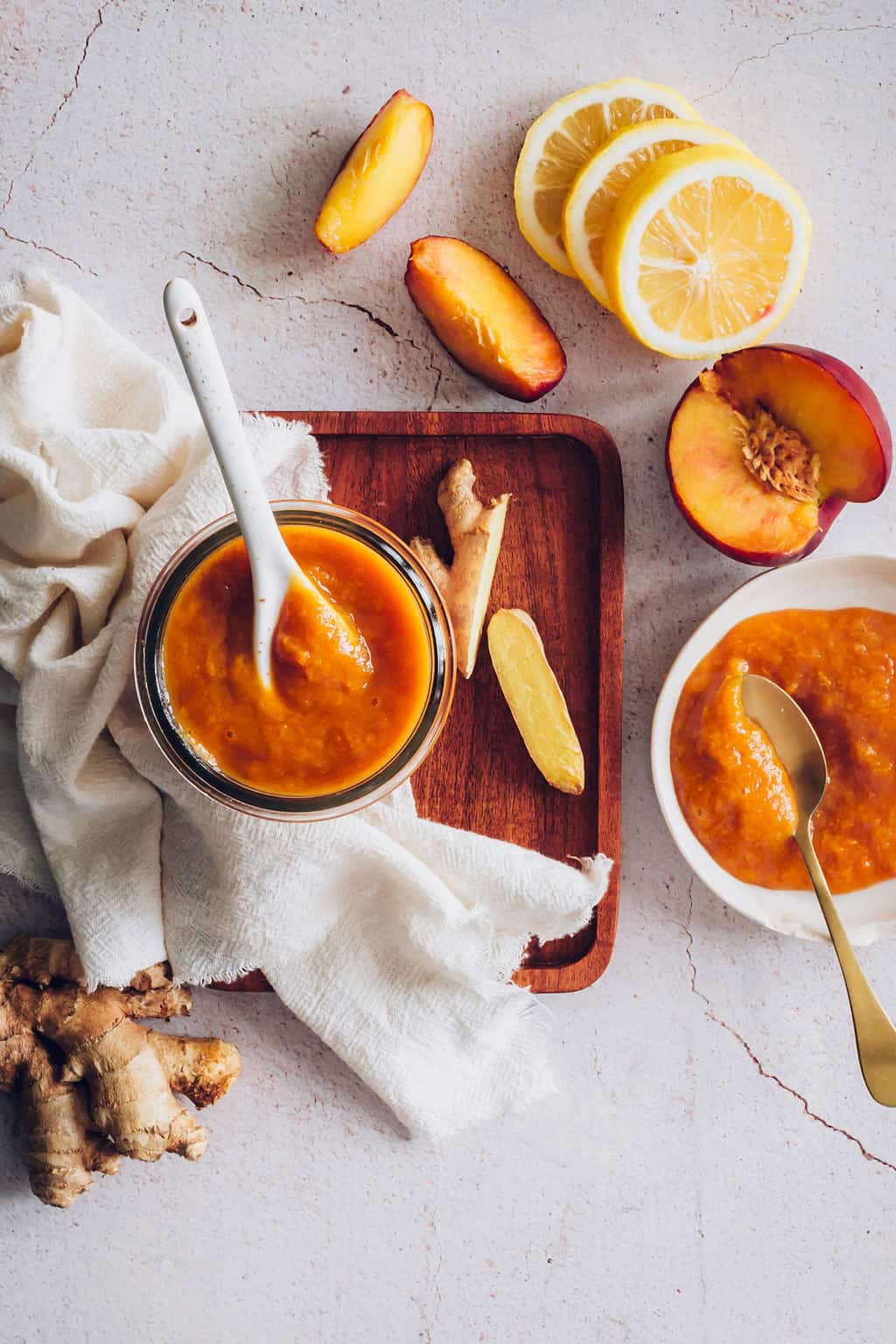 Ginger has so many health benefits – it's actually considered one of the healthiest spices – so it's hard for me not to throw it in every boiling pot. This root is anti-inflammatory, it helps with colds (you can never be too prepared for flu season), and it's even said to be an aphrodisiac.
Ginger reduces nausea (including morning sickness and motion sickness!), aids digestion, it's an antioxidant [source], and might even aid weight loss [source]. And if that's not convincing enough, ginger has the property of bringing out all the best flavors – peach jam has never tasted so amazing!
You know how I said peach jam is my favorite? Well, ginger peach jam is now my favorite!
How to make ginger peach jam
The method I used for this quick jam couldn't be easier: start by boiling the peaches for one minute, just so you can peel them and remove the pits easier. No chopping is necessary: the food processor takes care of that part for you. This is pretty much the hardest part.
Once that's settled, you mix everything in a saucepan and let it thicken for about half an hour before pouring it into jars. That's it! And now comes the second hardest part: waiting for the jam to cool down so you can finally taste it.
You'll be able to keep the jam in your fridge for up to a month, but I honestly think it won't last that long. The ginger peach jam tastes amazing on plain toast, but you can also pair it with butter or peanut butter for a more consistent (very kid-friendly!) meal.
Add some to your pancakes and even drizzle over chicken or pork if you like the combination of meat and fruit.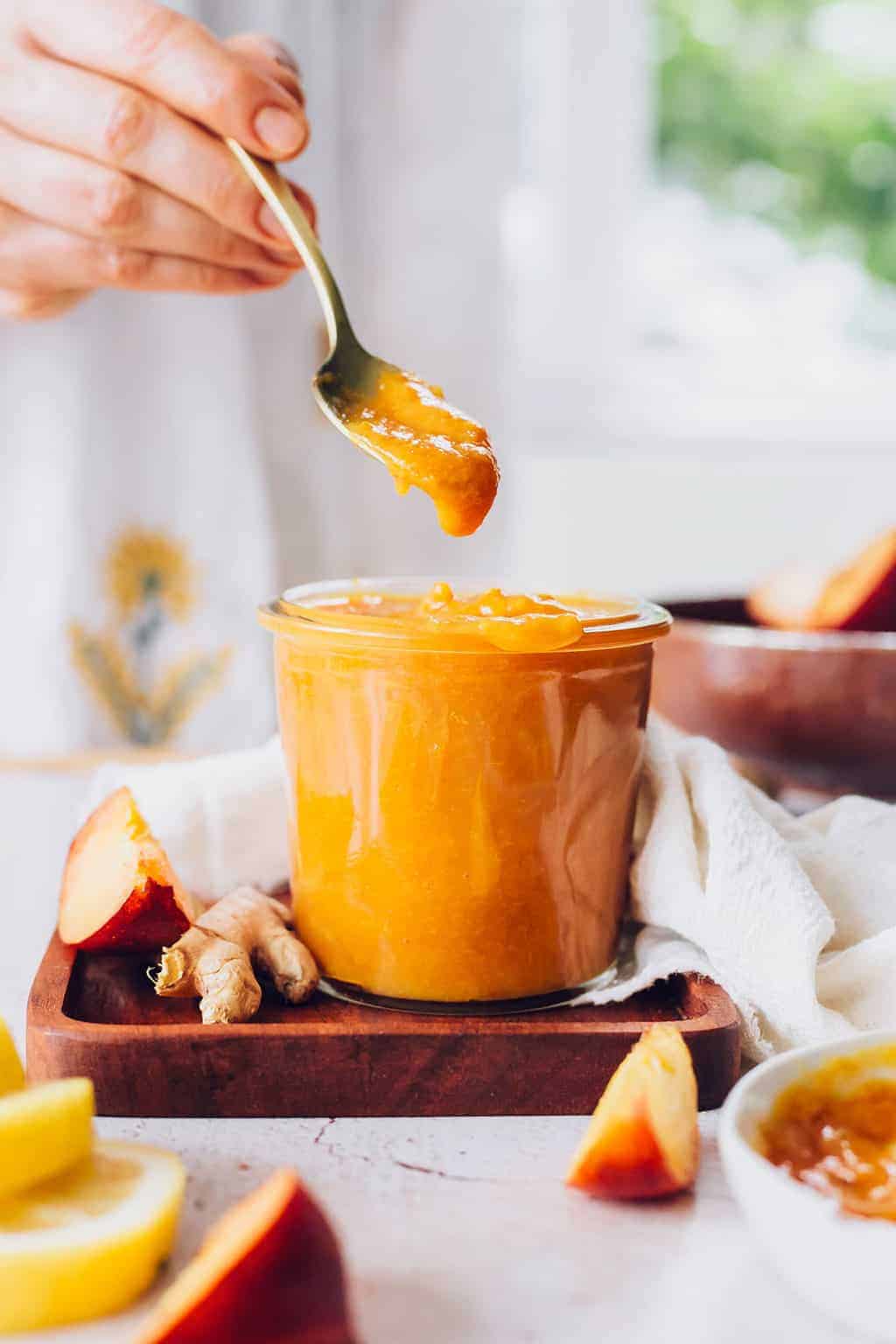 Have you tried making jam? What's your favorite flavor? I'd love to hear your suggestions!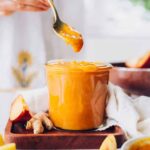 Ginger Peach Jam
This stovetop ginger peach jam is summer perfection, and so easy to make!
Ingredients
6

large peaches

1

cup

sugar

add more sugar to taste

2

tbsp

chopped ginger

1

tbsp

lemon juice

1/4

tsp

salt
Instructions
Place the peaches in a large pot of boiling water for 1 minute; then rinse in cold water and peel. Remove the pits and cut into wedges. Transfer to a food processor and pulse until coarsely chopped.

In a medium saucepan, combine the peaches, sugar, ginger, lemon and salt. Let simmer over medium heat, stirring occasionally until thickened, about 30 minutes.

Remove from heat, ladle into jars and let cool. 
Recipe Notes
Store in the refrigerator up to 1 month.
Makes about 4 cups.
Photos by Ana-Maria Stanciu
0