If you've been dabbling in vegan cooking for a while, you may have noticed that most recipes come with a looong list of ingredients. I know that sometimes puts me off, especially when the ingredients are relatively hard to find, too. So I was excited to flip through Kate Friedman's book, 5-Ingredient Vegan Cooking: 60 Approachable Plant-Based Recipes with a Few Ingredients and Lots of Flavor. Because honestly, who doesn't love 5-ingredient recipes?
I have to say, I wasn't disappointed. The book skips all those processed, impossible to find ingredients, and works with pantry staples instead. If you've ever needed to get dinner on the table pronto, you know how useful it is to cook with ingredients you already have. And just 5 of them? A dream.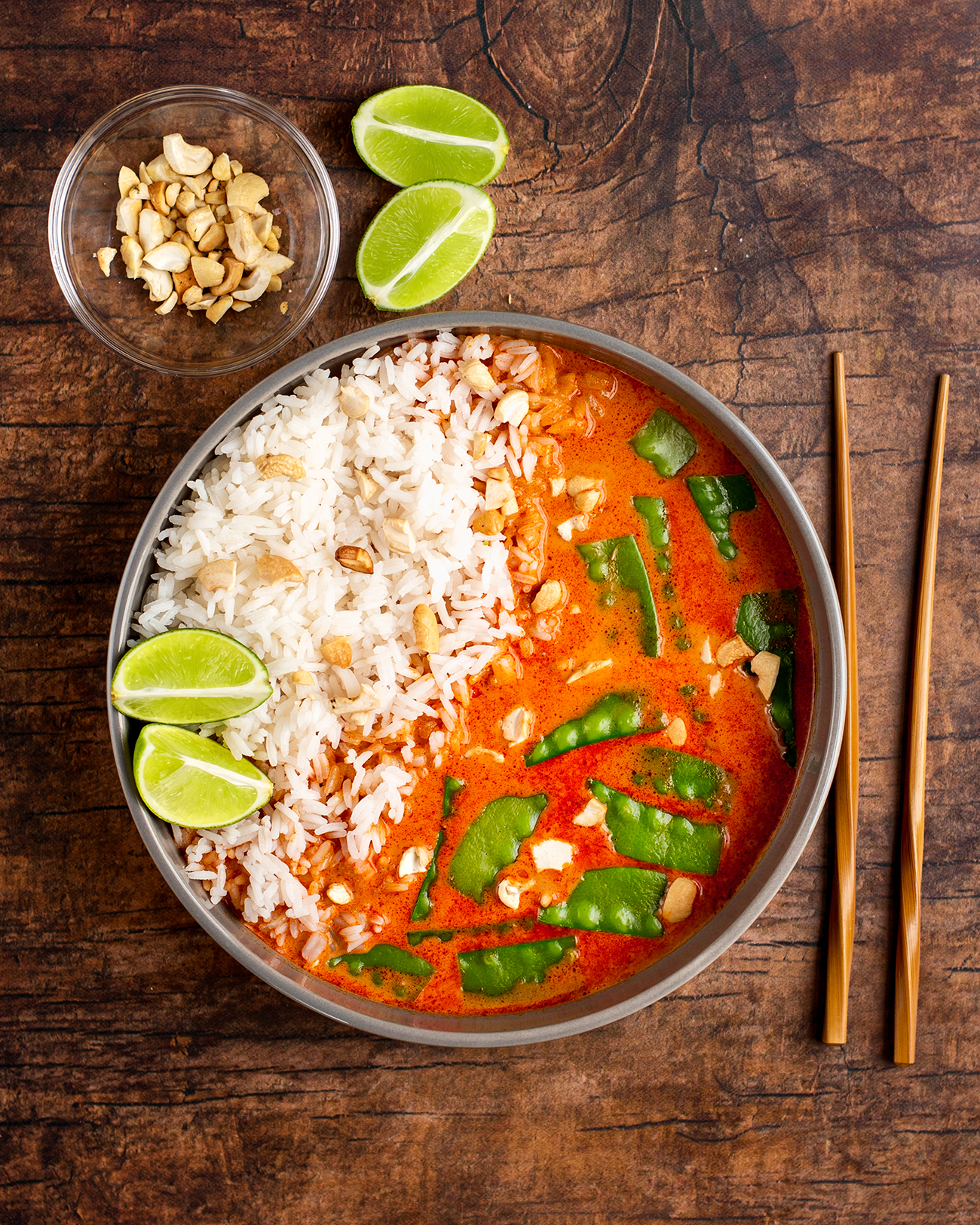 Simple Snow Peas with Red Curry Coconut Broth
"This simple Thai-inspired dish is […] both spicy and sweet—products of the red curry paste and creamy coconut milk. I chose snow peas as the vegetable because I love their crunch and their brilliant green color against the red curry broth. Like curry powder, red curry paste is an easy single ingredient that brings a lot of flavor to a dish. Red curry is moderately spicy and slightly sweet, getting its flavor from red chilies. Other ingredients in red curry paste include garlic, galangal (Thai ginger), coriander, cumin, black pepper, kaffir lime leaves, lemongrass and turmeric. It's a complicated ingredient to make yourself, so I often opt for the store-bought version. Just pay attention when purchasing, as curry paste traditionally includes shrimp paste. There are vegan versions of red curry paste available though. I recommend Thai Kitchen's Red Curry Paste," says cookbook author Kate Friedman.
Get her delicious recipe for snow peas with red curry coconut broth below and consider buying 5-Ingredient Vegan Cooking on amazon or in bookstores.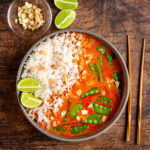 Simple Snow Peas with Red Curry Coconut Broth
Reprinted with permission from 5-Ingredient Vegan Cooking by Kate Friedman, Page Street Publishing Co. 2021. Photo credit: Kate Friedman
Ingredients
1

cup

dry jasmine rice

1

tbsp

coconut oil

1

tbsp

minced garlic

1

tbsp

minced fresh ginger

1

jar

red curry paste

4-oz

2

cans

full-fat unsweetened coconut milk

14-oz

2

tbsp

tamari sauce

2

cups

fresh snow peas

washed with the ends trimmed

1⁄4

cup

toasted cashews

roughly chopped (optional)

1

lime

cut into wedges (optional)
Instructions
Prepare the jasmine rice according to the package directions.

Add the coconut oil to a large, deep-sided skillet. Turn the burner on to medium and heat the oil until shimmering. Add the garlic and ginger and sauté on medium-low heat until fragrant, 1 to 2 minutes.

Stir in the red curry paste and increase the heat to medium. Briefly toast the curry paste until fragrant, 2 to 3 minutes

Add the coconut milk and tamari sauce. Bring to a simmer. Add the snow peas to the coconut milk broth. Cook until the peas become bright green.

Serve immediately over the jasmine rice. Top with the cashews and lime, if desired.
Recipe Notes
Coconut oil has a wonderful flavor and a low smoke point. An oil's smoke point is the temperature at which the oil starts to break down. This occurs at 350°F (175°C) for coconut oil. When cooking with it, be sure to monitor the heat of the pan to prevent the oil from smoking.
Two large cloves of garlic are about equal to 1 tablespoon (9 g) of minced garlic.
A thumb-sized piece of fresh ginger is about equal to 1 tablespoon (6 g) of minced ginger.
2