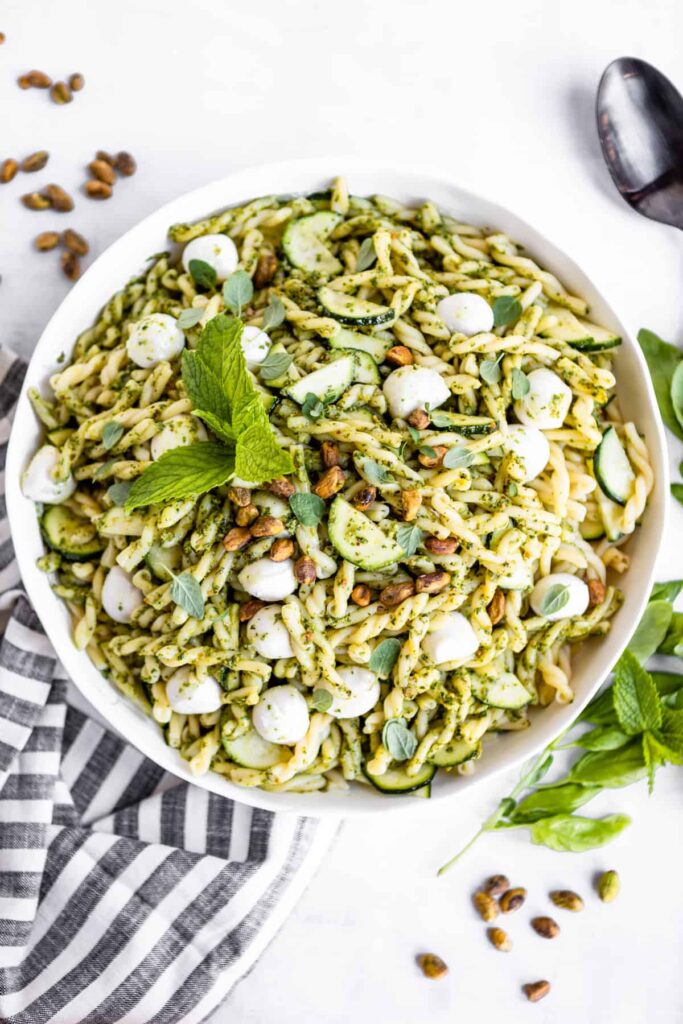 Late summer is my favorite. I have a small container garden brimming with fresh herbs and a few other items. I love, love, love making pesto with my garden herbs. This year I went all out and planted a TON of sweet basil, Thai basil, oregano, three types of mint, two types of thyme, rosemary, tarragon, and two kinds of sage. Fresh herbs elevate everyday recipes and make them feel a bit more special.
This delicious pistachio pesto pasta with zucchini and fresh mozzarella uses three of my favorite herbs: basil, mint, and oregano. The herbs complement each other and harmonize well, plus they taste great with zucchini. But the real star of this pesto is the pistachios.
Usually for pesto I use raw nuts or seeds, but for this recipe I chose roasted and salted pistachios. Holy moly! They add such a nice flavor. And the best part: the pistachios are already shelled! That cuts down dramatically on prep time and makes these tasty little green gems even more pop-able. One for the pesto, two for me, another for the pesto, a handful for me…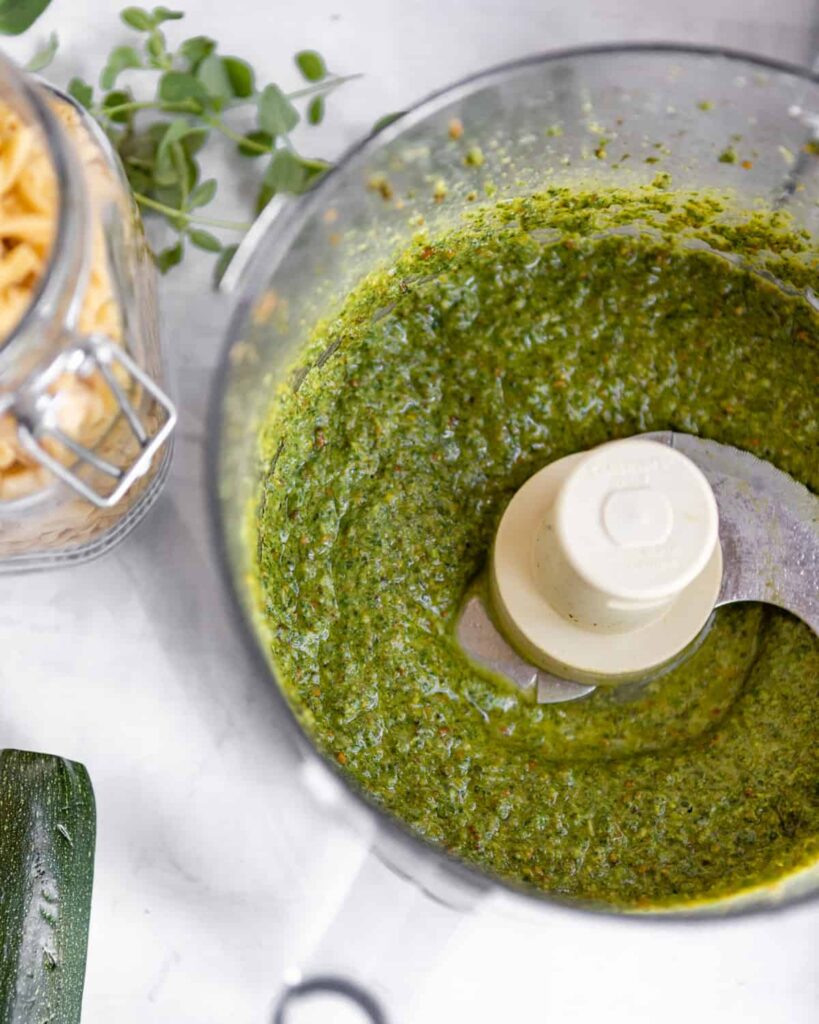 I declared this the best pesto I've ever tasted, and I've tasted a LOT of pesto in my days. To brighten things up, I also added grated lemon zest and fresh-squeezed lemon juice. The pistachios make the pesto kind of creamy, so no cheese is needed; however, I love adding fresh mozzarella to this. (But it can easily be made vegan by eliminating the mozzarella.) I like the small, cherry-sized Ciliegine mozzarella balls, but cubed fresh mozz works great too. And if you really want a treat, try making it with burrata….sigh.
I call for gemelli pasta in this recipe. I love the way the twists pick up the pesto and grab onto it. Any other favorite pasta shape works too.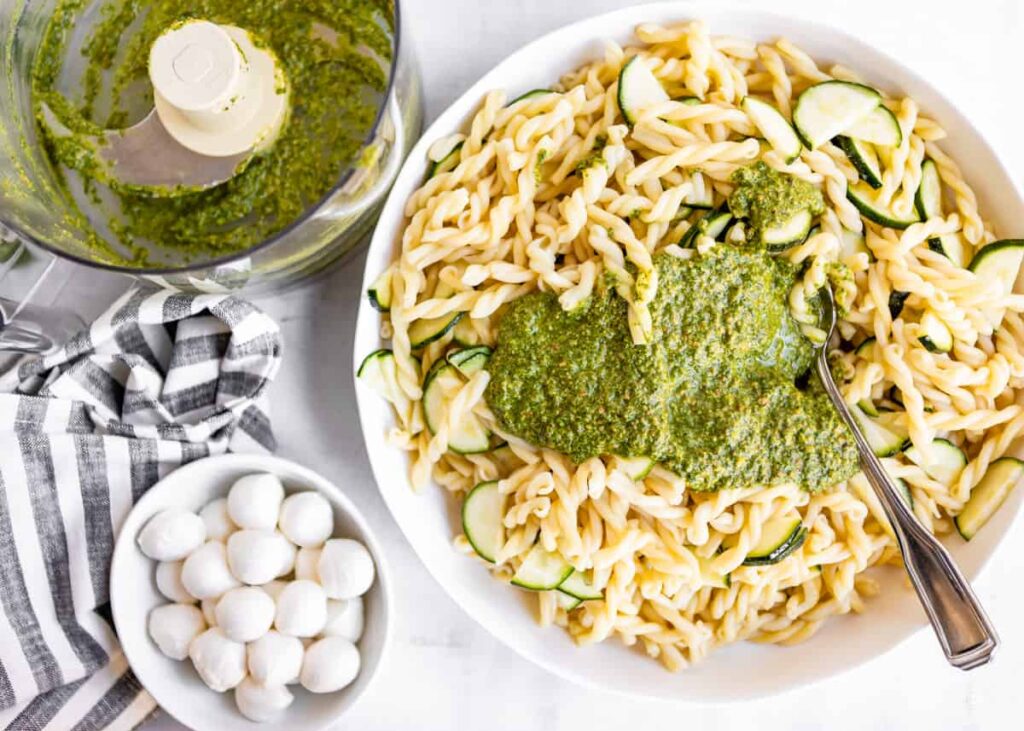 Zucchini is something every garden seems to have plenty of by the end of the summer. If you can get zucchini on the tinier side, they are a little less pithy and taste very sweet. Larger zucchini tends to be on the bitter side. (Save it for grating and adding to muffins!)
I also prefer the zucchini to be barely warmed up by the heat of the pasta. It stays tender-crisp and doesn't turn to mush. No one likes mushy zucchini, right? I mean, if you do, that's fine…no judgement. 😉 If you do prefer the zucchini to be a little more cooked, toss it into the pot with the pasta during the last few minutes of cooking. Don't forget to save a little of the pasta cooking water in case you need to thin the pesto out a bit.
This yummy everyday recipe comes together in the time it takes to cook the pasta. Bonus: it also tastes great cold out of the fridge, making it a two-fer. Serve it up warm for dinner with a nice glass of white wine, then have any leftovers cold for the next day's lunch as a yummy pasta salad.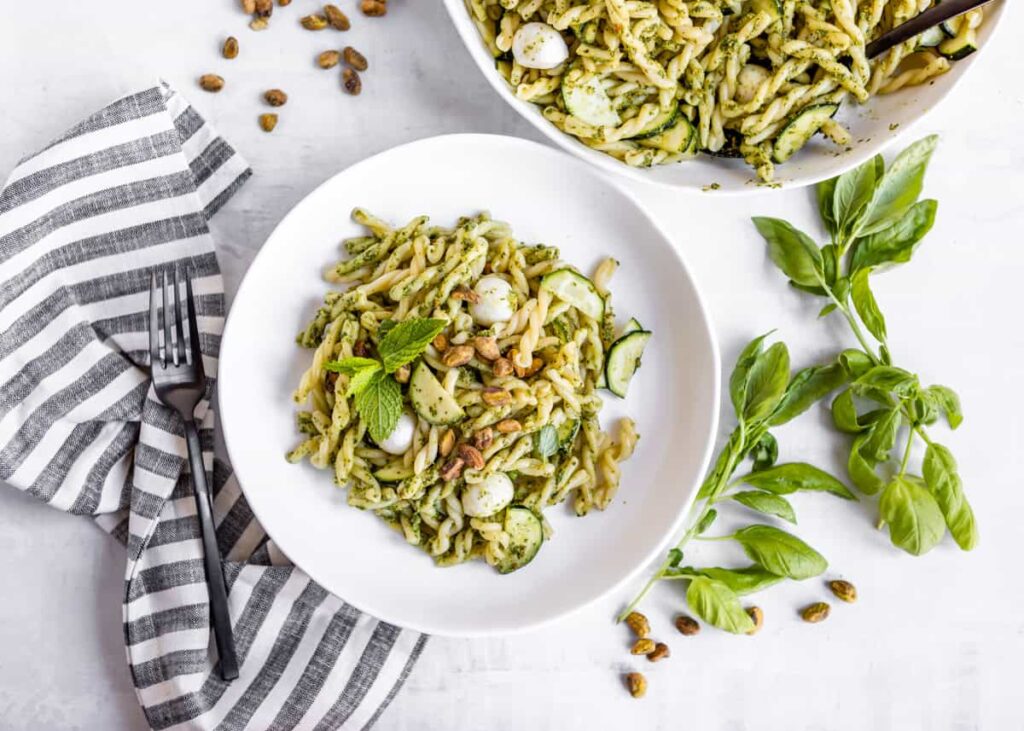 Don't be afraid to add extra veggies here too. I went with simple, but you could certainly add other garden veggies like cherry tomatoes, fresh corn, eggplant, bell peppers, etc. For the topping, I added extra pistachios. I just love their nutty crunch with that hint of salt. They are so dreamy in this dish. You've got to love the versatility of pistachios!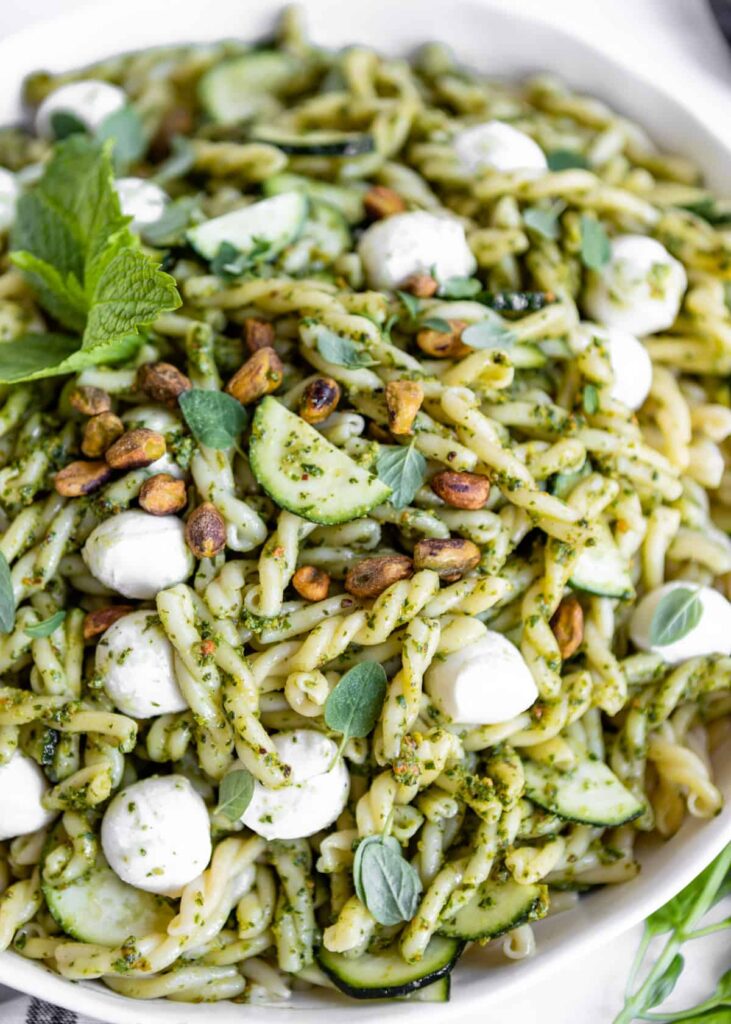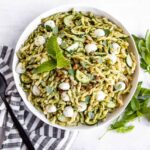 Pistachio Pesto Pasta with Zucchini and Fresh Mozzarella
Utilize those late summer zucchinis and fresh herbs by making this quick and easy pasta dish. 
Ingredients
For pasta:
1

pound

gemelli or other twisty pasta

2

medium-small zucchini

thinly sliced into half moons

8

ounces

fresh mozzarella

cubed or Ciliegine 

1/4

cup

pistacchio

for topping

Fresh herb leaves

for garnish
For Pistachio Pesto:
1 1/2

cups

fresh basil leaves

1

cup

fresh mint leaves

1/2

cup

fresh oregano leaves

1/2

cup

pistachio

2

garlic cloves

roughly chopped

Juice and zest of 1 large lemon

1/2

cup

olive oil

1/4

teaspoon

sea salt

or to taste
Instructions
Cook pasta according to package directions. If desired, add zucchini to pot during last few minutes to cook it.

While pasta is cooking, prepare pesto. Place all of the ingredients, except for the lemon juice and olive oil into the bowl of a food processor. Pulse a few times, then process until finely chopped. With the motor running, add the lemon juice and olive oil through the feed hole. Process until smooth. Set aside or refrigerate until ready to use. (Can be made up to 3-4 days in advance.)

Drain pasta, reserving 1/2 cup of the cooking water, and place back in the pot. Add the sliced zucchini and pesto. Toss to coat. Add a little of the reserved pasta water, if needed, to thin the sauce.

Taste and add more salt, if needed. Transfer to a large serving bowl and top with the mozzarella, extra pistachios, and herb leaves. Serve warm, at room temperature, or chilled.
Recipe Notes
Add extra veggies, if desired.
Any of the herbs can be substituted with other leafy green herbs such as parsley or cilantro, or extra mint, basil, or oregano.
Try substituting the fresh mozzarella with grilled haloumi cubes, feta, or another fresh cheese.
0