We've been paying a lot more attention to gut health and ways to detox our body naturally. And, you may have noticed this, from posts such as 10 Reasons Why You Should Be Drinking This Cleanse Water Every Day and 10 Ways to Love Your Liver Daily + Weekend Cleanse Meal Plan, to name a few.
We've started this journey, but like any behavioral change it helps to have support and fresh ideas. This is why we love Megan Gilmore! If you don't know her, Megan is the founder of Detoxinista, and a firm believer that you can detox AND eat food that tastes good. So if you want to lose weight, improve digestion, sleep better (and who doesn't), then Megan's new book Everyday Detox is for you.
Still skeptical that detox + food = yummy? Take a look at this recipe, courtesy of Megan and her new book.
Strawberry Lime Sorbet Recipe
You're just minutes away from enjoying a refreshing sorbet that tastes just as delicious as one you'd find at an ice cream shop. Frozen strawberries, whose red flesh contains a compound that may help promote fat loss and boost short-term memory, are the key to this delectable treat, as they provide a slushy, sorbet like texture when pureed. No need for an ice cream maker! Once you get the hang of it, feel free to use any other frozen fruit you like for an endless number of flavor possibilities.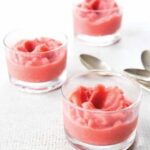 Strawberry Lime Sorbet Recipe from Everyday Detox
Ingredients
1

pound

frozen strawberries

2

tablespoons

freshly squeezed lime juice

1/4

cup

maple syrup

1/4

cup

water

or more as needed to facilitate blending
Instructions
In a large food processor fitted with an "S" blade, combine the strawberries, lime juice, maple syrup, and water.

Process until the strawberries are completely broken down,which may take several minutes, creating a smooth and thick consistency similar to sorbet. Add more water, if needed, to achieve this smooth texture, and then serve immediately.

NOTE: Leftovers can be stored in a sealed container in the freezer, but they will become rock hard when frozen. To serve again, remove from the freezer and thaw for 20 to 30 minutes, until the sorbet can be stirred and restored to its original texture.
Everyday Detox
In addition to the 100 delicious recipes, Megan Gilmore's new book, Everyday Detox: 100 Easy Recipes to Remove Toxins, Promote Gut Health, and Lose Weight Naturally also contains suggestions for party menus, food combining cheat sheet, suggestions on how to stock your detox-friendly kitchen, and many other resources. Enjoy!
0