Thanks to PRANA snacks for sponsoring this post.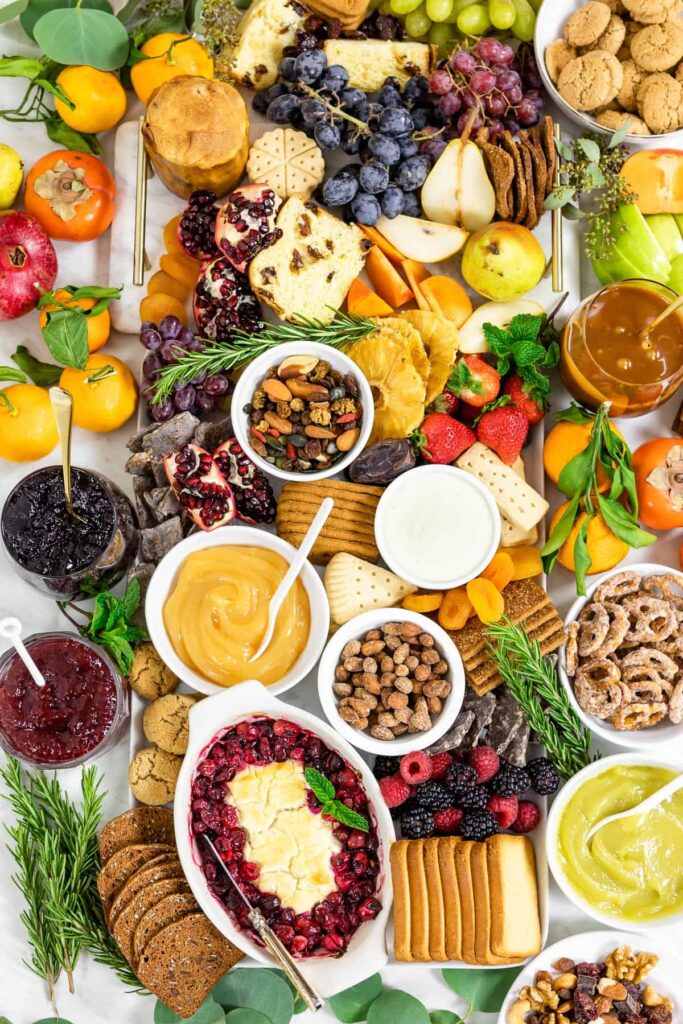 The holidays are upon us and 'tis the season for entertaining and attending parties! We're big fans of a fancy cheese board or crudité platter as an appetizer option, but this year, we're bringing that idea to dessert too.
If you're hosting a holiday party this season and looking for something beautiful, fun, and unique to serve to your guests, try building a holiday dessert board. Think: a variety of fruits, chocolates, spreads and dippers. And everyone gets to choose whether they want a little or a lot!
PRANA Superbarks are one of our fave new healthy snacks–they're vegan chocolate barks made with with superfoods like chia, matcha and maca, and even better, they're also organic, fair trade, kosher, and non-GMO. You can purchase them at Target or on prana.bio for $4.99. We love keeping them in a desk drawer for an afternoon pick-me-up at work or having a piece or two after dinner, but they're also fantastic for adding to a holiday dessert board.
The possibilities are truly endless, but it helps to think things through a bit before you get started. Follow these guidelines and draw from your own ideas to create your own magical dessert board that is perfect for any holiday party or get-together.
Start With a Plan
That's good advice for any party, and well, life in general. But planning your dessert board ahead of time will ensure it comes together cohesively and wows your guests.
Choose a theme: start by assessing the feel of the party. Is it going to be fancier or more relaxed? Would you like the food to be more adventurous or traditional holiday fare?
Who are your guests and how many will be joining you? Will there be children or adults only?
Will your guests be bringing items to add to the board, or will you gather everything on your own?
Store-bought or homemade? Or a combination? Consider your schedule and how busy you may be.
Theme Ideas
Cookies and Milk – have guests bring 2 dozen of their favorite cookies and have various kinds of dairy or non-dairy milks on hand plus plenty of striped paper straws
Dessert Charcuterie
Chocolate Lovers
Ice Cream Sundae Bar
Build-Your-Own-Trifle Bar
Dessert Fondue
Dessert Waffle Bar
International Cuisines (Italian cookies and espresso, for example)
Healthy Dessert Bar (focus on lots of fruit, nuts, dark chocolate, etc.)
Sweet and Salty
Red and Green
Once you've done a little bit of planning, start making a list of items you'd like to include. It's important that everything on the board has a cohesive feel to it. For this dessert board, we are going for a sweet take on a classic cheese board that includes cookies and sweet crackers, fresh fruit and dips, baked goat cheese and cranberries, jam, nuts and dried fruit, PRANA Superbarks and nut mixes, and other fun treats.
A dessert board should be focused on small bites so guests can sample an assortment of treats. For example: a shortbread cookie or cheesecake bite that can be topped with lemon curd or caramel sauce; fresh fruit with decadent dips; build-your-own-trifle made with cubed cake or brownies. This allows everyone to be able to try small bites of many different offerings without being overloaded with large portions.
Dessert Board Items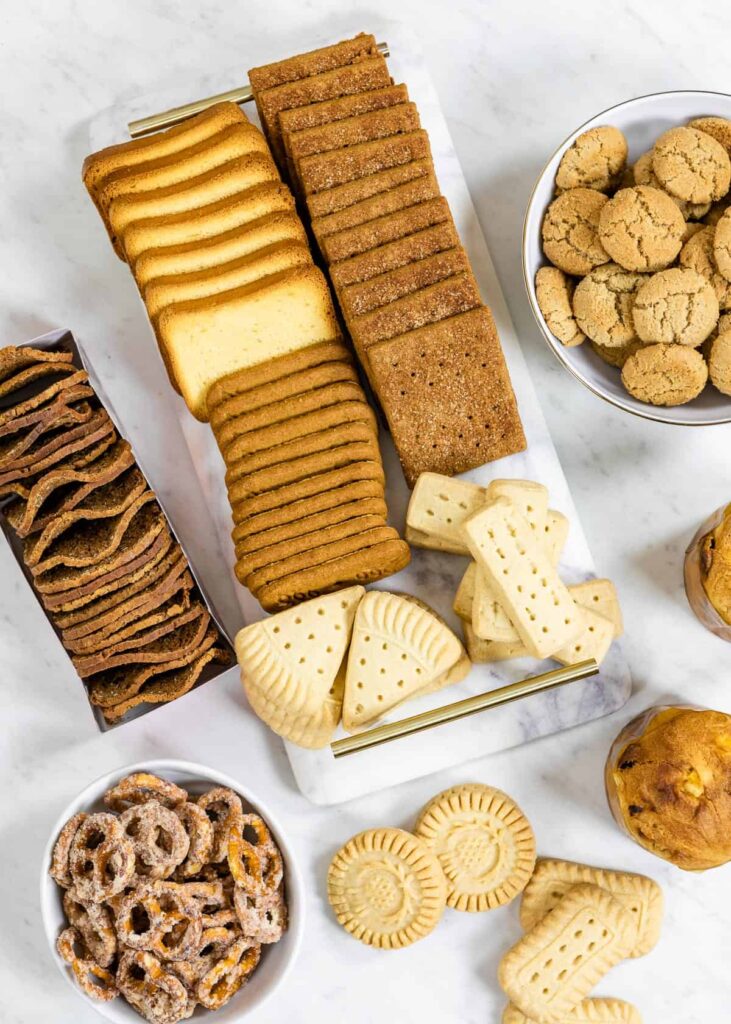 Cake, cookies, and crackers:
Panettone, poundcake or angel food cake squares, graham crackers, mini cupcakes, shortbread, gingersnaps, speculoos cookies, brioche toasts, gingerbread rusks, and toffee-covered pretzel knots, cheesecake bites, brownies, sandwich cookies, mini pies or tarts, cream puffs or eclairs, mini donuts, crisp rice and marshmallow treats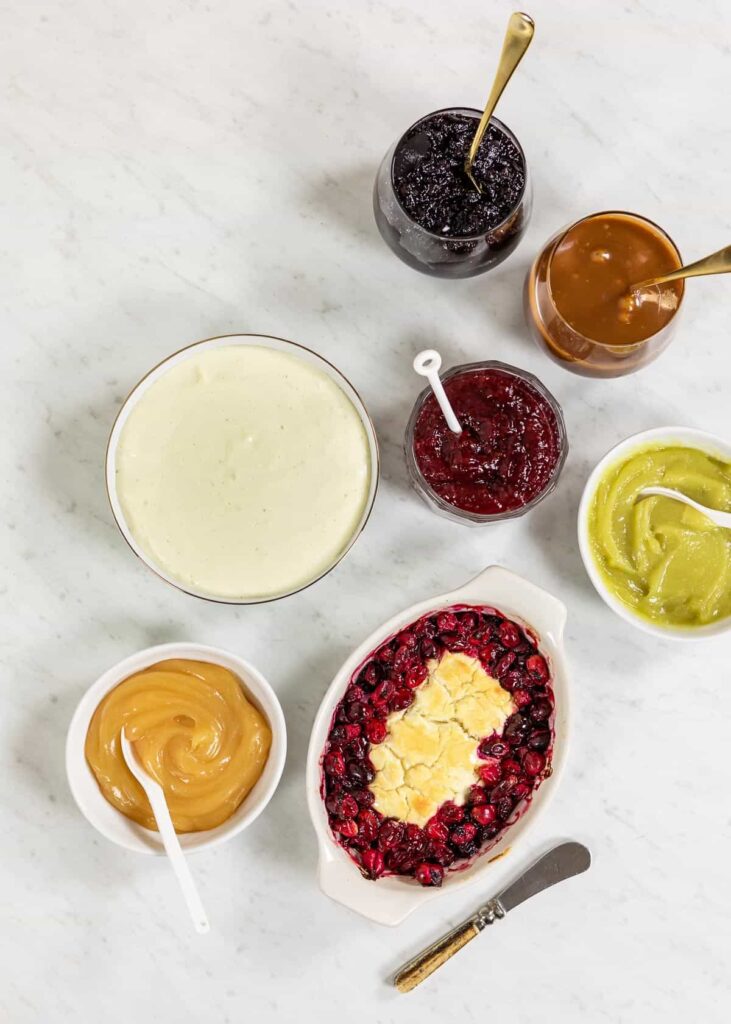 Dips, sauces, and spreads:
Berry jams, lemon and or lime curd, cheesecake dip, salted caramel dip, hot fudge sauce, sweetened creme fraiche, whipped cream
Cheese:
Baked goat cheese with cranberries and honey (pictured above), mascarpone, ricotta, blue cheese, whipped cream cheese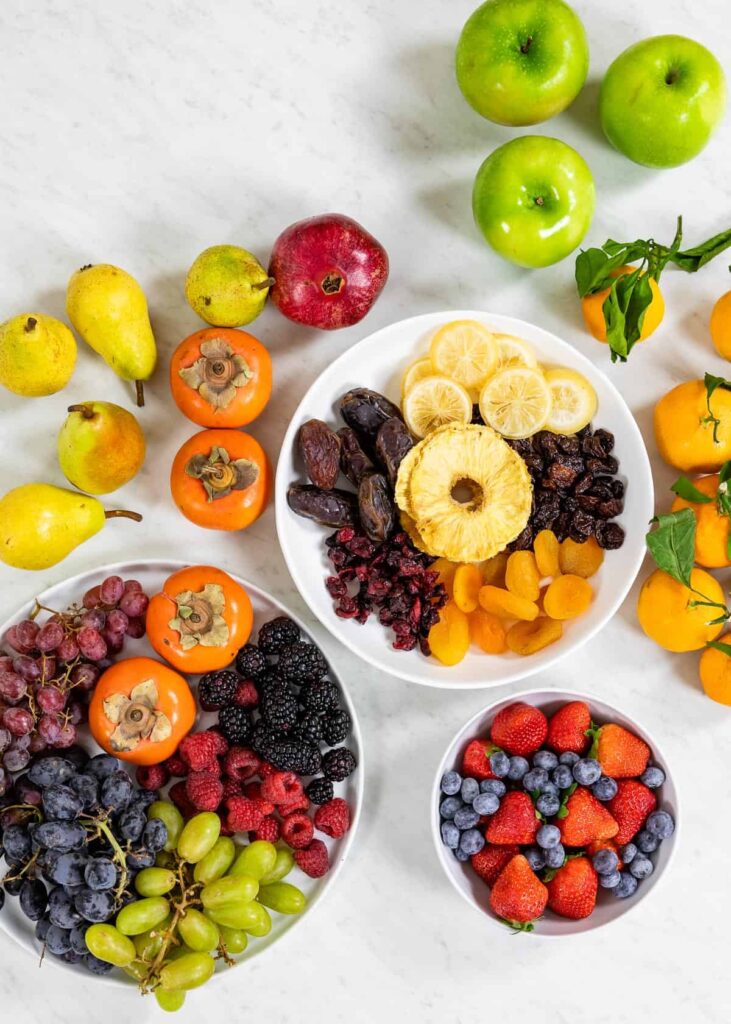 Fresh and dried fruit:
Pears, apples, grapes, assorted berries, satsumas (or mandarin oranges), pineapple, pomegranate seeds, pineapple, mango, cranberries, cherries, dates
Nuts and seeds:
Toasted and raw assorted nuts such as cashews, almonds, pecans, and walnuts; sweet trail mixes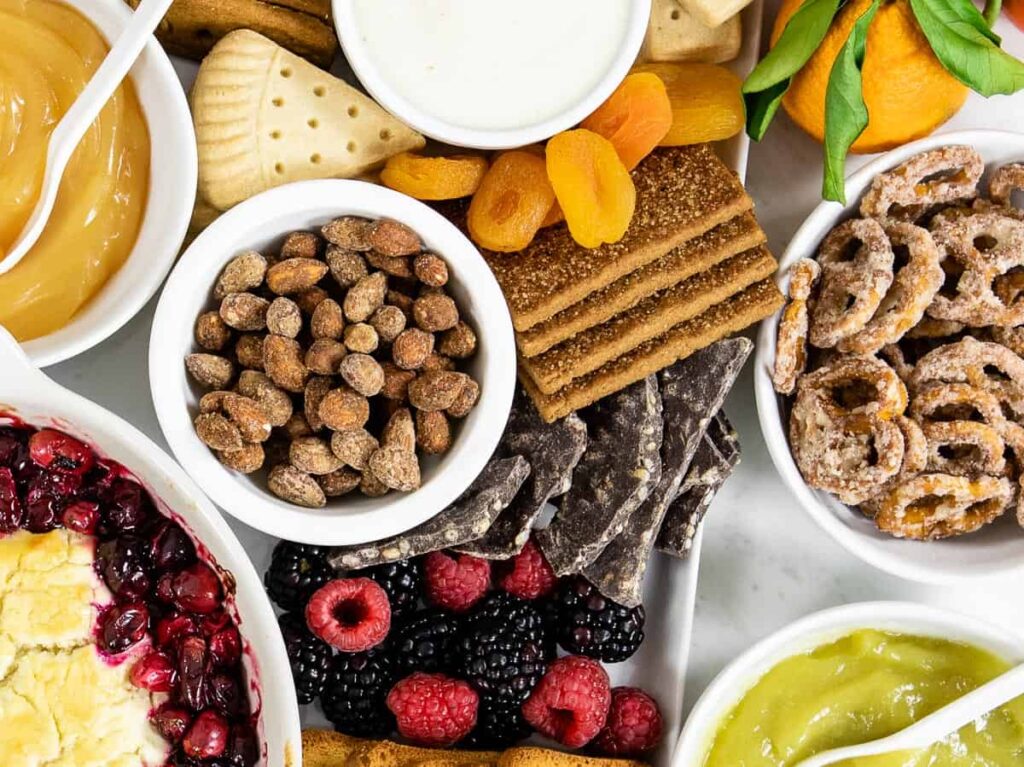 Chocolate and candies:
Pulling It All Together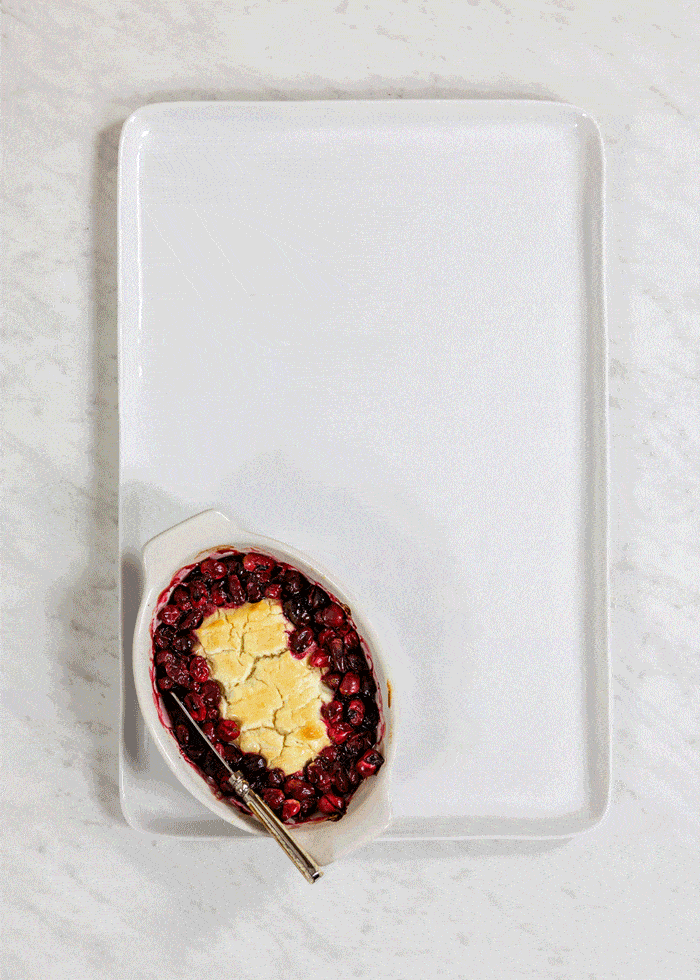 Boards to use:
Marble pastry boards
Large vintage or antique bread or cutting boards
Large platters
Slate platter or board
Building the board:
Layer, stack, and clump board items to be aesthetically pleasing and add visual interest. Try to break up monochromatic items like anything golden or brown with bright colors.
Help your guests with a head start by placing items that go well together in the same area on the board. Example: cheesecake dip placed near berries, cookies, and crackers.
Start with small amounts of the items and refill as needed. It looks tidier.
Use small bowls to help separate items that could be messy.
Label any items, if needed.
If there's not enough room, don't be afraid to add in some smaller boards alongside.
As you go, keep filling in and squishing things together; add more of this or that until it looks just right.
Add some garnishes to give a seasonal flair and to add more pops of color. Fresh herbs and greenery look really nice and feel extra festive.
Making it extra special:
Use a pretty tablecloth and napkins to set the scene.
Use small appetizer plates and if you've got pretty holiday dishes or china hidden away, pull them out!
Transfer jams, jellies, and other store-bought items to pretty bowls and add spoons, if desired.
Add some whimsical touches to the table – fluffy fake snow, glitter or confetti, add ribbons to serving ware
0