Ah, the cheese board. Nothing brings me quite as much excitement at a party as a really good, well-planned gorgeous board of perfectly selected cheeses and accompaniments. This crowd-pleaser can function as a light meal or appetizer depending on the occasion. No need for utensils or even tables! Everything can be easily eaten while standing and mingling.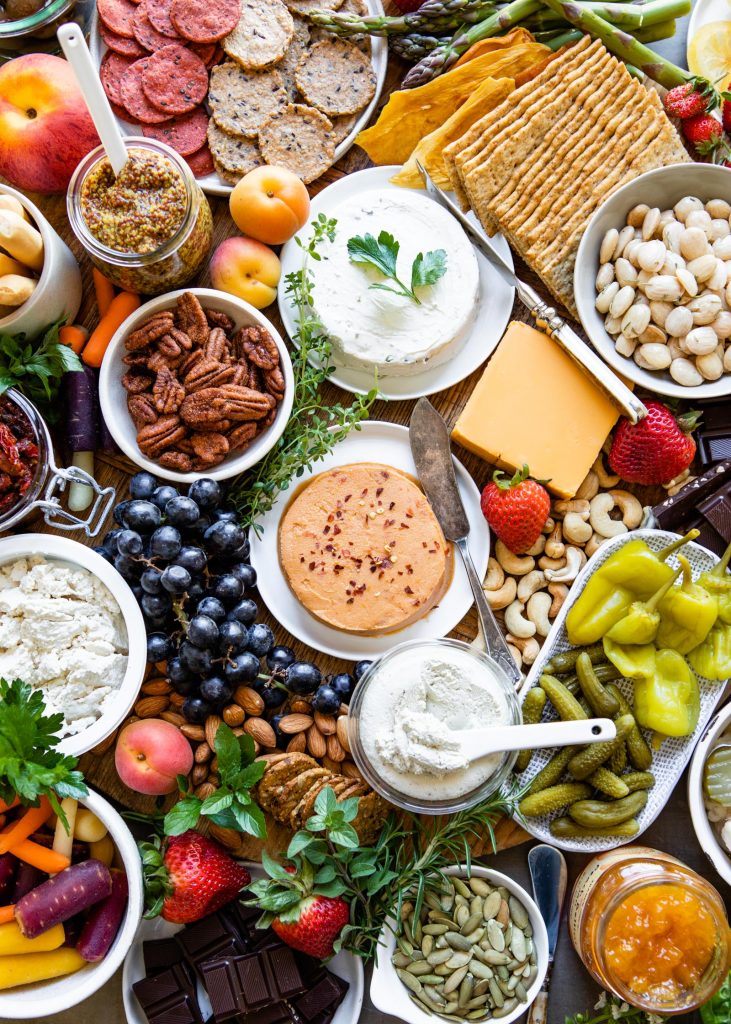 Let me begin by addressing the naysayers: no, vegan cheese isn't true "cheese," but hear me out. There's definitely a place for a vegan cheese board in your life even if you aren't vegan or dairy-free. Dairy-free cheeses have come a very long way the last few years and even non-vegans are touting their deliciousness. So bear with me, naysayers, and keep reading to see how to make the most epic vegan cheese board around.
Vegan Cheese 101
We'll start with the cheese because it's nice to know what your options are.
Vegan cheeses or "cheeze" are typically made from soy or nut milk. There are plenty of fresh, spreadable varieties flavored with herbs, garlic and such. But more recently some pretty awesome aged vegan cheeses have hit the market with a bang. I'm talking aged as in blue cheeses and cheddar. Pretty amazing, right?!
Essentially the same kind of guidelines for dairy cheeses could apply to a vegan cheese board as well. Pick 3-5 different cheeses. Depending on how many guests your board will serve, you may need to buy 2-3 packages of each variety. If it's an appetizer, you won't need as much as if it's the meal itself.
A word to the wise: ask your cheese monger, if available, if you can sample the vegan cheeses first. Stores like Whole Foods will usually give you no trouble. I've even found my Whole Foods cheese peeps will help me navigate the vegan cheese section and give me their honest opinion on brands too. (And they are some of the toughest critics out there!)
You can also make your own vegan cheese. I own a fabulous book and there are numerous recipes out there too.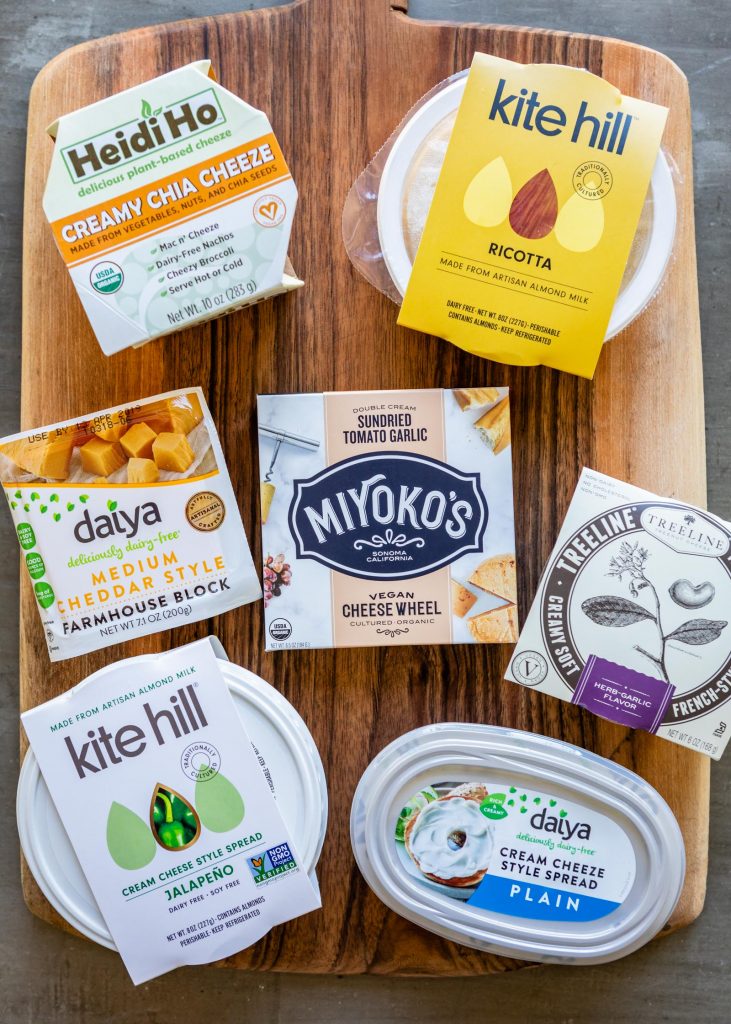 My go-to cheeses for a vegan board are:
Cheddar-Style
Fresh + Spreadable – like almond or cashew ricotta
Blue Cheese (if you can find it, or make one from scratch)
2-3 Interesting Ones – truffle, herb, sun-dried tomato, etc.
Cheesy Dip – homemade with cashews + nutritional yeast, or store-bought
With dairy cheese boards, the rule of thumb is to plan 4 ounces of cheese per adult; 2 ounces for children. When it comes to a vegan cheese board, I plan a little less of the cheese and add more of the other stuff, but you can do whatever feels right.
Above all, add the cheese you like. Don't put something on your board that doesn't taste good to you. And if you like something a little more funky, go for it! Vegan cheese is a great topic of conversation. Turn it into a tasting party and ask your guests for input.
Pick A Theme, Any Theme
You don't have to choose a theme, but it sure can help when it comes to narrowing down your choices. I tend to get overwhelmed easily when presented with a lot of options, so picking a theme helps keep me from buying allll the things and having a board that looks scattered and random. A theme may be as simple as "Italian" or "South American." Or it could be something really fun like a cheese board that reminds you of your favorite movie or vacation, or adding items that are only available locally. And really, don't get too caught up in a theme. If you can't think of one, just go for an all-purpose theme and pick your favorite items. It will all work out!
Fresh Fruits + Veggies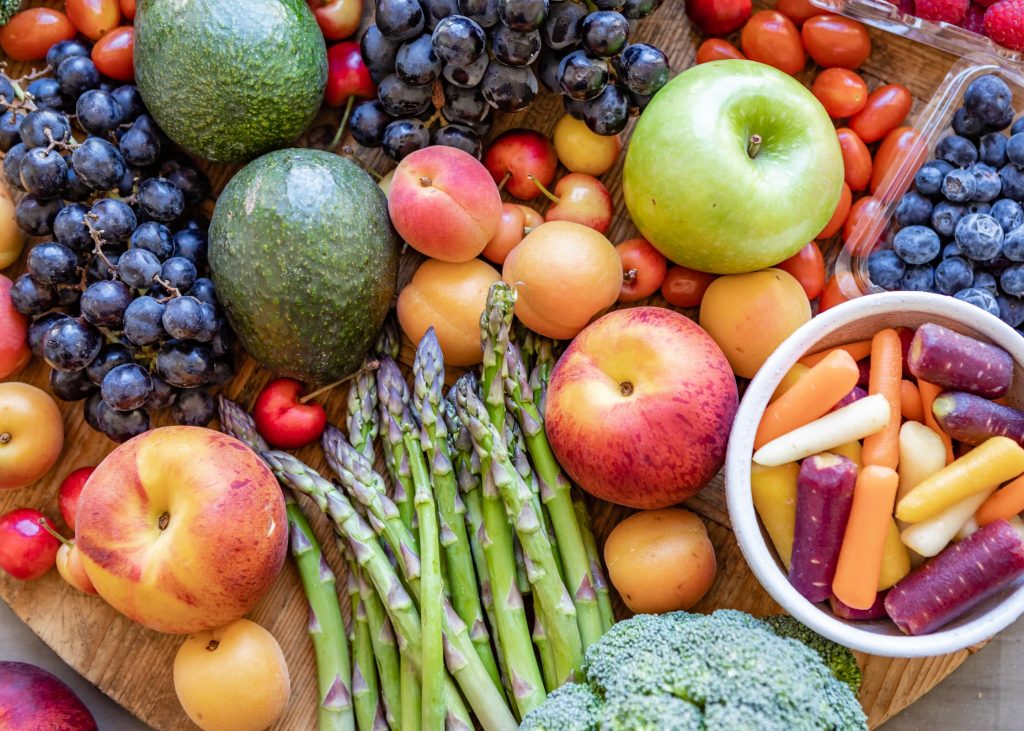 Fruit and cheese are MFEO. You've gotta have plenty of fruit on your vegan cheese board. Go with whatever looks the freshest and prettiest. That will typically be whatever is in season. If you're feeling it, add some tropical fruit too. The juicy and fresh crispness of all types of fruit complements the creamy, rich cheeses.
And don't forget avocados! You may not typically see avos on a cheese board, but I'll argue that they have a place here.
In late spring and summer add plenty of berries. Late summer and early fall yield loads of peaches and other stone fruits along with more berries. Fall is ripe with figs, apples, pears, quince, and grapes. In the winter add plenty of fresh, bright citrus. (Of course this varies according to the part of globe where you reside!)
Fill in the gaps with dried fruit and preserves. I almost always include jams or jellies along with dried and fresh fruit. (See more on that below.) Gimme allll the fruit, please!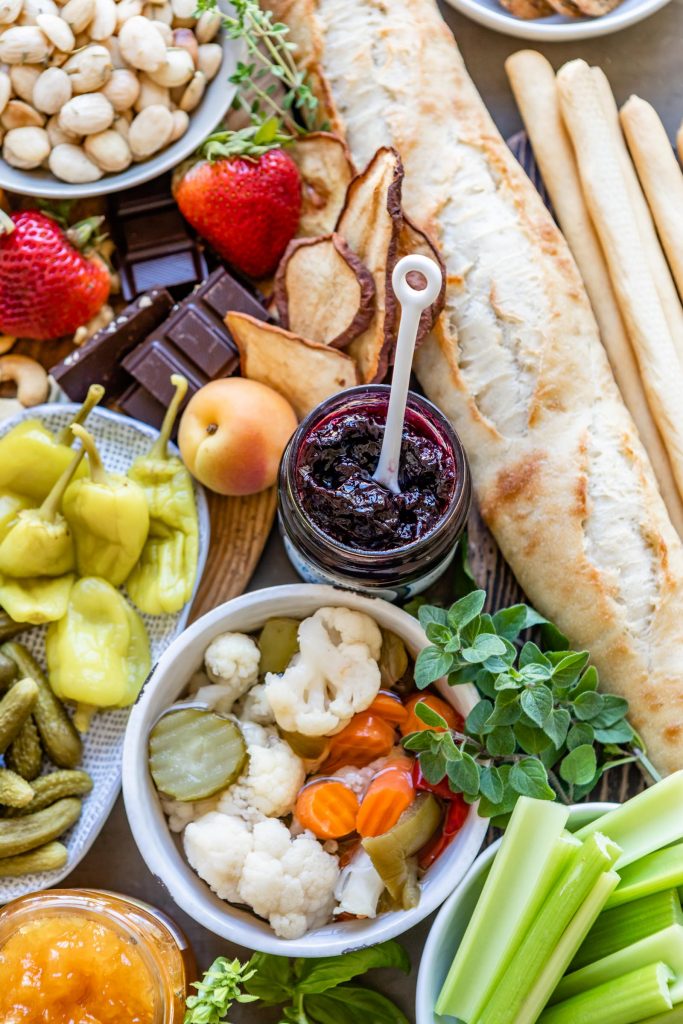 Veggies add a savory component. I love adding in crudites and preserved or pickled veggies (again, see below). Veggie sticks are really nice for the vegan cheese dips I make. I try to include general favorites like: cucumbers, celery and carrot sticks, asparagus, tomatoes, broccoli, cauliflower, bell peppers, etc.
Consider adding in small endive or lettuce leaves to use in place of crackers or bread. Sprouts and micro-greens make great toppings and add a punch of flavor. I particularly like arugula, broccoli, and kale micro-greens which add a peppery bite. Tender pea leaves and tendrils are a simple thing to add to fancy things up and bonus points if you have them in your garden and can pick them fresh!
Nuts + Seeds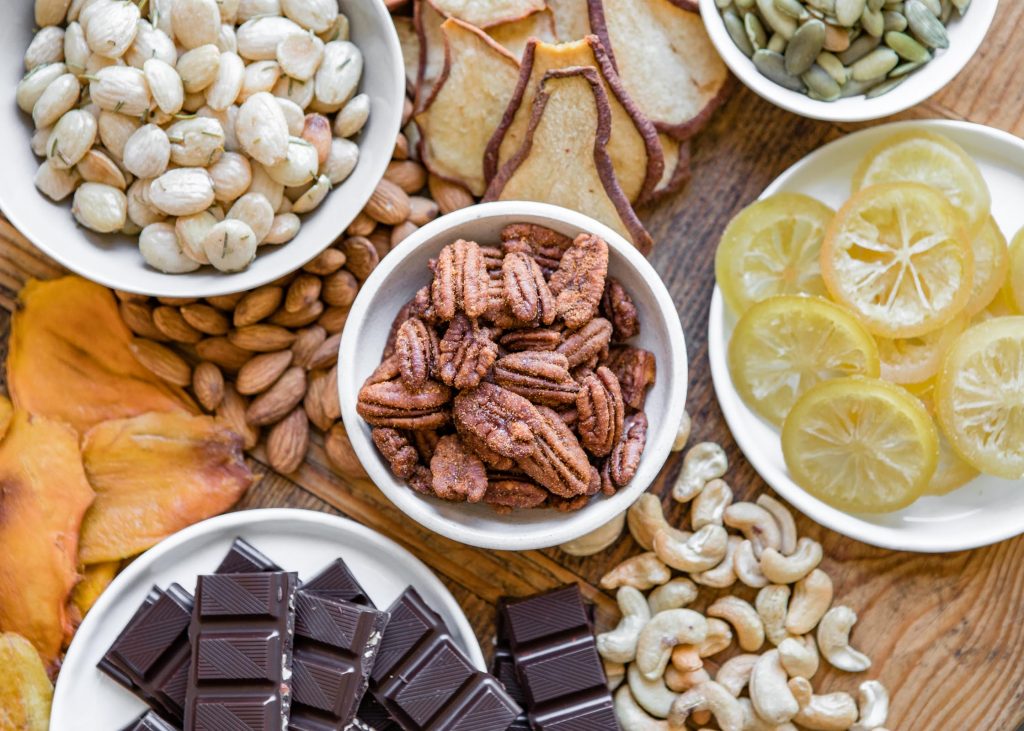 Even though the vegan cheeses are typically made with nut milk, I like to add in even more nuts. I love having a selection of raw, roasted + salted, spiced, and/or candied nuts to add in some extra crunch. Seeds are also great for sprinkling if you're giving guests the option to build a crostini. A schmear of vegan cream cheese plus a dollop of jam and a sprinkling of seeds really ticks off all the boxes.
Condiments + Spreads + Herbs + Seasonings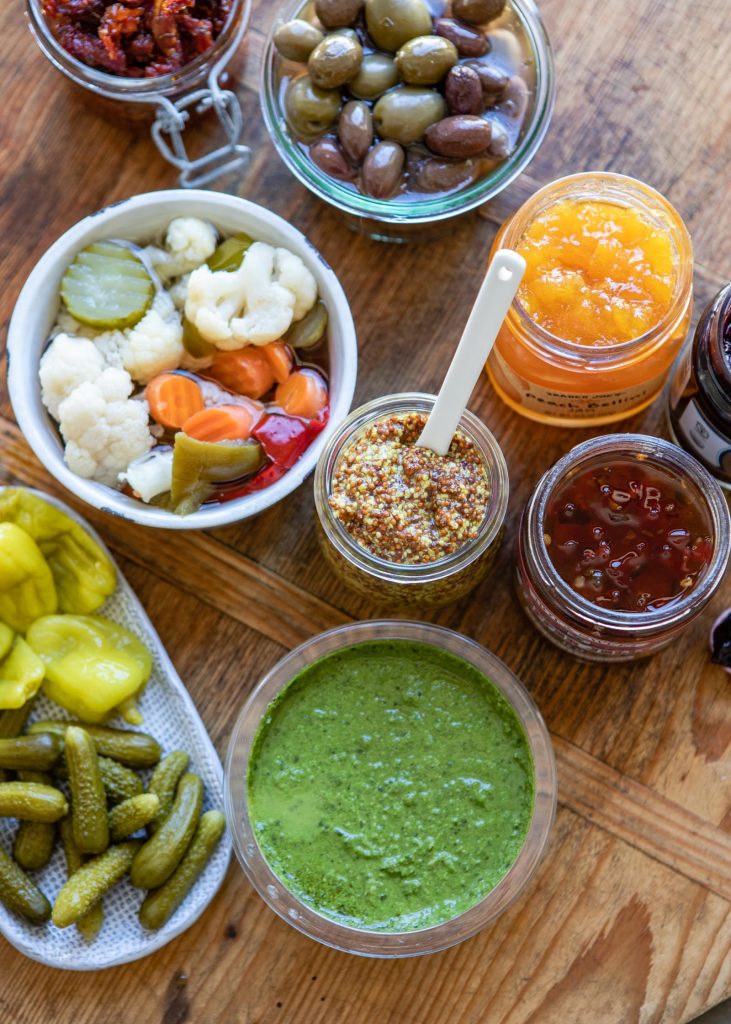 I already mentioned pickles, but I'll mention them again here. Balancing out flavors is essential when creating a vegan cheese board. Having tart pickled veggies ramps things up on the flavor scale.
Other things you simply must consider including: a range of olives (pitted is nice, but not mandatory), sun-dried tomatoes, roasted red peppers, sweet + hot peppers, bean salad, preserved lemons, chutneys, chili jam or jelly, mustard, homemade or high-quality store-bought jam, bottled cherries, apple butter, etc.
A recent addition to my cheese boards are homemade spice blends and coarse or flaky sea salt. Everything Bagel Seasoning is kind of my favorite on whatever I'm eating and it definitely has a place on a cheese board. Freshly ground black pepper is amazing with creamy, tangy cheeses and fresh fruit. A dash of cinnamon or curry powder, or a signature blend can really elevate a milder cheese. Crunchy salt adds a burst of flavor without being too salty. Trust me, it works!
Adding fresh herbs both as a topping and a decoration is a great idea. Finely chop herbs like rosemary, chives, sage, and mint. More tender herbs can be plucked from their stems and used whole-leaf. Thyme, tarragon, cilantro, parsley, basil, and oregano are fantastic additions.
Breads + Crackers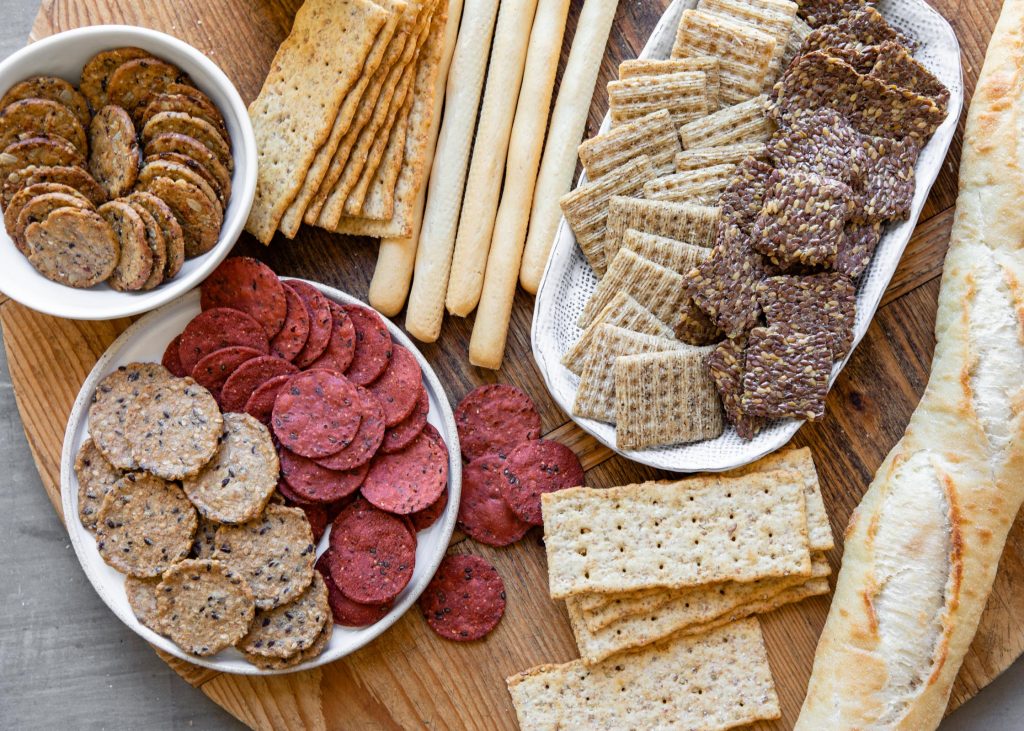 I like to add between 4-6 options for crackers and breads to accompany the cheese. If you're gluten-free, it's pretty easy nowadays to find cracker and bread options. Baguettes are simply a must. I like mini toasts, seeded crackers, and favorites like woven wheat squares. I think about the textures and creating a variety. Some crackers are sturdy and hearty. Others are a little more delicate. Pair accordingly.
Arrange + Rearrange
I own several very large boards just for this purpose. If you don't have one or two, no worries. Several smaller cheese stations work well too. If you feel confident, give your guests a little help knowing what goes with what by placing certain cheeses and accompaniments together. Other than that, it's time to get creative and turn your cheese board into a work of art!
The best materials for cheese boards include large vintage wooden boards, marble, ceramic, and slate. If you're worried about staining, simply place a piece of waxed or parchment paper underneath the cheeses. Don't be afraid to pull out any pretty cake stands you have. They help add variety and height in an aesthetically pleasing way.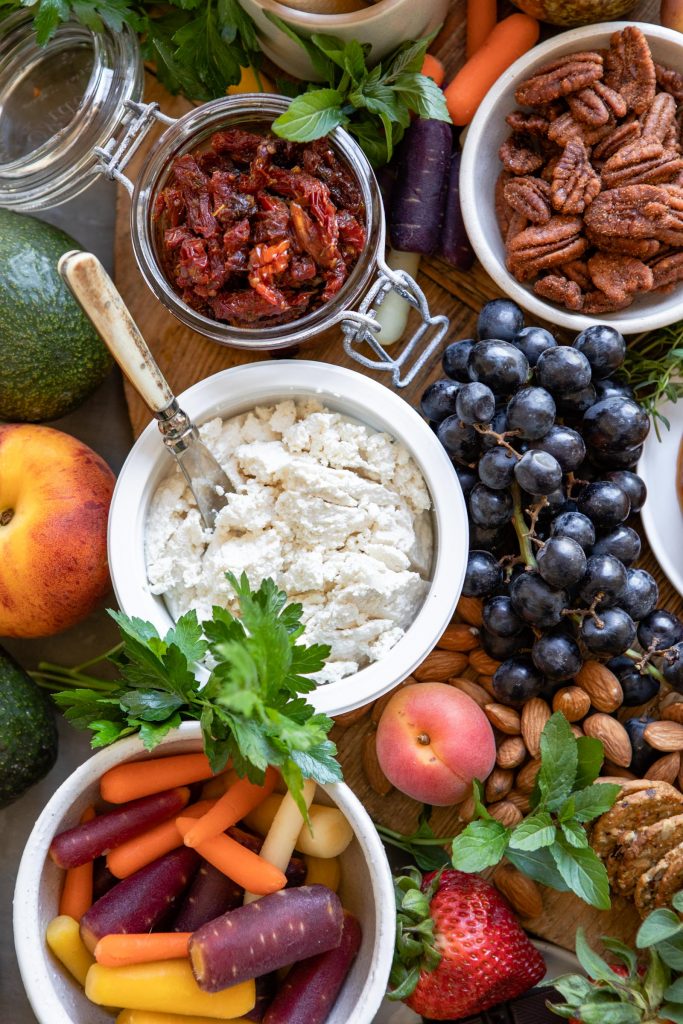 When placing the cheeses on the platter, it's nice to follow tradition and lay them out the way they should/could be eaten: mild to strong. If you're including any really funky, stinky cheeses (which are delicious), they can be placed away from the other cheeses a bit so the odor doesn't transfer to the milder cheeses. It's also customary to include labels so your guests will know which cheeses they're sampling.
Be sure to include special cheese knives and spreaders on your board. They don't have to be these fancy ones, though it is nice to invest in a pretty set to pull out for special occasions. A set will typically include a long knife with a forked tip that may or may not have holes on the blade (good for softer cheeses, the holes prevent cheese from sticking to the blade), a spade with a sharp cutting edge (slicing harder cheeses), a pointed fork (chipping aged cheeses and transferring cheese to individual plates), a flat edged "shovel" (for cubing, slicing, and transferring to plates), and small rounded knives (for spreading).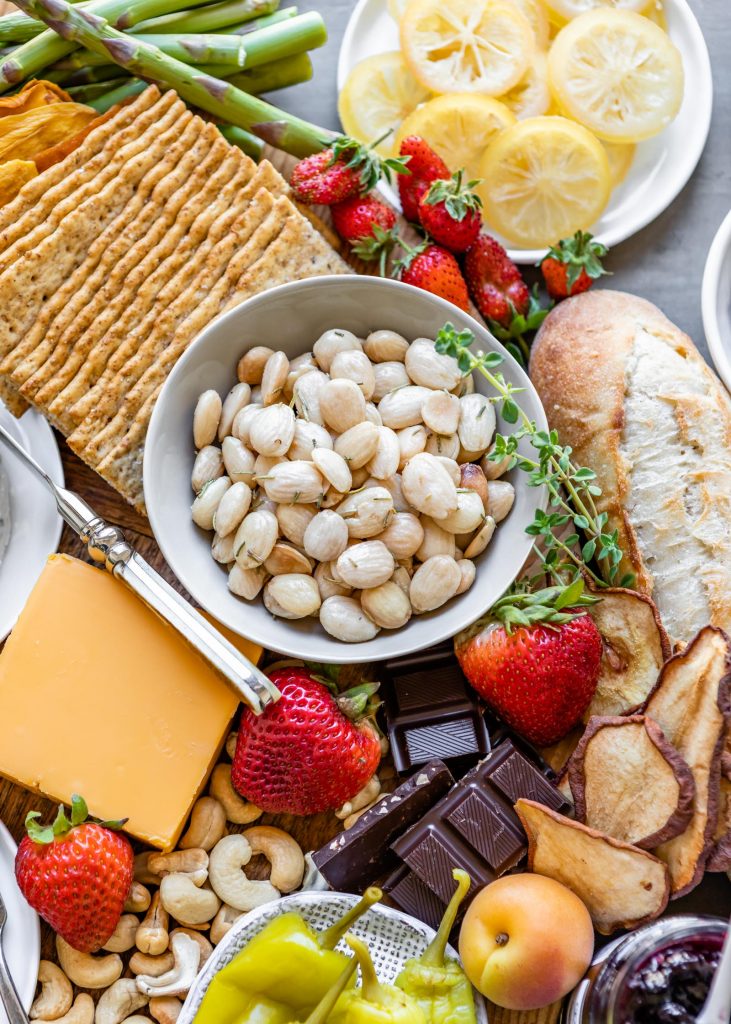 To make things easier (and for portion control!) some cheeses can be sliced, cubed, or crumbled ahead of time for simplicity, but you'll run the risk of the cheeses drying out, so don't prep too much at one time.
One last thing, if you'll be having a cheese board at an outdoor summer party, it's also a good idea to have some kind of screen to keep pests out.
Drink Up!
Last, but not least, the beverages! Drinks are a very important part of any cheese board. Not only are they functional (gotta wash down those crackers!) but they can also enhance the flavor of the cheeses.
Wine is obvious. Choose a bottle of red and white, maybe a rosé. Sparkling wine or champagne are fun. I also really love myself a bottle of chilled hard cider. Beer and lambic are great. And for more family-friendly beverages, I also like to include plenty of sparkling or still water and juices.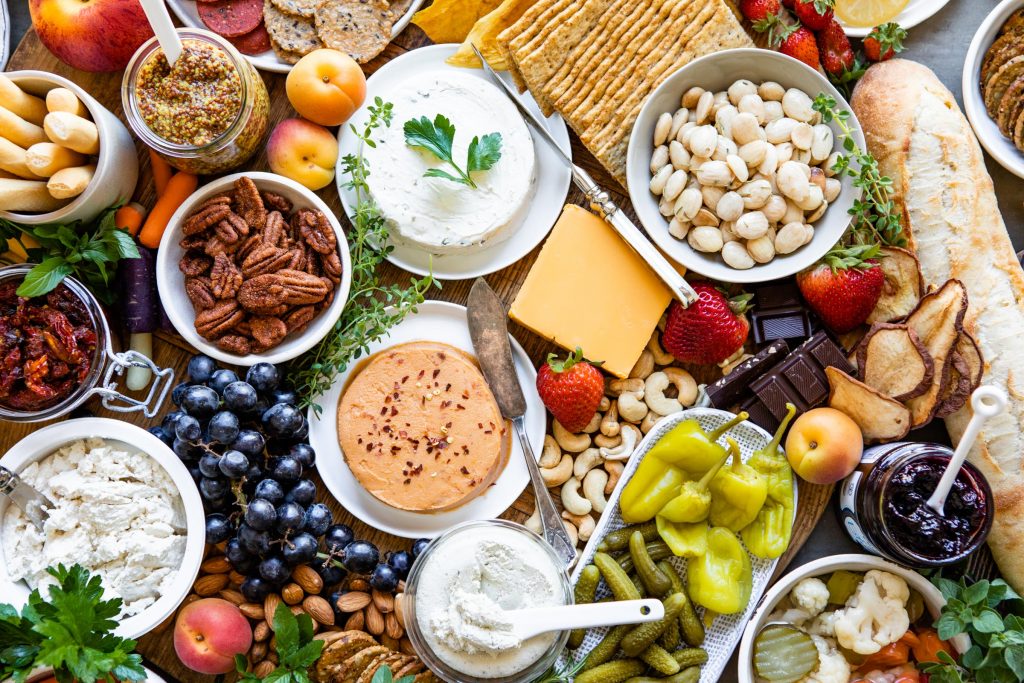 Above all else, have a lot of fun trying out new cheeses and accompaniments. Keep notes somewhere of which brands you do and do not like so you can keep a running list for next time.
17