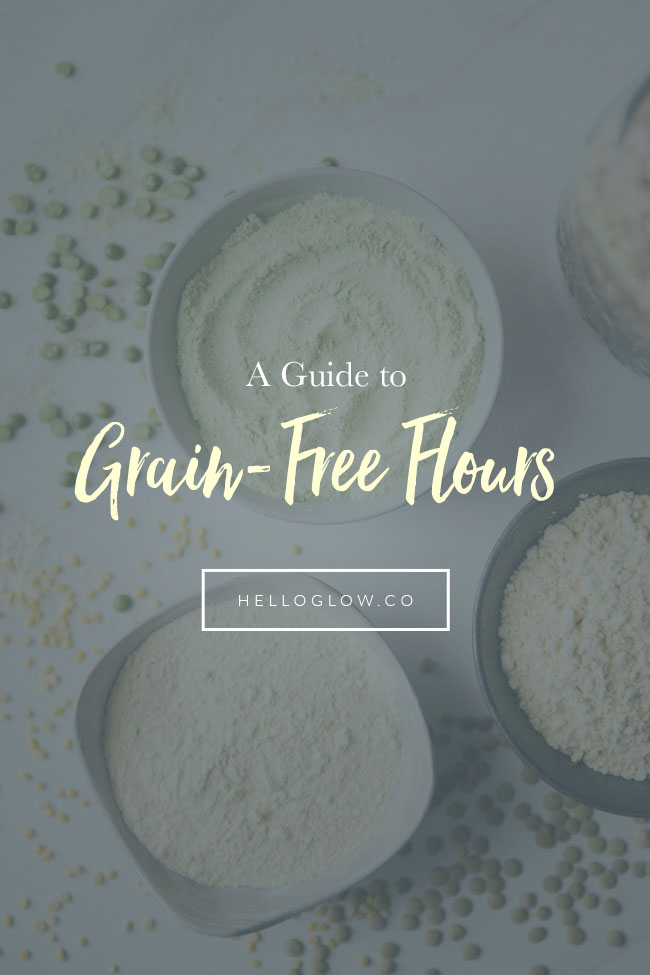 I've been gluten-free for almost seven years now and I've learned a lot in those seven years! Baking and cooking has been equally fun and challenging. There was a sharp learning curve when it came to becoming acquainted with new-to-me flours. Lately I've been experimenting with more grain-free flours. A lot of paleo and low-carb recipes rely on them, and they behave differently than wheat and even other gluten-free grain-based flours.
Here's a guide to help you navigate through all of the options.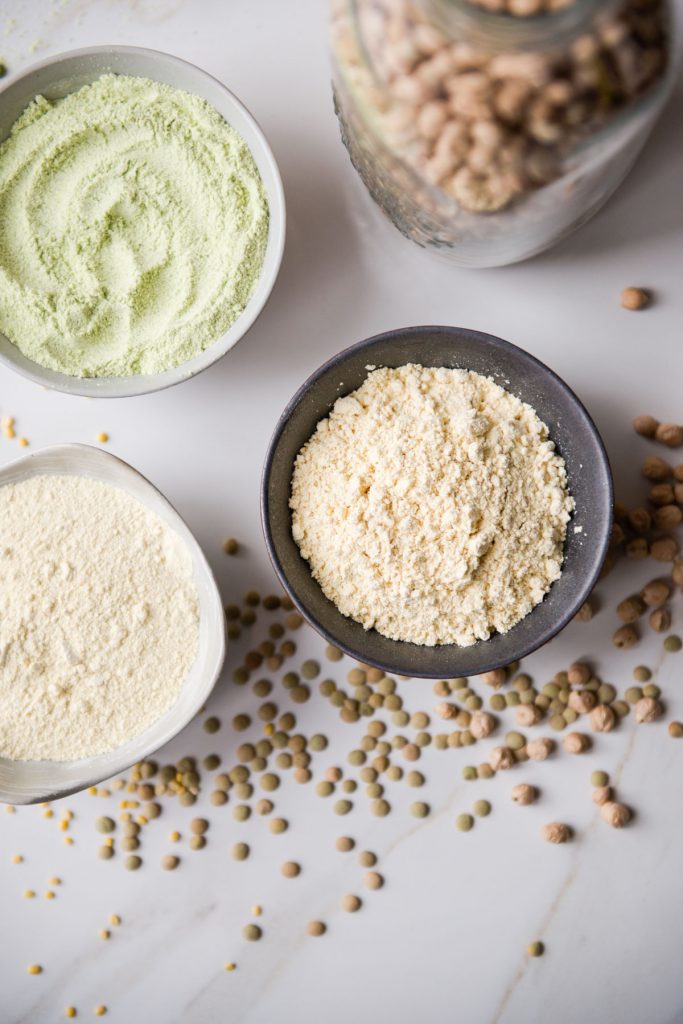 LEGUME + BEAN FLOUR
Examples: Chickpea (also called besan, gram, or garbanzo), lentil, fava, pea
Benefits: high in protein, fiber, iron, and calcium; can lighten breads
To use: Can mix with other grain- or gluten-free flours, or wheat flours. Used alone and mixed with water and seasonings, these flours can be made into flatbreads (like socca), pancakes or "eggs," as is the case with chickpea flour, or used as a batter for fritters, such as Indian pakora. Other recommendations include combining with other grain- or gluten-free flours and starches in baking.
Because these flours tend to have strong flavors, they aren't well suited to certain baked goods where the flavor or texture would become overpowering. (Note: bean and legume flours tend to also have a strong scent, but taste and smell better after cooking or baking.)
Ideal for: flatbreads, batter for fritters, hearty cookies, and brownies, homemade pasta; also useful when making "instant" soup and dip (i.e. cooked with water)
Storage tips: store in airtight containers in a cool, dry place; refrigeration not necessary
Legume + Bean Flour Recipes
Pea Flour Crepes and  Pea Flour Tagliatelle with Arugula Pesto (with vegan options!) via Hortus Cuisine
Chocolate Chip Cookies made with Lentil Flour via The Cookie Writer
Socca Pizza with Summer Squash and Feta via Cookie + Kate (garbanzo/chickpea flour)
Homemade Lentil Pasta via One Green Planet (lentil flour)
Savory Spinach and Mushroom Chickpea Scramble (garbanzo/chickpea flour) via Connoisseurus Veg
Vegan, Gluten-Free Lentil Pizza Crust via Vie de la Vegan
Onion Pakoras via Sophisticated Gourmet (besan, gram, chickpea flour)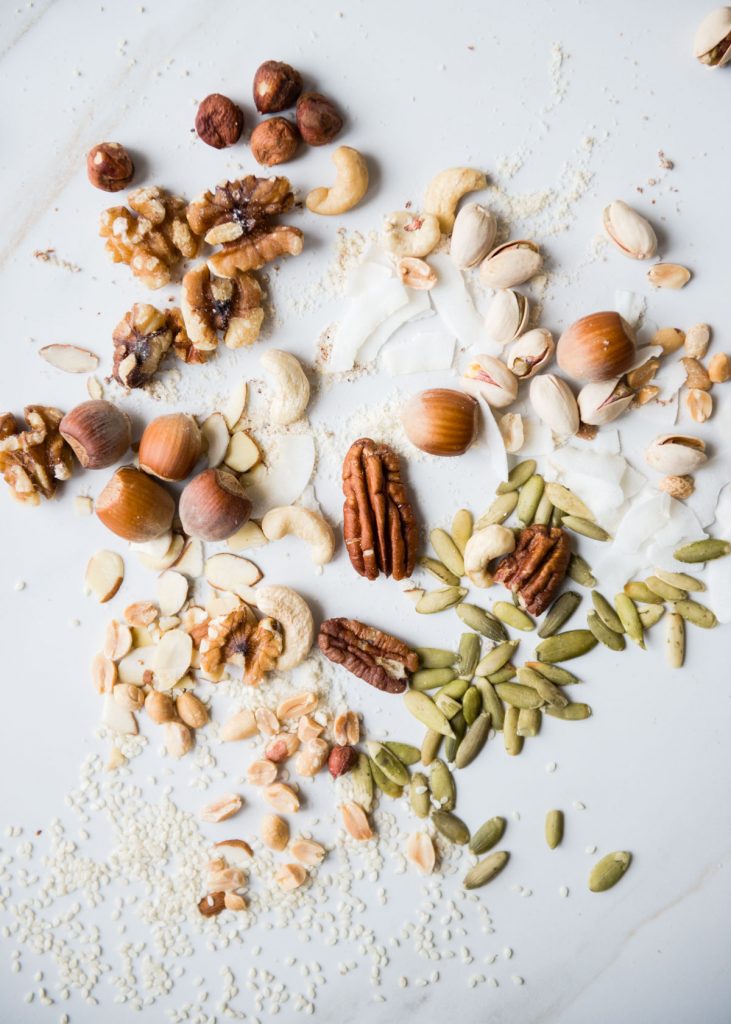 NUT + SEED FLOURS
Examples:
Nuts – almond, cashew, walnut, pecan, chestnut, hazelnut, tiger nut, pistachio, macadamia
Seeds – flaxseed meal, sunflower seed, hemp, mesquite, chia, pumpkin seed (pepita)
Benefits:
Nuts – high in fiber, healthy fats, minerals, add nice texture to baked goods
Seeds – healthy fat, fiber, high in protein; flaxseed and chia can be used as egg replacements when mixed with water, great for anyone who can't tolerate nuts
To use: Use alone as a "breading" for poultry, meat, fish, and veggies. Use to replace other flours in baking and cooking, such as muffins, cakes, crackers, and press-in-the-pan pie/tart crusts. In some applications, it's best to use in conjunction with other grain- or gluten-free flours or starches. A tablespoon or two are great to add to smoothies to up the protein and fiber content.
Other notes: The difference between nut meal and flour is inclusion of the nut skins in the former. The latter contains nuts that have been blanched to remove the skins and is lighter and more powdery in texture. They can often be used interchangeably, except where the brown flecks from the skin will effect the appearance and or texture of the final product, such as with French macarons.
Ideal for: muffins, cakes, crackers, crusts, cookies (combined with other flours/starches), low carb recipes; seed flours are great for nut-free recipes
Storage tips: store in fridge or freezer if not using immediately to prevent rancidity
Nut + Seed Flour Recipes
Savory Turmeric Pancakes with Lemon Yogurt Sauce via Hello Glow (almond flour)
Cashew Dulce de Leche French Macarons via Cafe Johnsonia (cashew meal)
Grain-Free Sweet Potato Gnocchi via Tasty Yummies (almond flour and arrow root powder)
Carrot Cake with Creamy Lemon Icing via Hello Glow (almond flour, coconut flour)
Strawberry Rhubarb Bars via Against All Grain
Paleo Vegan Apple Crisp via Texanerin (almond flour, arrowroot powder, coconut flour)
Grain-Free Sugar Cookies via My Whole Food Life (almond flour)
Low-Carb Instant English Muffins via All Day I Dream About Food (sunflower seed flour)
Chocolate Pumpkin Seed Flour Cake via Nourishing Meals (pumpkin seed flour)
Paleo Tortilla Chips via Elana's Pantry (flax meal and almond flour)
Paleo No-Corn Tortillas (hemp seed flour, flax, and tapioca starch)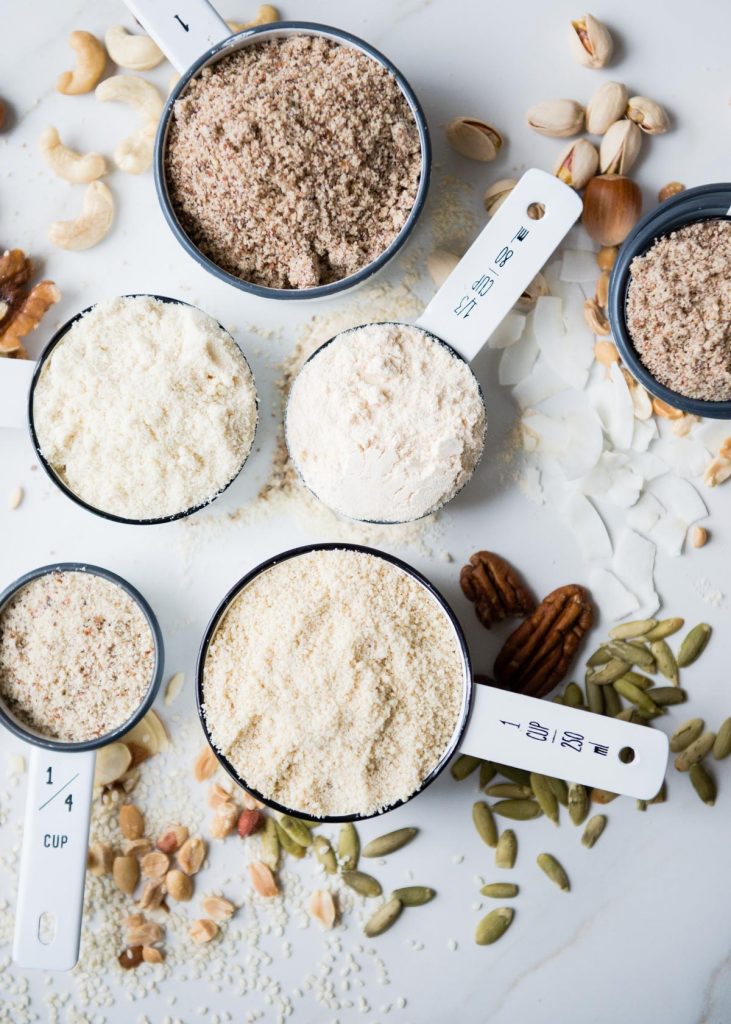 COCONUT FLOUR
Coconut flour (pictured above in the 1/3 cup) really belongs in its own category simply because it behaves differently than other grain-free and gluten-free flours. It's made from dried, ground coconut.
Benefits: low-carb, high in fiber, good for those with allergies
To use: Coconut flour is highly absorbent and cannot be used in a 1:1 substitution with other flours and starches. Recipes calling for just coconut flour often include extra eggs. For every ounce of coconut flour, use 1 large egg. Typically 1/4 cup coconut flour can be used to replace 1 cup wheat flour.
Ideal for: low-carb and paleo recipes
Coconut Flour Recipes
Paleo Chocolate Chip Banana Bread via Hello Glow
Grain-Free Savory Breakfast Muffins via Tasty Yummies
Coconut Flour Banana Bread via The Roasted Root
Nut-Free Chocolate Zucchini Muffins via Against All Grain
Grain-Free Double Chocolate Coconut Cookies via Nosh and Nourish
Grain-Free Coconut Flour Tortillas via Against All Grain
Grain-Free Blender Bread via Against All Grain
Healthier Carrot Cake via Hello Glow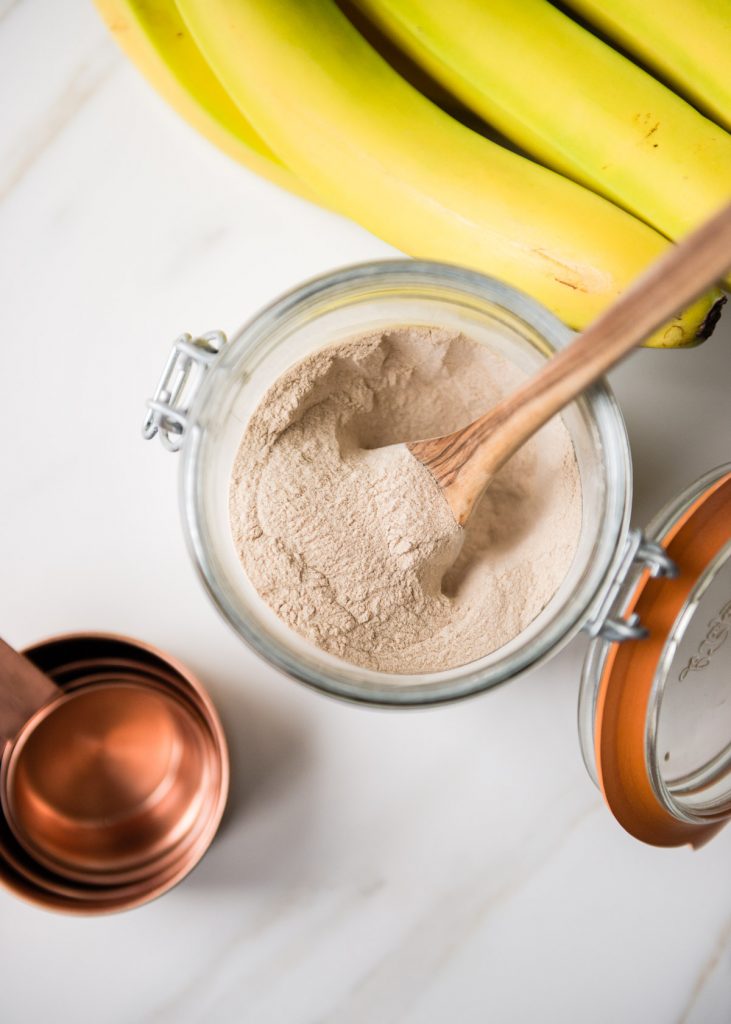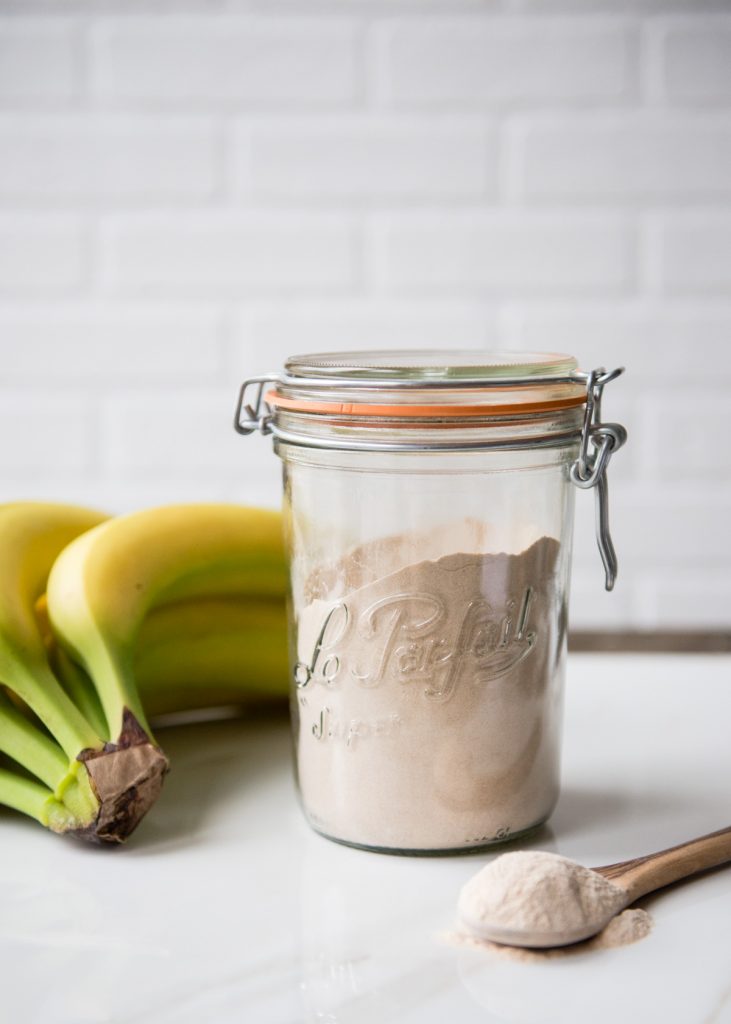 GREEN BANANA FLOUR
Green banana flour is made from dried, unripe bananas
Benefits: Low GI (glycemic index) and resistant starch, high in potassium, dietary fiber
To use: can be used alone, but similar to coconut flour, banana flour absorbs liquid especially well and is best when combined with other flours, such as almond
Ideal for: sweet baked goods such as cookies, brownies, muffins, and quick breads
Storage tips: store in airtight container in cool, dry place (like a cupboard)
Green Banana Flour Recipes
Gluten-Free Chocolate Chip Cookies via Cafe Johnsonia (not entirely grain-free)
Paleo Banana Muffins via Zuvii
Grain-Free Brownies via Thank Your Body
Banana Flour Waffles via Healthful Pursuit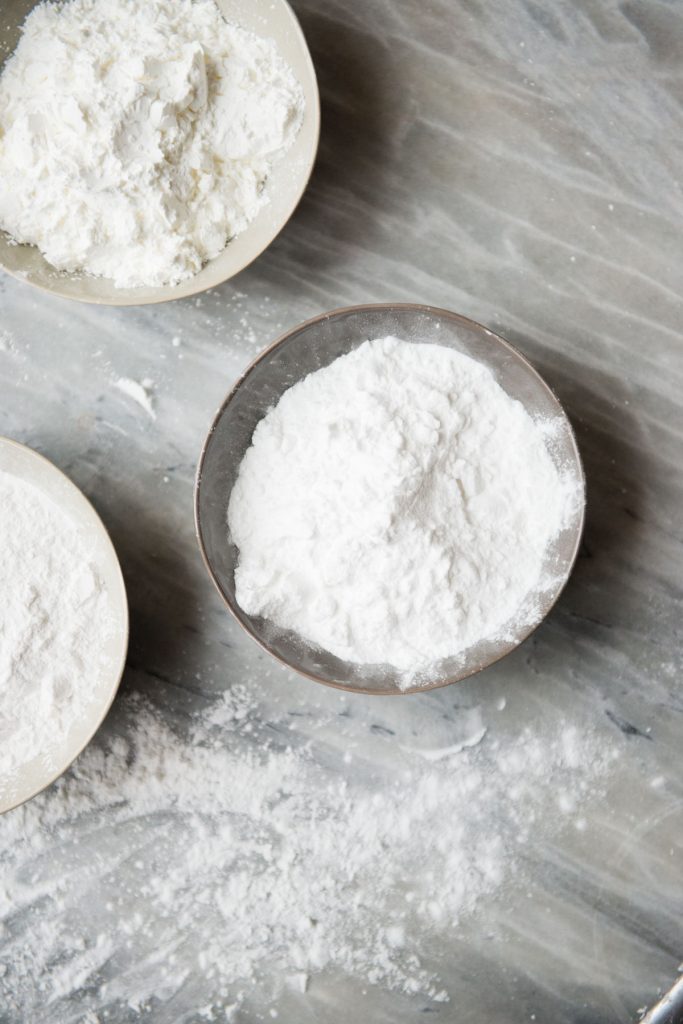 TUBER + ROOT STARCHES
Examples: tapioca (also called manioc, mandioca, yucca, and cassava), potato, sweet potato, arrowroot
Benefits: good for those with allergies, low fat, adds a chewy texture when used in baking and pizza crusts
To use: Can be used alone or in conjunction with other grain- and gluten-free flours/meals. Great for thickening gravies, sauces, and pie fillings.
Ideal for: baking, thickening, tortillas, adding "chew" to breads and other baked goods; good alternative to cornstarch
Storage tips: store in airtight containers in cool, dry place (like a cupboard)
Extra notes: Tapioca, manioc, yucca, and cassava are all the same plant. The white, powdery starch from these tubers will sometimes be labeled as "flour," when indeed it is actually the starch. The true manioc flour is made similarly to potato flour (see below) and resembles fine bread crumbs. It is not easily found in North America except in well-stocked ethnic markets, where it will be labeled "manioc flour," "harina de mandioca cruda," or "farihna de mandioca." It is popular in Brazilian cuisine.
Tuber + Root Starch Recipes
Grain Free Black Sesame Cake with Raspberry Glaze via The Urban Poser (black sesame flour, cassava flour/tapioca starch)
Grain Free Cassava Tortillas via The Urban Poser (cassava flour/tapioca starch)
Taiwanese Popcorn Chicken via Eat the Love (sweet potato starch)
Pao de Queijo (Brazilian Cheese Rolls) via Cafe Johnsonia (tapioca starch)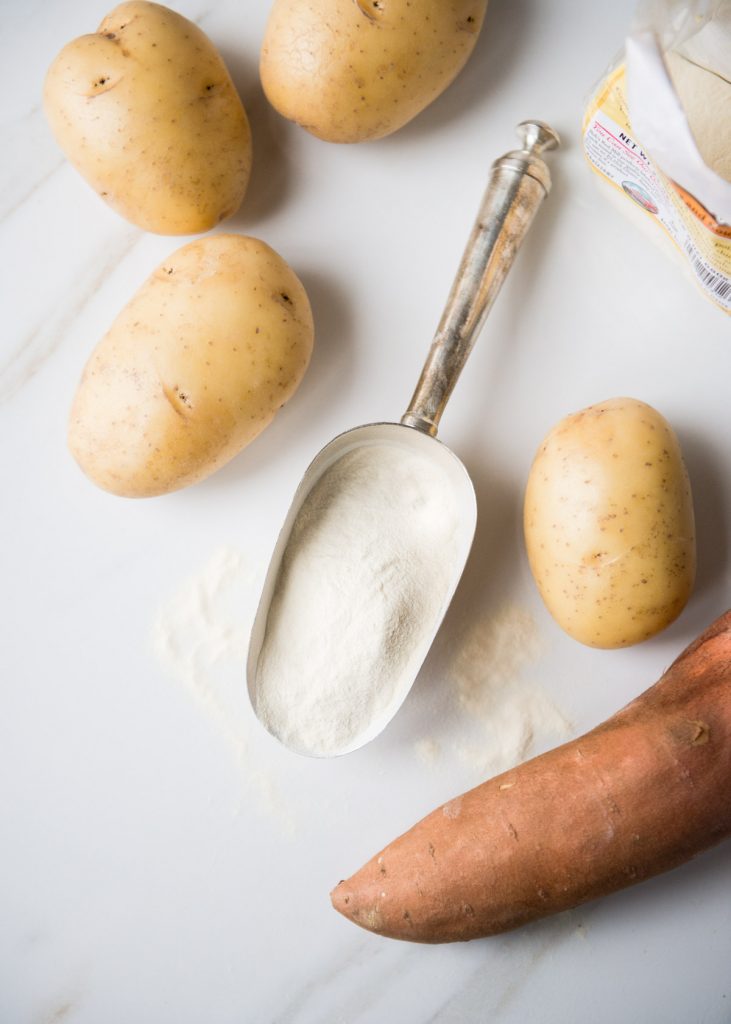 TUBER + ROOT + SQUASH FLOURS
Examples: potato and sweet potato (camote) flour, manioc (tapioca) flour, butternut flour
Benefits: provides a light, fluffy texture to baked goods, helps retain moisture in baked goods
To use: Can be combined with other grain- and gluten-free flours, as well as wheat flour in baked goods. Also great for thickening soups, sauces, and gravies. Manioc flour can also be used as a breading or made into Brazilian Farofa.
Ideal for: combining with other flours for baking
Storage tips: store in a cool, dry place such as a cupboard
Tuber, Root + Squash Flour Recipes
Fudgy Chocolate Brownies made with Sweet Potato Flour via Anti-Grain
Chocolate Cupcakes with Strawberry Frosting via Against All Grain (sweet potato flour)
Sweet Potato Flour Cinnamon Coffee Cake via Beyond The Bite (sweet potato flour)
4 Ingredient AIP Flatbread via Heartbeet Kitchen (butternut squash flour)
Easy Grain-Free, Nut-Free Flatbread via Jen Broyles (potato and coconut flours)
Squash Flour and Raisin Muffins via Cook It Up Paleo (squash flour)
Grain-Free Butternut Squash Bread via Strength and Sunshine (butternut squash flour)
Grain-Free Sponge Cake (potato flour, arrowroot powder, almond meal)
2