I know they say healthy desserts are never as good as the original, but this chocolate chip banana bread just might prove the naysayers wrong. With most of winter finally behind us, is there any better time for indulging in a dessert you can feel good about eating?
A few years ago when I first went Paleo, I tried every grain-, dairy- and sugar-free recipe out there. Almond butter cups? Raw cheesecake? Banana ice cream? Yes, yes and yes. I compulsively went through every paleo-friendly dessert I could find, and it's true, nothing really lived up to my pre-Paleo expectations. But this banana bread is a game changer. It's quick, easy and loaded with good-for-you ingredients so it's practically healthy enough to eat for breakfast.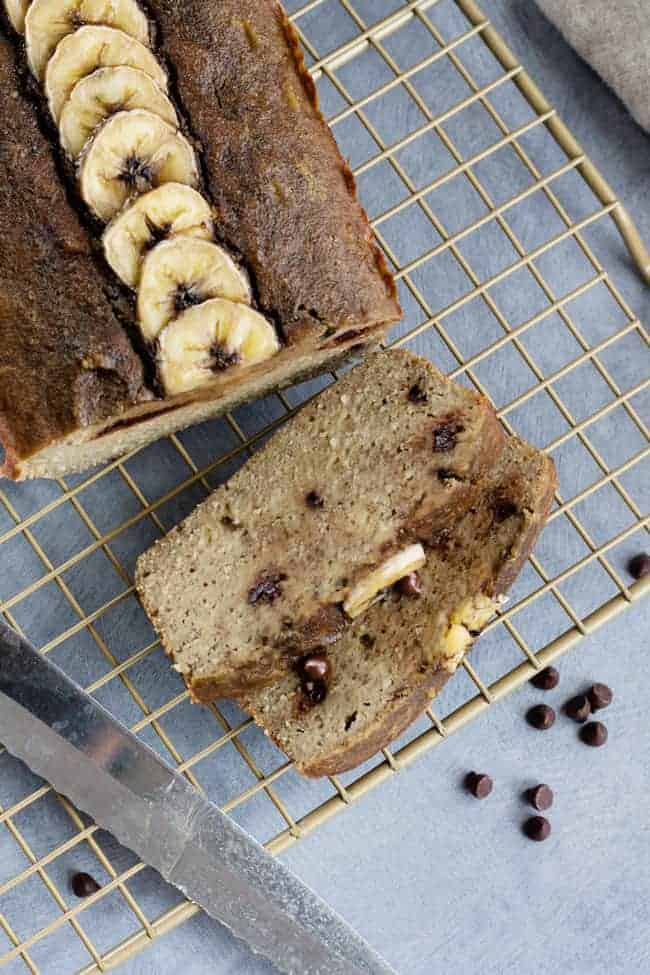 Paleo Chocolate Chip Banana Bread Recipe
It's true that most grain-free baked goods tend to come out tasting more like cardboard than cake, but that's because they're usually loaded with nut flours and fillers to make them taste more like the original. This banana bread recipe is made with less than ten ingredients, which is next to impossible in grain-free baking. And the secret ingredient that really makes this recipe come together is sunflower butter.
Sunflower butter is made from ground sunflower seeds. It's a popular choice because, unlike peanut butter or almond butter, it's free of the top 8 food allergens, such as milk, soy, fish and tree nuts, making it a great choice for families with food allergies.
It has a creamy texture perfect for using in baked goods or in place of peanut butter. You can get creative and spread it onto toast, stir it into your morning oatmeal, or bake it into cookies.
Or better yet, add bananas and chocolate chips and you've got yourself healthy banana bread in less than 40 minutes flat.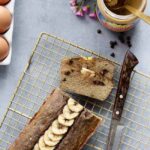 Paleo Chocolate Chip Banana Bread
Ingredients
3

medium or large ripe bananas mashed

1/2

cup

SunButter®

I used SunButter Creamy

3

eggs at room temperature

1

tablespoon

maple syrup

Splash of vanilla extract

1/3

cup

plus 2 tablespoons coconut flour

1/2

teaspoon

baking powder

Sprinkle of cinnamon

1/2

cup

dark chocolate chips
Instructions
Preheat oven to 350°F and line or spray a loaf pan with parchment paper.

Place bananas, SunButter, eggs, maple syrup and vanilla in a medium mixing bowl and beat with mixer on medium until smooth.

Once mixed well, add the coconut flour, baking powder and cinnamon to the wet ingredients and continue to mix with mixer until smooth. Fold in dark chocolate chips once everything is mixed well.

Bake in oven for 35 to 45 minutes (or until ends are golden). Set aside to cool. Remove from loaf pan and slice into 8 to 10 slices.

Enjoy with your toppings of choice or deliciously as is.
1