You're missing out if you haven't had a farro salad yet! Don't get me wrong, I do love a quinoa salad, but farro feels fresh and different when it comes to adding a solid base to my lunch salad.
Less popular than its other grain relatives, farro has a unique taste: a cross between barley and wheat. It has great benefits for the digestive system, as it's high in fiber. It also nourishes your body with vitamins and minerals. Farro is amazing in salads, because it absorbs flavors and adds texture. This healthy salad pairs the grain with the nutrients of kale, proteins from beans, and creaminess of feta cheese. And don't get me started on the delicious dressing… This salad is a protein powerhouse, and great after a workout.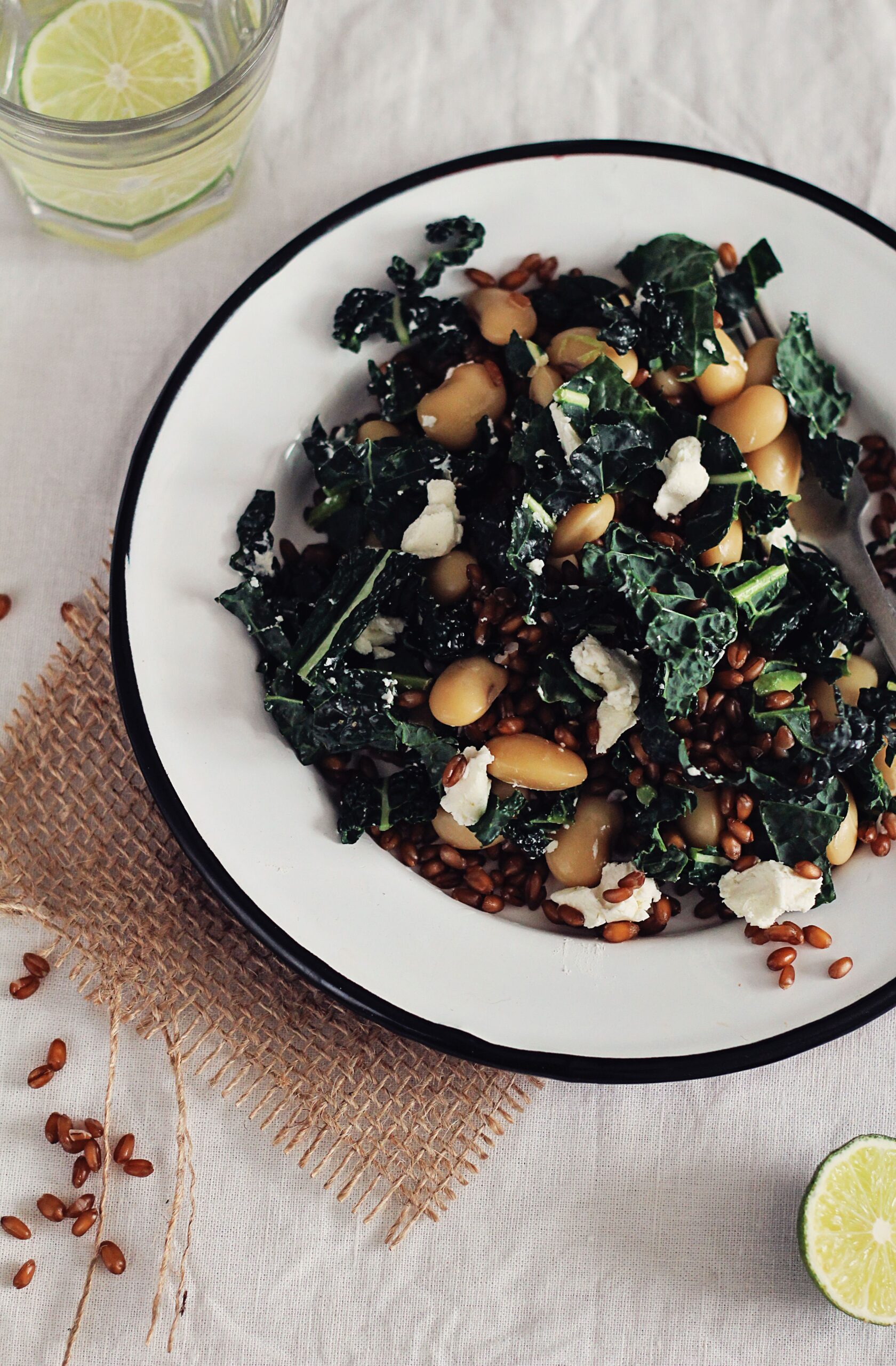 Farro Salad with Beans, Feta, Kale + Turmeric Dressing
If you're always looking for that perfect bite – crunchy and creamy, spicy and flavorful – this salad presents plenty of opportunities for just that. No ingredient is chosen at random, each one playing its part. You'll love the crunchy, slightly bitter taste of kale combined with the soft, white beans, the tender farro, and salty feta cheese. And the 4-ingredient turmeric dressing is so good, you'll want to make more of it and toss it over everything you're cooking this week!
Farro Salad with Beans, Feta, Kale + Turmeric Dresssing
You'll love eating this quick farro salad for lunch time and time again!
Ingredients
1/2

cup

farro

uncooked

1

cup

feta cheese

crumbled

1

cup

beans

cooked/canned

2

cups

fresh kale leaves

roughly chopped

1

small red onion

finely diced

1

tsp

extra virgin olive oil

1

tsp

sea salt

1

tsp

Dijon mustard

1/2

tsp

turmeric

1/2

lemon

juice only

freshly ground black pepper
Instructions
Place farro in a saucepan and cover with 1 1/2 cups water. Add the sea salt and bring to a boil. Simmer for 30', until tender but not mushy.

Place kale and onion in a large bowl and massage it to soften the texture.

Add cooked beans, crumbled feta, and farro, and toss to combine.

Place lemon, mustard, turmeric and olive oil in the blender and pulse to obtain a creamy dressing.

Pour the dressing over the salad, season with freshly ground pepper.

Set aside for a few minutes before serving, to give the farro time to absorb the flavors.
0