Being a vegetarian on Thanksgiving can be tricky. Personally, I'm perfectly content just eating sides, but well-meaning hosts will insist on having something to replace the turkey for you. And it often ends up being some kind of meat substitute that no one else at the table will touch—or, even worse, that they make fun of you for eating. (Also, let's be real: most of those substitutes really aren't that tasty.)
So here's my strategy: bring your own vegetarian main dish that doubles as a side for everyone else. Ideally, it's something you can make ahead and only need to heat up, because you don't want to use up valuable real estate in your host's kitchen assembling an elaborate dish. If Thanksgiving is about sharing a meal together, this is the best way to deal with having a special diet, whether you're vegetarian, gluten-free, vegan, or whatever else.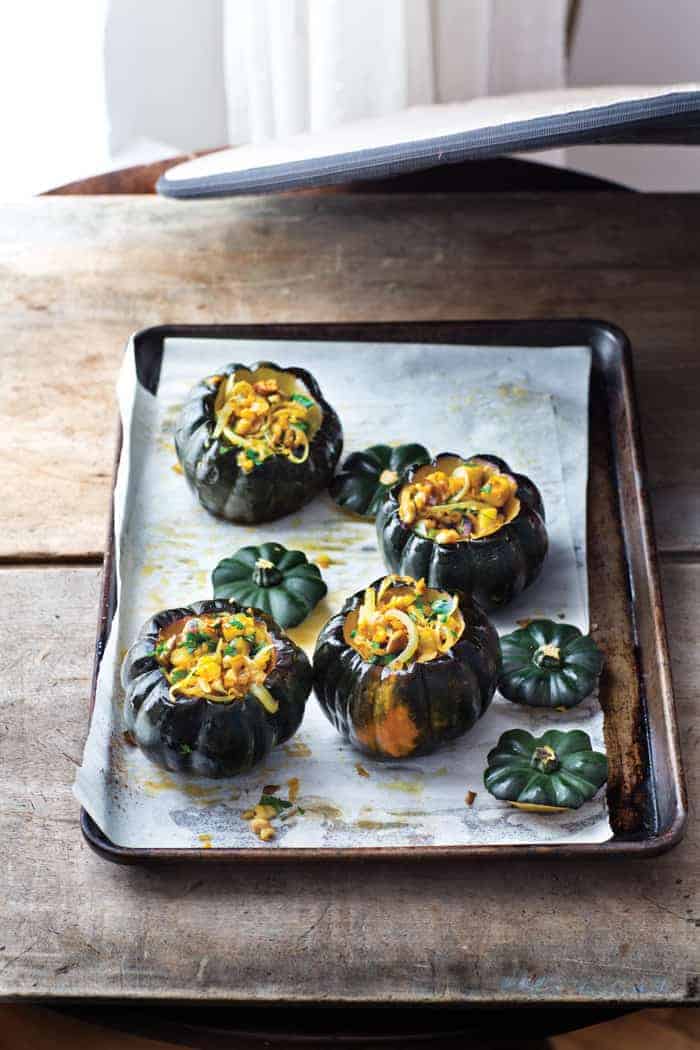 Stuffed squash is always delicious and this walnut stuffed squash recipe from Veronica Bosgraaf, founder of Pure Organic, is the perfect vegetarian Thanksgiving option. Make them in advance and they'll heat up in the oven in just 15 minutes—you can pop them in while your host is carving the turkey. And they're so delicious, everyone at the table will want to give them a try. That's a win!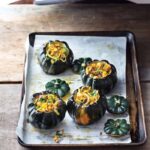 Walnut Stuffed Squash
Total Time
1
hour
15
minutes
Ingredients
2

tablespoons

grapeseed oil

plus more for greasing

4

whole acorn or butternut squashes

1

cup

thinly sliced onion

1

cup

peeled and finely chopped parsnip

2

firm sweet apples

such as Gala, Fuji, or Pink Lady

1

teaspoon

curry powder

1

teaspoon

sea salt

¼

teaspoon

freshly ground black pepper

1

cup

chopped shiitake mushrooms

2

tablespoons

chopped fresh flat-leaf parsley

1

cup

chopped walnuts
Instructions
Preheat the oven to 375 degrees F. Grease a small baking sheet generously with grapeseed oil.

Cut 1 inch off the tops of the acorn squashes, and reserve the tops. Scoop out the seeds and all but ½ inch of the flesh from the inside. Discard the seeds and finely chop the flesh; set aside. Put the squash shells cut-side down on the baking sheet and bake until tender, 35 to 37 minutes. Let cool.

Heat the oil in a large skillet set over medium-high heat. Add the onion, parsnip, apples, curry powder, salt, and pepper. Cook, stirring, until the onions are soft, about 4 minutes. Add the mushrooms and reserved squash flesh and cook until lightly golden, about 4 minutes. Remove the pan from the heat and stir in the parsley and walnuts. Set aside.

Turn the squash shells right side up on the baking sheet and spoon the filling into each. Place the reserved tops on the baking sheet beside the filled shells.

Bake until tender and the stuffed squashes begin to brown, about 15 minutes. Serve hot, with the squash "lid" next to the squash on the plate.
Recipe Notes
Make them in advance and they'll heat up in the oven in just 15 minutes—you can pop them in while your host is carving the turkey
0