Who doesn't love tacos? Nobody! That's who! Because you can put pretty much anything you like in a taco–and when it comes to vegetarian taco recipes, there's so much more creativity involved because you're no longer beholden to traditional beef, pork, chicken, or fish fillings.
Grab your favorite tortillas (perhaps these grain-free coconut flour ones?) and get ready, because it's taco time, people.
Alissa from Connoisseurus Veg stopped by to share these irresistible tofu tacos. And no, you don't even have to deep-fry the tofu for a perfectly crisp exterior.
Crispy Beer-Battered Tofu Tacos with Vegan Baja Sauce from Connoisseurus Veg via Hello Veggie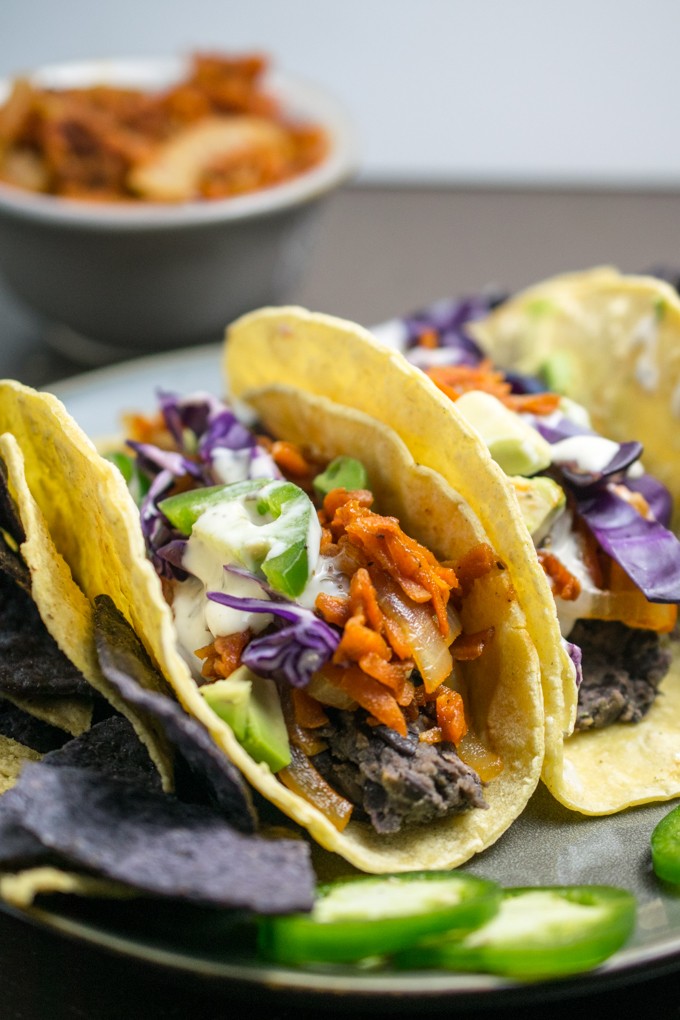 Replace the pork with carrots and you've got a vegan BBQ taco that will knock your socks off.
BBQ Pulled Carrot Tacos from Yup, It's Vegan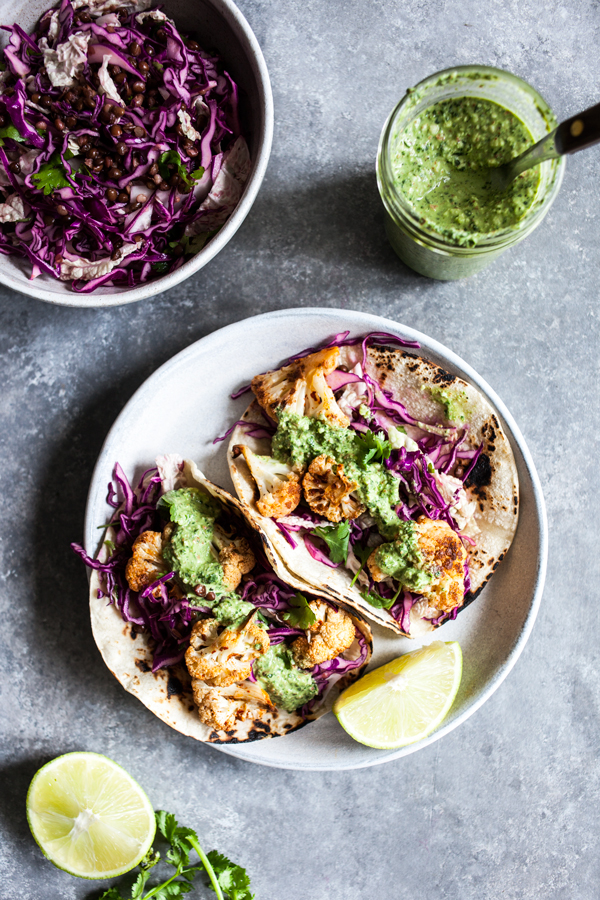 Chimichurri: it's not just for steak. It's also for topping these oven-roasted cauliflower tacos.
Crispy Cauliflower Chimichurri Tacos from The Full Helping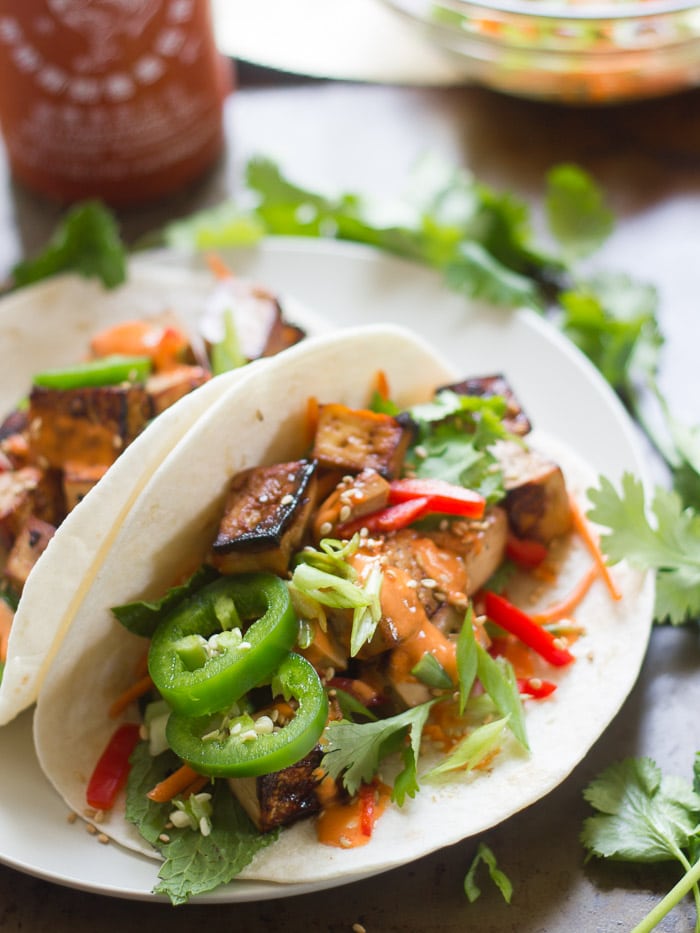 Fusion cuisine at its finest! Sriracha mayo and jalapeño add a kick to these Vietnamese-inspired tacos.
Smoky Tofu Banh Mi Tacos from Connoisseurus Veg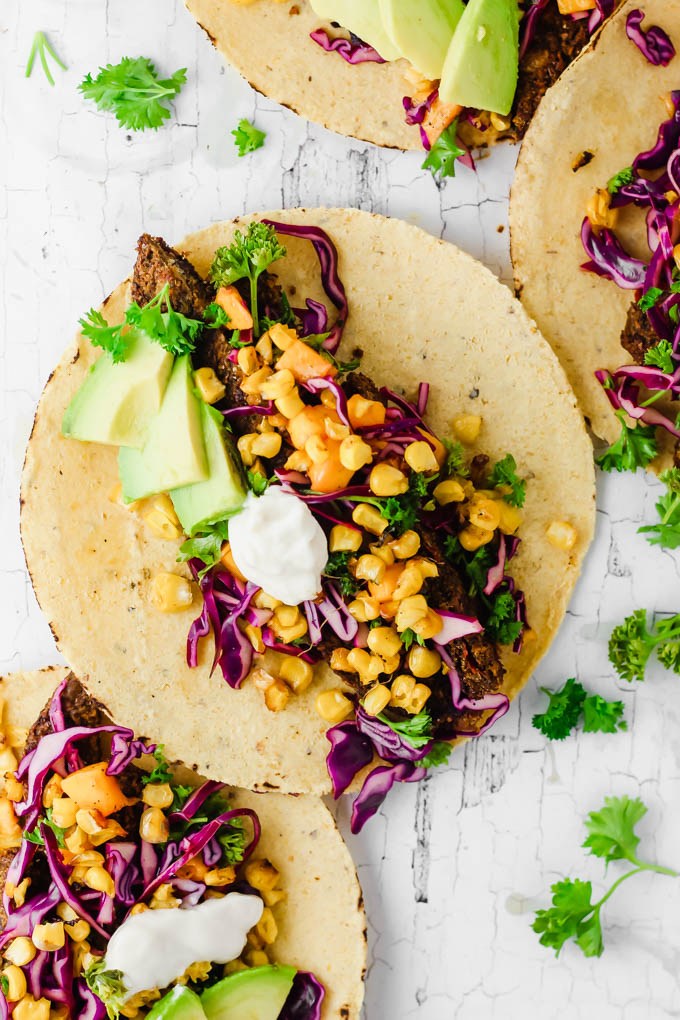 It's almost corn season. Get excited! And get ready to make some corn tacos.
Roasted Corn Tacos with Mango Slaw from Emilie Eats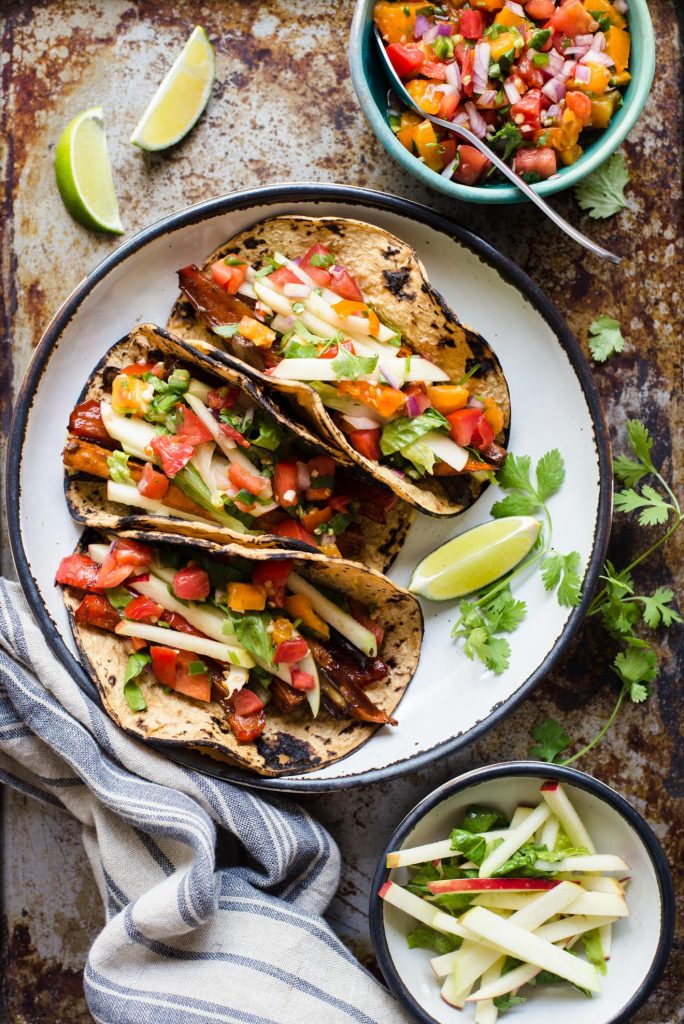 Tamarind paste makes the roasted veggies in these tacos sticky and sour–which pairs perfectly with a sweet apple slaw.
Tamarind-Glazed Vegetable Tacos from Healthy Nibbles and Bits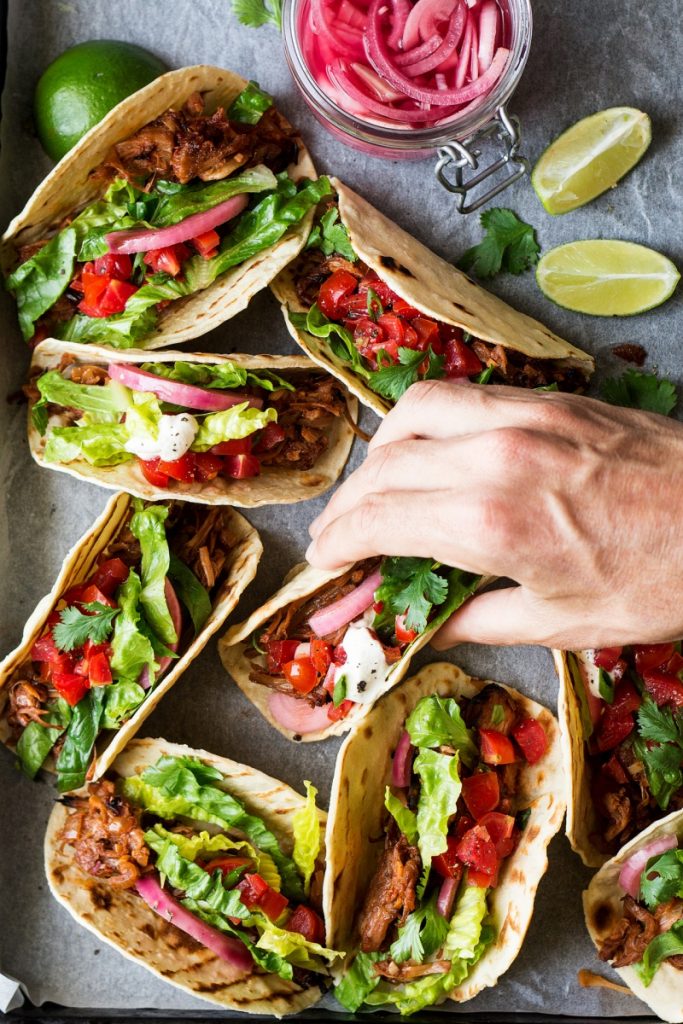 Jackfruit, the OG stand-in for pulled pork, is especially delicious with a smoky homemade sauce.
Pulled Jackfruit Tacos from Lazy Cat Kitchen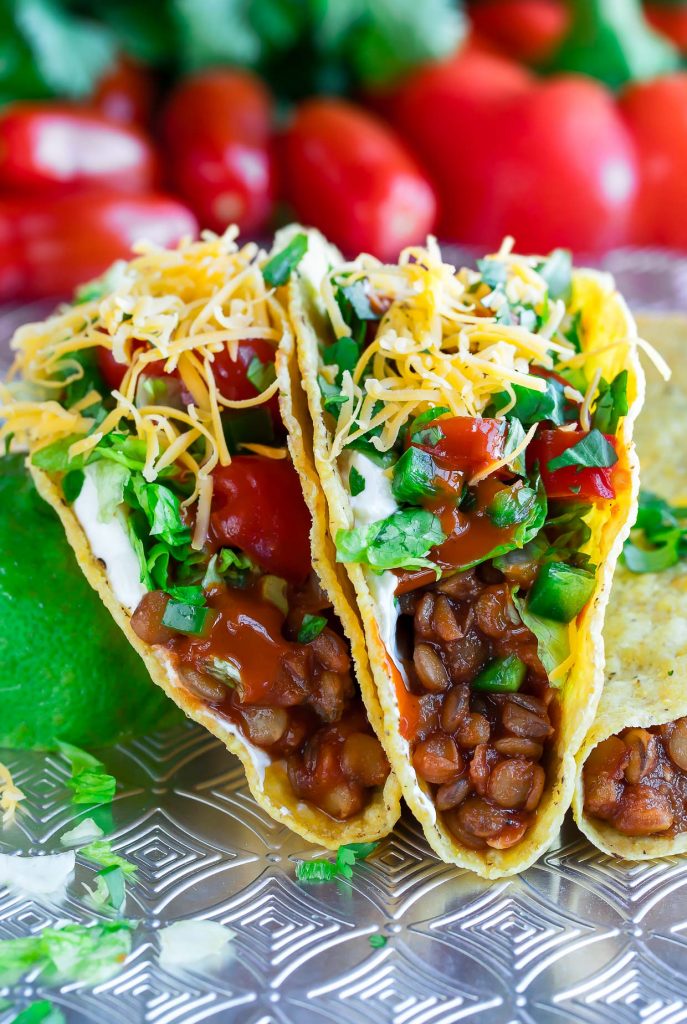 Using a store-bought enchilada sauce as a base means you can make these lentil tacos in minutes. Yes!
Chipotle Lentil Tacos from Peas and Crayons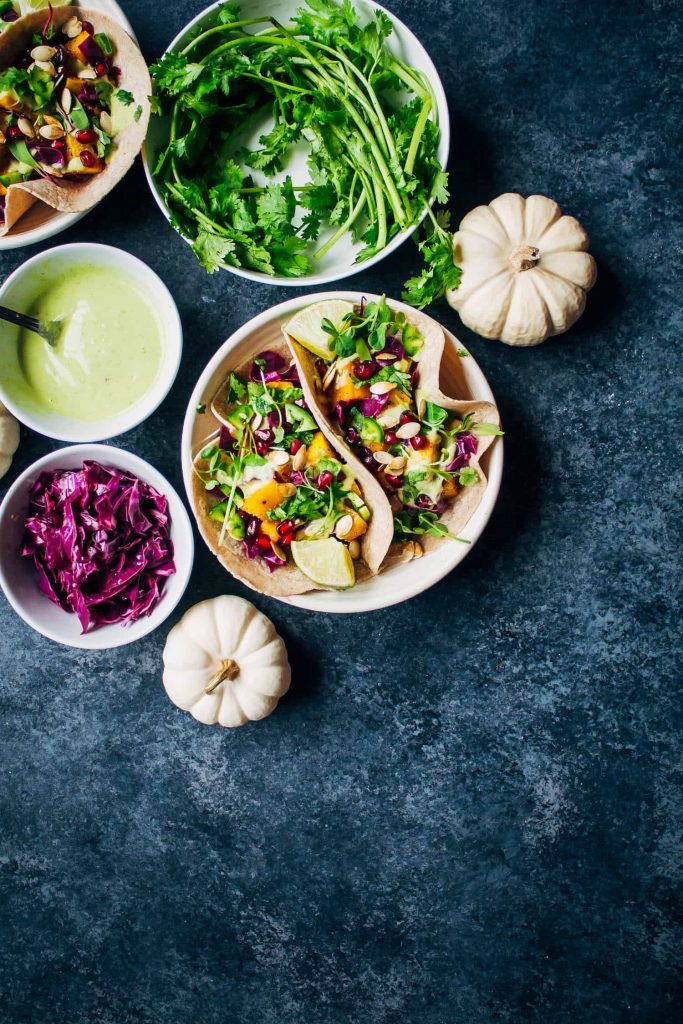 Can't wait until fall to make these? Me neither! Try using butternut or acorn squash instead until fresh pumpkins are available again.
Epic Pumpkin Tacos from Well and Full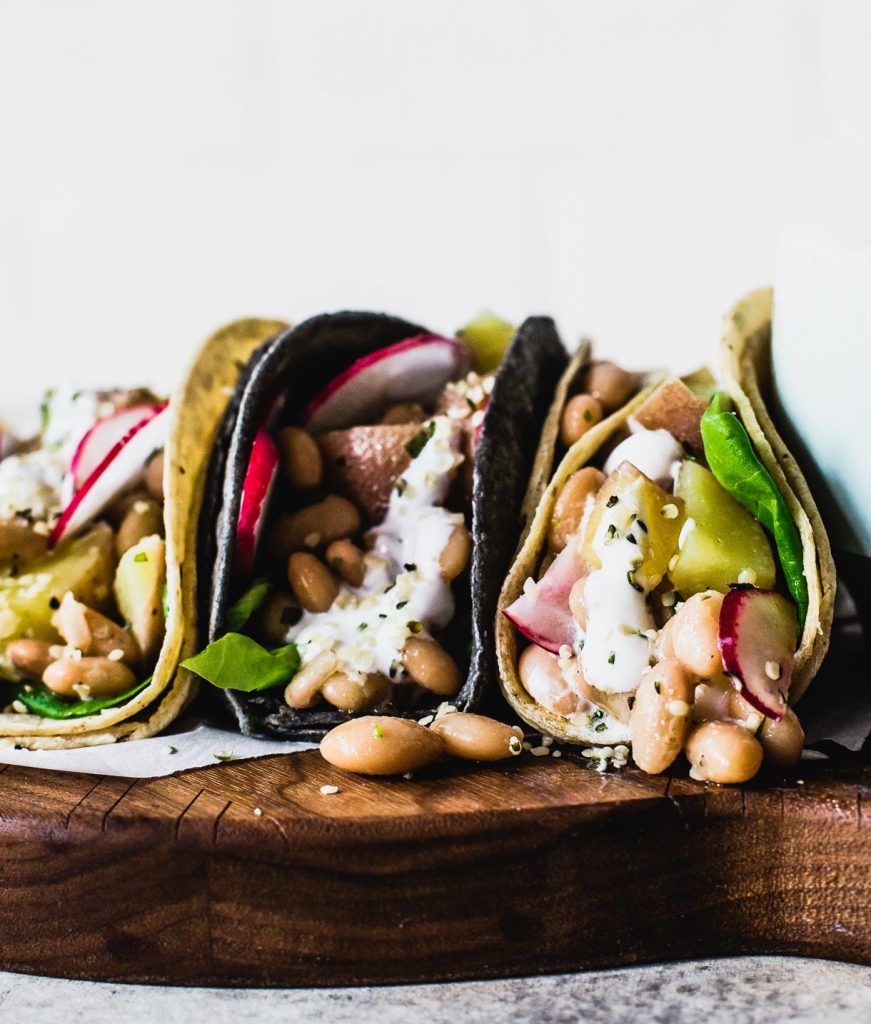 These gorgeous tacos are the perfect combination of creamy (hello yogurt sauce!) and crunchy (fresh spring radishes!).
Vegetarian Spring Tacos with White Beans, Red Potatoes, and Garlic Yogurt Sauce from Heartbeet Kitchen
0