Thank you to SunButter® for sponsoring this post.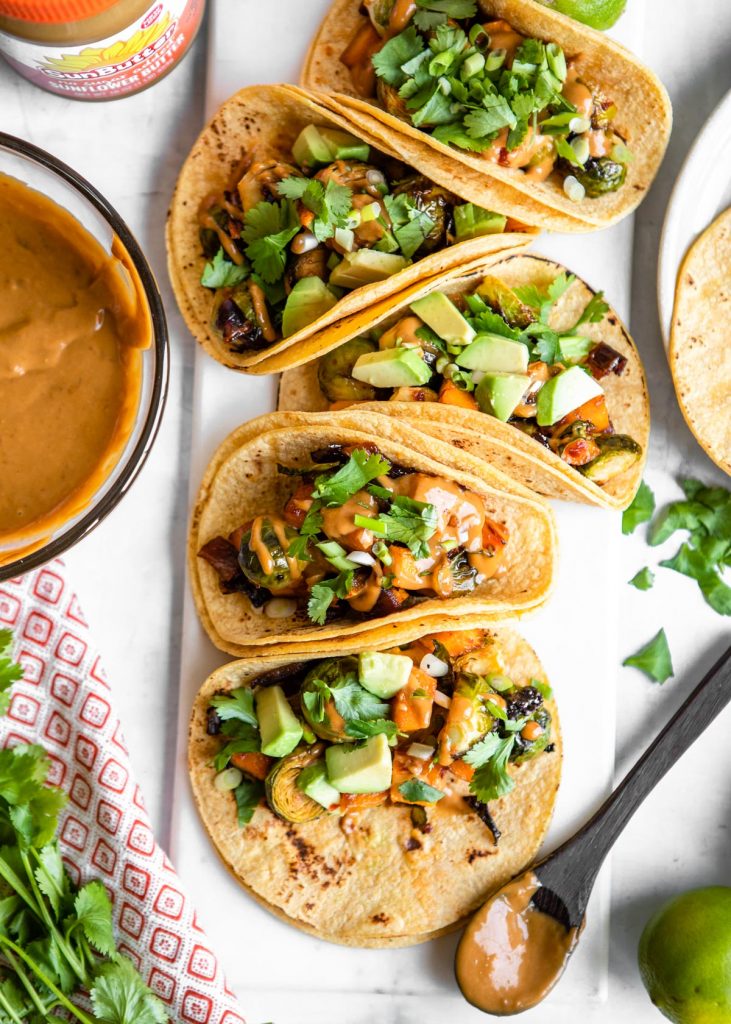 What did we do before sheet pan dinners were a thing? We probably ate more casseroles and less sheet pan tacos. Sheet pan dinners save me every week. We eat some iteration of it at least 2-3 times a week. But this one stands out as a definite new favorite, and it's all thanks to the Tangy SunButter Sauce.
I mean veggies are veggies. You can swap them in and out, no big deal. This time it's all about this sauce!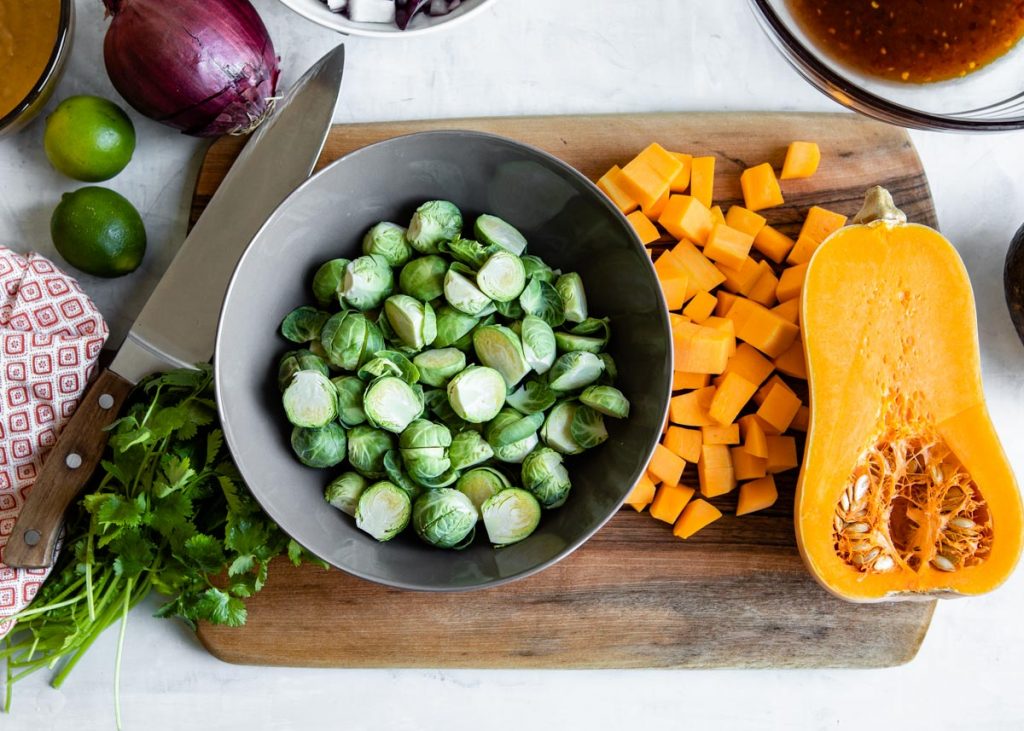 These Sweet Chili Veggie Tacos feature some of fall's best – butternut squash and Brussels sprouts. Not only are they colorful, but also filling and delicious, particularly when they are roasted. It really helps bring out their natural sweetness. To those two, I also add red onion, which adds more color and flavor.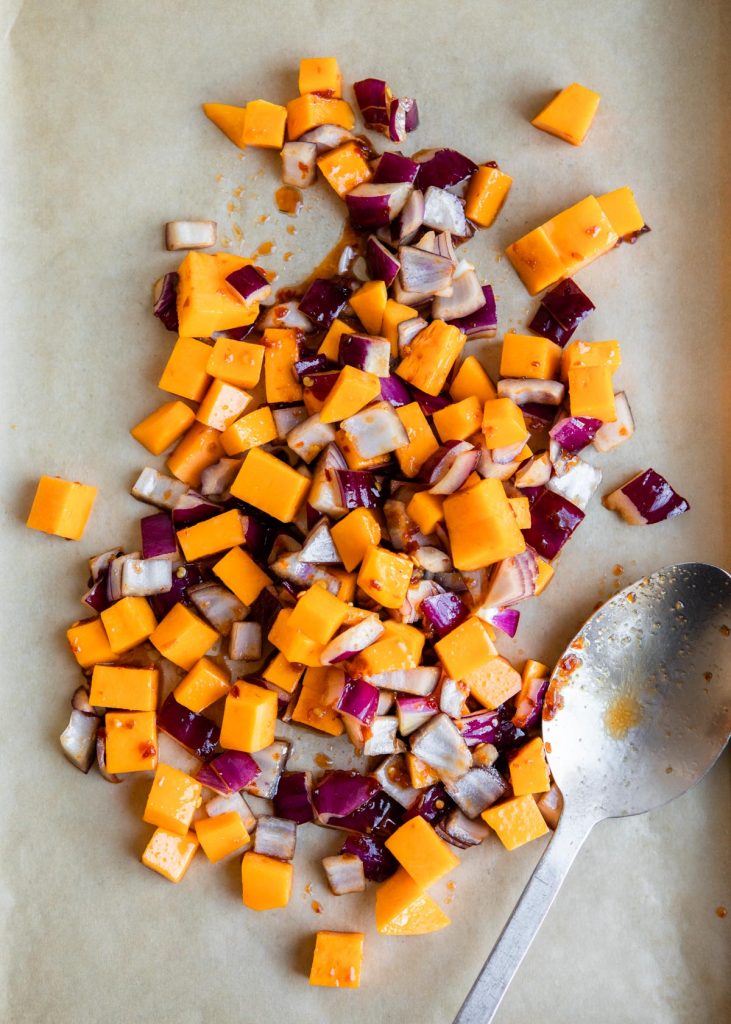 The thing to remember when making sheet pan dinners, particularly tacos, is that you want the veggies to be cut the right size for the cooking time. The veggies in this recipe are meant to cook hot and fast so the glaze caramelizes and adheres to every nook and cranny.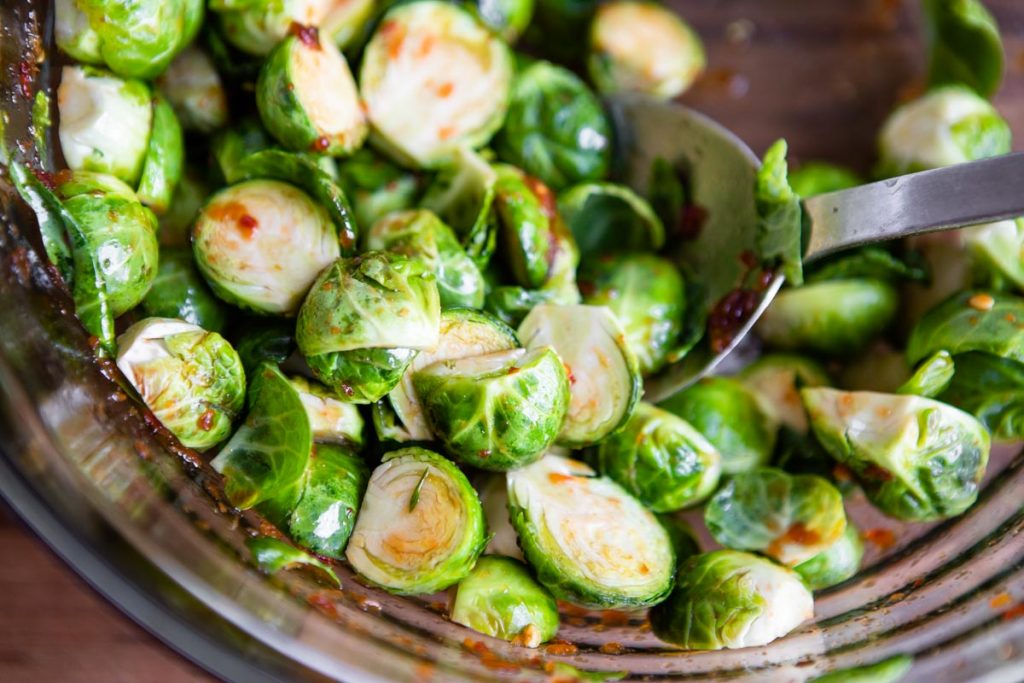 I personally don't like overcooked Brussels sprouts, so I separate them from the squash and onions, and add those during that last 10 minutes of roasting, especially if they are on the smaller side. That ensures they stay vibrant and just barely tender instead of turning to mush. If you want to go the extra mile, place the veggies under the hot broiler (on low or further away, so the paper doesn't catch fire) and allow them to blacken a bit on the edges.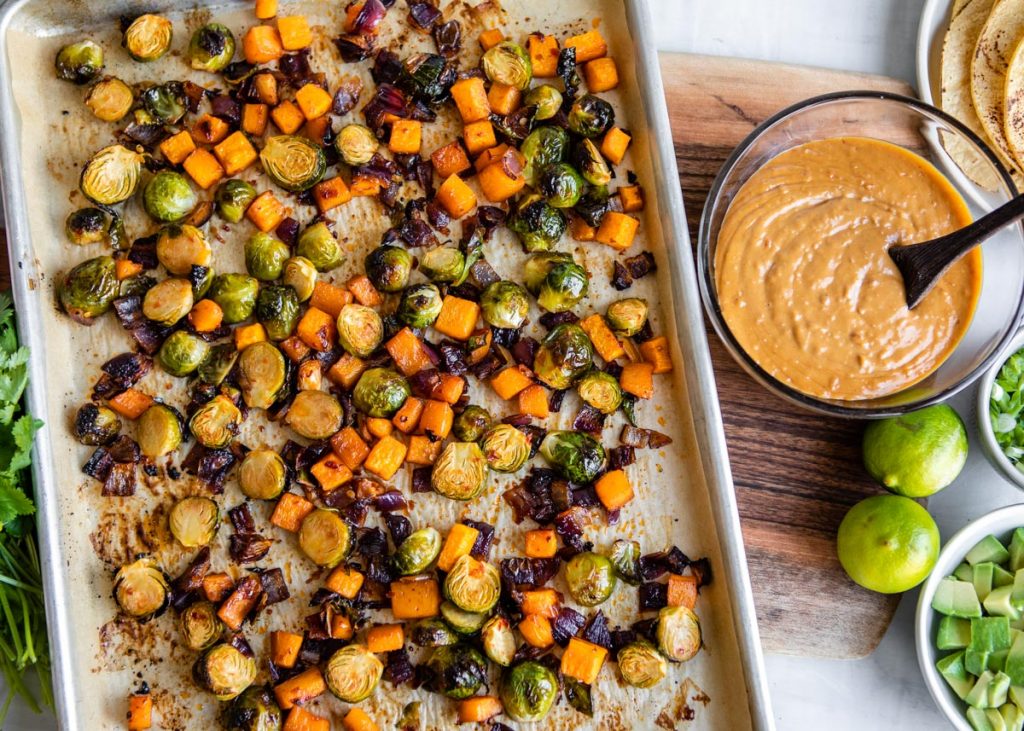 And now for the amazing sauce!
SunButter is naturally creamy and sweet, and it's a staple for many of us who send our kiddos to nut-free schools. But it's not just for making epic SB&J sandwiches! The sauce I drizzled onto these tacos is a riff off of peanut sauce; with 7 grams of protein per serving and more magnesium, vitamin E, zinc, and iron than other nut butters, it's totally worth making the swap. (Oh, and did I mentioned there's also less saturated fat and sugar too? It's also free of gluten, trans fats, and preservatives!)
From No-Sugar-Added to Natural Crunch, SunButter offers six varieties, but for this recipe, I recommend sticking with No-Sugar-Added or Natural. You can adjust the amount of sweetness by omitting the honey in the sauce, if desired. The tang comes from freshly-squeezed lime juice and rice vinegar. The other flavors are in balance, but the tartness comes through strong. Not pucker-your-mouth sour, just a nice little tang to accompany the hint of chili, creamy SunButter, and the right amount of spice.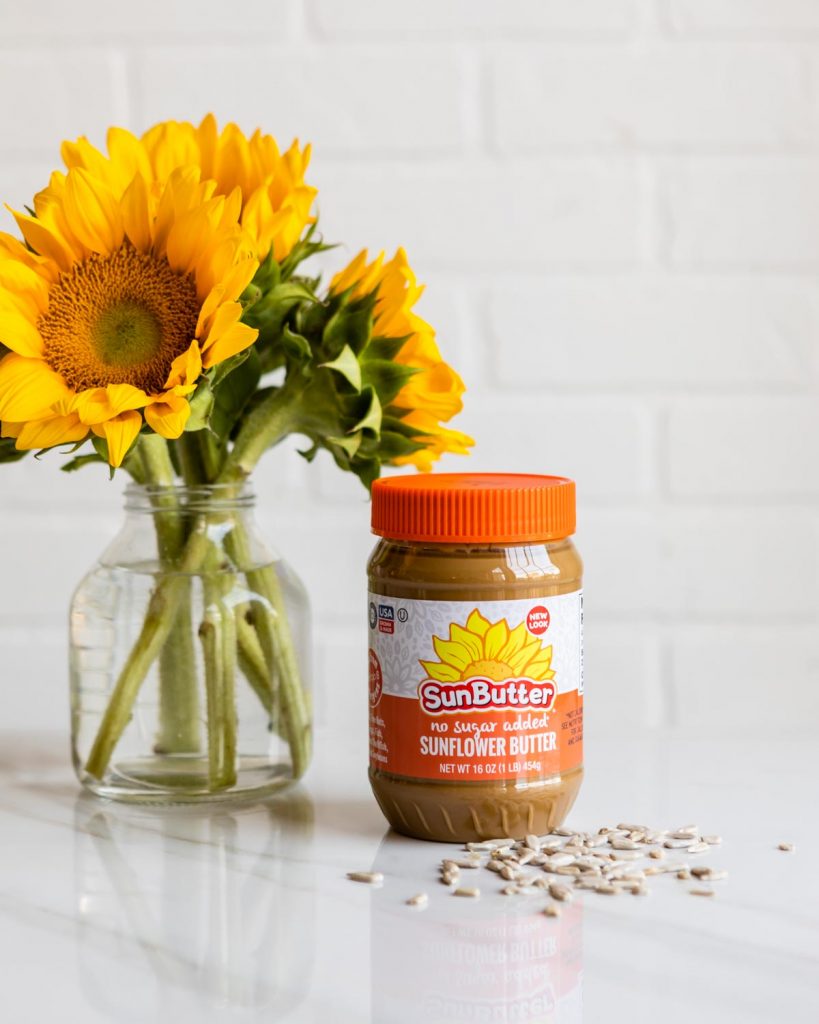 This recipe makes a little over a cup of sauce, but it won't be a problem to use up any leftovers. It's great as a veggie dip or tossed with cooked noodles… or by the spoonful. Trust me on that last one.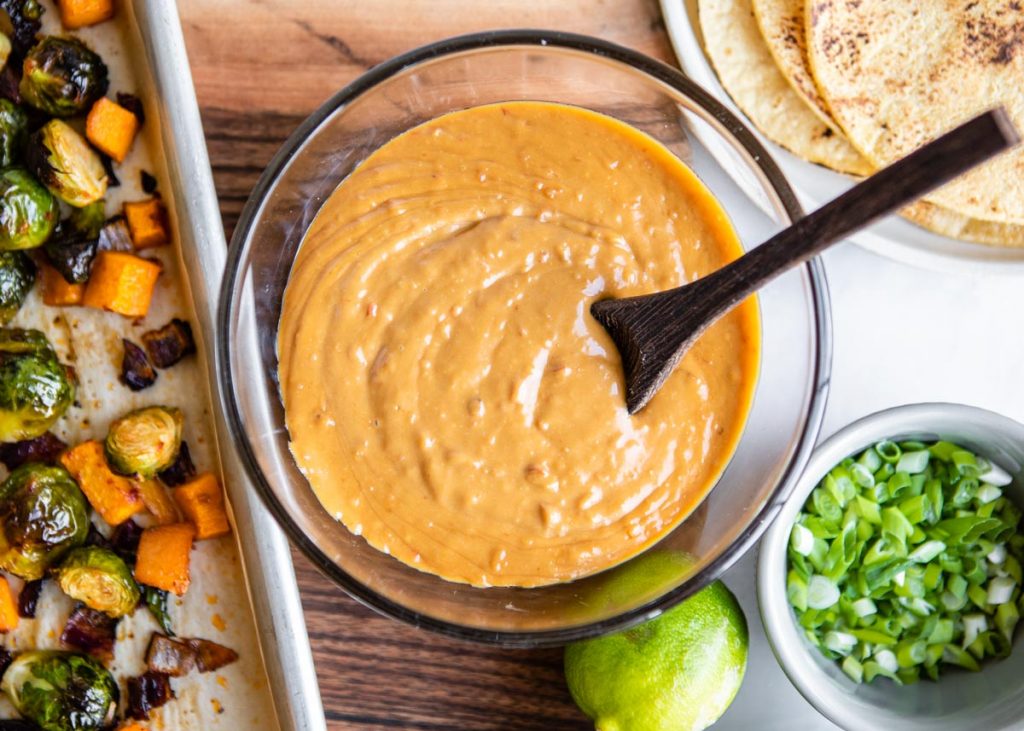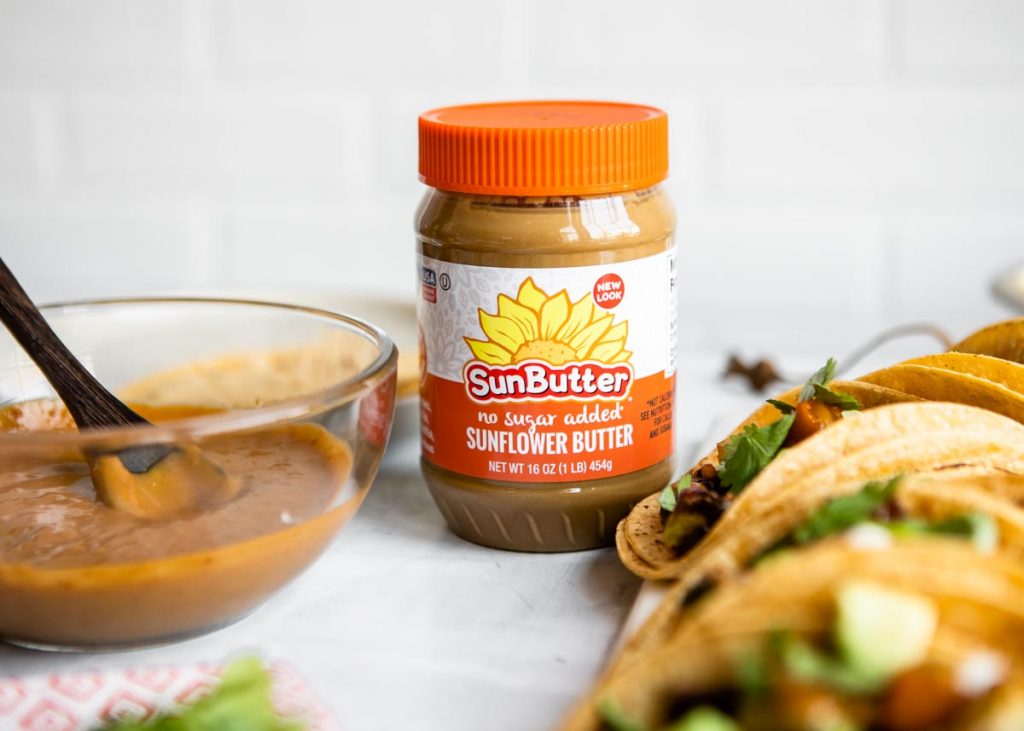 I resisted the fusion taco thing for awhile, but I'm all in now. You can use either flour or corn tortillas, just be sure to warm them up before serving. I like a nice char on the tortillas – it adds to the aesthetic and another extra layer of flavor.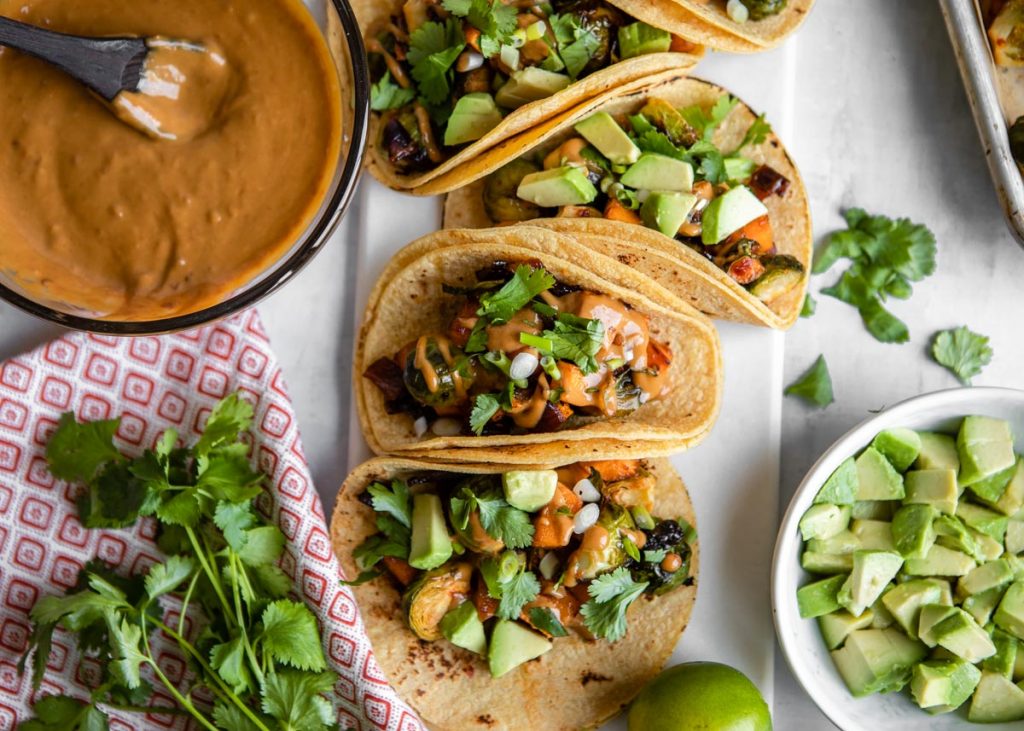 When it comes to toppings, besides the amazing Tangy SunButter Sauce, I go for simple: cilantro, diced avocado, green onions, and an extra squeeze of lime. They add that little pop of freshness in every bite. (If you wanted extra crunch, you could also add some shredded red cabbage.)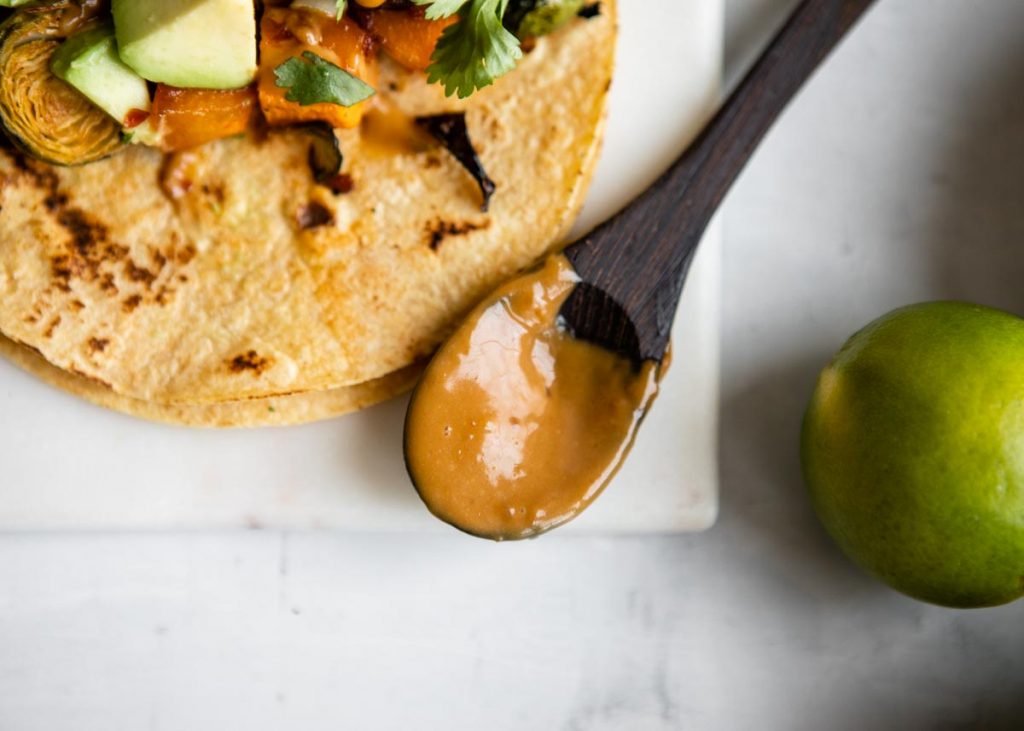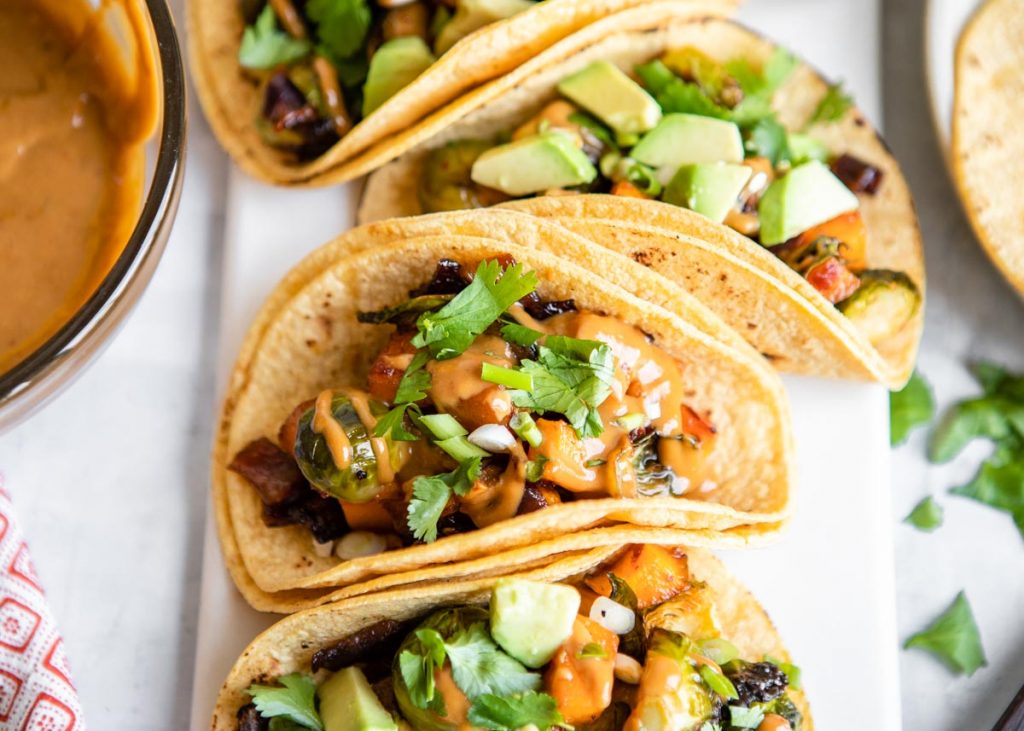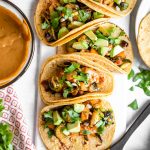 Sweet Chili Vegetable Tacos with Tangy SunButter Sauce

This fusion dish is full of colorful veggies folded into a taco and topped with Tangy SunButter Sauce.
Total Time
1
hour
20
minutes
Ingredients
For sauce:
1/2

cup

No-Sugar-Added or Natural SunButter


2

tablespoons

reduced-sodium tamari


2

tablespoons

fresh squeezed lime juice


2

tablespoons

rice wine vinegar

1

tablespoon

honey or maple syrup

1

tablespoon

sambal oelek


2

teaspoons

finely grated fresh ginger

1

garlic clove

finely minced


For tacos:
2

tablespoons

avocado oil

or other flavorless oil


2

tablespoons

reduced-sodium tamari

2

tablespoons

honey
 or maple syrup

2-3

teaspoons

sambal oelek

2

teaspoons

toasted sesame oil


2

cups

butternut squash

cut into 1/2" dice


1

medium red onion

halved and thinly sliced lengthwise


1

pound

Brussels sprouts

trimmed and halved

For serving:
Warm corn or flour tortillas


Chopped cilantro


Diced avocado

Lime wedges
Instructions
In a medium bowl, whisk together sauce ingredients. Set aside until ready to serve.

Preheat oven to 400°F. Line a rimmed baking sheet with parchment paper.

In a large bowl, combine avocado oil, tamari, honey, sambal oelek, and sesame oil. Add the diced butternut squash and onion. Toss to coat. Using a slotted spoon, transfer the butternut and onion to the prepared baking sheet, leaving any extra sauce behind. Place in oven and roast for 15 minutes.

Meanwhile, add the Brussels sprouts to the bowl with the remaining sauce. Toss to coat. After the 15 minutes, add the Brussels sprouts to the baking sheet and drizzle with any remaining liquid. Toss all of the vegetables together and place back in oven to roast for another 15 minutes, or until Brussels sprouts are bright green and caramelized on the edges. Remove from oven.

To serve, spoon the vegetables into the warmed tortillas, drizzle with the SunButter sauce and top with chopped cilantro and diced avocado. Serve immediately with lime wedges on the side.
Recipe Notes
Substitute cauliflower, broccoli, or any of your favorite veggies. 
Sriracha can be substituted for the sambal oelek. Both can be found in most grocery stores in the Asian section.
SunButter can be found in the section with other nut and seed butter, jams, and jellies.
3