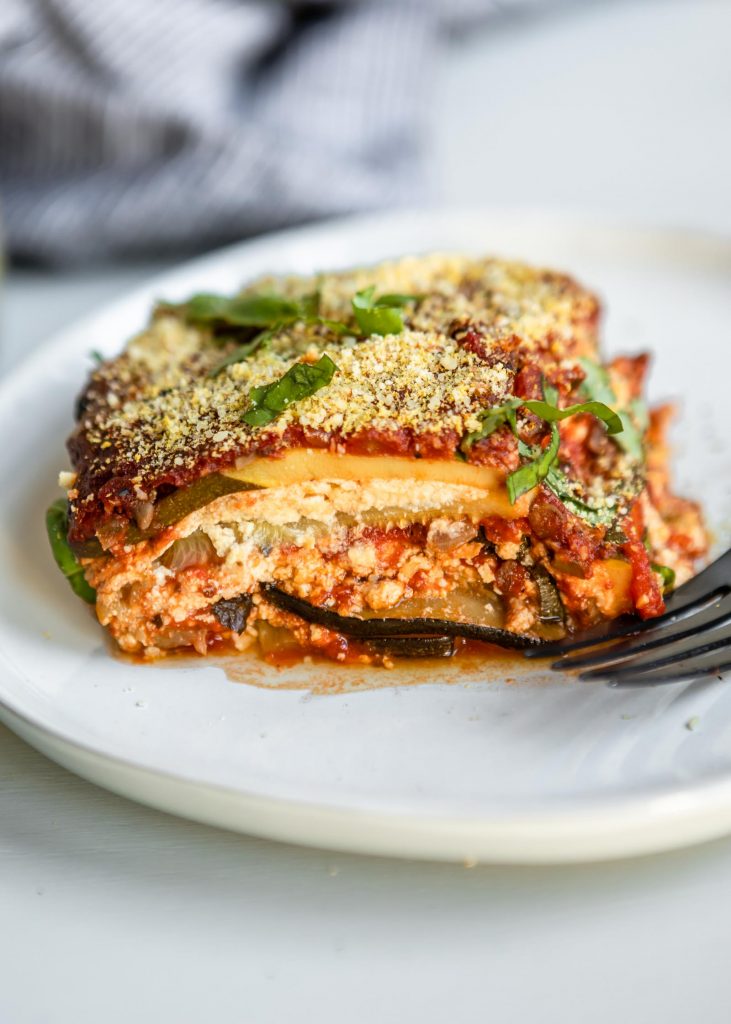 My kids always ask me what my favorite food is. I can never quite answer the question – I love a lot of different foods! But it dawned on me one day that the food I love most of all is probably lasagna. I'm not a lasagna snob by any means – give me any variety, however crazy, and I will most likely love it. But I have to say that this Vegan Zucchini Lasagna is near the top of my favorite lasagna recipes.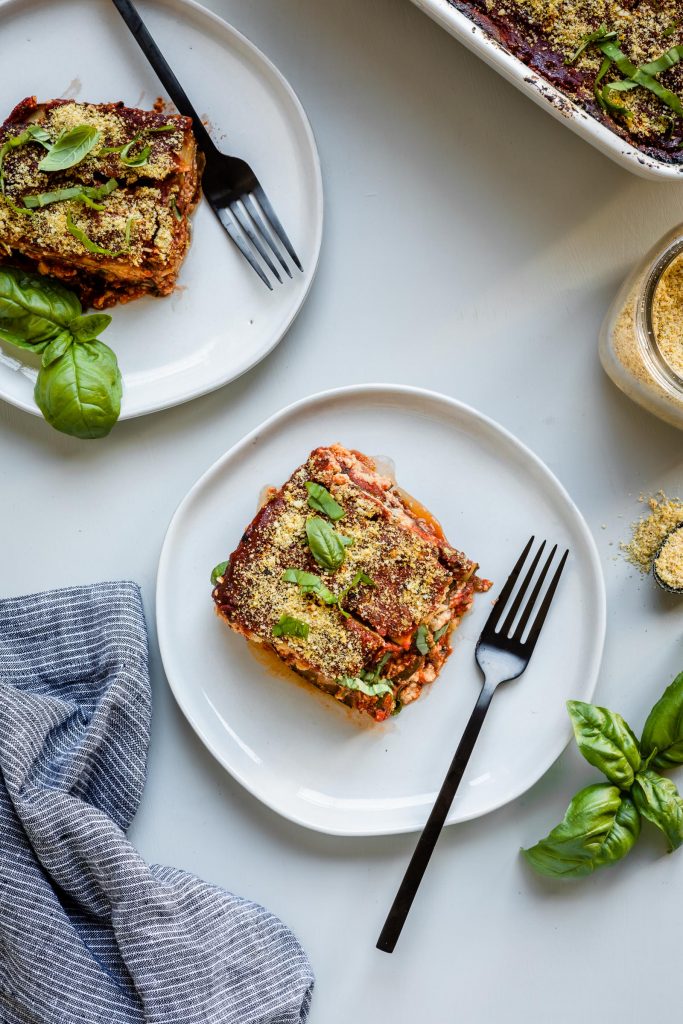 I won't bore you with my memories of, uh, memorable lasagnas – there are many. But I will say that I based this recipe or at least the method, on one that I found years ago in Cooks' Illustrated magazine. The recipe is for Weeknight Bolognese. I have made version with traditional pasta and swapped the ground meat for veggie meat crumbles, ground nuts, and/or lentils. While I still like that sauce very much, I found that I prefer using chopped mushrooms instead. And I've swapped zucchini slices for the pasta.
To make this recipe super easy, I'm using the Make and Freeze Mushroom Pasta Sauce that was posted a little bit ago here on Hello Veggie. That sauce…is amazing. When you have a little free time, cook up a double batch and keep it on hand for purposes like this lasagna. That sauce is just so, so good.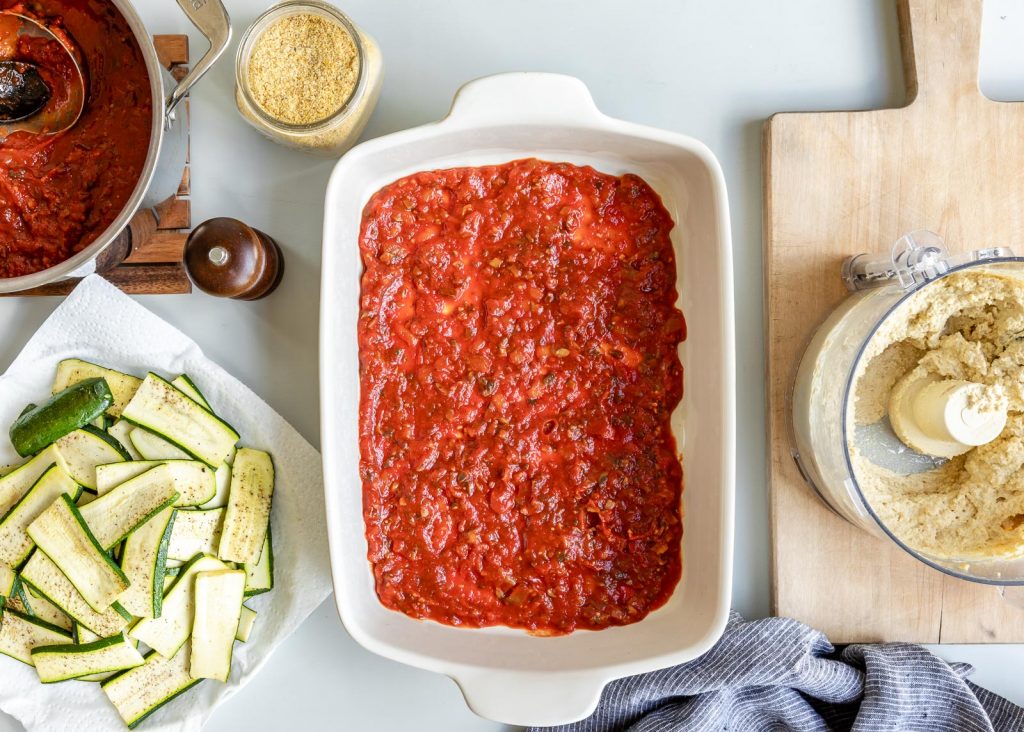 The only change I made to the Mushroom Pasta Sauce was to chop the mushrooms instead of slicing them. That's just personal preference for this particular use. You can certainly slice them. Or use your own favorite pasta sauce recipe or a good-quality jarred sauce.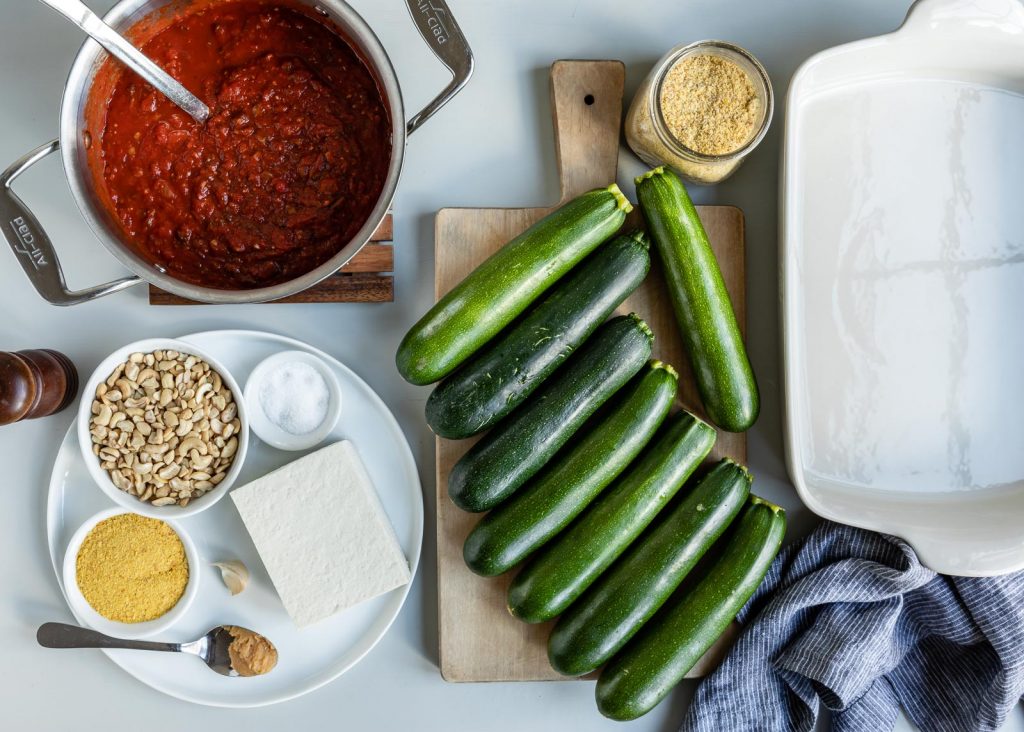 The Tofu Ricotta was a newer concept to me. Usually I make a bechamel sauce out of non-dairy butter and milk, thickened with flour or cornstarch. Ricotta is a very traditional lasagna filling as well, so I took on the challenge to make a vegan version (find more ways to make vegan cheeses at home here). In all seriousness, I served up a version of this recipe and no one knew the ricotta was made of tofu. It tastes the same! I had searched a dozen or so different recipes and combined them into the one listed in the recipe below. The miso is what really does the trick.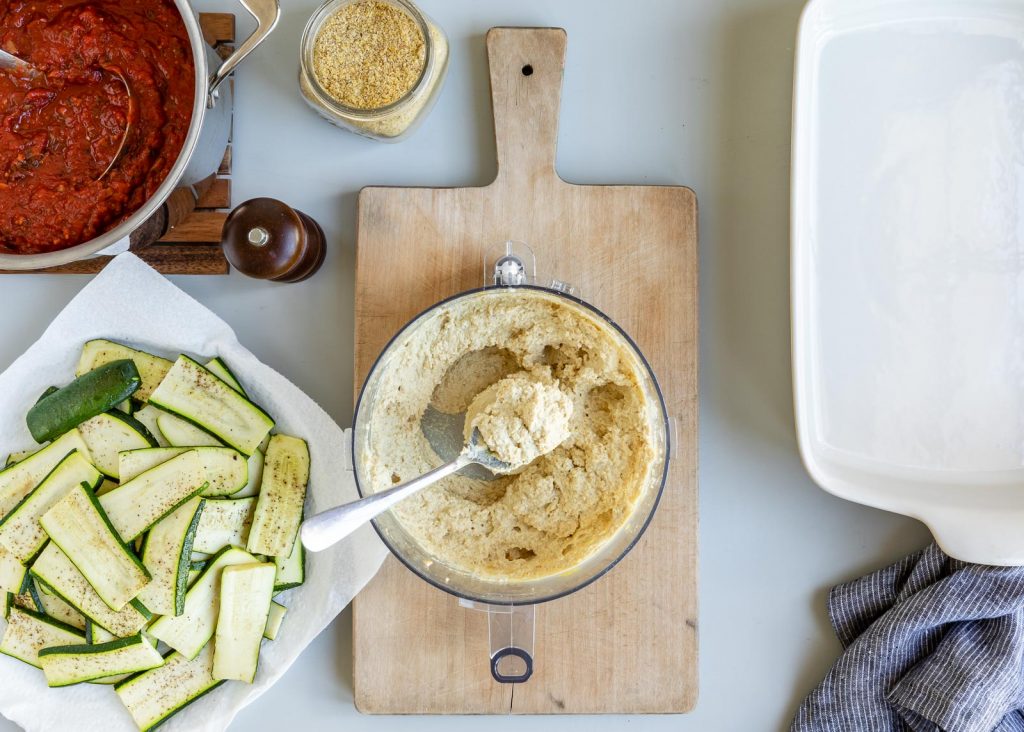 I like using raw cashews as a dairy replacement. In this recipe, they add sweetness and a little graininess to the texture that is reminiscent of dairy ricotta. Tofu is flavorless, so don't be shy about adding a little extra salt, garlic, nooch, or miso, to taste.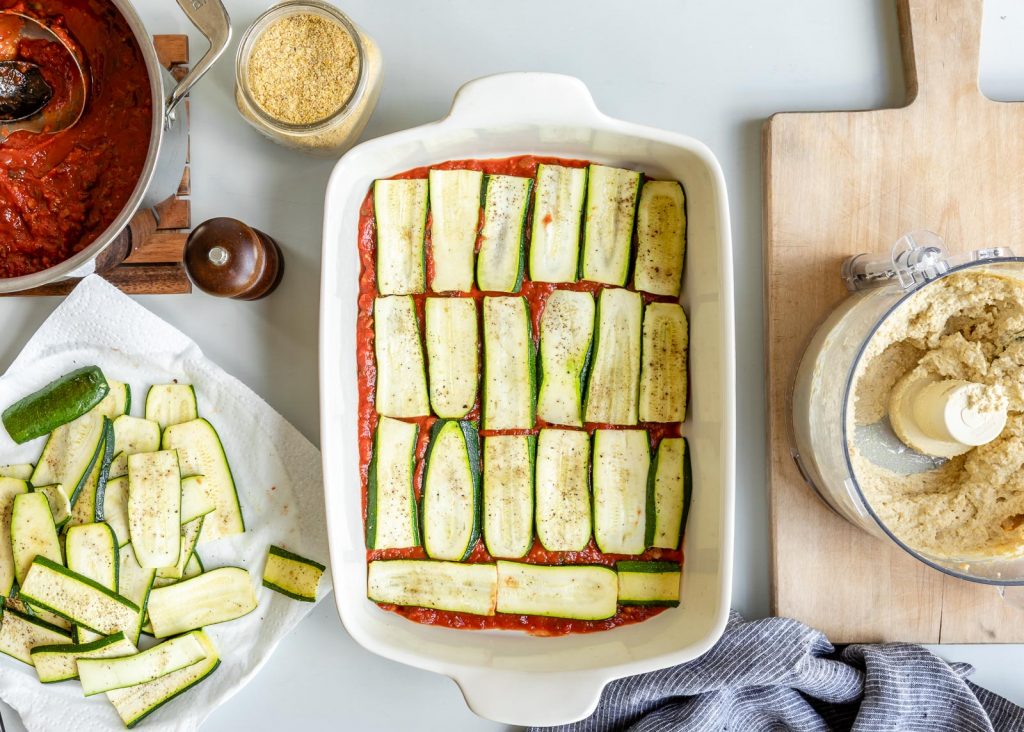 Now for the zucchini noodles. I've been swapping zucchini for pasta for years, just like everyone else. I found that when using zucchini in a casserole such as this vegan zucchini lasagna, it's necessary to remove some of the liquid before assembling the dish. Zucchini has a very high water content.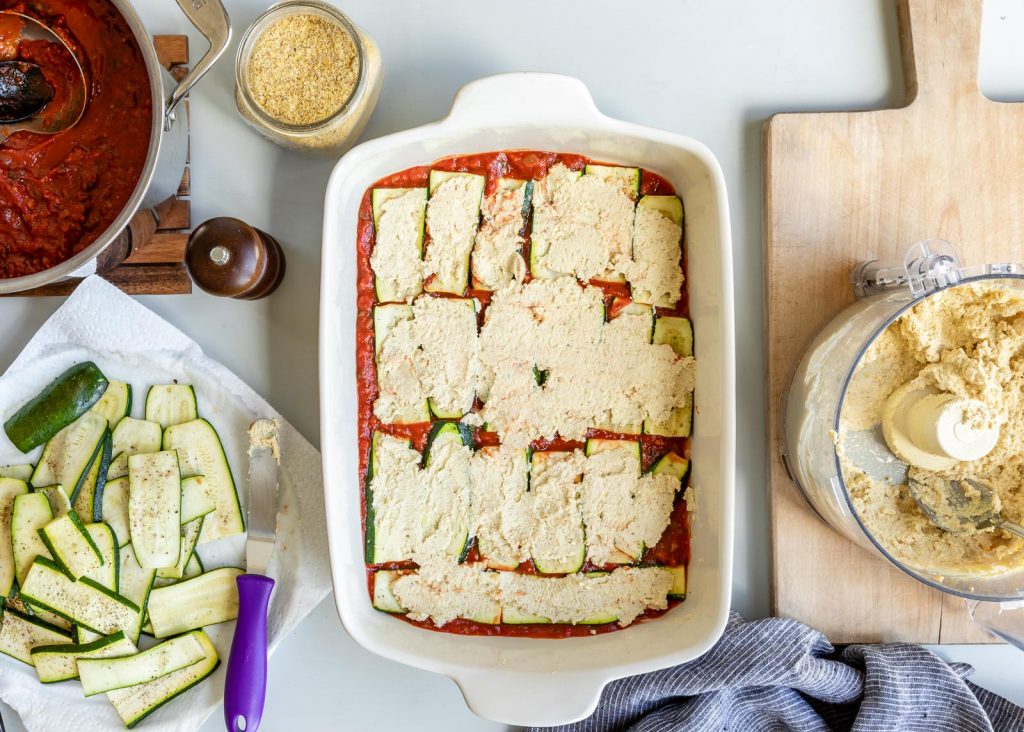 My preferred way to do this is through roasting thinly sliced zucchini for a few minutes. The liquid sort of bakes off or evaporates. It also yields tender zucchini which is easier to layer and work with. It may seem like a time-consuming step, but it's really quick. I place the zucchini in the oven and prep the Tofu Ricotta while it roasts, then everything is ready to go.
Depending on the pan you use, this vegan zucchini lasagna may take a bit longer to cook through completely. So when you see the variation in baking time, know that I use a thick, ceramic-glazed stoneware dish. A metal or glass pan will cook through much more quickly.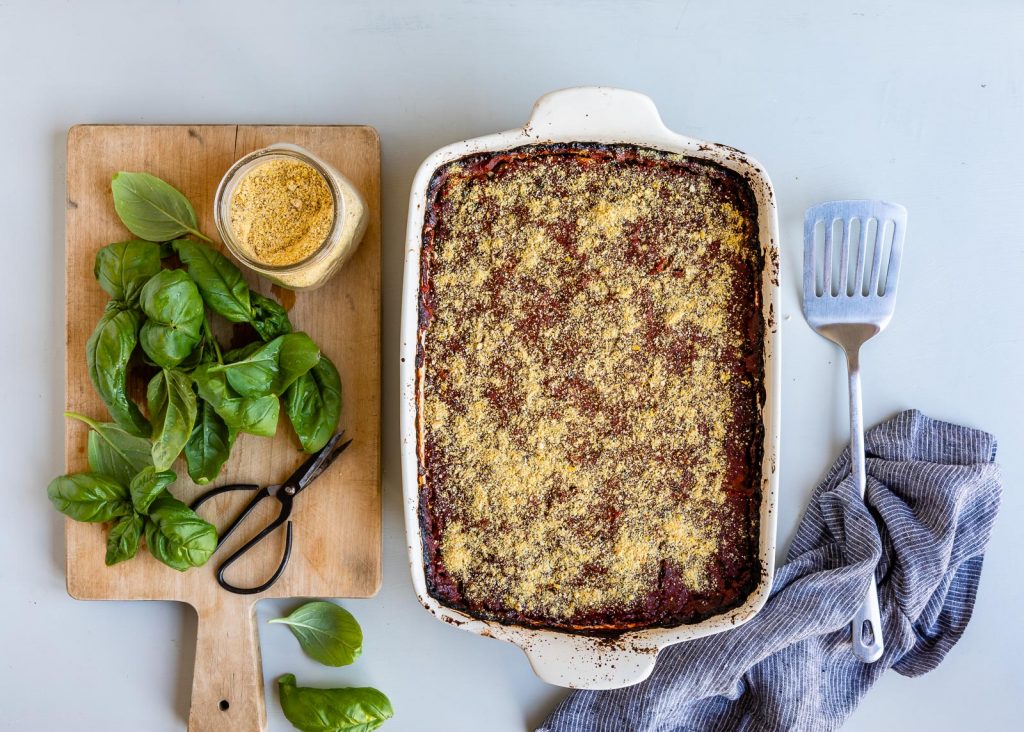 I've also included a favorite recipe for Vegan Parmesan Sprinkle, which is incredibly simple to make. I keep a jar in my fridge at all times to sprinkle on top of roasted veggies, pasta, soups, and even on avocado toast. It's optional, but tastes really good on this lasagna.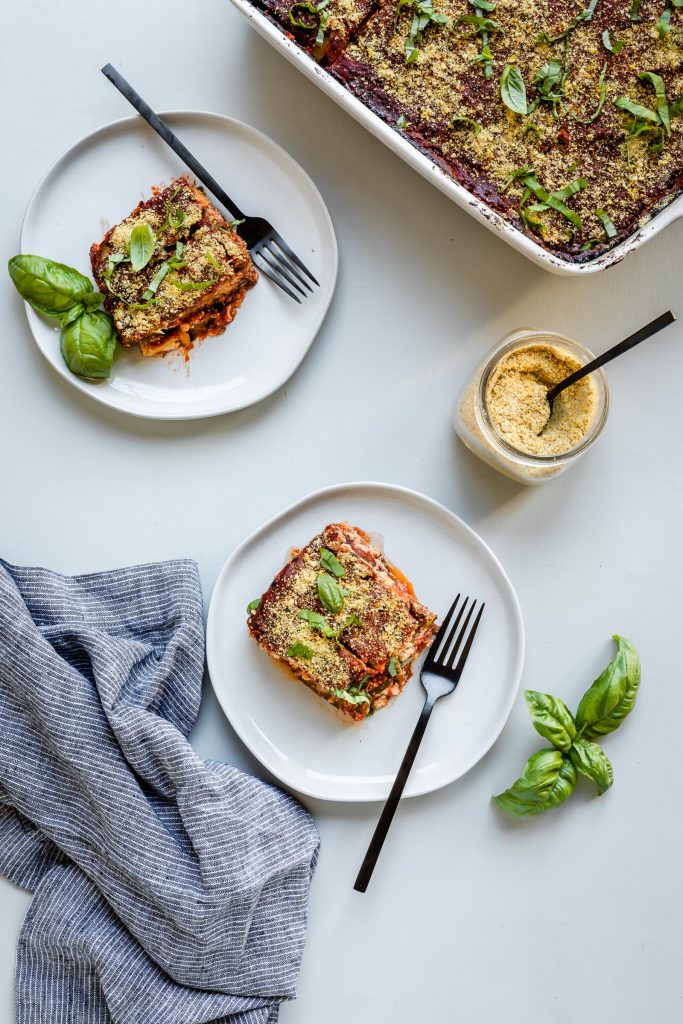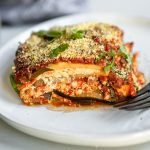 Vegan Zucchini Lasagna with Tofu Ricotta
The best veggie lasagna around. Thinly sliced zucchini stands in for traditional pasta and alternates with layers of creamy tofu ricotta and a savory mushroom pasta sauce that will knock your socks off. 
Ingredients
For Zucchini Noodles:
8

medium zucchini

1

tablespoon

olive oil

plus more for casserole pan

Salt and pepper

to taste
For Tofu Ricotta:
1

cup

raw cashews

4

tablespoons

nutritional yeast

14

ounces

extra-firm tofu

cut into cubes

Juice of 1 large lemon

1

tablespoon

white miso paste

1

garlic clove or 1/4 teaspoon garlic powder

1/4

teaspoon

salt
Instructions
For zucchini noodles: Preheat oven to 425°F. Line two rimmed baking sheets with silicone baking mats or parchment paper.

Cut each zucchini horizontally through the middle. Stand each half up and cut 6-8 thin slices, between 1/8" to 1/4" thick. Alternatively, if using larger zucchini, slice into 1/8" to 1/4" thick rounds. Lightly coat the zucchini slices with the olive oil. (Placing the slices in a bowl, drizzling the olive oil, and gently tossing works well or spray lightly with non-stick cooking spray.) 

Arrange the slices on the lined baking sheets and lightly season with salt and pepper. Place both sheets into the oven (one higher, one lower) and roast for 5-6 minutes, then rotate sheets from top to bottom and front to back. Roast for another 3-5 minutes, or until tender-crisp. Transfer to a plate lined with paper towels - this will help soak up any excess liquid. Repeat with any remaining zucchini slices. 

To make tofu ricotta: Place cashews and nutritional yeast into the bowl of a food processor or blender jar. Pulse until finely chopped - don't overdo it or you'll end up with cashew butter. 

Add the extra-firm tofu, lemon juice, miso paste, garlic, and salt to the cashews. Pulse again in short 2-3 second bursts until the mixture is uniform in texture. It will look like slightly creamier ricotta cheese. Refrigerate until ready to use.

To assemble: Lightly grease a 9-by-13-inch casserole dish with olive oil. Spoon about 1 1/4 cups of sauce into the bottom of the dish and spread evenly.

Arrange an even layer of roasted zucchini slices over the sauce, overlapping a little, if needed. This will use up about 1/4 of the roasted zucchini.

Use a spoon to drop one-third of the Tofu Ricotta over the zucchini. Gently spread the ricotta over the zucchini - it doesn't have to be perfect.

Spoon 1 1/4 cups of sauce over the Tofu Ricotta and spread evenly. Top with another layer roasted zucchini slices, followed by another third of the ricotta as directed above, and then another 1 1/4 cups Mushroom Pasta Sauce, another layer zucchini slices, and the last of the ricotta. For the final layer, top the ricotta with the last of the zucchini slices and enough sauce to cover.

Cover the casserole dish with a foil. Bake for 45 minutes, then remove the foil. Bake for an additional 20-25 minutes, or until the casserole is bubbling around the edges and the very center. To test that the lasagna is cooked through, insert a small paring knife into the center. It should be hot to the touch and any Tofu Ricotta will be cooked.

Sprinkle the top of the casserole with Vegan Parmesan Sprinkle.

Remove from oven and let stand for a few minutes before garnishing with basil ribbons and cutting into squares. Serve warm.
Recipe Notes
To make Vegan Parm Sprinkle:
In a food processor fitted with the chopping blade, pulse 1 1/2 cups raw almonds and/or cashews until roughly chopped. Add 1/2 cup nutritional yeast, 1 teaspoon salt, and 1/4 teaspoon garlic powder (optional). Pulse until finely chopped. Store in airtight container in fridge. Makes about 2 cups.
8