Tofu is famously difficult to cook, that is, if you want it to actually be tasty. So when we saw this recipe for crispy tofu in a sweet and sour sauce, we knew we had to try it!
The recipe is from Earthy Vegan Eats: 60 Delicious Gluten-Free Plant-Based Recipes by Maria Gureeva. The new cookbook is ideal for those on a gluten-free, plant-based diet, in need of inspiration for quick, no-fuss meals. Read on if that sounds like something you've always wanted…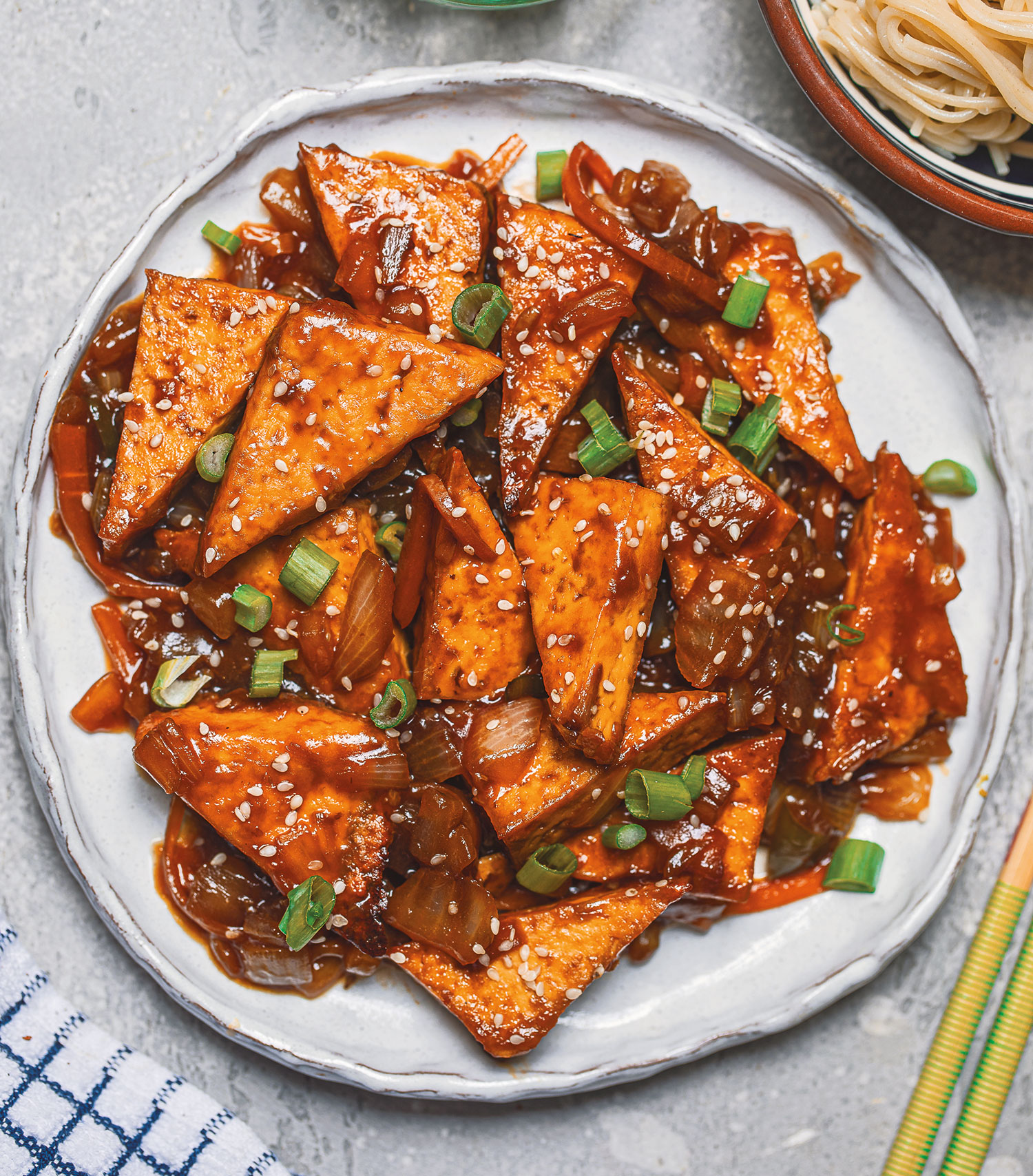 Crispy Tofu in a Sweet and Sour Sauce Recipe
Even in the vegetarian community, tofu can be controversial. How do you make a piece of bland, white mush…uhm, tasty? Can it even be done? The answer is yes. You just have to learn how to cook it properly.
"There are many ways to turn plain, uninteresting tofu into a culinary masterpiece. My preferred method is rather simple, and it's ideal for those occasions when I want to get dinner on the table in under half an hour: fry or bake until crispy, then combine with a sauce of my choice. The sauce here is of an umami variety, which works well with the chewy, crispy tofu", says cookbook author Maria Gureeva.
Scroll down for the full recipe and consider buying Earthy Vegan Eats on amazon or wherever you buy your books.
Crispy Tofu in a Sweet and Sour Sauce
Reprinted with permission from Earthy Vegan Eats by Maria Gureeva, Page Street Publishing, Co. 2021. Photo credit: Maria Gureeva.
Ingredients
1

block extra firm tofu

pressed if necessary and cut into triangles

2

tsp

sesame oil

1

medium onion

chopped

1

clove

garlic

minced

1

piece

ginger

grated

1

medium carrot

peeled and chopped into matchsticks

3

tbsp

tamari

2

tbsp

maple syrup

2

tbsp

rice vinegar

Juice of ½ lemon

1

tbsp

tomato paste

1

tbsp

cornstarch

2

tbsp

sesame seeds

Chopped scallions
Instructions
Preheat the oven to 400°F (200°C, or gas mark 6). Line a baking sheet with parchment paper. Arrange the tofu triangles on the lined baking sheet and bake for 12 to 15 minutes, until a light brown color.

Meanwhile, heat the sesame oil in a nonstick frying pan over medium-high heat. Add the onion, garlic, ginger and carrot, sautéing for 4 to5 minutes, until the vegetables soften and the onion is translucent.

Make the sauce by stirring together the tamari, maple syrup, rice vinegar, lemon juice and tomato paste. In a separate bowl, whisk together ¼ cup (60 ml) of water and the cornstarch.

When the tofu is ready, pan fry it for 5 minutes, rotating each triangle frequently. Pour the sauce into the frying pan and stir well to coat all the tofu cubes. Allow to simmer lightly for 2 to 3 minutes, then pour in the cornstarch slurry and continue to stir until the sauce thickens.

During the last minute of cooking, stir in the sesame seeds, garnish with scallions and serve with a side of your choice.
Recipe Notes
It's important to get as much water as possible out of the tofu. Depending on the brand you use, pressing may be necessary.You can also freeze it overnight to get a firmer and chewier texture.
4