Lentils are a staple in my meal plans. I always have a big jar in the pantry and I use them a few times a week–tossed with crushed garlic cloves, red wine vinegar and good olive oil for a simple salad, simmered to tenderness in homemade broth with whatever veggies I have on hand for a simple soup, and even tossed into marinara to add some plant-based protein to a pasta dinner. Sure, lentils aren't the most glamorous food, but they're cheap, they cook up quickly compared to other legumes, and they have an earthy flavor that complements so many other ingredients. Lentils FTW!
This Tuscan Lentil & Grain Broth from Richard Buckley's Plants Taste Better will convert any lentil skeptics. Based on Italian ribollita, it combines puy lentils with whole grains, vegetables, plenty of garlic, and a generous amount of olive oil. (Don't skip the olive oil! And don't skimp on it either–use the best one you have.)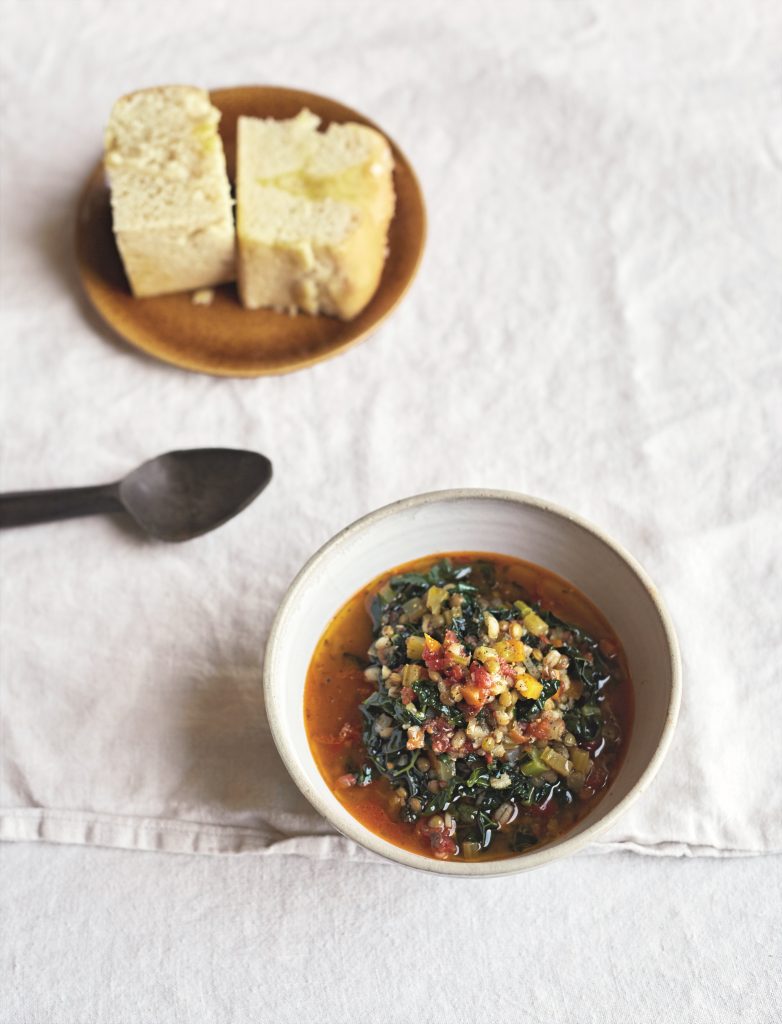 If you're looking for a gorgeous cookbook to add to your collection (or to gift the vegan in your life!), this is it. I love that all the recipes in this book give vegetables the gourmet treatment–it's not the same variations of familiar recipes you've seen dozens of times before. Recipes range from everyday meals, like this Lentil & Grain Broth, to special occasion dinners like homemade Walnut Tortellini (which is on my to-make list).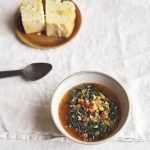 Tuscan Lentil & Grain Broth
An updated version of classic ribollita from Richard Buckley's Plants Taste Better. Reprinted with permission from Quarto.
Ingredients
FOR THE BROTH

100

g

3½ oz onion

125

g

4½ oz carrot

250

g

9 oz celery

75

ml

1/3 cup extra virgin olive oil

8

g

1½ tsp sea salt

4

cloves

of garlic

15

g

¼ cup parsley leaves

2

x 400g

14oz cans of whole plum tomatoes

100

g

½ cup puy lentils

85

g

½ cup barley or spelt grain

1

litre

4 cups water

125

g

4½ oz cavolo nero, cut into 5mm (¼-inch) strips

TO SERVE

8

tbsp

best-quality extra virgin olive oil

black pepper

focaccia
Instructions
Dice the onion, carrot and celery into 5mm (¼-inch) cubes. Put the diced vegetables into a saucepan with the olive oil and salt and gently heat. Cook very slowly, taking care not to colour the onions. Chop the garlic and parsley together to create a paste and add to the saucepan. Cook very slowly, for about 30 minutes, until the vegetables are soft.

Meanwhile, empty the cans of tomatoes into a sieve over the sink and gently rinse the sauce from them. Shake dry, then cut into 1cm (½-inch) dice. When the vegetables are cooked, add the chopped tomatoes and any juice they released, and continue to cook gently for 20 minutes. Add the lentils, barley and water. Cook gently for about 30 minutes with a lid on, until the barley is plump and soft and the lentils are cooked. If the mix begins to run dry, add a little more water, but not too much–you want a thick broth.

Add the cavolo nero and cook gently for another 15 minutes until soft, then remove from the heat. Check the seasoning and adjust if necessary.

Spoon the broth into serving bowls and drizzle generously with the best olive oil you can find. Add a twist of black pepper and serve with focaccia.
5