In May, I shared a printable vegetarian meal plan that used the best of spring produce. And now it's time to tackle summer!
July is one of my favorite months when it comes to fruits and vegetables–local tomatoes are just beginning to show up at farmers markets, stone fruits are abundant, cucumbers and summer squash are perfect, and somehow even the herbs taste better at the height of summer.
While seasonal produce is the star of this meal plan, as a working mom I realize that cooking dinner from scratch 5 days a week isn't feasible for most of us–that's why I've also included some effortless no-recipe meals at the end of the week. Check out the meals below and then grab the printable shopping list.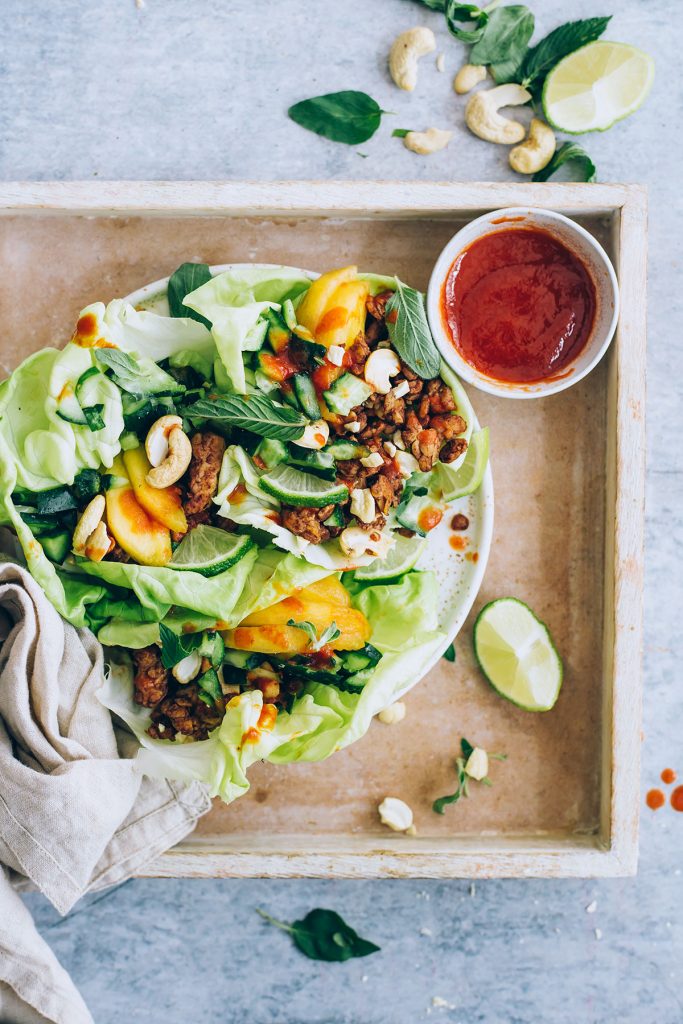 I love a good lettuce wrap dinner on a hot summer day. While the original recipe calls for mangoes, with plums at their peak, you might want to swap those in, especially if the mangoes at your grocery store aren't looking too hot. If you have mint growing in your garden, add it as a garnish here; to cut down on waste and save money, I only added basil to the shopping list since you'll need it for Tuesday's recipe. Buy a big head of lettuce because you'll be using it for Thursday's dinner too.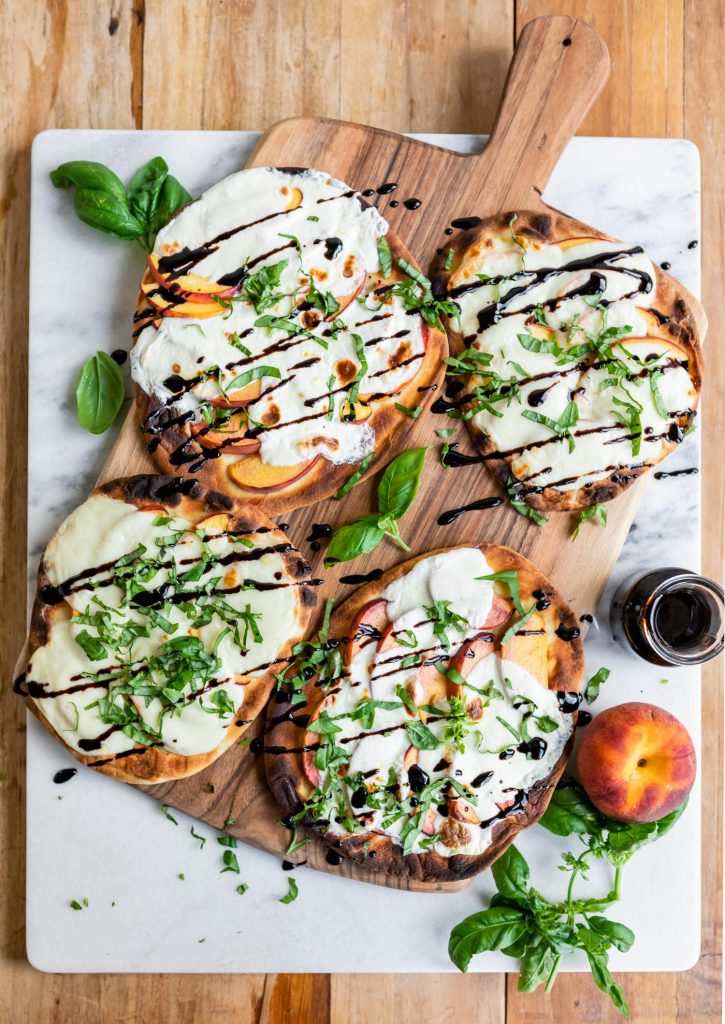 You are in for a treat! Since developing this recipe, I've made it again and again–it's one of my family's favorites and also one of mine because it's so easy to put together on a busy weeknight. Serve these pizzas with a simple mixed green salad on the side, adding leftover cucumbers from Monday's dinner if you have any.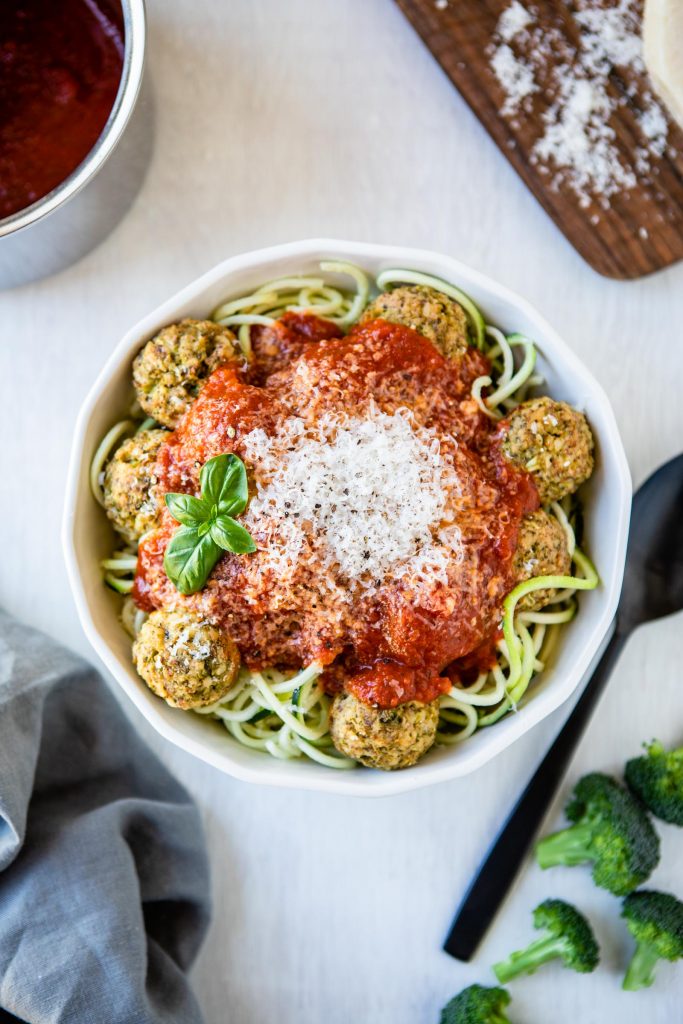 If you have a spiralizer, feel free to make your own zoodles for tonight's dinner. (Confession: even though I do have a spiralizer, I often end up picking them up at the grocery store anyway to save on time!) Or, if you prefer traditional pasta instead, cross the zoodles off the shopping list and add a box of your favorite spaghetti.
Thursday: TLT Sandwiches
We're keeping it simple tonight with this no-recipe dinner. Use leftover butter lettuce from Monday, cook up a package of tempeh bacon, and slice a hefty heirloom tomato for an effortless dinner. If you have leftover basil, mince it finely and stir it into the mayo before spreading it onto the bread.
Friday: Sheet Pan Polenta with Roasted Broccoli
Slice the polenta into 1/2-inch disks and break the broccoli into florets; place them on a baking sheet lined with parchment paper, toss them with olive oil, season with salt and pepper, then bake at 425ºF for about 20 minutes, or until the broccoli is just beginning to brown and get crispy. Serve this with leftover sauce from Wednesday's dinner, basil, and Parmesan and round things out with a salad on the side.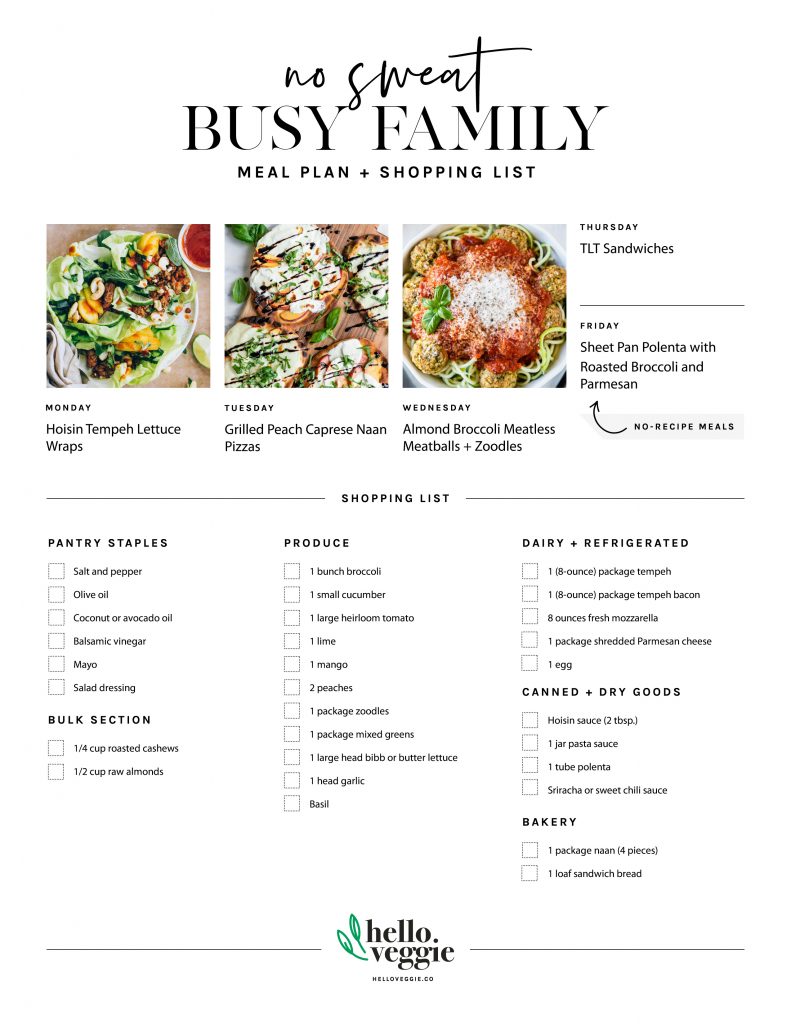 Click here to get a printable PDF with the meal plan and shopping list. To get the recipes, click on the links above.
2