I love when a meal is described as rustic. What exactly does that mean? It's one of those things where you just know it when you see it–dinners that are unfussy, unpretentious, and that have a stick-to-your-ribs kind of quality. Like this Slow Cooker Panade with Mushrooms and White Beans.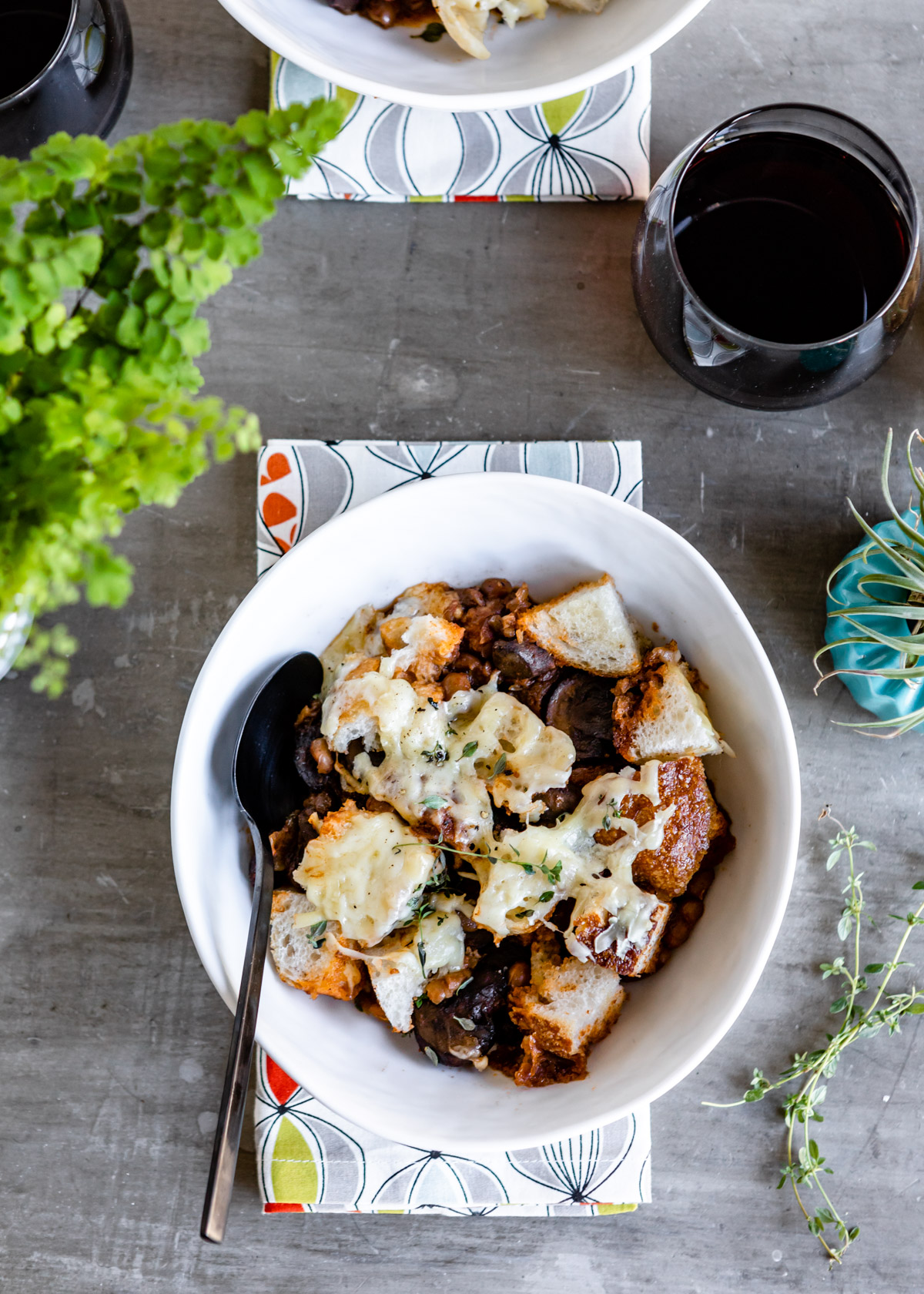 Despite the French name, panade is kind of the epitome of rustic cuisine. It's traditionally made with leftover food and broth that's baked with stale bread and cheese on top. The bread soaks up the liquid from the stew, the cheese melts, and your leftovers are given a second life.
This Slow Cooker Panade isn't quite traditional because it doesn't rely on leftovers–and because it's made in a slow cooker. I got the inspiration from Martha Stewart's recent slow cooker cookbook, which I borrowed from the library last month, and a tried-and-true favorite of my family's from Robin Robertson's Fresh from the Vegetarian Slow Cooker. The Martha recipe didn't quite work out for me, but taking that idea of doing panade in a slow cooker and combining it with the other recipe proved to be a success.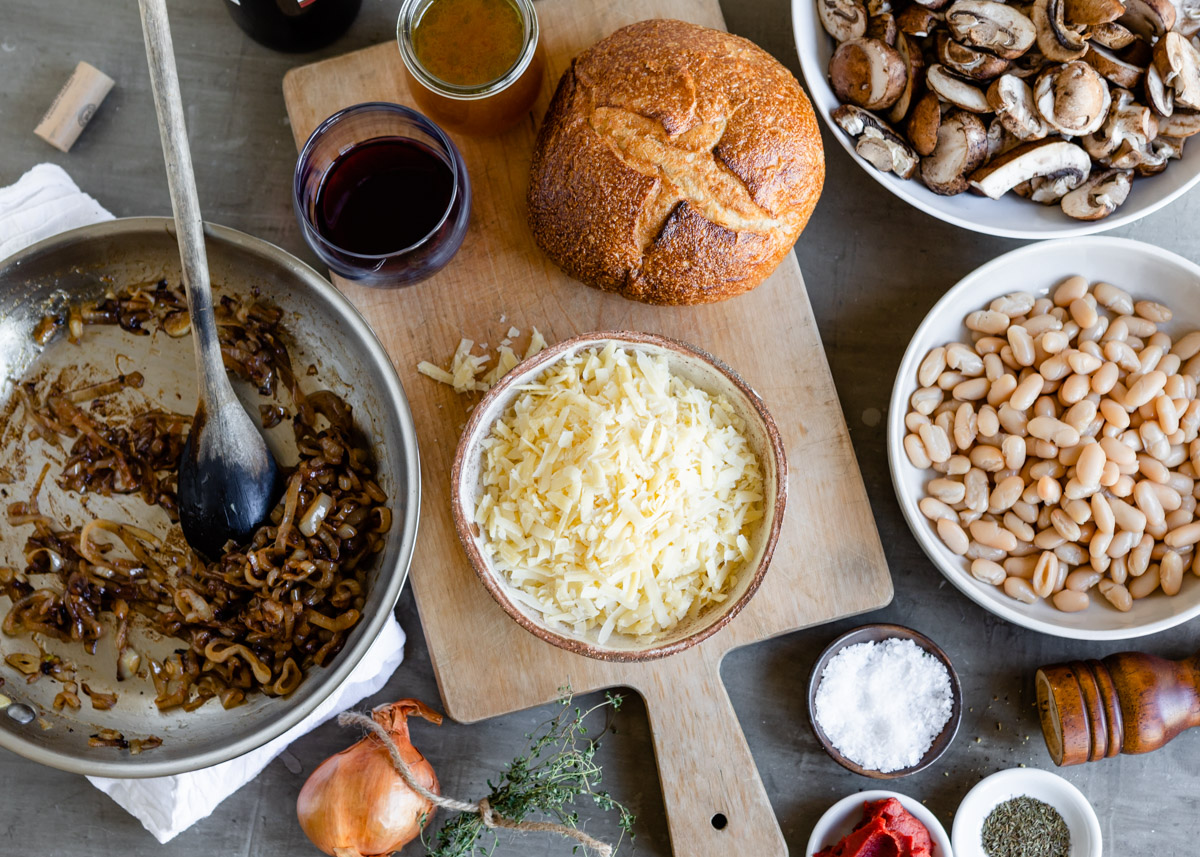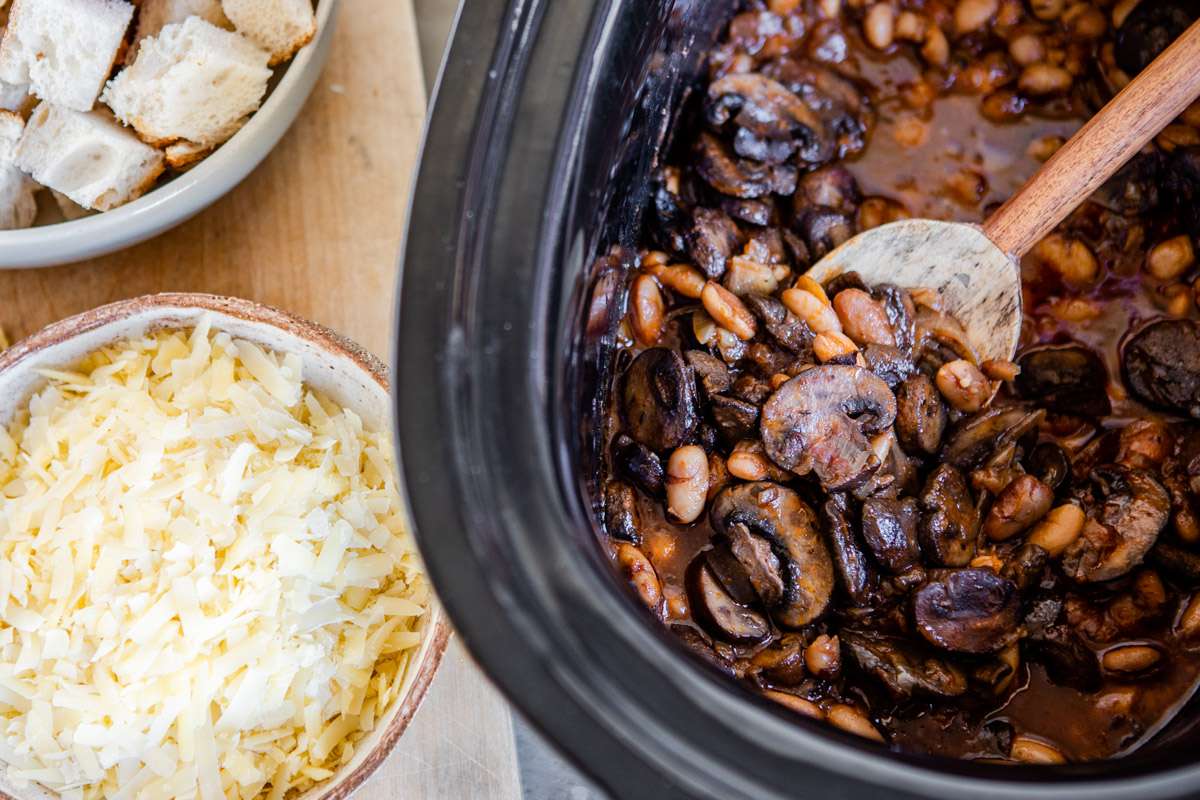 Traditional panade is almost like a stuffing or a strata, with everything stirred together before baking; I liked the Martha take on panade because it was more like a French onion soup–the stew portion isn't stirred in with the bread, but instead the bread is layered on top. For me, this is perfect, because you get that toasted, crusty bread on the top of the cubes, while the bottoms are soft from soaking up the broth.
Because I find that slow cooked onions and shallots never really achieve the texture I like, I gave the shallots a quick sauté in a skillet before transferring them to my crockpot with the other stew ingredients. But other than that, prep is really just a matter of tossing all the ingredients into your slow cooker.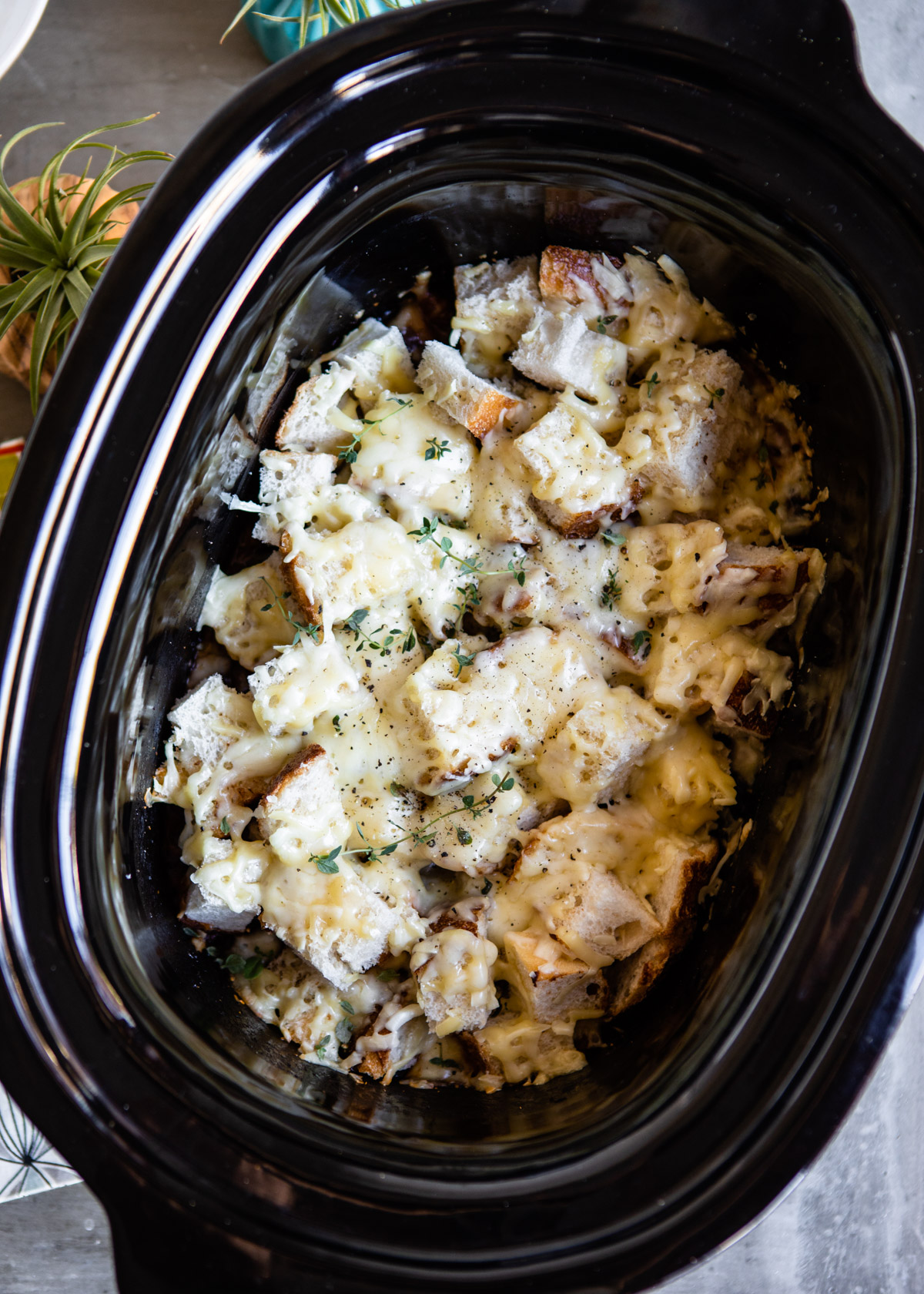 Let the stew cook for a few hours and just before it's done, you'll open the lid, pop in the bread cubes, top everything with cheese, and cook until the cheese melts, the stew gets thickened from the bread, and the bread soaks up the broth.
If you love hearty, filling meals when it's cold outside, this recipe is going to become a favorite.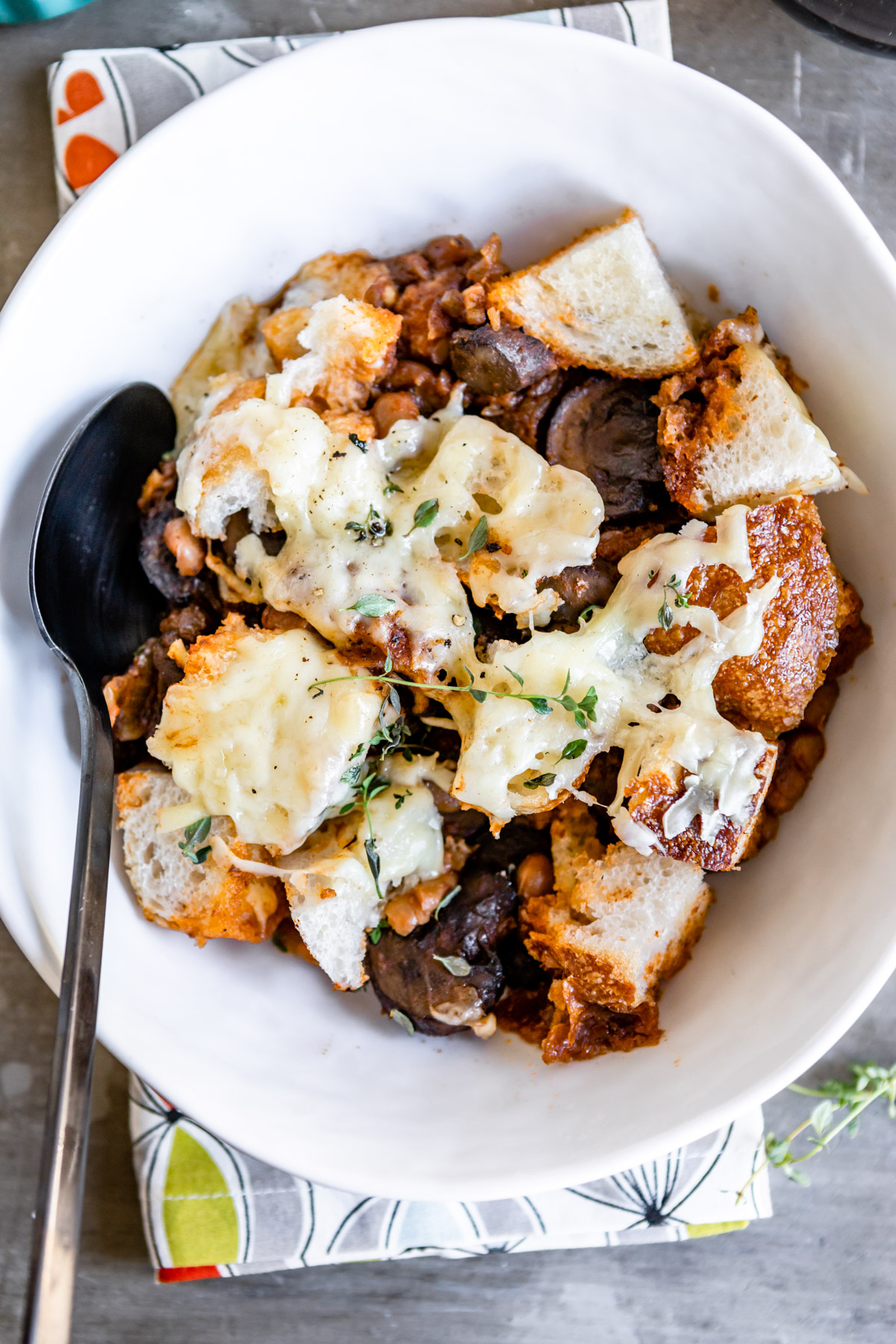 Photos by Lindsey Johnson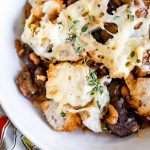 Slow Cooker Panade with Mushrooms and White Beans
Total Time
6
hours
15
minutes
Ingredients
2

tablespoons

olive oil

6

large shallots

sliced

2

garlic cloves

sliced

1

pound

sliced mushrooms

1

15-ounce can cannellini beans, drained and rinsed

1

cup

vegetable broth

1/4

cup

dry red wine

2

tablespoons

tomato paste

1

teaspoon

dried thyme

Salt and pepper

to taste

8

ounces

stale sourdough bread

cubed

6

ounces

shredded gruyere
Instructions
Warm the olive oil in a skillet over medium heat. Stir in the shallots and garlic; add a pinch of salt. Cook for about 5 minutes, stirring often, or until the shallots are softened and beginning to brown.

Transfer the cooked shallots and garlic to a 5-6 quart slow cooker. Add the mushrooms, beans, broth, wine, tomato paste, and thyme and stir well. Cover and cook on low for 6 hours.

When there are 30 minutes left on the timer, open the lid and give the stew a good stir; taste and season with salt and pepper.

Top the stew with the bread cubes; press them down into the stew a bit so they soak up the broth, then sprinkle the cheese over the bread. Replace the cover and cook for the remaining 30 minutes, or until the cheese has melted, then serve.
Recipe Notes
If your bread isn't stale, toast the sourdough cubes in the oven at 425ºF for about 15 minutes.
If you'd like to add more bread to the recipe, go for it! Different shapes of slow cookers will need different amounts of bread to cover the top of the stew.
Nutrition Facts
Slow Cooker Panade with Mushrooms and White Beans
Amount Per Serving (1 /6 of recipe)
Calories 385
Calories from Fat 52
% Daily Value*
Fat 5.8g9%
Carbohydrates 43.7g15%
Protein 20.6g41%
* Percent Daily Values are based on a 2000 calorie diet.
9