During summertime, we celebrate tomatoes, corn, and zucchini, but there are so many other vegetables in season that deserve some love too. Green beans! Peppers! And especially eggplant. This Persian Black Eggplant is a delicious way to enjoy one of the more over-looked veggies of summer.
While eggplant is great cooked on the grill or in a stir fry, it really shines when baked in the oven. It softens to a texture that's so tender it's almost silky. (Is silky even the word I'm looking for? I don't know! It has that melt-in-your-mouth quality, though.) You can serve this Persian Black Eggplant on its own, but the flavorful cinnamon-spiced tomato sauce is ideal for ladling over cooked rice or freekeh.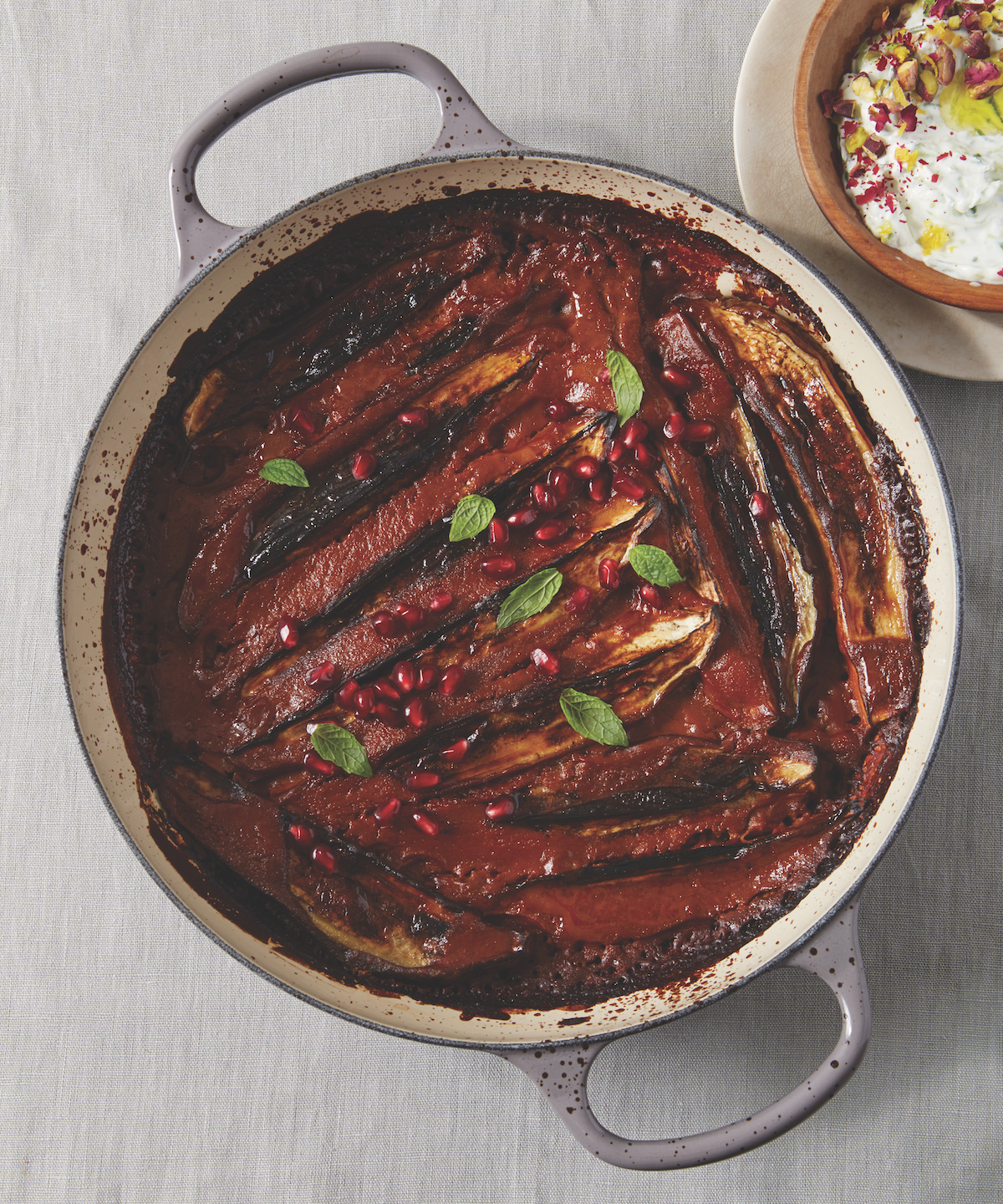 This recipe comes from Katzie Guy-Hamilton's Clean Enough: Get Back to Basics and Leave Room for Dessert. The philosophy behind this cookbook is one that's true to how so many of us are eating now–we know a lot of the restrictive clean eating stuff is over-hyped or based on outright falsehoods, but we also know that when we're subsisting on frozen dinners and brownies, we just don't feel good. Those foods don't need to be forbidden, but we need balance–this book is about finding it.
The book is divided into two sections: Clean, consisting of greens, toast, meal bowls and whole grains, and Enough, with desserts worth indulging in. (And Guy-Hamilton is a pastry chef, so you can count on those desserts being good.)
Grab the Black Eggplant recipe below and purchase Clean Enough: Get Back to Basics and Leave Room for Dessert on Amazon.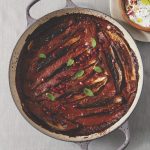 Persian Black Eggplant
Ingredients
8

ounces

about 1 1/4 cups/225 g organic crushed Italian tomatoes

1/2

cup

50 g raw walnuts, toasted and then ground

1

teaspoon

ground Ceylon cinnamon

1 1/2

tablespoons

extra virgin olive oil

1

small yellow onion

peeled and cut into thin slices

1

garlic clove

peeled and cut into thin slices

1/4

cup

60 g pomegranate molasses

1

tablespoon

white miso paste

1

teaspoon

Himalayan pink salt

3/4

teaspoon

freshly ground black pepper

1 3/4

pounds

800 g Japanese eggplants (about 5 eggplants)

1/2

cup

50 g fresh mint, chopped

1/2

cup

110 g pomegranate arils

1/2

cup

120 ml Tzatziki
Instructions
Turn the broiler on in the oven to preheat.

Combine the crushed tomatoes, 2 cups (480 ml) water, and the walnuts and cinnamon in a medium saucepan. Bring to a simmer over medium heat and cook for 20 minutes, to release the fat from walnuts.

Heat 1 tablespoon of the olive oil in a medium sauté pan over medium heat. Add the onion and garlic slices and brown for 15 minutes.

Transfer the tomato mixture and browned onion and garlic, along with the pomegranate molasses, miso paste, and 1/2 teaspoon each of the salt and pepper to a high-powered blender and puree until smooth.

Cut the eggplants in half lengthwise and rub the cut side with the remaining 1 1/2 teaspoons olive oil, 1/2 teaspoon salt, and 1/4 teaspoon pepper.

Place the eggplants on an unlined half sheet pan and place under the broiler for 10 minutes per side to char. Remove the eggplant from the oven and turn on the convection oven to 375°F (190°C).

Pour the tomato mixture into a shallow casserole dish and submerge the eggplant in the sauce, cut side up. Place the eggplant in the oven and bake for 30 minutes, or until bubbly and golden.

Remove the eggplant from the oven and top with the mint and pomegranate arils. Serve the Tzatziki on the side.
1