When you're on a vegetarian or plant-based diet, you might want to opt out of the whole summer grilling thing. Buy a grill… just for vegetables? Is it really worth it? Well, these Grilled Eggplant Gyros are proof that: yes! yes! it is so worth it!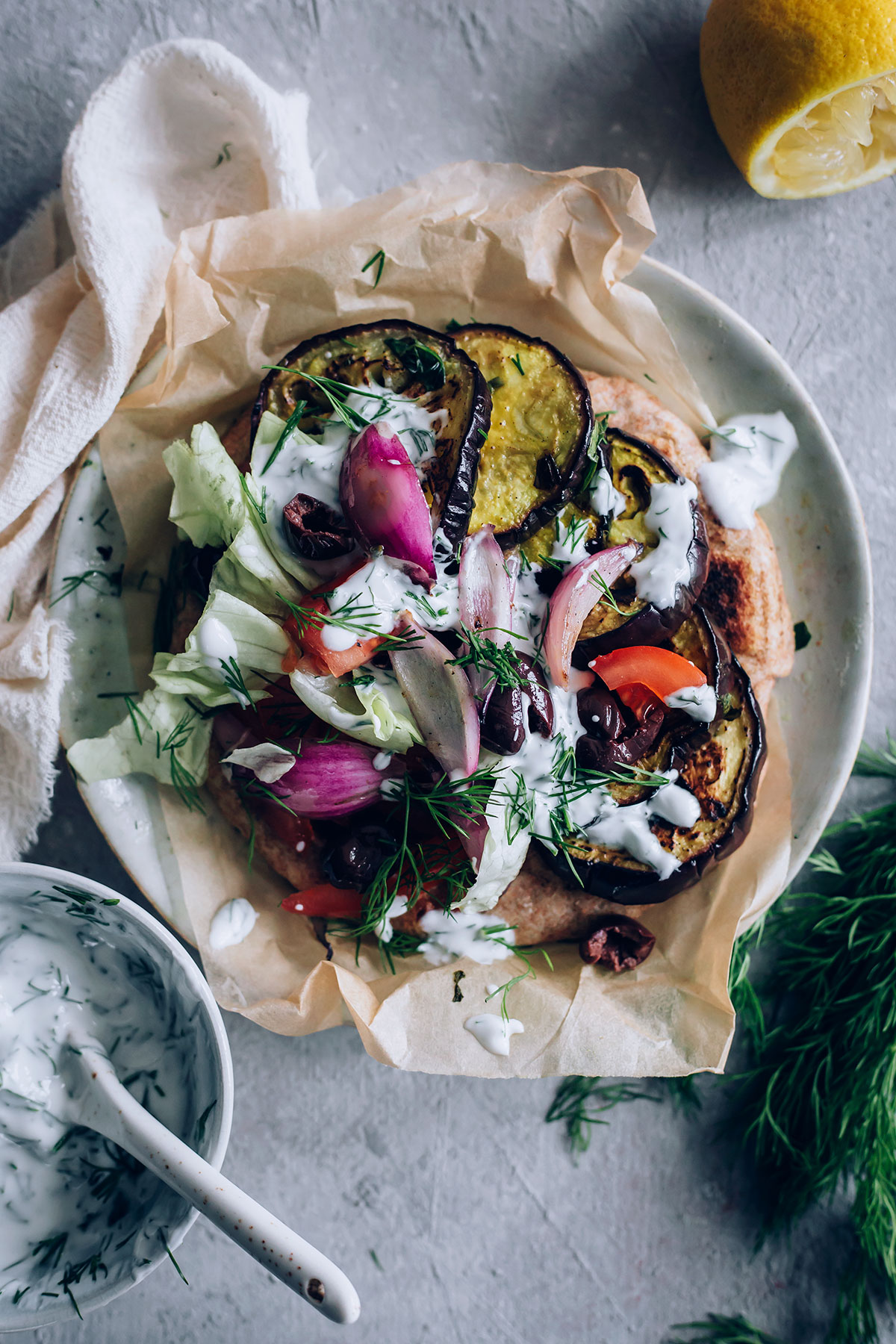 You could make your eggplant gyros on an indoor grill, of course. Or even skip the grill entirely and roast the eggplant in the oven. That totally works! But it's just not the same.
The char from the hot grill is an integral part of the recipe and it just can't be replicated indoors. Cumin, oregano, lemon juice and garlic make the eggplant flavorful, but it's the method of cooking–the grilling–that really helps make the eggplant an acceptable swap for meat in these vegan gyros.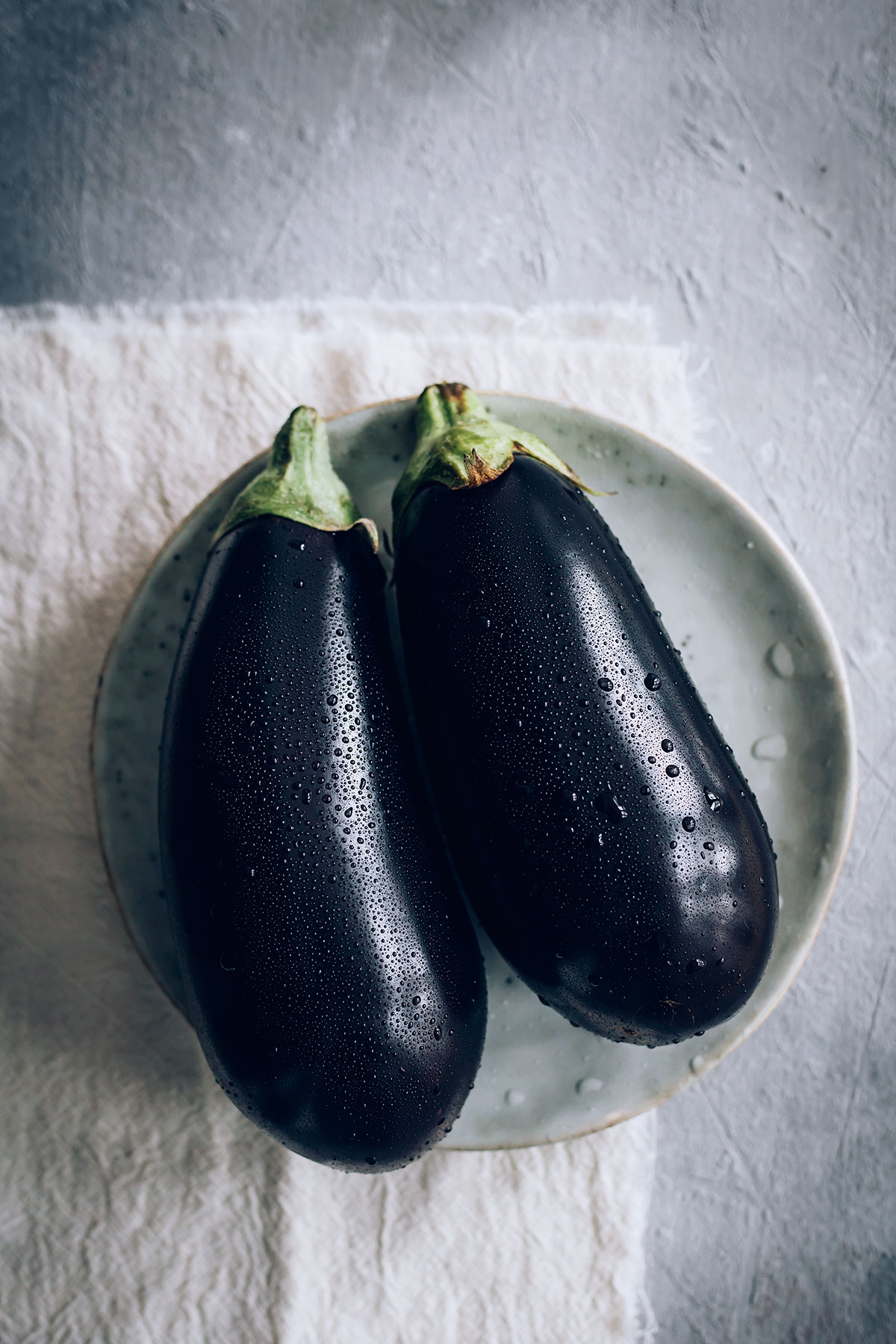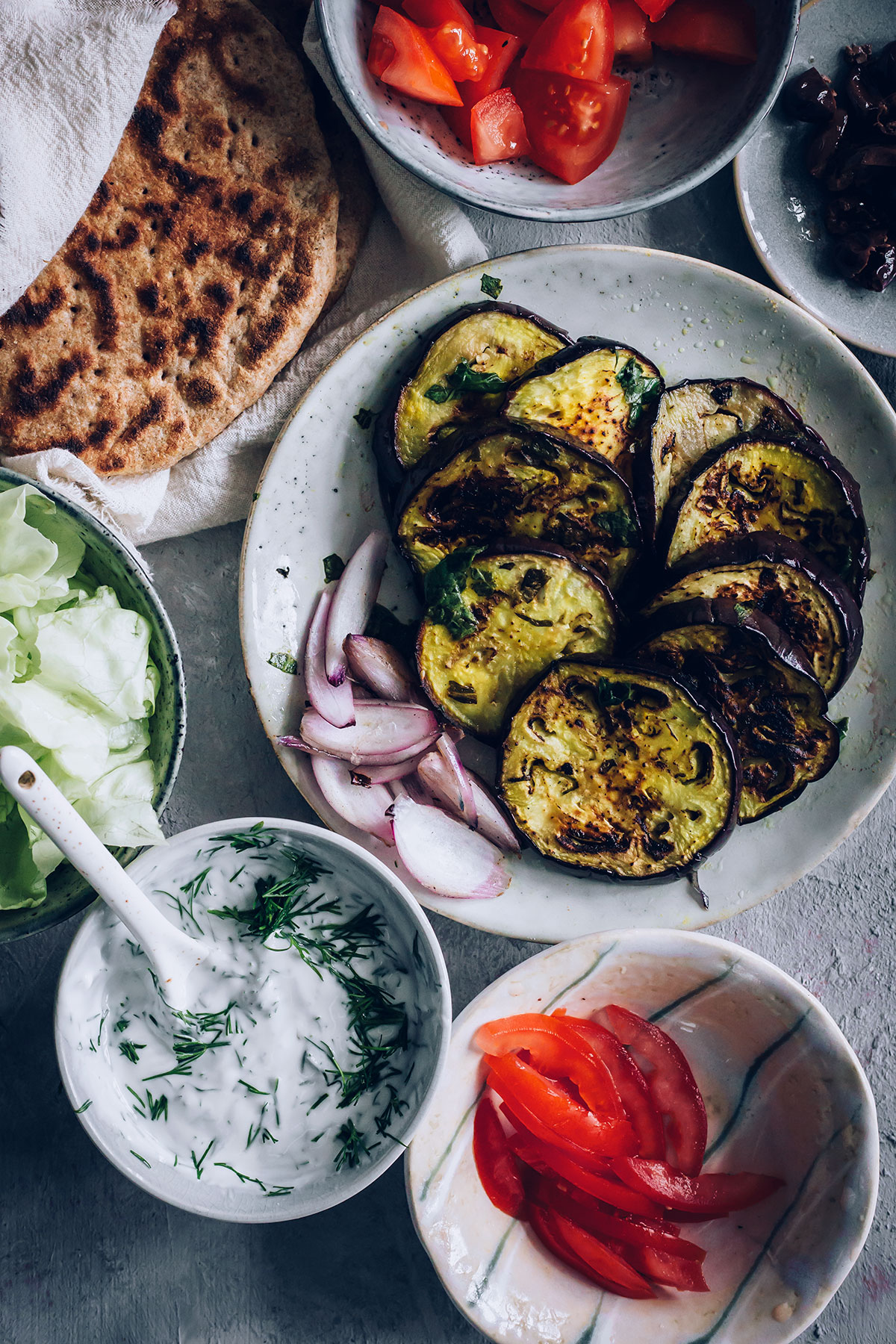 If you're making this for a weeknight dinner, you can make a more traditional tzatziki sauce with yogurt–either dairy or vegan (Kite Hill is our favorite plant-based yogurt). But if you've got the time for soaking cashews, try the cashew-based vegan tzatziki recipe below. Raw cashews are brilliant for replicating dairy (see: here and here); just make sure you blend the sauce until it's completely smooth.
Garnish your gyros with roasted red pepper, kalamata olives, tomatoes, chopped lettuce and a healthy drizzle (or drenching, if you prefer) of tzatziki.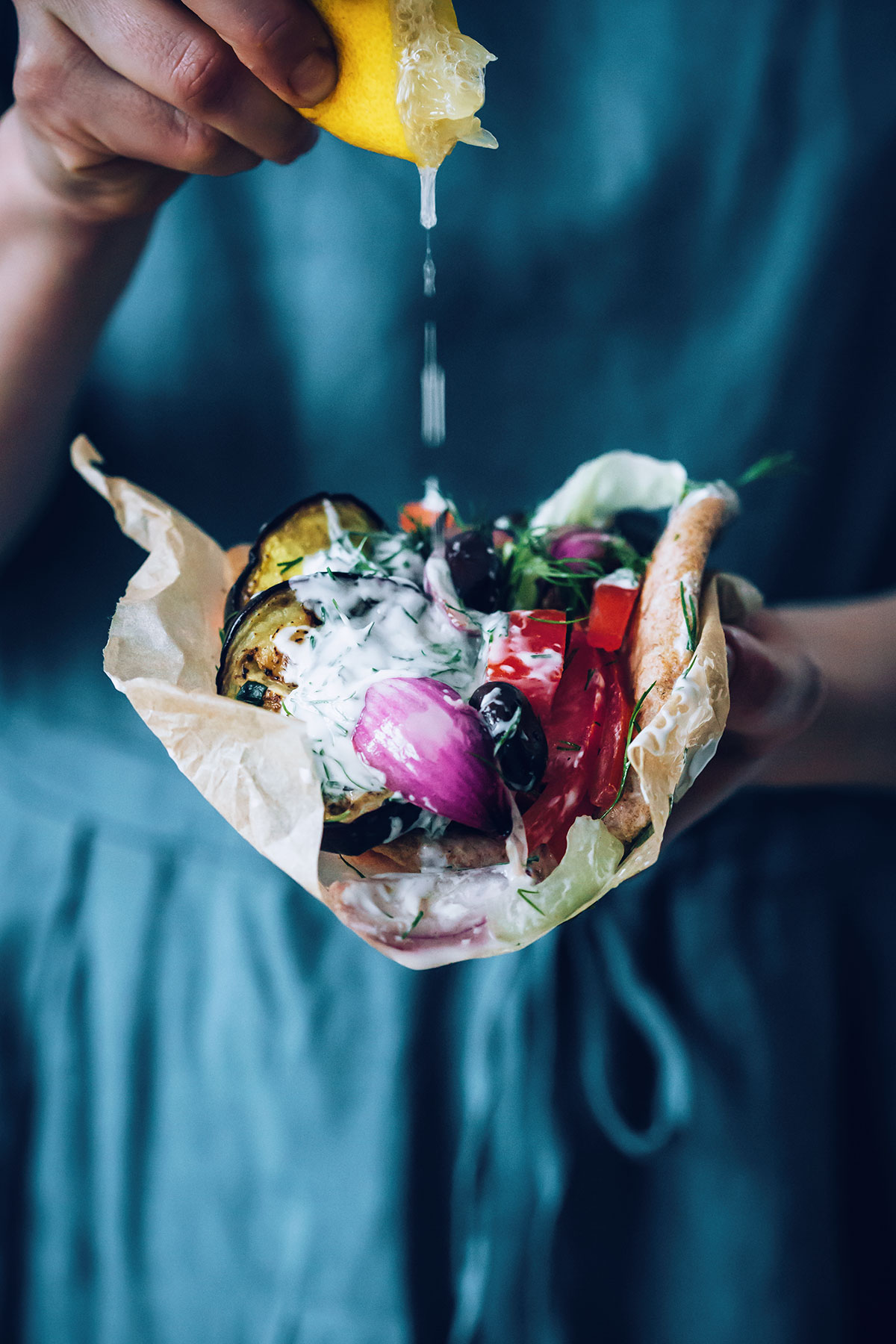 Photos by Ana Stanciu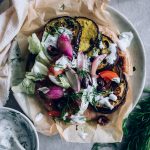 Grilled Eggplant Gyros with Vegan Tzatziki
Eggplant slices are marinated in lemon juice and spices then grilled to make these vegan gyros.
Ingredients
For the gyros:
1/4

cup

olive oil

2

tablespoons

lemon juice

1

teaspoon

ground cumin

1

teaspoon

dried oregano

2

cloves

garlic

minced

Salt and pepper to taste

2

medium eggplants

cut into 1/2-inch thick rounds

1

red onion

cut into thick half moons

6

pocketless pitas or flatbreads

warmed

3/4

cup

roasted red pepper

cut into long, thin strips

1/3

cup

sliced kalamata olives

Chopped tomatoes

romaine lettuce, and tzatziki for serving
For the vegan tzatziki:
1

cup

diced peeled cucumber

1/2

cup

raw cashews

soaked in water for 2-4 hours

1

tablespoon

lemon juice

1

clove

garlic

1

tablespoon

minced fresh dill

Salt to taste
Instructions
Whisk together the olive oil, lemon juice, cumin, oregano, garlic, salt and pepper in a large baking dish. Place the eggplant and onion in the dish and toss them with the marinade to coat. Let them sit at room temperature for about 15 minutes, stirring occasionally.

While the vegetables are marinating, making the tzatziki. Combine the cucumber, cashews, lemon juice, and garlic in a high-speed blender and blend until completely smooth. If the mixture is too thick, add water 1 tablespoon at a time—the sauce should have the consistency of a creamy salad dressing. Stir the dill into the sauce and season with salt to taste. Set aside.

Heat an indoor grill to high or an outdoor grill to medium. Put the eggplant and onions on the grill in a single layer (you might have to do them in 2 batches, depending on the size of your grill). Cook them for 5-7 minutes, until they're beginning to char, then flip them over and cook them on the other side until they're lightly charred and tender, about 5 minutes more.

Divide the eggplant, onions, roasted red peppers, and olives onto the pita bread and top them with tomatoes, lettuce, and tzatziki. Fold the bread over and serve.
Recipe Notes
Gyros can be messy! I like wrapping the bottom half of each gyro in foil to keep the juices from dripping out.
14