There are a lot of stroganoff sauce fans out there who don't eat meat. So what do you do when beef is out of the question, but you still want the comforting taste of sour cream, mushrooms and curly noodles? Easy, you make this portobello stroganoff instead!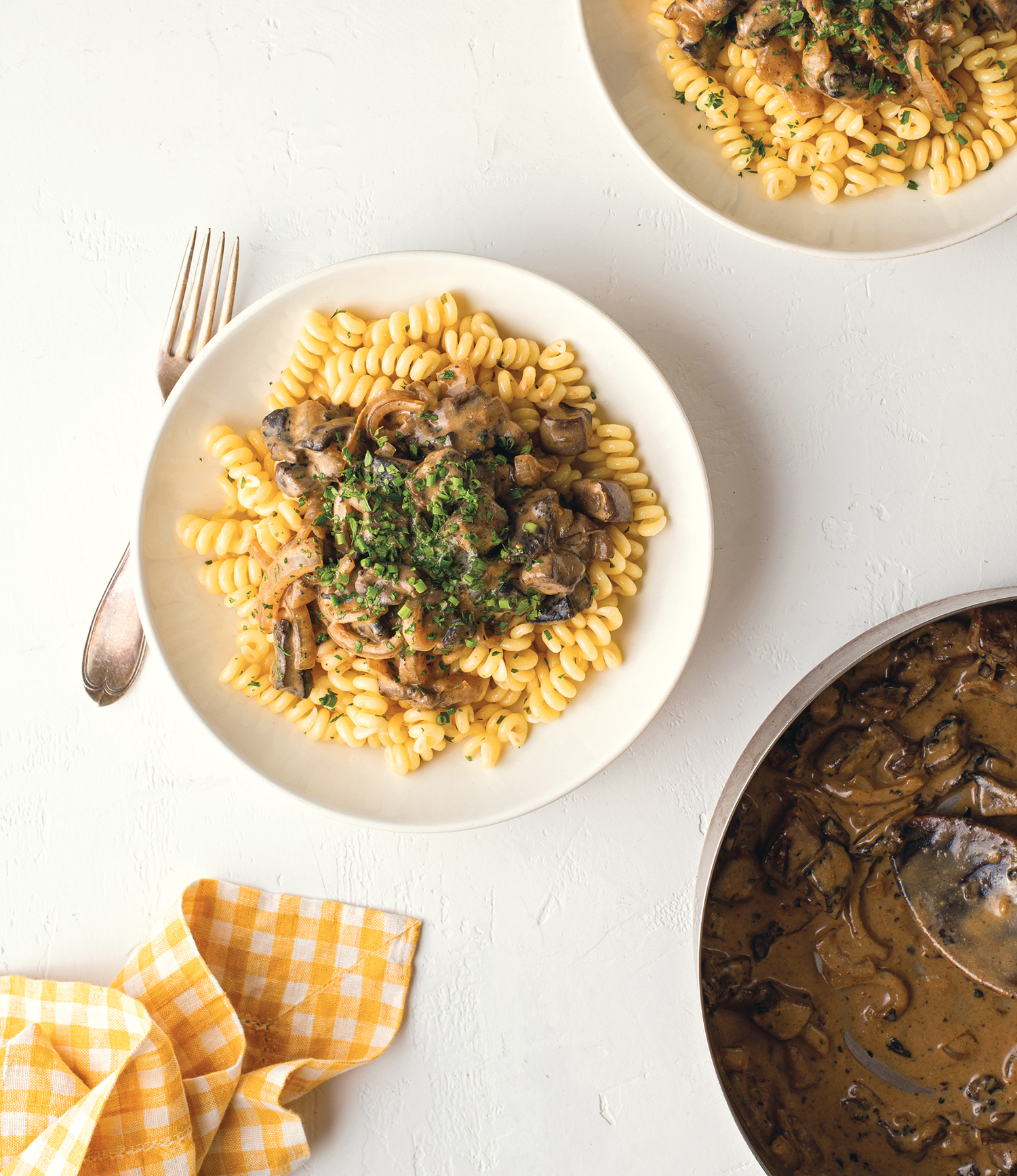 How to Make Portobello Stroganoff
"Stroganoff is a classic dish that was created by a French chef in St. Petersburg, Russia, in 1891 for a cooking contest. He won and the rest is history! The flavors are classically French (mustard) and Russian (meat in cream) at the same time. It's really easy to veganize and modernize, with meaty portobellos and yogurt, so if you have food nostalgia like me, you are going to love it. It's just as memorable and luxurious as the original. While it's traditional to serve stroganoff over a bed of curly noodles, it's also delicious with rice, vegan mashed potatoes and crispy roasted potatoes," says cookbook author Lisa Dawn Angerame.
Her book, The Vegan ABCs Cookbook: Easy and Delicious Plant-Based Recipes Using Exciting Ingredients―from Aquafaba to Zucchini, is an ode to plant-based cooking, designed for people who are just starting out on their vegan journey. These are the types of recipes that make you go "wait, is this really vegan?", cause they taste so good. If you're planning to say goodbye to boring pasta salads and side-dishes-served-as-mains, this is the cookbook for you.
For this portobello stroganoff recipe, Lisa goes simple: mushrooms, garlic, vegan yogurt and butter. Basic ingredients that honestly make all the difference. Grab the recipe below and consider buying The Vegan ABCs Cookbook on amazon or whever you buy your books.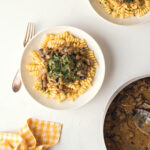 Vegan Portobello Stroganoff Recipe
Reprinted with permission from The Vegan ABCs Cookbook by Lisa Dawn Angerame, 2021.
Ingredients
Stroganoff
2

tbsp

good olive oil

2

tbsp

vegan butter

4

portobello mushrooms

stems and gills removed and chopped into big chunks

1

small onion

thinly sliced into quarter moons

2

cloves

garlic

pressed

2

tsp

paprika

1

tbsp

tamari

1

tbsp

nutritional yeast

½

cup

vegan white wine

½

cup

plain unsweetened vegan yogurt

2

tsp

grainy mustard
To Serve
fresh parsley

chopped

fresh chives

chopped
Instructions
Heat a cast-iron or nonstick skillet over medium-low heat. Add the oil and butter and melt them together. Add the mushrooms, onions, garlic and paprika. Cook, mixing around occasionally, until the mushrooms have released their moisture and have significantly reduced in size and the onions are soft, about 10 minutes. Season with tamari and nutritional yeast.

Deglaze the pan with the white wine and cook until the wine is mostly absorbed, about 2 minutes. Add the yogurt and mustard and mix until the sauce is uniformly creamy.

In the meantime, prepare the noodles. Bring a big pot of salted water to a boil and cook the noodles according to the package instructions. Drain the noodles and put them back into the pot.

Serve the noodles topped with stroganoff and a sprinkle of parsley and chives.
2