Holidays might be a joyful gathering opportunity, but they can also mean stress and overeating. When January comes, we know we need to return to a healthier lifestyle, with exercise, relaxation, and a diet rich in whole foods and nutrients. This comforting mushroom and barley soup is just what you need to slowly get back on the healthy lifestyle track – it's rich in protein, packed with minerals, and tastes delicious enough to please the whole family!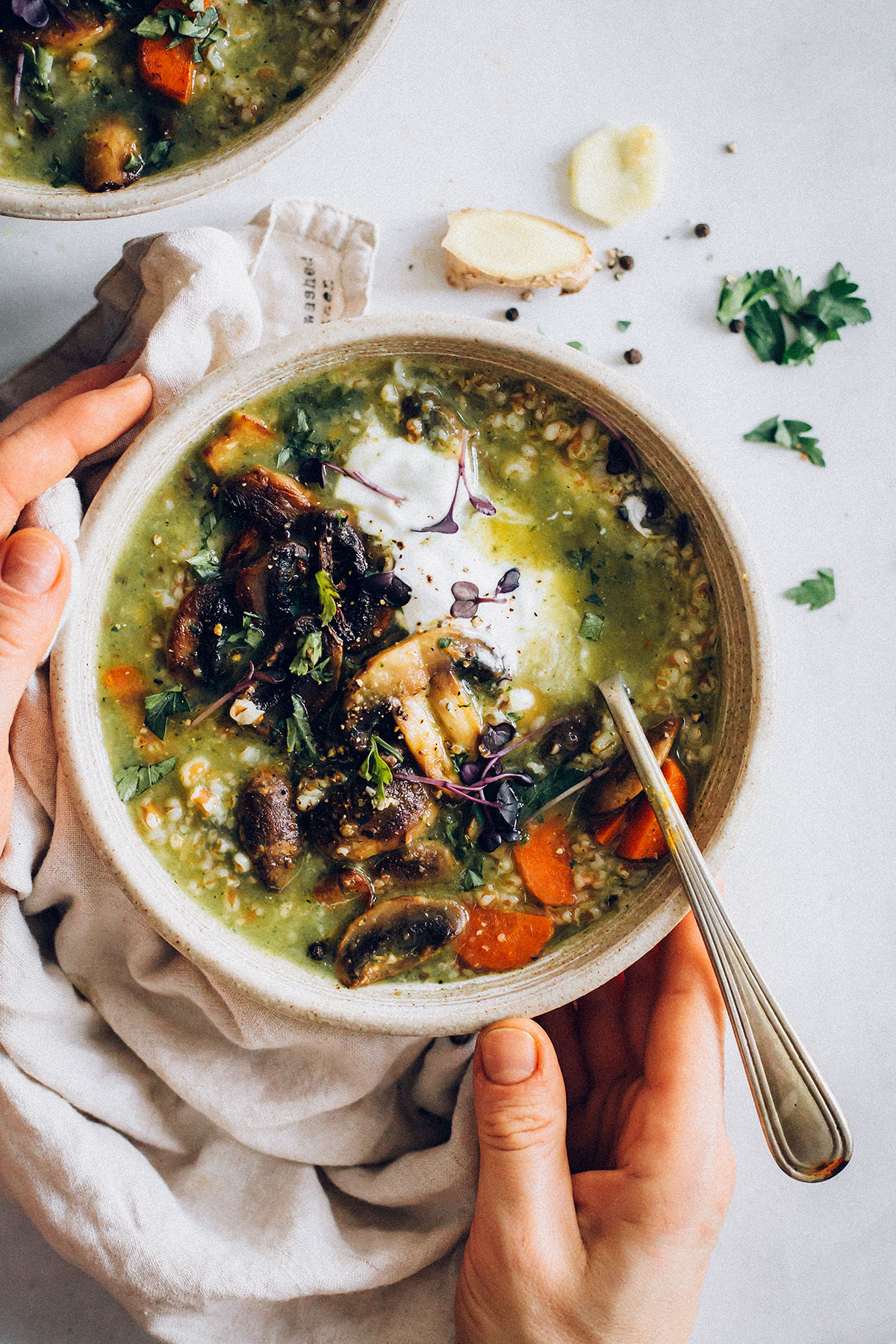 DOES BARLEY NEED TO BE COOKED BEFORE ADDING TO SOUP?
There are two ways to approach a mushroom and barley soup: you can use dried barley and cook it from scratch, but this will increase the making time of the soup, or you can cook the barley whenever you have the time (during your meal prep), and then add it to the soup. We went for the second version and used a batch of barley that we previously cooked in bulk for a risotto. Either way is fine, as long as you follow the cooking instructions from the package. If you have any excess cooking liquid, you don't throw away, but use it for the soup, because it's there where the minerals in barley have leaked.
WHAT KIND OF BARLEY DO YOU USE IN SOUP?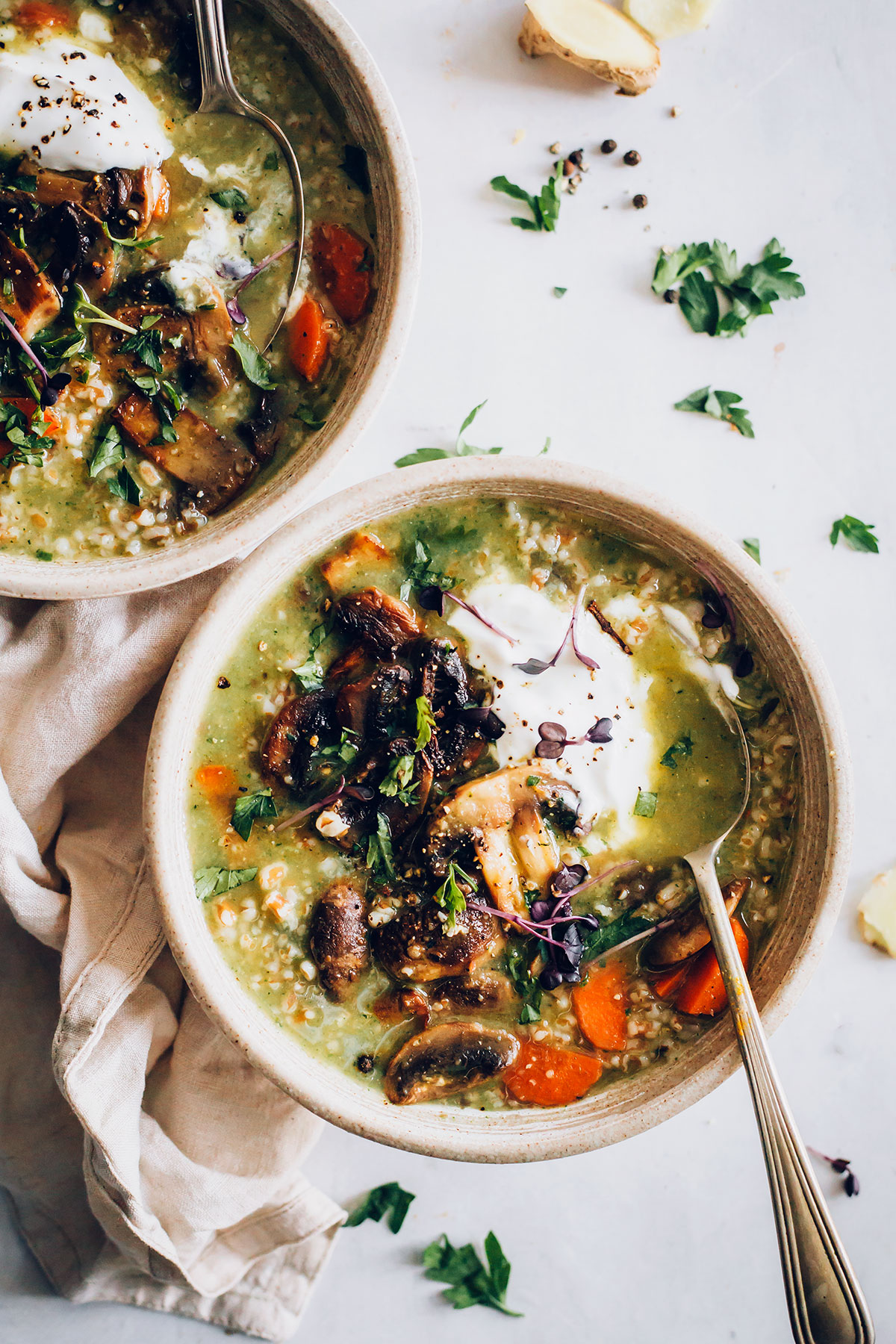 We always recommend using whole foods that haven't been refined, to get the maximum benefits of nutritional load. This is why we use hulled barley, the whole grain form, in which only the outermost hull has been removed. Hulled barley takes more time to cook (about an hour), but retains most of the minerals and fibre. Pearled barley is softer and takes less time to cook (about 30 minutes), but since its bran layers have been removed, its nutritional values are lower than its whole variety.
HOW TO MAKE MUSHROOM BARLEY SOUP
If you use barley that has been precooked, you can follow the classic steps of making a soup – sauté and simmer all the ingredients. If you are using dried barley, you will need to adjust the timings to accommodate the cooking time for each of the vegetables, just to make sure you don't get an overcooked mash of veggies and barley. Here are the steps we are taking for making a delicious mushroom barley soup:
Cook the barley first – if there's excess cooking water left, don't throw it away, but use it for the soup instead to make sure all the minerals are preserved.
Sauté the vegetables.
Add the vegetable broth and simmer.
Add the barley and spices.
Transfer 1/3 of the soup (including veggies and barley) into a blender and pulse to obtain a creamy liquid.
Combine the creamy liquid with the rest of the soup and serve warm.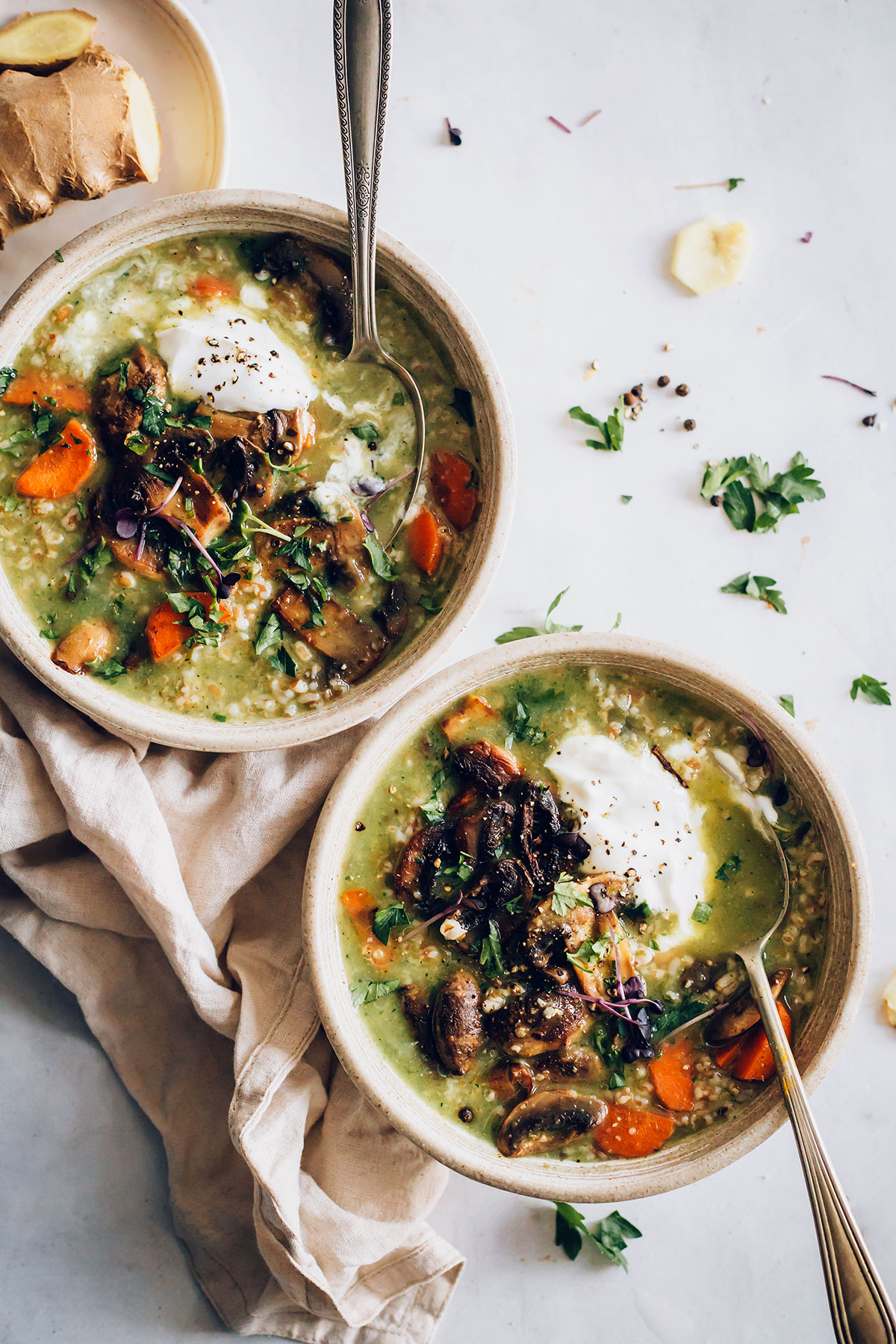 Ready to dig into the soup season? Try our Restoring Carrot Soup with Ginger and Miso, our Cream of Broccoli Soup or our Creamy Wild Rice and Portobello Soup.
Did you try this recipe? Post your photo and tag us #helloveggieblog on Instagram so we can share it with our community.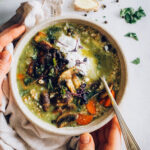 Creamy Vegan Mushroom Barley Soup
Loaded with protein, fibre and minerals, this easy vegan mushroom barley soup is comforting and cleansing, making a great meal after a stressful period.
Cook Time
1
hour
30
minutes
Ingredients
3

cups

Portobello mushrooms

1

yellow onion

2

celery stalks

1

carrot

1/2

cup

hulled barley

4

cups

low sodium vegetable broth

1

tbsp

avocado oil

1/2

inch

ginger piece, grated

2

tsp

turmeric

1/2

cup

frozen spinach

defrosted

Freshly ground black pepper

1

small bunch

fresh parsley

chopped

1/3

cup

soy yogurt

to serve
Instructions
Cook the barley according to the package instructions (about 60 minutes).

Cut the mushrooms into large chunks, dice the onion, carrot and the celery stalks, and add them into a medium soup pot with the avocado oil, ginger and turmeric.

Cook over medium heat for 5 minutes, stirring frequently.

Add the vegetable broth and bring to boil over medium heat.

Lid the pot, turn the heat to low and simmer for 20 minutes.

Add the barley and spinach, mix, and simmer uncovered for 10 more minutes.

Transfer 1/3 of the soup (including veggies and barley) into the blender and process to obtain a creamy liquid.

Pour the blended soup back into the pot and mix to combine. Season with freshly ground black pepper.

Divide into serving bowls, add a dollop of soy yogurt to each bowl, garnish with fresh parsley and serve warm.
Nutrition Facts
Creamy Vegan Mushroom Barley Soup
Amount Per Serving
Calories 299
* Percent Daily Values are based on a 2000 calorie diet.