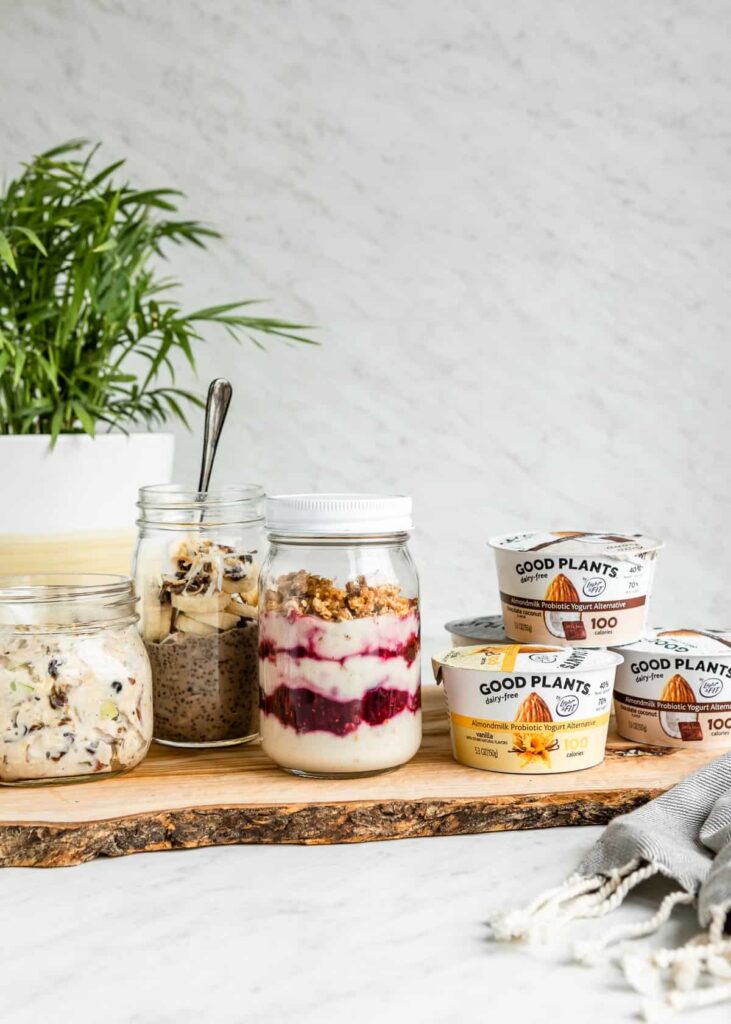 Springtime is a time to think about incorporating new habits or setting short-term and long-term goals. Some new goals may be starting each morning with a plant-based breakfast, practicing good sleep hygiene, or being more consistent when it comes to a daily exercise routine. Maybe it's paying closer attention to labels when buying groceries or making self-care a top priority.
Starting each day off with a few good habits lead to success in the near and far future. Eating a balanced breakfast is something I haven't been consistent about for one reason or another. This year, I'm focusing on eating breakfast before I check my email, scroll through Instagram, or start on the other tasks of the day. So far, so good!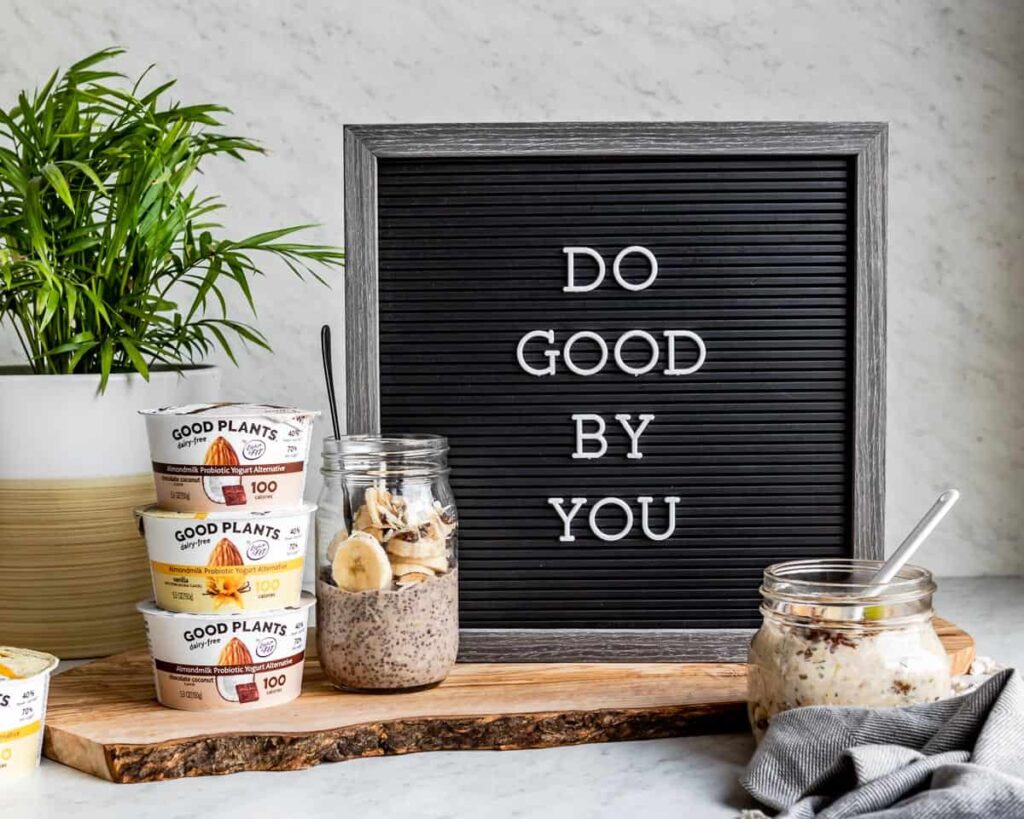 So, join me in putting self-care back at the top where it belongs by starting each day with a plant-based breakfast. I'm sharing three quick and easy make-ahead, plant-based breakfast ideas made that help me get my morning (and self-care) off to a great start. Breakfast is such an important meal of the day, it may as well be delicious too!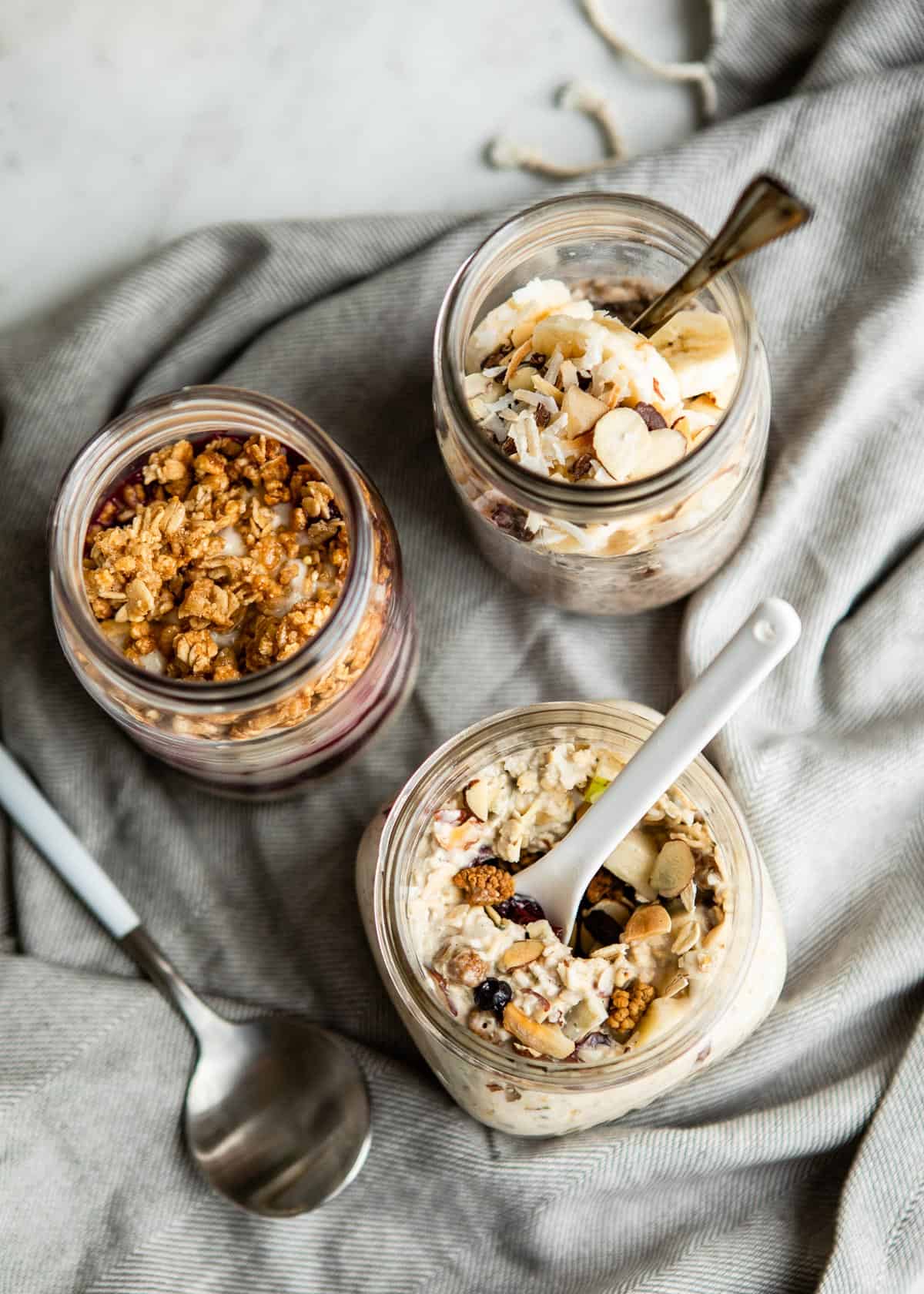 Make Ahead Breakfasts are Everything
Make-ahead breakfasts save the morning—for real. There's peace of mind knowing there's breakfast waiting. I'm 100% more likely to eat breakfast when it's either already prepped or super easy to pull together. All of these breakfast recipes can be made in advance for an entire week's worth of easy, plant-based meals. All three are also portable, so no excuses!
Upgraded Chia Pudding
Chia pudding is one of my favorite go-to easy breakfasts. It offers protein, fiber, and omega-3 fatty acids. This recipe uses Good Plants Chocolate Coconut almond milk probiotic yogurt alternative for an extra delicious twist. For a little extra protein and some crunch, I like to stir in nuts, cacao nibs, and other seeds. Top with fruit, if desired.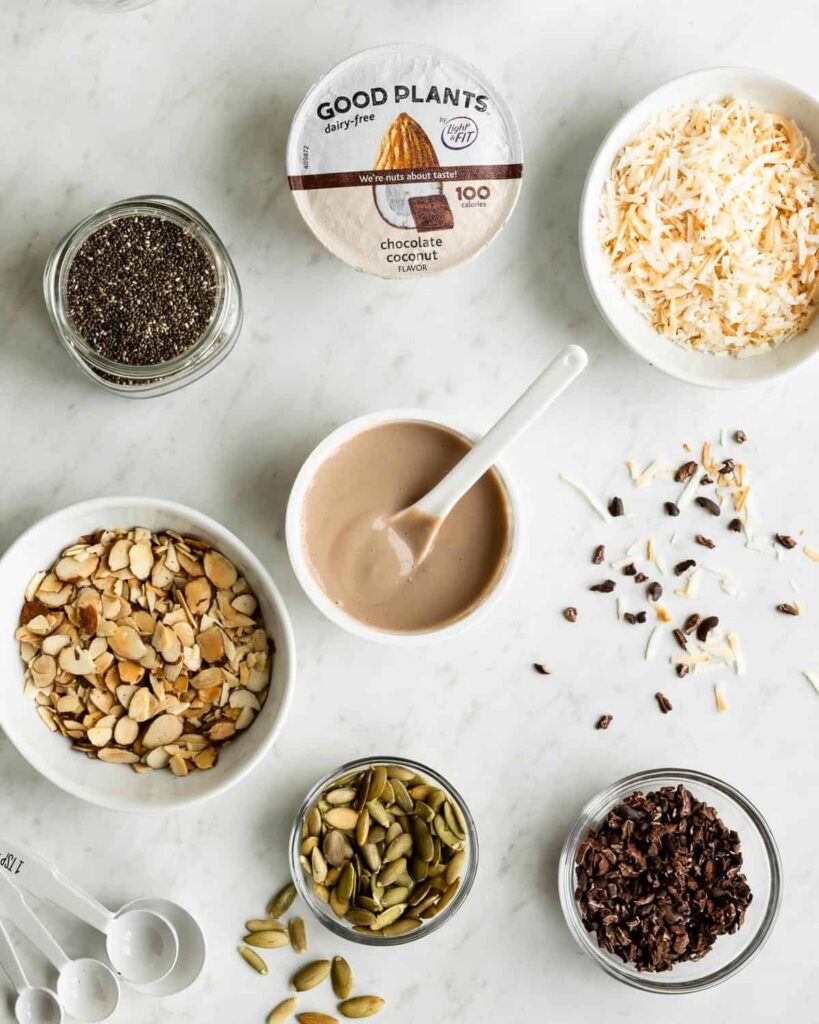 To make this Upgraded Chia Pudding:
Stir together:
1 (5.3-ounce) container Good Plants™ Chocolate Coconut almondmilk probiotic yogurt alternative
2 tablespoons chia seeds
2 tablespoons sliced almonds, toasted
2 tablespoons pepitas (pumpkin seeds)
1 tablespoon shredded coconut, toasted
1-2 teaspoons cacao nibs (optional)
Banana slices, for serving
Place in a canning jar or other container with tight-fitting lid. Store in refrigerator for up to one week. Serve with sliced banana or other fresh fruit, if desired.
Loaded Overnight Muesli
Another easy breakfast is Overnight Oatmeal. This take is more like muesli with added diced apple, nuts, seeds, and a mixture of dried fruit. So, I'm calling it Loaded Overnight Muesli. The pleasant tang of the creamy Good Plants Vanilla pairs well with the muesli. To add some extra protein, drizzle with your favorite nut butter or add a scoop of your favorite plant-based protein powder.
Another thing that makes this breakfast special is that I toast the oats, sliced almonds, and coconut. It adds extra flavor and preserves the texture of the individual components. Toasted oats also take on a natural sweetness. Basically, you'll wonder why you've never done it before.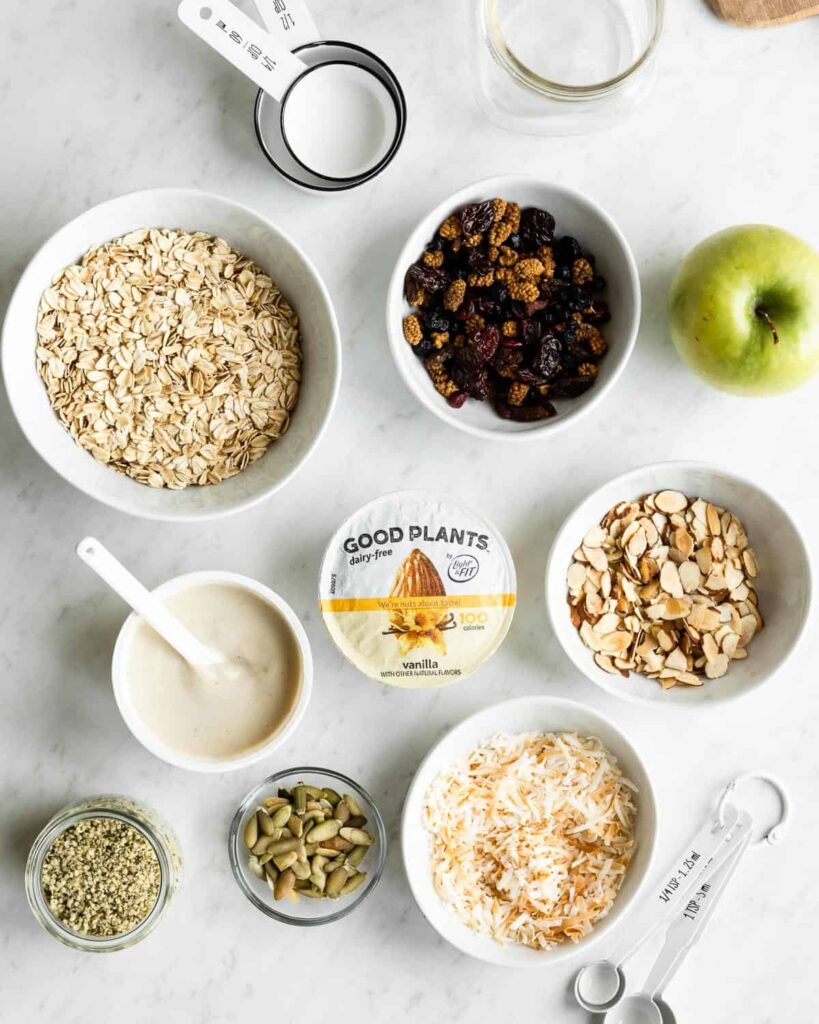 How to make Loaded Overnight Muesli:
Stir together:
1 (5.3-ounce) container Good Plants Vanilla almond milk yogurt alternative
1/2 cup old-fashioned rolled oats, toasted
1/4 apple, diced
2 tablespoons dried fruit
2 tablespoons sliced almonds, toasted
1 tablespoon hemp hearts
1 tablespoon pepitas (pumpkin seeds)
1 tablespoon plant-based protein powder (optional)
1 tablespoon nut butter, for serving (optional)
A little almond milk, if needed, for thinning
Place in a pint-sized canning jar or other container with tight-fitting lid. Refrigerate for up to one week. Before serving, stir well. Add a little almond milk if the muesli is too thick. Top with a drizzle of almond butter, if desired.
To toast oats: preheat oven to 350°F and place oats directly on a rimmed baking sheet. Place pan in oven. Toast for 5 minutes, stir, and continue toasting for another 5 minutes. Keep stirring every five minutes or so until oats smell toasty and nutty and are slightly more golden. It should only take 10-15 minutes total but may take a little longer according to preference. Let cool completely and store in airtight container until ready to use.
Vegan Breakfast Parfait with Protein Granola
Last, but certainly not least, the ever-popular Breakfast Parfait. This is another go-to. It's so delicious, easy to make, and filling. Layers of creamy Good Plants Vanilla, homemade naturally sweetened fruit compote (jam works, too!), and high-protein granola are irresistible.
Protein granola is easy to make at home or there are store-bought options as well. Add 1/2 cup plant-based protein powder to your favorite granola recipe.

As I mentioned earlier, Good Plants Vanilla is so yummy. And it really is super creamy, too. Other non-dairy yogurt alternatives I've had pale in comparison! The fruit compote is super easy to make. I just place frozen berries in a saucepan and add a little sweetness, if needed, and lemon juice. Simmer until the juices start to thicken up. Taste and add a little more sweetener, if needed. I prefer to use 100% pure maple syrup, stevia, or 100% fruit juice.
To make this Vegan Breakfast Parfait:
Layer 3x in a pint-sized jar or dessert glass:
1/3 of a 5.3 ounce container Good Plants Vanilla almondmilk probiotic yogurt alternative
2 tablespoons 100% fruit compote or jam
3 tablespoons protein granola
Cover and refrigerate for up to one week. Serve chilled.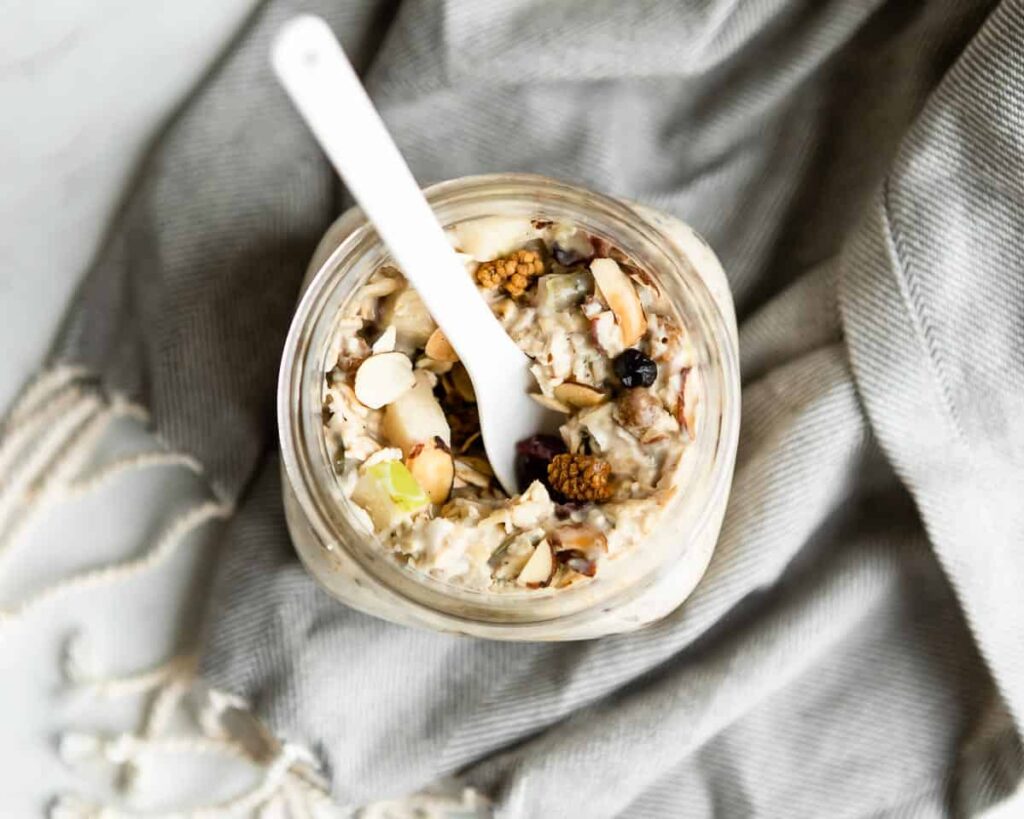 4