I'm about to start my third year as a CSA member. The first year, I was terrible at it–every box felt like a burden and I could never cook everything before it spoiled. (It didn't help that I had a newborn and c-section complications at the time–or that the farm sent an obscene amount of greens and pea shoots in every box, with hardly anything else we liked.)
The next year, we joined a CSA farm that was more of a fit for us–we could get a bi-weekly share instead of weekly and there was a better variety of produce. And then things totally gelled. I love our CSA box now. It makes cooking and meal planning so much easier. Here's how I cracked the code to get the most out of our CSA membership.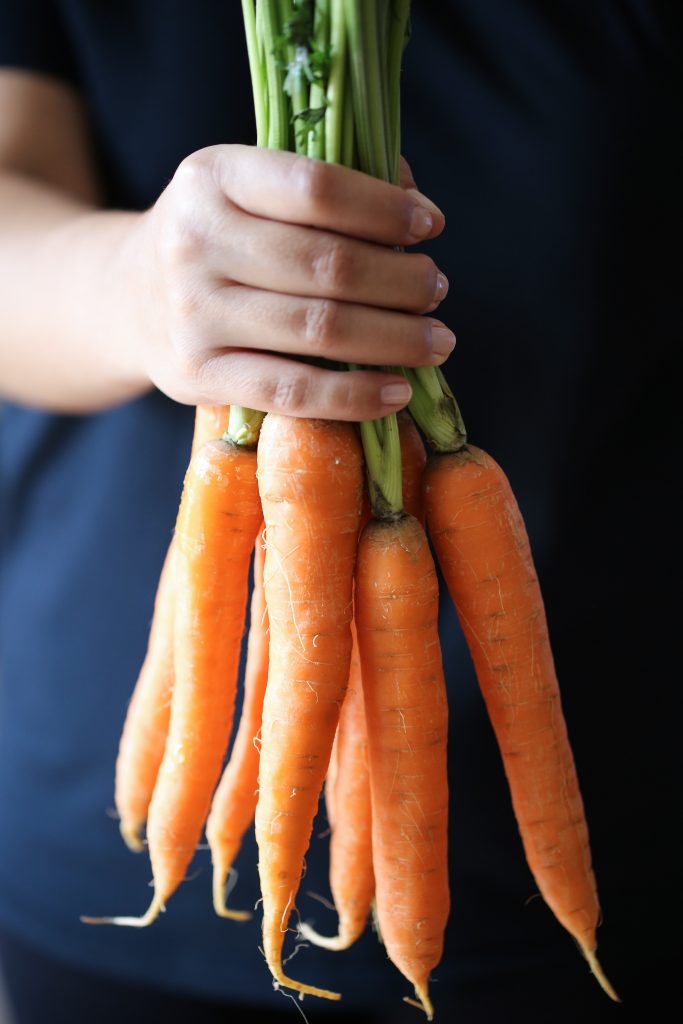 Stock Up on Pantry Staples
The thing I most love about CSA season is that I rarely have to pick up more than a handful of things at the grocery store each week. At the beginning of the summer, I stock up on the components I need to make meals: pasta, tortillas, beans, grains, tofu, tempeh, oils and vinegars.
Use these pantry staples to put together simple, recipe-less dinners. Roast some vegetables for a meal bowl (here's some inspo) or for tossing with pasta (this recipe can be changed up depending on what's in season). I love a lentil salad paired with a bowl full of arugula or spinach and sautéed zucchini. Make black bean tacos with quick-pickled corn and red onions or grill some eggplant slices for a sandwich.
Be Mindful of Shelf Lives
Knowing how long things last and in what order to use your produce is totally crucial. Asparagus, strawberries and corn? Use them right away! Tomatoes, green beans, zucchini, and eggplant? They'll last several days, up to a week. Potatoes, onions, and winter squash? They'll keep for a few weeks, so there's no rush!
If you have more vegetables than you can eat before they spoil, consider freezing some of it. Blanch first, then freeze everything on a baking sheet lined with parchment paper and transfer to freezer bags. Note that some things freeze better than others, though–crucifers, green beans, and corn are great frozen, but eggplant and zucchini? Not so much.
Consult Some Seasonal Cookbooks
Cookbooks that are organized by season or by ingredient, rather than by course, can be really helpful when you're a CSA member. Here are some of my favorites:
Martha Stewart's Vegetables: Inspired Recipes and Tips for Choosing, Cooking, and Enjoying the Freshest Seasonal Flavors
The Love and Lemons Cookbook: An Apple-to-Zucchini Celebration of Impromptu Cooking by Jeanine Donofrio
The Broad Fork: Recipes for the Wide World of Vegetables and Fruits by Hugh Atcheson
Root to Leaf: A Southern Chef Cooks Through the Seasons by Steven Satterfield
Vegetable Literacy: Cooking and Gardening with Twelve Families from the Edible Plant Kingdom by Deborah Madison
Share the Bounty
Sometimes your box has more than you can possibly handle, especially at the peak of the harvest. If this happens on the regular, you might want to switch to an every-other-week plan next year if your CSA has them or share your box with a friend. Many food pantries also accept donations of fresh produce–just call in advance to make sure they have a need for what you're wanting to share.
Another way to share your CSA box is to make recipes you can give to others. Too much rhubarb? Bake some rhubarb bars for the neighbor who always gets your mail when you're on vacation! And no one will turn down a jar of homemade pesto or tomato sauce.
Meal Prep, Meal Prep, Meal Prep!
If you have time on the weekends, the best way to make sure you're not wasting anything from your CSA box is to prep as many of your meals for the week on Saturday or Sunday–especially meals involving ingredients that spoil quickly. When we get big bunches of herbs in our CSA box, I make them into pestos immediately. During the height of tomato season, I prepare big batches of our favorite pasta sauce to freeze for later.
In addition to sauces, which pretty much universally freeze well, try freezing soups and casseroles–lasagna and stuffed shells can be loaded with seasonal vegetables and frozen for future dinners.
Photo by Rebecka G. Sendroiu on Unsplash
0