Pasta is easily one of my favorite foods. It's filling, comforting, and you can do virtually anything to it and it will still taste amazing. It seems like it's always one of those dishes that can satisfy anyone, and so many cultures have their own variations of it. I really could eat it every day, but the problem is, I'd have to work pretty hard to keep those calories at bay. So, here's where veggie noodles come into play.
Zucchini noodles make for great pasta dishes – even for those who have never tried making veggie noodles. Like traditional pasta noodles, their natural flavor is simple enough to serve as a base for other tasty ingredients. They also hold up strong, so you can add in a bunch of your favorite foods.
Check out these 2 super simple zucchini pasta dishes that will satisfy even the most die-hard pasta lovers. And don't worry if you don't have a veggie spiralizer. I bet you have a potato peeler somewhere!
Grain-free Zucchini Pasta Recipe with Tahini Sauce
Zucchini matches perfectly with the beautiful flavors of tahini. And, when you throw in avocado, what could be better? While you can certainly find pre-made tahini sauce at the store, it's really easy to make, and we all know that fresh is best. This is a great dish for a warm summer day when you don't want to pack on extra carbs before hitting the pool, too.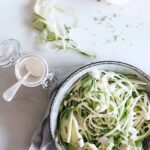 Grain-free Noodles with Tahini Sauce
Ingredients
Makes 2 servings

1/3

cup

tahini

¼

cup

cold water

1

lemon

juiced

1

garlic clove

minced

½

teaspoon

sea salt

2

teaspoons

chopped chives

1

avocado

sliced
Instructions
Spiralize the zucchini
Use a vegetable spiralizer for best results. If you do not have a spiralizer, slice the zucchini in half, lengthwise. Remove the seeds from both halves using a spoon. Using a potato peeler, make long, thin strips. These are your noodles. Place the noodles in a large serving bowl and top with tahini sauce.
Prepare tahini sauce
Add the following ingredients to a jar with a lid for easy storage (Mason jars work well): tahini, cold water, lemon juice, garlic, sea salt. Close the jar and shake vigorously. The sauce should be thin and easy to pour. If it's too thick, add more cold water. Add salt and lemon to taste.

Pour the sauce on top of your zucchini noodles and mix. Top with chives and sliced avocado.
Zucchini Spiral Salad with Fennel
Look no further for an easy, healthy lunch or dish to bring to a summer party. Once you have your tahini dressing made, all you need is 3 ingredients! It also looks beautiful and elegant with its diversity of colors.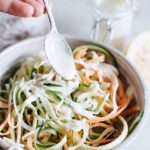 Zucchini Spiral Salad with Fennel
Ingredients
2

small to medium zucchini

spiraled

1

cup

fennel

sliced

1

cup

grated carrots
Instructions
Spiralize the zucchini, and place it in a large salad bowl. If you don't own a vegetable spiralizer, use a vegetable peeler to make long strips. Discard the seeded middle portion.

Add fennel and carrots to your zucchini.

Top with Tahini Dressing.
Photos by Ana Stanciu
0