If you're wondering whether it's possible to safely go through pregnancy as a vegetarian here's the short answer: yes! It's completely possible to get adequate energy, protein, and essential nutrients while eating a vegetarian or vegan diet.
Any pregnant person needs to be mindful of their diet in order to best nourish both themselves and their growing baby. It's true that vegetarians need to be more mindful when it comes to certain nutrients that can be a challenge to find on a plant-based diet, but it's far from impossible.
Here's what you need to know about vegetarian pregnancy nutrition: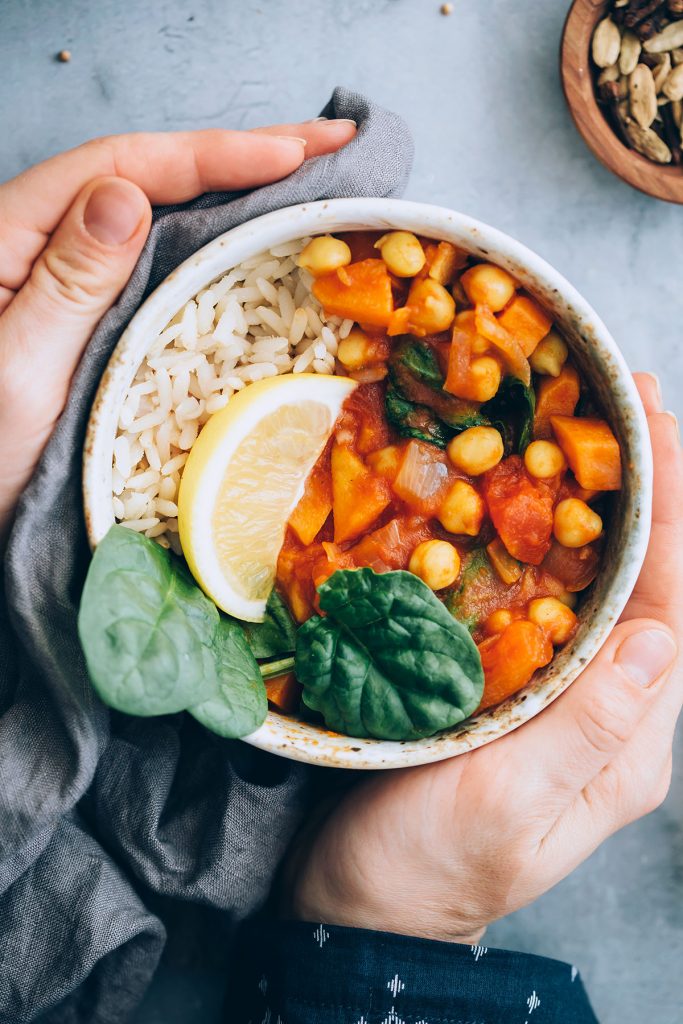 Calorie Intake
When you're pregnant you are indeed eating for two, however it's important to keep in mind that one of you is really really tiny. Whether or not you need to add extra calories to your diet really depends on your activity level, genetic make-up, and body composition.
Some resources estimate that pregnant people should add up to 300 calories each day, however, you may need as little as 100 extra calories, which is equivalent to having a banana or a small handful of nuts. It's better to strive for quality over quantity, and ensure your diet is comprised mostly of nutrient dense foods whenever possible.
Protein
During pregnancy protein needs increase (for everyone) so it is particularly important for vegetarians to be mindful of where their protein is coming from – even if that question is super annoying.
When it comes to pregnancy, recent research is suggesting that the protein recommendations have likely been drastically underestimated until this point. A good ballpark figure is to aim for about 80 grams of protein per day in early pregnancy (before 20 weeks) and 100 grams of protein per day in late pregnancy (after 20 weeks)
A simple solution is to aim for a 25g serving of protein with each meal, and protein rich snacks in between. You may consider using some high-quality protein powder if you're having trouble meeting the recommended intake of protein with your regular diet. Here are some plant-based ways to add more protein to your day.
Choline
Like folate, choline is member of the B-vitamin family. Choline has been lesser known, however it's an incredibly important nutrient during pregnancy; it has many of the same beneficial effects on a developing baby as folate, including preventing neural tube defects.
An estimated 94% of all women do not meet the recommended daily intake of 450mg of choline per day, let alone pregnant women, so it's safe to assume you're in need of this valuable nutrient.
Egg yolks are one of the foods with the highest concentrations of choline; eating just two whole eggs per day will get you half way to the RDI for choline. However, if you don't eat eggs, including a choline supplement in your diet (or ensuring that your prenatal multivitamin contains choline) is really important.
Iron
Pregnant vegetarians need to be particularly mindful of iron levels, as non-heme (plant-based) iron is not absorbed by our bodies nearly as well as heme (animal) iron. Low iron intake during pregnancy is related to a number of complications, including preeclampsia, hypothyroidism, and pre-term birth.
By the end of a normal pregnancy your blood volume has increased by about 40%. However, blood iron levels don't naturally increase with that volume, so it's especially important to be mindful of your daily iron intake.
Growing a person puts a lot of pressure on your irons stores! In over 25 years of vegetarianism I've actually never needed an iron supplement except during my two pregnancies. And both times I was doing great up until about 25 weeks, at which point I had to start supplementation.
The recommended intake of iron for the average pregnant women is 27 milligrams per day for non-vegetarians. For vegetarians that number increases by 1.8 for a total of about 50mg of iron per day.
Foods like beans and legumes, spinach, pumpkin seeds, and blackstrap molasses all have iron in them, but you may need to also take an iron supplement to make sure you're meeting your daily needs.
Calcium blocks iron absorption, so it's a good idea to avoid calcium supplements, dairy, or calcium-fortified foods within a couple of hours of taking an iron supplement. Vitamin C enhances iron absorption, however, so eating an orange or drinking a glass of juice with your supplement is a good idea.
B12
Vitamin B12 is a critically important nutrient, particularly during a vegetarian pregnancy. B12  plays an important role in the normal functioning of the brain and nervous system, as well as cell metabolism, fatty acid metabolism, amino acid metabolism, and the synthesis and regulation of DNA. Not only that, but B12 partners with folic acid to aid in proper fetal development.
The US recommended daily intake for adults is 2.4 µg (micrograms) of vitamin B12/day. This bumps up to 2.6 µg during pregnancy, and 2.8 during lactation and breastfeeding, as babies born to mothers who are vegetarian and are exclusively breastfeeding may not get enough B12 if their mother is not supplementing. Accordingly, the American Dietetic Association recommends B12 supplementation for both vegans and lacto-ovo vegetarians during pregnancy and lactation to ensure enough B12 is transferred to the fetus and infant.
Vitamin B12 is found in most animal foods, including meat, fish, poultry, eggs, and milk products. Other than some fermented foods, there are very few non-animal food sources of biologically active B12. There are lots of vegan foods that are fortified with vitamin B12, including non-dairy milks, breads, cereals, meat substitutes, and some types of nutritional yeast.
Omega-3s
Omega-3 fatty acids, and in particular DHA, are vitally important during pregnancy. Get this – the human brain is approximately 60% fat (by weight) and about 15-20% of all the fat in our brain is comprised of the omega-3 fatty acid DHA.
Throughout pregnancy DHA is incorporated into your baby's developing brain – which is being formed from scratch – where it helps with the formation of brain cells and is protective of inflammation and damage in the brain.
During the last three months of pregnancy, pregnant people should aim to consume at least 300mg of DHA per day, though studies have shown that even higher levels may be beneficial. The richest source of dietary DHA is found in fatty fish such as salmon. However, you can also find DHA in egg yolks and some full-fat dairy products.
If you, like me, are a vegetarian who doesn't eat fish, it may be difficult to reach your daily DHA needs from food alone. It's important to note that plant-based sources of omega-3 fatty acids are typically rich in ALA, which does NOT convert efficiently to DHA in our bodies. So include flax, walnuts, and chia seeds as part of a healthy vegetarian pregnancy diet, but please don't depend on them for your omega-3 intake.
If you're vegetarian, and especially if you're vegan, I recommend that you look into an algae-based DHA supplement. Algae is where the fish get their DHA from in the first place, and is the ONLY reliable plant-based source of DHA.
Collagen
During pregnancy not only are you building an entirely new person from scratch, but there is tremendous pressure on your own growing body as well. For this reason collagen protein becomes important to support the formation of the baby's skeletal system, but also to support your own joints and stretching skin.
While dietary sources of collagen aren't vegetarian, the good news is that your body is able to produce collagen protein on its own, and there are plenty of food you can eat that contain the building blocks of collagen or support collagen formation.
Learn more about how to support collagen formation on a plant-based diet.
Calcium
Most adults of child bearing age have pretty good calcium stores. During pregnancy your growing baby will take what it needs in order to form its skeletal system and teeth, potentially leeching calcium from your system. For adult women the recommended daily intake is 1000mg per day, with that number bumping up to 1200mg per day during pregnancy and lactation.
It is, however, easy enough to meet your daily calcium requirements on a plant-based diet. Foods like leafy greens, beans, almonds, and sesame seeds are all good sources of calcium.
If you don't regularly eat calcium-containing foods such as dairy products aren't a regular part of your diet, you may want to include a calcium supplement with your prenatal vitamins. Keep in mind that calcium competes with iron and zinc for absorption, so they should be taken separately.
6