I think we can formally declare that soup season has started. As a person who tends to run cold even on the hottest summer days, this chilly weather has me wanting to eat steaming bowls of soup for every meal. If I can eat these bowls of soup while wrapped in a blanket, even better. It's cold out, y'all. The time to hunker down inside and simmer a big pot of soup on the stove is now.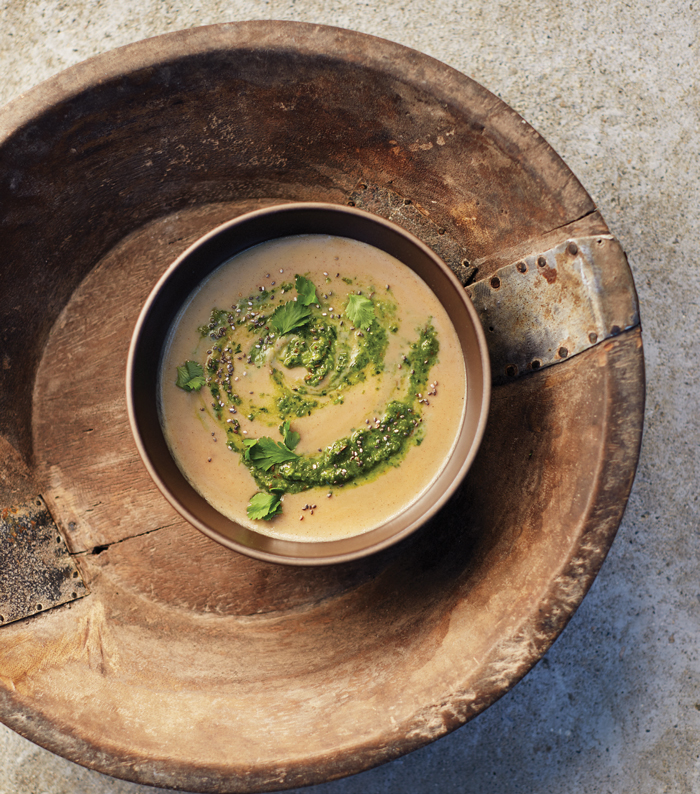 This Sweet Potato & Maca Soup is warm and comforting, with a superfood bonus: antioxidant-rich spices, healthy fats from coconut oil and almond butter, garlic and sweet potatoes, fiber-packed chia seeds and maca, which is an adaptogen. If you haven't had maca before and you're a little leery, don't worry—it adds a slight sweetness, but it's not an ingredient that needs to be hidden or masked. It tastes good, with a subtle butterscotch flavor.
Maca is a root that's native to the Andes. It's rich in vitamins, minerals and amino acids, and it's a natural alternative to caffeine. Traditionally, it's been used to help balance the endocrine system thanks to alkaloids called Macainas and some claim that it can increase fertility as well.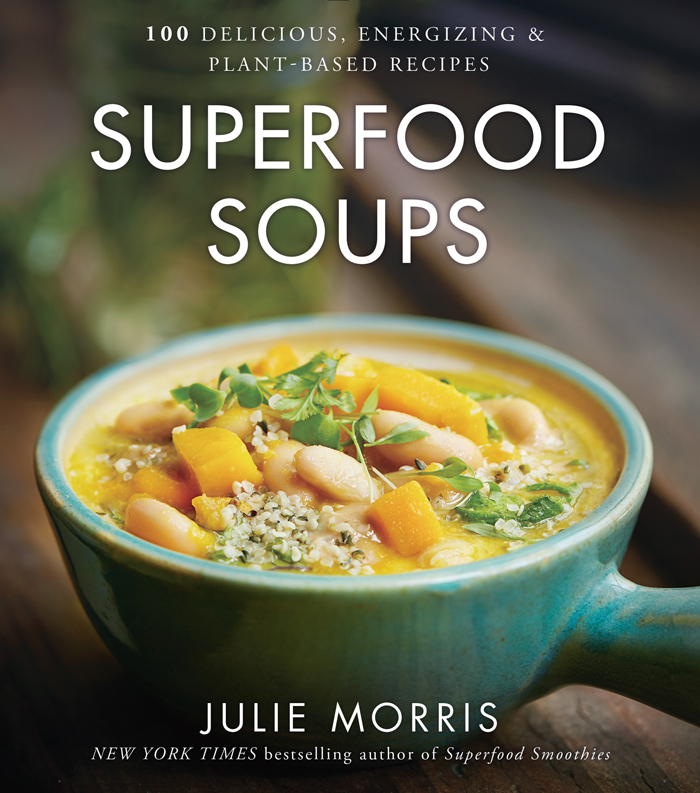 Superfood Soups is the latest cookbook from superfood expert Julie Morris and if you're into soups and healthy eating, you will adore this book. The recipes are creative, delicious and they're entirely plant-based too. Although this Sweet Potato & Maca Soup was first on my to-make list, I've also bookmarked the Fennel Bisque with Goldenberry Chutney, Chia Tortilla Soup and Oyster Mushroom Chowder with Coconut Bacon Bits. (Can you tell I'm totally ready for soup season?)
Purchase Superfood Soups: 100 Delicious, Energizing & Plant-Based Recipes on amazon.com.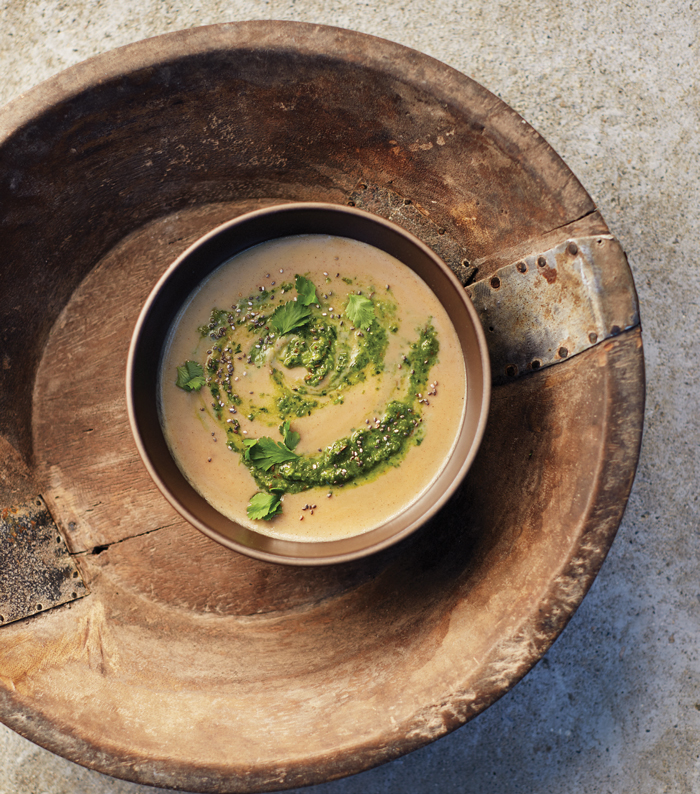 Sweet Potato & Maca Soup with Green Harissa
Reprinted with permission from Superfood Soups © 2016 by Julie Morris, Sterling Publishing Co., Inc. Photography by Oliver Barth
Ingredients
½

tsp

chili powder

¼

tsp

ground cinnamon

¼

tsp

ground nutmeg

¼

tsp

ground cumin

¼

tsp

ground coriander

1

Tbsp

coconut oil

1

yellow onion

diced

4

cloves

garlic

sliced

1

lb

sweet potatoes

peeled and grated

2

Tbsp

maca powder

4

cups

Vegetable Broth

store bought

¼

cup

creamy almond butter

Sea salt and ground black pepper

¼

cup

Green Harissa

store bought, or more as desired

Chia seeds

for garnish

Cilantro leaves

for garnish
Instructions
In a small prep bowl, create a spice mix by combining the chili powder, cinnamon, nutmeg, cumin, and coriander, and set aside.

Heat the coconut oil in a heavy-bottomed pot over medium heat. Add the onion and cook until softened, about 7–8 minutes, stirring occasionally. Add the garlic and prepared spice mix, and cook 1 minute longer, stirring constantly.

Mix in the sweet potatoes and maca, and then add the vegetable broth and almond butter. Bring the mixture to a boil over high heat, and then reduce the heat to medium-low and simmer for 15 minutes.

Transfer the soup to a blender, and puree until smooth. Season to taste with salt and a generous amount of ground black pepper, and add a little water, if needed, to thin the soup. (For a smoother texture, strain the soup through a fine mesh sieve, and reheat gently until ready to serve.)

Ladle the soup into serving bowls and swirl a tablespoon of Green Harissa (or more, if you like) on top. Scatter a pinch of chia seeds and cilantro leaves on top as garnish.
7