I'm not sure when energy balls officially became a thing but it seems like they're here to stay—and I love it. In case you're new to the energy ball scene, they're delectable little bite-sized bits of nuts, seeds, and sometimes even chocolate wrapped in a little spherical package. Part of what makes them so appealing is that they're packed with all the nutrients you need for a burst of energy in a super easy grab-and-go format. Not only do they have the ideal ratio of protein, carbs and healthy fats, but they're also loaded with all-natural superfoods like walnuts, chia seeds and coconut for an added boost.
Vegan + Grain-Free Superfood Energy Balls
I personally love energy balls because they make the perfect mid-day snack. Rather than be tempted by my husband's stash of potato chips around the 3 o'clock slump, I can just grab an energy bite and be on my way. But they're not just relegated to the mid-afternoon. Because they're loaded with protein and plant-based carbs, they make for an amazing post-workout snack or even a well-balanced breakfast. Grab a couple after you hit the gym (or better yet, take a few with you!) to refuel quickly and give your body the energy it needs following a sweat session.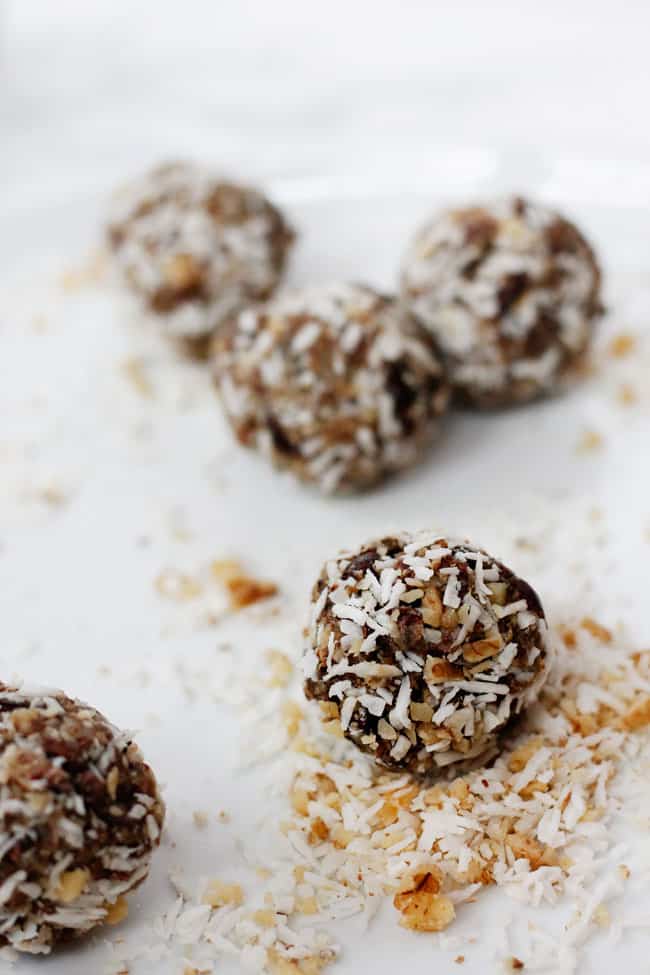 This energy ball recipe doesn't contain any gluten, dairy, grains or refined sugar—only healthy seeds, nuts and oils.
Coconut is high in antioxidants and medium-chain fatty acids that help reduce inflammation and keep cravings at bay. Flax seeds are loaded with healthy omega-3 fatty acids and are a rich source of lignans, which may help reduce the risk of cancer. And chia seeds are chock full of healthy nutrients while also being low in calories. Just mix with the nuts of your choice (or avoid entirely if you're allergic to tree nuts) and agave for a touch of sweetness.
With the help of a blender or food processor, you can make these babies in 10 minutes flat! To keep them from going bad, I like to store mine in the freezer until I'm ready to eat them—you can freeze them for up to a month and just grab one whenever you need a quick hit of energy.
Here's a quick video showing you how fast and easy they are to whip up.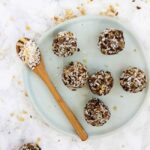 Grain-Free Superfood Energy Balls
Grain-free, vegan, and packed with protein, these superfood energy balls are a healthy snack that will help you power through the day.
Ingredients
½

cup

coconut flakes

½

cup

almond butter

½

cup

ground flax seeds

½

cup

cacao nibs

½

cup

finely chopped walnuts

1/3

cup

agave

1

tablespoon

coconut oil

1

tablespoon

chia seeds

1

teaspoon

vanilla extract
Instructions
Line a baking sheet with wax paper. Pour the coconut flakes onto a plate.

Combine the remaining ingredients in a bowl and stir until well mixed. Drop small spoonfuls of the dough onto the plate of coconut flakes and use your hands to form them into balls.

Transfer the balls to the lined baking sheet, and place in the freezer for 10 minutes to solidify, then transfer to a sealed food storage container.
Recipe Video
Recipe Notes
Store the energy balls in the refrigerator for a week or the freezer for up to a month.
1