Who knew that nettles—you know, those pesky yard weeds that sting like the dickens when you try to pull them?—had such amazing hidden powers? The Chalkboard Magazine, that's who. Just like dandelion greens, nettles have tons of health benefits. We're sharing their recipe for a omelet made with stinging nettle, spring onions and Parmesan; it's the perfect healthy spring brunch! Get the recipe below!
Not only are stinging nettles absolutely delicious, they're super good for you… packed with fiber, protein, vitamins A, C, D, and K. Nettles are a miraculous anti-inflammatory, a treatment for seasonal allergies, and a known blood purifier. We brew nettles as a simple tea, saute them as we would spinach or other tender greens, and puree them into pesto. Once nettles are cooked, the infamous sting disappears, and you're left with a nourishing, tasty veg.
Nettles seem to be cropping up at more and more farmers' markets these days, or if you're one of the adventurous foraging ilk, you might find nettles growing wild nearby. Please, harvest the nettles with care. Using gloves is always a safe bet, though a good set of tongs and scissors works. Just be careful not to casually brush your arm against the bush while harvesting.
Nettles and eggs make delicious companions. The tender greens are so good sauteed with a little spring onion and Parmesan, and tucked into a tender omelette. Of course you can eat this dish for breakfast, but remember omelets make for a wonderful lunch or easy supper too.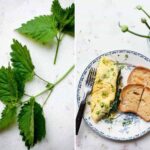 Nettle Omelet with Spring Onion + Parmesan
This lawn weed makes for a delicious, nutritious breakfast.
Ingredients
3

packed cups trimmed and washed nettle leaves

see notes above about the necessary precautions for handling fresh nettles

2

Tbsp

chopped spring onion or scallion

2

Tbsp

olive oil sea salt

2

Tbsp

grated organic Parmesan

2-3

free-range eggs

Splash of water

Freshly ground black pepper

Unsalted butter

organic

optional for garnish: chopped onion greens and/or flowers
Instructions
Heat olive oil in a medium sauté pan over medium heat. Add nettle leaves. Use tongs to toss nettles and coat them in the warm oil. Add a sprinkling of sea salt to the greens. Cover the pan, turn the flame to low and continue to cook nettles for a few minutes until the leaves are wilted and tender.

Place cooked nettles on a cutting board and coarsely chop. Set chopped nettles next to your stove so that you can easily add them to your omelet in just a few minutes. Place your grated Parm next to the stove top as well.

Set a small cast-iron (or non-stick) pan over medium heat so that it can thoroughly preheat before you cook your omelet. In the meantime, whisk eggs vigorously in a mixing bowl with a pinch of salt, a few grinds of black pepper, and a tiny splash of tap water.

Place 1/2 tablespoon butter in the hot pan. Swirl it around to coat all sides. (If the pan is too hot and the butter browns, use a paper towel to wipe out the pan, adjust the flame and start with a fresh pat of butter.) Once the melted butter has coated the sides of the pan, immediately add the whisked eggs. Grab the handle of the pan and tilt it so the eggs evenly coat the bottom, and slightly up the sides, of the pan. Once the eggs start to form large bubbles, use a spatula to pull the eggs from the edge towards the middle of the pan, letting the runny eggs fill the void. Repeat this action in 3-4 places until there's no longer excess runny egg to fill a void.

Once your eggs have a nice rumpled surface, sprinkle the grated Parmesan onto the omelet. Next add the chopped, cooked nettles. (If the omelet still looks a little underdone to your taste, turn the flame to low and cover the pan for just a minute or so. I personally like my omelettes with a slightly gooey middle.) Slide the omelette from the pan onto a plate, letting it fold onto itself.

Serve omelette right away and garnish with onion greens (and flowers if you've got them). Enjoy!
1