The best holiday sides are two things: easy and impressive. Because when you're spending so much time on a main dish and dessert, who wants to add labor-intensive sides to the menu too? Not me! But even though you want to make something simple, you don't want to serve a bowl full of steamed veggies and call it a day either. You need something that will wow your guests.
It can be hard to find recipes that fall into both of these categories, but these Honey-Roasted Carrots do. They're pretty much effortless to put together, with minimal ingredients, but they look stunning served on a platter for a holiday meal. Roasting the carrots in the oven makes them tender, caramelized and completely irresistible. They're the perfect foil for all the heavy foods you'll be eating—a light, simple side leaves you more room for cookies and eggnog, right?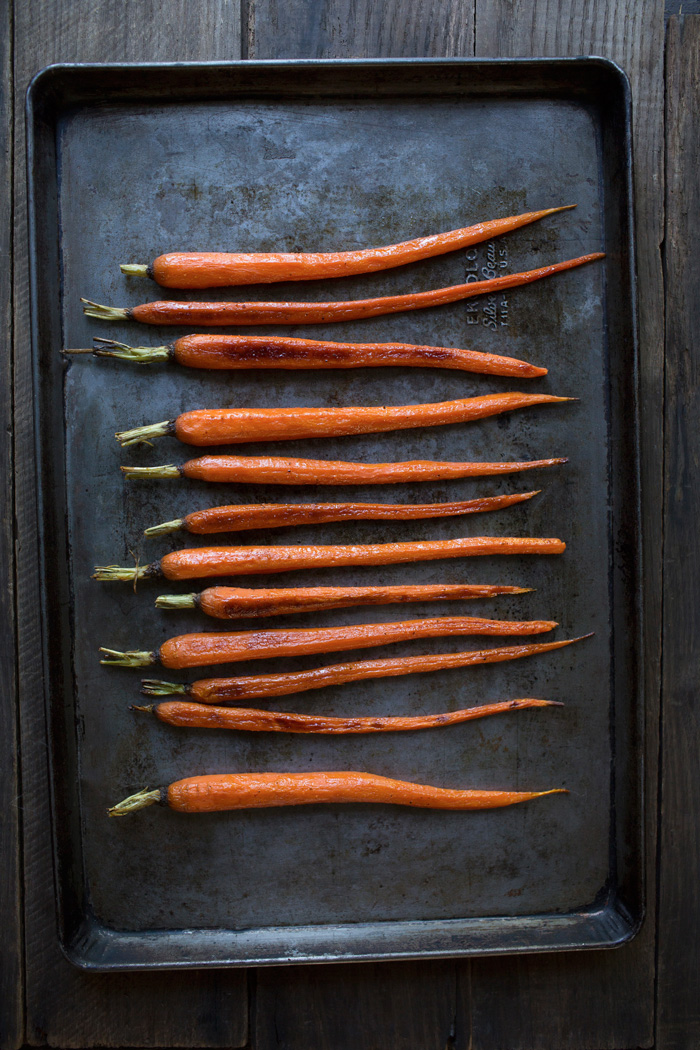 While these carrots are fantastic for entertaining, they're so easy to make, they'll quickly become a weeknight dinner staple too. (They have in my house—they're my toddler's new favorite side dish.) You can easily switch things up by swapping in cinnamon, thyme, sage or rosemary for the cumin or even a pinch of cayenne if you like a little heat.
This recipe comes from Jennifer Farley's The Gourmet Kitchen. Jennifer writes at Savory Simple, one of my favorite food blogs, and her cookbook does not disappoint. The recipes in this book are made with real food ingredients and use professional techniques and gourmet flavors, while still being totally realistic for home cooks.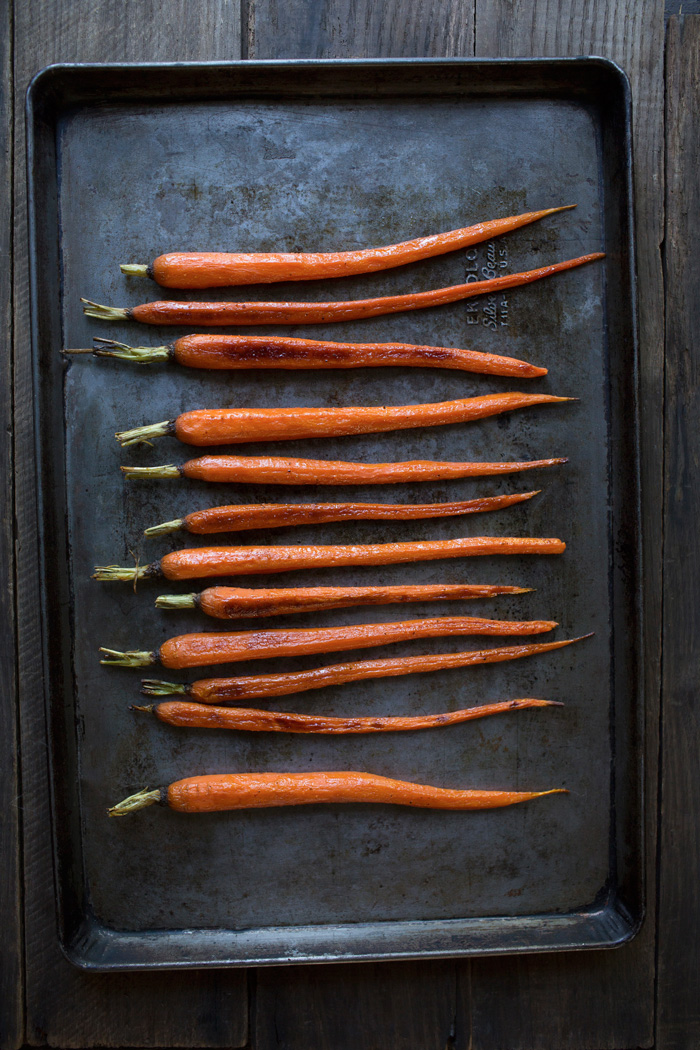 Honey-Roasted Carrots with Cumin
Ingredients
1

pound

carrots

3

tablespoons

extra-virgin olive oil

3

tablespoons

honey

3

⁄4 teaspoon ground cumin

1

⁄2 teaspoon kosher salt

plus more for seasoning

1

⁄4 teaspoon ground black pepper

plus more for seasoning
Instructions
Preheat the oven to 400°F. Line a baking sheet with aluminum foil.

Trim away the carrot greens (you may leave 1 inch of greens for presentation, if desired). Peel and place in a large bowl.

In a small bowl, whisk the oil, honey, cumin, salt, and pepper. Toss with the carrots until they're evenly coated.

Lay the carrots in a single layer on the baking sheet and drizzle any remaining liquid from the bowl on top. Roast for approximately 30 minutes, flipping halfway through, until lightly caramelized and tender. Add more salt and pepper to taste, if desired. Serve hot.

Note: For an alternate version, try cutting the honey in half to 1 1⁄2 tablespoons and adding 1 1⁄2 tablespoons of pure maple syrup.
5